>
Dive Resorts
>
Belize
>
Ambergris Caye
Ambergris Caye Diving Packages
Best Dive Resort and Travel Information
Ambergris Caye is the biggest of the offshore keys and a great place to stay if you wish to base yourself in a dive resort within easy reach of Belize's barrier reef. The many marine parks here mean that fishing restrictions are in place in several areas. Also there are a number of different ecosytems to be found here so the species variety is wider than may be found elsewhere in Belize.
With its sandy streets, brightly colored signage and friendly people, Ambergris Caye has a distinctively Caribbean feel to it and it's a fun place. 25 miles (40 km) long and less than a mile (2 km) wide in places, it is home to a surprising amount of flora and fauna, both above and below the water. Some locals have even reported seeing jaguars here, but then the local rum is very cheap and strong ...
With a good selection of bars, restaurants and nightlife in the small main town of San Pedro, a multitude of beaches, and accommodation and diving packages options, lots of activities, and the B Belize Barrier Reef running the entire length of the island, it's a very popular place with both the young and the more sensible, and the ideal base for a vacation in Belize with a few days of scuba diving.
Where to Stay in Ambergris Caye
The 40 or so best dive sites of Ambergris Caye run along the barrier reef on the east coast of the island, and this is where most of the resorts are located. There are no liveaboards operating here; instead, dive resorts run daily trips to the local sites by speedboat. Review your resort diving package options for this popular holiday destination:
We offer stays in the small tourist town of San Pedro and in the less-developed north end of the island. San Pedro has the largest offshore population in the country and is the main tourist base in Belize. You should base yourself here if you enjoy social activities. More sophisticated restaurants and higher end resorts can be found north of San Pedro. Some of these dive resorts are accessible only by boat and allow for a much more secluded, resort-style feel, even though the town is always accessible.
Dive trips to the more challenging sites at Lighthouse Reef (the Blue Hole) and Turneffe Atoll can be arranged at additional expense. Trips to the mainland are also popular, to partake in activities such as jungle river expeditions, exploring Mayan temples and visits to wildlife sanctuaries. [More information on these dive sites: Ambergris Caye, Lighthouse Reef, The Blue Hole, Turneffe Atoll].
Whichever option you choose, stays of 5+ days are ideal as there are over 30 different dive sites to visit. Ambergris diving packages normally include accommodation (either half board package or breakfast only basis), dives and transfers from San Pedro Airport.
Click to view product.
Special discounted trips highlighted in yellow
Choose Your Own Accommodation
For those that prefer to find their own accommodation, we also offer day trips from Ambergris Caye.
If you plan on staying in Belize before or after your Ambergris Caye resort diving vacation, you will find a range of choices at hotelscombined.com, our affiliated hotel reservation specialists:
All bookings are backed up by their 'Low Price Guarantee' to ensure you get the best value for money. You can also book now and pay later. Most resorts only have a small number of rooms, so book your dive package early to avoid disappointment!

The Climate and Best Time to Visit
Like most of Belize, Ambergris Caye has a sub-tropical climate. The northern hemisphere summer months are the warmest, with temperatures ranging between 75-90°F (24-32°C). During the northern hemisphere winter months the temperature drops to 60-80°F (16-27°C). The dry season is between January and May, when the weather is warm and sunny. The rainy season is between June and December, but these are usually squalls and rainfall rarely lasts for long periods.
You can dive in Ambergris Caye all year round, although January through the end of April is known as high season, with the Christmas/New Year period attracting peak season surcharges. You should also be aware that a rare tropical storm can wash out scuba activities and reduce visibility for 2 or 3 days at a time. There are some seasonal diving condition factors so please check our dive site descriptions for more details.
How to Get There
Ambergris is 34 miles (55 km) east of Belize City. San Pedro has an airstrip, meaning it's an easy and short 20 minute flight from the city's Philip Goldsen International Airport. Return tickets cost about US$ 160 and are run by Maya Island Air

and Tropic Air

.
A cheaper alternative to get to Ambergris are water taxis which cost around US$ 35 for a round trip. These are open air speedboats which take between 45 minutes and 1.5 hours, depending on route stops. Boats leave from the 'Marine Terminal' on North Front Street, next to the Swing Bridge in Belize City.
Sometimes travelers need to change their plans and cancel their trip for the most unexpected reasons. We recommend you consider diving, travel and trip cancellation insurance. See our insurance program for a competitive price:
Sightseeing and Things to Do in Ambergris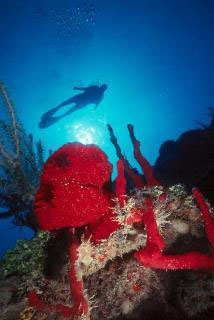 Along with the fantastic diving packages available at Ambergris Caye, there's plenty to do and see here. For the nature lover, bird watching is becoming more and more popular with over 200 species of birds recorded, including the endangered black catbird, roseate spoonbills, pelicans, hummingbirds and parakeets. This is because the east coast of the island is made up of creeks and lagoons with mangrove swamps that provide natural sanctuary to wildlife.
At the north end of the island, Bacalar Chico reserve is home to whitetail deer, raccoons and crocodiles.
Watersport enthusiasts can find sailing, kayaking, kite surfing, parasailing and superb flats fishing for tarpon, permit and bonefish throughout the cays. There's also a fitness center with tennis courts and lap pool. There are also several yoga, spa and massage facilities on the island.
There are some Mayan ruins here which indicate that Ambergris was once an important Mayan hub for trading, but most have been reduced to little more than mounds by the prevailing winds and the march of time.
The Beaches and Nearby Islands
You're never far from a beach in Ambergris Caye; beautiful white sands stretch almost the entire length of the eastern side of the island. The few small cayes around Ambergris provide much of the same but on a smaller, quieter scale. Caulker Caye provides a few small resorts and Chapel Caye has a golf course.
Restaurants and Entertainment
Most of the nightlife is centered in San Pedro, the main town at the southern end of the island, with Wednesdays and Saturdays being the big nights out. Clubs, bars, karaoke and many local and international restaurants are easy to find here. The clubs tend to only get going after 11 pm so warm up with a few drinks in the bars beforehand. You may even want to try your hand at the 'chicken drop game' (Dive The World can assure you no chickens are harmed, although their pride maybe slightly dented).
There are several bakeries, barbecue huts, pizza houses, Belizean and Mexican eateries, and fining dining restaurants. Dining at exclusive hotel restaurants or those with prime beach front locations can make a serious impression on your wallet as well as your waistline. Local eateries tend to be back from the beach and here you'll find the cheapest meal options, including burritos, rice and beans, and stews.
If you're tired after your day's sightseeing or scuba diving, you can just relax at your resort. Most of them have good quality restaurants and bars where you can sample the local Belikin beer.
The gift shops in San Pedro offer the usual suspects for upsetting the bank manager - art, jewelry, precious stones, local furniture and clothing, as well as Cuban cigars and local rum and spices.
When buying any consumable in Belize, always check the product expiry date. Many shops have the annoying habit of selling goods that have passed their 'sell by' date.
Local Transport Options
Walking and bicycles are the most popular forms of transport but if you're really in the vacation mode then renting a golf cart or taxi are both popular and easy enough. Speedboats can take you up the coast to the more remote parts of the island.
Useful References for Ambergris Dive Packages


---
CUSTOMER TESTIMONIALS OF DIVE THE WORLD
... Pip was great about responding quickly and getting information if she didn't already have it. We were making several dive plans and she gently nudged us to get our plans finalized. The website even had a special offer for the dive we were planning on doing in the time period that we wanted to go, so they saved us even more money. The website has lots of info about many options at various prices to choose from ... -- Roger Wilhelm, USA. [More customer reviews]