>
FAQs
>
Belize
Scuba Your Guide to Diving in Belize
Frequently Asked Questions
General FAQs
Liveaboard Diving FAQs
Belize Diving FAQs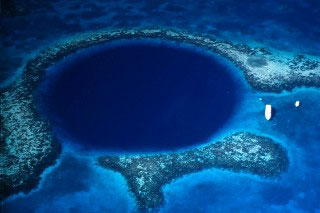 Which time of year has the best diving?
You can actually dive Belize all year round and plan your trip for any time of the year.
April and June is generally regarded as the peak season for scuba diving and tourism in Belize. Rainy season runs from late June through November but more than a couple of consecutive days of rain are quite rare and don't affect the visibility of the offshore dive sites, although the surface conditions of the sea can be a bit choppy.
Which Belize dive destinations are best for beginners?
Most of the sites along the barrier reef at Ambergris Caye are suitable for beginners. The diving at the atolls can be more challenging but there are plenty of calmer spots here too. The notable exception is the Blue Hole, this dive being recommended for advanced divers only due to the depth.
The water temperature is a fairly consistent 79 to 84°F (26-29°C) all year round. 3 mm shortie wetsuits are commonly used or 3 mm full suits for those who are a bit more susceptible to the cold.
I will be diving in Belize on my own. Will I have to pay a single supplement?
Some resorts in Belize permit single travelers to share with another guest, subject to availability. Others insist that single travelers occupy the room they booked alone and pay a single supplement. We will make clear to you the amount of any single supplements that apply to your booking.
Can you arrange accommodation for me in Belize?
Our affiliated hotel reservation agents hotelscombined.com have accommodations in Belize City, Placencia and San Pedro. Browse the resort and hotel choices on their website, use their live chat feature to ask your questions, and then simply use your bank card to make your reservation.
And you can be sure that whatever option you go for, it will be backed up with their 'Low Price Guarantee', so you always get value for money.
What about passport and visa requirements?
To visit Belize, you will need a passport valid for 6 months beyond your intended stay, and a return ticket. Details of visa requirements can be found in our tourist information section.
Why don't you sell diving from the mainland?
Dive sites close to the mainland are effected by silt from the rivers and are generally of poor quality. Reaching the outer atolls to dive on a daily basis is a long and sometimes uncomfortable boat journey from the mainland. For these reasons we recommend you stay at either Ambergris Caye or Turneffe Atoll to get the most out of your Belize diving trip.
Belize is free from serious epidemic diseases and no vaccinations are required to enter the country. However, there are areas where yellow fever and dengue fever are more prevalent. Extra caution and the use of anti-malarial drugs are advised for extended stays in the jungle. For vaccinations and other health precautions, we recommend that you consult your local doctor when planning your Belize vacation.
How do I get to my island resort?
Ambergris Caye is just a short 20 minute flight from Belize City. Flights are provided every hour by Maya Island Air

or Tropic Air

. The return flight costs approximately US$ 160.
The cheaper alternative to flying is a water taxi which costs around US$ 35 per person per round trip. These are speedboats which take between 45 minutes and 2 hours to get to Ambergris, depending on route stops. Water taxi tickets can be purchased at the Maritime Museum in Belize City.
All of the resorts we offer on Turneffe Reef Atoll supply transfers from the mainland free of charge via a 1½ hour speedboat journey so there is no need to worry yourself with how to get to Turneffe.

Belize Liveaboard FAQs
Liveaboard safaris provide onboard scuba activities and cabin accommodations. The boat becomes your home for the duration of the cruise and you eat, sleep and dive on it! Liveaboards stay at sea and only return to port at the end of the cruise so you can maximize your time at the best Belize dive sites. These boats often open up top class diving opportunities that would simply not be available to you on regular day trip boats.
How many dives can I make per day?
Both of the Belize liveaboards offer up to 5 dives per day including a night dive.
What kind of food is served onboard?
Please review the 'Food' section for details of the food served on each of the Belize boats. Most dietary requirements including vegetarian can be met on each of them. However, please do tell us your requirements at the time you make your booking, so that we can make sure that they meet your request.
Can I bring alcohol onboard with me?
Wine and local beer is free of charge on the Belize liveaboards but if spirits is your drink of choice then you're more than welcome to bring your own.
Where can you pick me up from?
We can arrange transfers to your liveaboard boat from your hotel, or from the airport if you arrive just before your cruise departure. Please advise us of your preferred transfer point at least 2 weeks before you arrive.
Is dive insurance included in the trip price?
Insurance is not included in the cruise price of any of our Belize liveaboards and on some of them it is mandatory that you take out your own. For further details please review the 'Safety and Specs' section for each boat. We recommend you take out personal dive insurance, for your own peace of mind:
There are no single cabins on any of the Belize diving cruises so the only way to guarantee a cabin for yourself is to pay for 2 beds. It may be, if the boat is not full and there are an odd number of passengers, that you can have your own cabin, but this situation obviously cannot be guaranteed and should be viewed as good fortune only.
Can I rent an underwater camera for the cruise?
All the liveaboards in Belize have cameras available for you to rent. See the 'Facilities' section of each boat for more details.
What kind of scuba tanks and valves are on the boat?
All boats carry 12 liter aluminum tanks with yoke or A-clamp international valves fitted as standard. If you have a DIN regulator, you should bring an adapter. Enriched air nitrox is available on some boats. See the 'Facilities' section of each boat for more details.
Can a non diver go on a liveaboard?
Non divers are welcome on all of our liveaboards. There is plenty of great snorkeling available to keep them occupied or they may want to just top up their tan.


---
CUSTOMER TESTIMONIALS OF DIVE THE WORLD
... Service was perfect. Speedy and even managed to be friendly despite never meeting in person. Cannot imagine anything you could do to improve. Really, your service was 100% or more ... -- Lindsay Dawes, South Africa. [More customer reviews]