>
Dive Destinations
>
Bahamas
Your Guide to Scuba Diving in The Bahamas
Nassau, Bimini, Exumas, Grand Bahama and the Sharks of Tiger Beach
...Highlights: tiger sharks, hammerheads, shark action, dolphins, turtles, great macro life/marine diversity, schooling fish & big pelagics...
...Bahamas' diving environment: wrecks, wall diving, beginner and advanced divers...
The Bahamas is the ideal Caribbean liveaboard diving location that merges international elegance with a relaxed tropical vacation vibe. Conveniently positioned 56 miles (90 km) off the coast of Florida, the 2,500 cays and 700 islands (of which 30 are uninhabited) form the Commonwealth of the Bahamas. Liveaboard tours to Grand Bahama and Nassau & The Exumas is the perfect way to explore the many dive sites in comfort and style.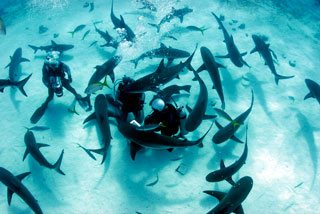 The main Exumas dive sites are located in the Exuma Cays Land and Sea Park. Their motto 'Take only photographs, leave only footprints' highlights efforts to protect their precious natural resources for all to enjoy it. The area is managed by the Bahamas National Trust and falls under its protection, enabling the marine life to flourish and divers to safely explore the pristine reefs. The vast area is only inhabited by 7,400 permanent residents, that have minimal impact on the pristine environment and this creates an impression for scuba divers that they are visiting a lost paradise.
360 small islands and cays form an island-chain across 130 miles (209 km) of the Caribbean. These island jewels in aquamarine and sapphire waters create the topography for many spectacular sites. Reefs, walls and sandy bottoms all teeming with life will be your playground during your Bahamas liveaboard diving cruise.
The blue, jewel-tone Caribbean seas are filled with life. During your liveaboard diving trip you will encounter many species of turtles year round. Other highlights include eagle rays, seahorses, dolphins and a variety of sharks in large numbers, including the legendary Tiger Beach of Grand Bahama. All divers' wishes are met in the Bahamas: spectacular walls, intact wrecks, coral encrusted reefs, pinnacles and even a blue hole!
Dive Site Descriptions
Abaco
The Abaco Islands are located in the north of the Bahamas, just to the east of Grand Bahama. Directly to the east lies the Atlantic Ocean and cooler water but the islands are protected by a large barrier reef system. There is an extensive network of marine reserves, such as Fowl Cay, Sandy Cay, and Pelican Cay, where you can see a diverse range of marine creatures in healthy ecosystems that are not so common elsewhere. Star and elkhorn corals are in abundance. The tidal currents have etched out a complex of tunnels and caves to explore. The surrounding seas are quite shallow and most of the dive sites are no deeper than 60 ft / 18m, making them ideal for beginners. However, Walker Cay has deeper walls and one of the best shark dives in the Bahamas - Shark Rodeo - where up to 100 blacktip and Caribbean reef sharks gather in a feeding frenzy. Turtles, rays, blacktip reef sharks, and tarpon and commonly seen at Abaco. There is also an old US Civil War gunboat that sank in the 1860s in 30 ft / 9m of water near Man-o-War Cay. Its canons are particularly well preserved.
Amberjack Reef
Previously this was a shark feeding site. Thankfully, in accordance with the Land and Sea Park's request, sharks are no longer fed here (or in principle they should not be), however they still frequent this part of Exuma Keys.
Amberjack's drawcard is the abundance of marine life that frequent the patch reef. Although your descent will merely be to 50 ft (15m), take a moment to control your breathing as you will soon be surrounded by up to 10 Caribbean reef sharks and 10-15 large, yellowmouth and yellowfin grouper. Don't be so distracted by the big fellows, as this dive spot also has many interesting small critters such as pirate blennies. The sea floor is home to garden eels that pop their heads out of the sand, or can be seen gently swaying in the current. As you ascend, you will be met by a welcoming safety stop party of over 100 horse-eye jacks!
Andros
Located 30 miles (50 km) west of Nassau (New Providence), Andros is the largest island in the Bahamas and the 5th largest in the Caribbean, and is mostly covered in forest and mangroves. They are separated by the Tongue of the Ocean – a 20 mile (30 km) wide deep water trench that runs north-south for 150 miles (240 km).the northern end is 6,600 ft (2 km) deep and exposed to the open ocean. Along the western rim of the trench runs the 3rd largest barrier reef in the world, and these features combine to make some of the most spectacular diving in Bahamas. There are an inexhaustible number of places where you can drop in and peer over the wall in to the abyss looking for sharks, eagle rays, grunts and schools of snapper, or explore the healthy reef system where coral formations grow to towering heights and create mazes of swim-throughs and caverns. Turtles, octopus, groupers, sting rays, goatfish, wrasses and parrotfish are common here.
Andros also has a huge concentration of blue holes, such Stargate, Crate, El Dorado, Benjamin's – limestone caverns found in the ocean and also, uniquely, freshwater tidal blue holes. The mix of fresh and salt water creates a highly diverse marine environment. The entrance areas are suitable for inexperienced scuba divers, but the depths should only be explored by advanced or technical divers.
Austin Smith Wreck
Not originally designated to be a Bahamas dive site, this boat sank in 1995 while being towed to San Salvador. After more than 20 years on the sea floor, the structure is still intact. The vessel was a 90 ft (27m) Bahamian Defence Force cutter that now lies in 60 ft (18m) of water with the bow facing the east. Austin Smith was a Bahamian marine who died during a Cuban attack. To honor his memory, the vessel was deliberately sunk in Exuma Cays to create an artificial reef for scuba divers and to create new life.
Show more
The wreck is an impressive structure that you can explore, however penetration is only suitable for fully qualified divers. The exterior creates an interesting site with many holds and hatches that you can look into. Austin Smith's memory has been honored by the abundance of marine life that live on and around the wreck. Impressive corals, sea fans and sea sponges adorn the structure, however keep a look out for the fire corals. Coming in contact with them is an unpleasant experience.

The superb, year-round 100 ft (30m) visibility allows you to easily spot the resident barracuda, angelfish, parrotfish and grouper. As with all great Bahamian dives, this is another great opportunity to observe reef sharks, this time swimming in and around the wreck.
Berry Islands
The Berries are a chain of 30 small cays, 35 miles (55 km) north of Nassau. Apart from spotting millionaires relaxing on their private islands, the Berry Islands are worth a visit for scuba diving. Strong conservation programs have led to the islands being one of the most biologically diverse regions of the Bahamas; this is said to be the game fish capital, with plenty of marlin in the waters, as well as pilot whales. There are plenty of shallow reefs close to shore, but steep drop offs lend quick access to the depths where you can find plenty of caverns and walls. The Berry Islands are also one of the best locations to witness the important grouper spawning in late January/early February, when shoals of up to 30,000 strong gather together.
This tiny island group offers some of the most spectacular diving in the country, if sharks are on your bucket list. The Biminis location on the very edge of the Gulf Stream makes it an ideal hunting ground and nursery site for some of the ocean's largest predators. such as tiger, blacktip and blacknose sharks, as well as blue marlin, wahoo, swordfish and bluefin tuna. But perhaps the greatest attraction are the frequent encounters with great hammerhead sharks – almost unheard of anywhere else in the world. Almost as impressive is the baited dive at Bull Run, where can come face-to-face with notorious bull sharks.
The rich and clear waters also offer a great range of options, such as coral reefs, walls, caverns and blue holes, and some of the Bahamas popular wreck dive sites such as The Sapona and Bimini Barge. Here you can find plenty of turtles, stingrays, groupers, and dolphins; all at home among the vibrant marine world of Bimini.
El Capitan
This spectacular site at Grand Bahama, with its impressive rock formations, features 2 large pinnacles. Your descent to 45 ft (13m) will bring you to the top of an underwater mound that is impressively covered with gorgonians and hard corals.
This area is a highlight for macro photographers. If you choose to further explore the site, your maximum depth will be 90 ft (27m), where you will encounter schools of fish.
Cat Island
Located in the central Bahamas, southeast of Eleuthera, Cat Island is best known for its encounters with oceanic whitetip sharks that visit each spring as they follow the tuna migration (best time April and May). It is one of the best places in the world for scuba divers to get up close with these incredible pelagic sharks and the clear waters here are ideal for underwater photography. Usually solitary, the oceanic whitetips congregate in large numbers offshore. They show no fear and are often very inquisitive, approaching and spooking nervy divers in shallow water. Cat Island boats the highest point in the Bahamas - Mount Alvernia - at 206 ft / 60m. The hill is topped by a monastery; let's hope you don't have to pay it an early visit after your shark encounters here!
This remote Bahamian island group has plenty to offer adventurous divers, not least its incredible harmonic natural beauty. Off the beaten track, this undeveloped corner of the country has quaint coastal settlements, charming pink beaches, and ancient coral cays. Underwater there is plenty to excite the avid diver. There are more sunken wrecks here in the North of Eleuthera than anywhere else in the country – 45 different sites have been cataloged. Then there are the natural wonders born of its geological limestone history – caverns, swim-throughs, tidal holes, rugged deep walls. There is an unusual abandoned research cage to dive at Cape Eleuthera, and finally there is the adrenaline rush of a tidal channel where divers hurtle along over a kilometer of coastline in around 10 minutes.
Hog Fish
While at Tiger Beach, Grand Bahama, the marine inhabitants put on a show for scuba divers. At Hog Fish you need to look under the crevices and ledges and search for small creatures.
The 32-49 ft (10-15m) reef is covered with a delightful garden of hard and soft corals and is frequently visited by schools of grunts, snappers, chromis and angelfish. As you swim towards the sandy areas on the periphery of the reef, resident species of wrasse and hogfish, can be seen going about their business.
Long Island
Located directly on the Tropic of Cancer, southeast from Exuma Cay and 165 miles (265 km) from Nassau, Long Island has earned a repuation as being one of the most picturesque islands in the Bahamas. One such location of outstanding natural beauty is known as Dean's Blue Hole. At 202m (663 ft), it is the second deepest underwater sink hole in the world, but what sets it apart is its setting - it is enclosed by a natural cliff amphitheatre on 3 sides, and open to the sea on the other via aquamarine shallows and a powdery sand beach. Free diving competitions are held here but advanced divers love the spot too. Show more
Elsewhere the small bays and inlets host dramatic wall dives, pristine reef flats and thrilling encounters with marine life. Conception Island has staggering drop-offs as good as anywhere in Bahamas and a healthy reef flat packed with hard corals. The superb visibility allows divers to ebjoy waters teeming with sea life. The impressive wall is best viewed by use of a torch which brings the amazing colour out of the sponges and soft caorals that adorn it. There are plenty of lobsters and groupers to spot in their hideouts here too.

Located nearby is the wreck of the HMS Conqueror. This was a splendid looking 101 gun British Navy ship that sank in 30 ft (9m) of water off Rum Cay in 1861. Due the passage of time, the ship's hull has rotted but you can still identify some of the cannons and balls, an engine and propeller shaft, and there is plenty of coral growth and fish life too. The shallow depth makes it a wreck for everyone to enjoy.

Another Long Island wreck is The Cornerbach, a 110 ft / 33m long freighter. The boat rests upright now in about 90 ft / 27m of water, its wheelhouse intact and the wreckage of a bus housed in the forward hold. Decorated with soft corals, purple sea fans and vividly colored sponges, the ship is highly photogenic. You will find leopard-spotted flamingo tongue snails, crabs and Christmas tree worms on the structure, while trumpetfish stalk their prey. Southern stingrays often rest on the surrounding sand.

Shark Reef is another famous site on Long Island. Inevitably for the Bahamas, this is another shark feed dive where particpants can see a couple of dozen Caribbean reef sharks at close quarters from their vantage point on the sea floor.
Lost Blue Hole
This is a signature dive of the Bahamas. Many diving enthusiasts specifically travel here to Nassau to experience this distinctive and gorgeous site. Unusual for submerged craters, the Lost Blue Hole is quite close to the shore. Unlike other blue hole dives, this hole is home to a variety of marine life, including sharks, rays, turtles, and reef and pelagic fish. Like many other divers, you may find this awe-inspiring spot is the top pick of your vacation.
Show more
The enormous sapphire blue 100 ft (30m) wide, 200 ft (60m) deep natural marvel is available for all levels of certified divers. However beginners should limit their maximum depth to around 60 ft (18m). As you descend you will reach the perimeter of the crater at 40 ft (12m) and you will be enthralled by the variety of marine life that seeks shelter in the stable habitat within the walls of the crater. The visibility is phenomenal as the area is protected from external currents and waves.

As you explore the walls you may see the resident nurse sharks resting in a crevice. Take a moment to look up and you may get the perfect shot of a green turtle silhouetted on the surface, as it breaks the water's surface to breathe. During the spring months you may encounter blacknose sharks, as a large school inhabits the bottom of the hole. At 80 ft (25m) you will encounter a lobster-filled crevice.

Ensure that you have sufficient air to explore the perimeter of the hole, which is covered with coral heads creating a welcome home for schools of fish, grouper and sting rays. The sandy bottom surrounding the hole features small fish such as banded jawfish, seminole gobies and tobacco fish.
Periwinkle Reef
This Nassau dive site is a kaleidoscope of color at shallow depth (maximum depth of 25 ft / 8m) with great visibility reaching up to 80 ft (25m), and mild current, making it the perfect beginners dive or last dive of the day. Here you will find a beautiful underwater garden, thickly covered with corals, sea fans and sponges, creating homes for a variety of fish. Along with many juveniles and moral eels taking shelter in the corals, you can also expect to have the opportunity to dive with Nassau grouper, sting rays, amberjacks, sergeant majors and reef sharks while large schools of yellowfish and angelfish swim by.
The reef attracts fish of all sizes and varieties that gather here to eat. Some adhere to the food chain while others have taken a liking to the food offered by the Nassau boat operators.
Shark Paradise and Fish Tales
These 2 Grand Bahama sites are famous for shark encounters and are quite close to each other. You will probably dive the southern site, Fish Tales, first as it is deeper than Shark Paradise.
Show more
Fish Tale's beautiful reef is awash with colorful gorgonians, yellow sea whips, sea plumes, orange spiny sea rods and sea fans. The reef is best known for the variety and frequent sightings of sharks: lemon, Caribbean reef and tiger sharks.

You may even have to enter the water and descend among these apex predators as they patrol they surface. Lemon sharks have been known to have little regard for personal space in these waters as they are now so accustomed to the presence of scuba divers. The tigers on the other hand tend to keep a respectful distance, to the relief of many a diver.
As the name suggests, this is the place to experience the thrill of diving with numerous sharks in perfect conditions. You will descend to the sandy bottom dive area, which can vary in depth from 20 ft (6m) to 100 ft (30m). Here you will excitedly, but calmly, line up behind the experienced feeder and wait for the show to begin. Remember to keep breathing as the stars arrive. Yes these are the big names in the industry! Impressive tiger sharks, hammerheads, lemon sharks, nurse sharks and Caribbean reef sharks are drawn to the fish-filled crate.

The stage is set, the conditions are perfect with crystal clear water and little to no current, and the performers enter, sometimes in pairs, or groups of 7 and if you are lucky as many as 15 will vie for the chance of a free meal. Now is the time to capture this incredible moment with these majestic creatures to later share with fellow Grand Bahama scuba diving enthusiasts. If this experience is not sufficiently spectacular, on an auspicious day, you will also encounter dolphins!
How to Dive Bahamas
The Bahamas are best experienced from the comfort of your liveaboard charter. Boat diving cruises are the top choice for those who want to maximize their scuba opportunities and take in the enchanting top side scenery. The Bahamas form a chain of inner and outer island and cay sites that you will dive directly from your sturdy liveaboard, enabling a comfortable entry and elegant exit.
Since the Bahamas are a popular spot with a very low number of liveaboard operators, availability can be an issue. We recommend you book 12 months in advance to avoid disappointment.
To find a cruise that's right for you and for more information on all the travel information you might need to visit, see our Bahamas liveaboards section.
The Bahamian Diving Season
There are some fluctuations in the weather, however for the most part these have a minimal effect and scuba diving the Bahamas is possible year round. November brings with it colder fronts occasionally, and the water temperature can drop to 77°F (25°C). For 'winter', the temperatures are still at a level to dive comfortably.
The warmest water temperatures (85°F / 30°C) occur during the rainy summer months from June to September. This is also when the seas are the calmest and visibility the best. However with such incredible conditions, the visibility is still spectacular even during the winter months. August is considered to be the month that experiences most storms, although these are also infrequent.
Although a year round destination for divers, there are some seasonal factors that could affect the species you encounter. The Bahamas liveaboards visit Tiger Beach to see tiger sharks around the May to July period, while March to June is the best time for spotting oceanic whitetips. April tends to the be the best critter time of the year and therefore favored by macro enthusiasts. May is an active period for fish and coral spawning, although grouper spawning takes place at the full moon between late January and earl February.
One of the most curious annual events in the Bahamas is the 'March of the Spiny Lobster'. The world famous phenomenon takes place in late October/early November on the Bahamas Banks (near Abacos, Grand Bahama and Andros), when heavy rains trigger the lobsters to leave their hideouts in the thousands and macrh in single file in to deeper and more settled water. The single file march provides protection as each lobster,covers the vulnerable rear section of the lobster in front.
For more on the climate and weather, visit the The Islands Of The Bahamas

website.

Where is the Bahamas and How Do I Get There?
Review our map below showing the location of the country in the world. Here, you will find information on how to get to the Bahamas.
Reef Summary
Depth: 19 - >130ft (6 - >40m)
Visibility: 50 - 98ft (15 - 30m)
Currents: Mild to moderate
Surface conditions: Generally calm with some swell or chop during storms
Water temperature: 78 - 84°F (25 - 29°C) in summer and 72 - 80°F (22 - 27°C) during winter
Experience level: Beginners to advanced
Number of dive sites: ~20
Recommended length of stay: 8-12 days
Useful References


---
CUSTOMER TESTIMONIALS OF DIVE THE WORLD
... Dive The World provides comprehensive listing of all destinations in the world. Dive the World provides excellent prices for all the destinations. Vic was very easy to work with. He always returned my inquiries promptly, usually within a day. Vic provided all pertinent information for the trip quickly and in depth ... -- Timothy Chae, United States. [More customer reviews]