>
Dive Destinations
>
Bahamas
>
Bimini
Your Guide to Diving in Bimini
Great Hammerheads, Bull Sharks and Wrecks
...Highlights: tiger sharks, hammerheads, bull sharks, shark action, dolphins, turtles schooling fish & big pelagics...
...Bimini's diving environment: wrecks, wall dives, healthy reefs, beginner & advanced divers...
Located in the north west region of the Bahamas and just 50 miles / 80 km east of Miami, USA, Bimini has earned itself a reputation as one of the shark capitals of the Caribbean, if not the entire world. It is made of 2 principal but small islands - North and South Bimini - along with a string of smaller cays. But it is its unique position, on the edge of the Grand Bahama Bank overlooking the deep water Gulf Stream that flows in to the Atlantic Ocean, that is so attractive to a range of oceanic shark species and that makes scuba diving in Bimini so remarkable.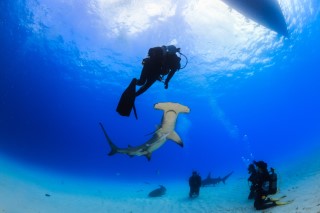 In the gin clear waters of Bimini you can find nurse, tiger, blacktip, Caribbean reef, bull, and blacknose sharks. The islands' mangrove system is an important nursery ground for their juveniles. But it is for its reliable great hammerhead shark (Sphyrna mokarran) encounters that Bimini has become world famous. These elusive and extraordinary creatures can grow up to 20 ft / 6m, are endangered (IUCN Red List) and hard to find anywhere else in the world. However, they congregate in the shallow waters of South Bimini in large numbers from December to March. The hammerheads are inquisitive and approach quite close so don't forget to take your camera!
Elsewhere, Bimini has a great diversity of dive sites that are suitable for all levels of experience - coral reefs, walls, shipwrecks, the continental shelf, blue holes and caverns that are home to an abundance of fish, rays, sharks, turtles and playful dolphins; it is one of the Bahamas' most spectacular liveaboard destinations. There are more than 20 marked sites.
Dive Site Descriptions
Bimini Reefs
One of the best dive areas is the series of dive sites along the strip of wall that runs along the cays, south of Cat Cay. The topography is amazing with plenty of overhangs, caverns and swim-throughs. If you pause the search on the healthy reefs at sites such as Victory Reef and Tuna Alley, you will find a huge variety of critters, but the area is also home to turtles, reef sharks, and frequented by hammerheads, wahoo, mahi mahi, and bluefin tuna which migrate from March to May. A typical profile is a sloped bank of sponges and corals from 50-120 ft / 15-35m, followed by a step and a further slope in to the abyss. Show more
Turtle Rocks are a series of 3 rock formations running from north to south that break the waterline and separate the Grand Bahama Bank from the Southern Atlantic Ocean. You can dive either side of the rocks as the maximum depth is only 30 ft / 10m. But the area attracts spotted eagle rays, Caribbean reef sharks, nurse sharks, as well as sweetlips, angelfish and parrotfish.

Rainbow Reef is made up of a series of shallow ledges that are ideal for less-experienced divers. It is located within a protected marine sanctuary and the reef health and light penetration projects a kaleidoscope of colour. Typically you will spot schools of French grunts, Creole wrasse, nurse sharks and turtles, as well as countless other small fish species.
Bull Run
Located near Bimini Big Game Club, Bull Run is another famous and much-loved Bimini dive site. Some operators only offer this dive site as a cage diving experience. This is because of the guarantee of sharks. Blacktips are almost ever-present and it is not unusual to come across nurse and lemon sharks. However, it is the possible appearance of bull sharks (most common from December through March) that excites some scuba divers and encourages others to seek security in cages! These predators can grow up to 11 ft / 3.5m. They are potentially aggressive and known to be a danger to humans due to their preference for shallow water, even being found in fresh water rivers.
Here the topography consists of 3 pinnacles around a sandy floor. There are also big swim-throughs and beautiful coral caverns worth exploring, which cannot be done if you are in a cage. There are also innumerable juvenile fish species to spot at this site.
Bimini Wrecks
Wreck divers can enjoy Bimini too. The Sapona is a famous wreck, built in 1911 by Henry Ford, which lies off the coast of South Bimini. Divers delight in the marine life that festoons and thrives where the wreck lies beneath the surface. This 270 ft / 80m cement transport vessel was used during World War I before apparently being re-purposed as an illegal gambling and liquor club during the US prohibition. It then ran aground at Turtle Rocks in a hurricane in the late 1920s. Now you can drink in the sights and bet you will see plenty of amazing marine life on this shallow wreck dive which has a maximum depth of only 6m/ 20 ft. Much of the structure stands in a badly eroded state above the water. Show more
Underwater, the hull is heavily encrusted with invertebrates. Hunt around the nooks and crannies of the wreck for blackbar soldierfish, gobies, morays, chromis and angelfish and look out for the orange cup corals in the bow. Larger fish that frequent the ship's hull include groupers, chubs, sweetlips (also known as grunts or porkfish), mackerel and even turtles. Sometimes you can find nurse sharks resting under the stern. On night dives you can run into squid, octopus, meaty lobsters and many other crustaceans. Due to the shallow nature of the wreck and the calm waters, this site is ideal for underwater photographers and snorkellers as well.

Another of the premier but challenging dives here is the Bimini Barge, a wreck of over 200 ft / 60m in length. It rests upright on a sandy bottom at 95 ft / 29m, almost on the very edge of the Atlantic Gulf Stream. Due to its location, currents are variable and can be strong, bringing in pelagic fish and passing sharks. The wreck is often engulfed in fish and nurse sharks and southern stingrays often rest under or near the hull. Another wreck is known as The Bimini Trader - a 90 ft / 27m long freight vessel that sank during Hurricane Andrew in 1992.
The Continental Shelf
The Continental Shelf is a hard to resist allure for experienced scuba divers in Bimini. It is the signature deep dive along the edge of the Gulf Stream, an opportunity to gaze in to the rushing depths of the Atlantic. The dive takes place along the top of a wall at 140 feet / 40m, from where the wall drops hundreds of feet into the deep. The strong currents and exposed nature of the shelf mean that just about anything could turn up.
Atlantis Road
Perhaps one of Bimini's most unique dives is Atlantis Road (a.k.a. Bimini Road). The name is a play on the legend of Lost City of Atlantis, as the site is a long parallel formation of weathered rocks, which resemble the neatly cut blocks of a road. Geologists would say that the blocks are beach rock and caused by an old shoreline drying and cracking. Needless to say others with more fertile imaginations have countered that there is evidence that there are a further series of blocks underneath the exposed rocks, pointing to the theory that the site is an old breakwater or harbour. You can make up your own mind. One thing is for sure - it is now a popular diving and snorkelling spot as it lies at a maximum depth of 20 ft / 6m and pods of Atlantic spotted dolphins frequent the area.
How to Dive Bimini
The Bahamas are an island chain spread over a large area and technically located in the North Atlantic although many consider it a Caribbean nation. The Biminis lie on the edge of the fast-flowing Gulf Stream – the current that dumps warm water from the Gulf of Mexico in to the Atlantic Ocean. Since the nation territory is mainly water it will come as no surprise that a liveaboard trip is the best way to visit the country and Bimini.
Cruises that include Bimini in their itinerary are 7-10 nights 'Grand Bahama and Bimini' trips (visiting Tiger Beach), or spectacular 14 night 'The Bahamas' expeditions across all the top dive destinations of the country – Nassau, Berry Islands, Andros, the Exumas, Cat Island, Eleuthera, Abaco, Grand Bahama, and the Biminis. All of these tours depart from Freeport in Grand Bahama. There is an international airport at Freeport (FPO). The islands do have a local airport (South Bimini Airport - code BIM) with direct flights from the international airports in Freeport and Nassau (NAS).
For more information on all the travel information you might need to visit Bimini, check out our Bahamas liveaboard section.
The Bimini Diving Season
There are some seasonal fluctuations in Bimini but you can dive here all year round. The water temperature varies from a high of 85°F / 29°C during the summer months from June to September, and a low of 75°F / 24°C from January to March. Air temperatures are highest during July and August at 84°F / 29°C, and lowest in January at 70°F / 21°C. Although Bimini does receive a lot of sunshine all year round, the rainy season is June to September, and the shoulder months can be quite wet too. Visibility is great throughout the year at 80-100 ft / 25-30m, but it can be much more! For more on the climate, visit the The Weather and Climate website

.
The best time for diving with sharks is during the cooler winter months. Great hammerhead season is January to March. Bull sharks are more frequently seen from December to March, and tunas migrate through the area from March to May. Atlantic spotted and bottlenose dolphins are best seen in the summer months. Late January and early February is the time of year for Nassau grouper spawning.

Where is Bimini and How Do I Get There?
Review our map below showing the location of Bahamas in the world. Here, you will find information on how to get to Freeport in Grand Bahama, to board your liveaboard bound for Bimini.
Reef Summary
Depth: 5 - >40m
Visibility: 25 - 30m
Currents: Gentle - very strong
Surface conditions: Usually calm
Water temperature: 75 - 85°F (24 - 29°C)
Experience level: Beginner - advanced
Number of dive sites: 20+
Distance: 70 miles / 110 km (4 hr) southwest of Grand Bahama, and 120 miles / 195 km (8 hrs) east northeast of Nassau
Access: Liveaboard only
Recommended length of stay: 1 - 2 weeks
Useful References