>
Dive Resorts
>
Maldives
Maldives Diving Packages
Best Dive Resort and Travel Information
For many travellers, a beach holiday in a picture-perfect tropical paradise of white sand, glorious sunshine, and warm seas, is enough reason to pack their bags and head to the airport for a week or so of splendid relaxation. But when you factor in the hugely impressive amount of marine life that thrives in this part of the Indian Ocean, the Maldives is a perfect destination for any scuba diver that enjoys to feel the sand between their toes.
The country is comprised of 26 atolls and 1,190 islands dotted over 90,000 km² of warm Indian Ocean. 99% of the national territory is water so to come here and not explore the ocean would be some sort of 'tourist crime'. And the Maldives have done such a splendid job on marine conservation that the seas are teeming with life. Headline creatures include whale sharks and manta rays, but the country has become known as the 'Shark Capital of Asia", a place where lucky divers can see hammerheads and reef sharks throughout, as well as tiger sharks, threshers, silvertips, nurse sharks, and guitar sharks in the more remote corners.
Divers can explore pinnacles and mounts inside atoll lagoons, where mantas and eagle rays often frequent, and pass down current-infused channels loaded with hunting fish, and dive on outer atoll walls for glimpses of oceanic action. Currents can be expected at quite a few of the sites, but a resort stay would be ideal for less experienced divers since there are plenty of easier sites that a resort can easily schedule in to its plans. Although the Maldives does have some pretty reefs, this is not its principal attraction.
Liveaboard cruises do offer the attraction of a greater range of dive locations over any fixed period of time, but dive resorts in the Maldives have their advantages too. For example if you arrive in the Maldives midweek, or plan to stay for a length time that is different from the standard 1 week, resorts offer the flexibility that you need. Also if you are inexperienced or keen to learn to dive, a resort stay would be the better option. Then there are those that suffer from seasickness and those that simply prefer the greater freedom and privacy that a hotel offers over the much smaller space onboard a liveaboard. Whatever your motive, we are sure you will find the resort diving in the Maldives quite incredible.
Where to Stay in Maldives
Take your pick from dedicated dive resorts and hotels with in-house dive centres, from accessible accommodation options in the Central Atolls, to properties in the more remote and spectacular Outer Atolls:
Considered by many to have the best dive sites in the Central Atolls, Ari Atoll's main attractions include a whale shark MPA, several manta ray cleaning stations, and a Hammerhead Point. But that isn't all. Ari also has some of the most famous sites in the country such as Maaya Thila and Fish Head, sites buzzing with grey reef sharks and big schools of fish. [More information on these dive sites: Ari Atoll].
We have great value eco-friendly guesthouse-based dive packages on the picturesque island of Ukulhas, north Ari. You can join morning and/or afternoon dive trips and, since there are 40 different sites within 25 minutes boat ride, these packages are suitable for divers off all levels.
Located just to the south of South Male, Felidhoo is the most central of the Outer Atolls and is relatively easy to get to. Having the most channels of all the atolls, it is renowned for its current swept channels where the superb visibility allows you to encounter dozens of reef sharks and eagle rays, as well as big schools of pelagic fish. Other highlights include a jetty dive some monster-sized nurse sharks, giant trevally and stingrays. [More information on these dive sites: Felidhoo Atoll].
We offer a small and modest beachfront dive lodge on this yet little-developed atoll. The property offers morning and afternoon boat diving, as well as shore and night dives on its House Reef.
Located in the Deep South, on the edge of the Indian Ocean, Fuvahmulah has become known as Asia's Shark Capital. The island is reputed to have the largest population of tiger sharks in the world, and scuba divers are almost certain to see several at Tiger Zoo, Fuvahmulah's most famous dive site. Other headline attractions include hammerheads (great as well as scalloped), threshers, oceanic whitetips, silvertips, whale sharks, oceanic mantas, mobula rays, tuna, even sunfish, sailfish and whales. [More information on these dive sites: Fuvahmulah].
We offer dive packages in local 3-star hotels on the island of Fuvahmulah. You can join morning and/or afternoon adrenaline-fueled dive trips that are most suitable for experienced divers. Packages can include return flights from Male.
Situated just 20 minutes from Male International Airport, Himmafushi island could hardly be more conveniently located for an easy-to-organise dive vacation in the Central Atolls. The atoll is the most popular dive location in the Maldives and is characterised by drop offs, pinnacles, mounts and reefs that attract manta rays, reef sharks, an abundance of reef fish, as well as several interesting wrecks. [More information on these dive sites: North Male Atoll].
For certified divers, we offer dive packages with economy hotel/guesthouse accommodation in Himmafushi, as well as half- and full- day trips (if you prefer to book your own accommodation). Introduction dives are available for those who have never tried before, and certification courses for those wanting to learn.
Located in the Northern Atolls, Raa is famous for the exceptional range of marine life, both fish and macro critters, that inhabit the vast number of submerged pinnacles here. From nudibranchs to Napoleon wrasse, mantis shrimp to manta rays, turtles, sharks and lots more, Raa Atoll is the place to come for a relaxed underwater adventure. [More information on these dive sites: Raa Atoll].
Furaveri is a 5-star resort and spa on Raa Atoll, constructed in the popular Maldivian water bungalow style. With its in-house PADI 5-Star Dive Center and incredible house reef, first class dining and a long list of non-diving activities, Furaveri an ideal getaway for couples and families.
Elsewhere
We also make reservations for luxury stays at the breath-taking 4-star paradise of Filitheyo Island Resort

on Faafu Atoll (Nilandhe): and at its more affordable sister property Medhufushi Island Resort

on Meemu Atoll, in the Southern Atolls. Both resorts have on-site dive centres. Visit their website to review features, facilties and prices, then come back to book your stay with us to claim your free dive insurance or loyalty bonuses.
Choose Your Own Accommodation
If you plan on staying in Maldives either before or after your resort diving vacation, you can get the best value rooms with hotelscombined.com, our affiliated hotel reservation specialists. Many resorts in the Maldives are not available because they have signed exclusive market agreements with tour operators that effectively capture the travel market in particular countries. However, hotelscombined.com have done all the hard work and list all the accommodations that are available on the international market:
All reservations come with a 'Low Price Guarantee' to ensure you get the best value for money.

Key Travel Facts
The Climate and Best Time to Go
The dry season (the northeast monsoon) runs from November to April, and the wet season (southwest monsoon) runs from May to early November. June to August experiences the most rain, although most of the rain falls in the southern atolls. Even during the rainy season there is an average of more than 6 hours of sunshine every day. There are no major cyclones in the Maldives.
Air temperatures are very constant at 31-33°C, with March and April being the warmest months. Night time temperatures are around 25°C. You should take light clothing as you normally would for visiting a place in the tropics.
You can dive throughout the entire year in the Maldives. Water temperatures are pretty constant at 26-29°C, with the sea being slightly warmer in April and May, and the Deep South being a couple of degrees cooler. The recommended season for the calmest seas, bluest skies, and best visibility, is from November to May. Outside of this period the winds and more frequent rain can cause ocean swells and reduce visibility a little. However, the upside of the rainy season is that the resort packages are cheaper, there are less crowds, and there are long periods of sunshine.
The larger marine creatures of the Maldives are not seasonal visitors: you can see hammerhead sharks, mantas, whale sharks, reef sharks, turtles and Napoleon wrasse all year round. At Fuvahmulah, thresher sharks are commonly seen from April to November, scalloped hammerheads from January to March, silvertips from January to March, whale sharks from December to April, and oceanic manta rays from March to May. Tiger sharks, great hammerheads and reef sharks are present all year round.
How to Get There
Male International Airport (code: MLE) on Hulhule Island is the main arrival point for international travelers to the Maldives. It is well connected and easy to get to. There are direct flights from many countries in Europe (including UK, Turkey and Russia), from much of the Middle East, India, Sri Lanka, Thailand, Malaysia and Singapore. Gan International Airport (code: GAN) on Addu also has direct flights from Colombo (Sri Lanka).
Domestic flights are provided by Maldivian

. They have a good network of flights to many of the atolls although prices are high. There is also an extensive network of speed boat transfers that service the outer atolls. Speed boats operate from the airport jetty and are available on a shared (fixed schedule) or private hire basis. Budget-friendly ferries run transfers between the main inhabited islands.
We recommend you consider insurance to cover travel and diving packages, including trip cancellation and medical. Arrange a competitive quote from our insurance providers:
Tourist Visas
A tourist visa for the Maldives is granted upon arrival to visitors of all nationalities. Therefore a foreign tourist does not require pre-approval for a visa. A tourist must simply satisfy some basic entry requirements to obtain immigration clearance upon arrival - a passport with at least 1 month validity, a pre-paid hotel/accommodation reservation, sufficient funds to last for the intended period of stay, confirmed onward/return flight ticket, permission to stay in next intended destination, yellow fever vaccination certificate (if arriving from infected region, completed online traveler declaration (within 96 hours of the flight time). The maximum number of days granted on arrival is normally 30 days. For up to date information, visit the Maldives Immigration

website.
Maldives Visitor Health
The Maldives has no serious problems with diseases, although dengue fever and zika have been recently reported. The resorts are self-sufficient in terms of water. In some cases it is potable although it doesn't taste great. Some resorts provide free bottled drinking water, others charge for it. Sun-related injuries are the most common health concern for tourists, so drink lots of water and stay in the shade to avoid overheating and sunburn.
Many resorts have their own medical professional and most are within reasonably easy reach of a decompression chamber. If you need emergency medical assistance during your trip, dial 102 and ask for an ambulance. There are a handful of hospitals in Male and Hulhumale: the state-owned Indira Gandhi Memorial Hospital (IGM) and various private ones. As always medical/travel insurance and or diving insurance is strongly recommended.
The Maldives performed relatively very well during the COVID pandemic despite remaining open to tourism for almost the entire time. The COVID pandemic national emergency was declared over 13 March 2022 and there are no special requirements for visitors, such as COVID vaccinations, negative test results or insurance.
Tourist Security and Safety
By international standards, crime rates are very low in the Maldives. Most tourists stay in their idyllic resorts so exposure to crime is very restricted. Your hotel room likely has a safe box so use it to avoid petty theft. Take the usual precautions such as not leaving money and valuables lying around the pool or on the beach. Male City and Hulhumale are really the only places where street crime is ever likely to occur. There are occasional protests and rallies in Male, which should be avoided. There was a bombing in 2007 but this was thought to be a once-off incident.
Useful Tips for Maldives Tourists
Sightseeing, Activities and Adventure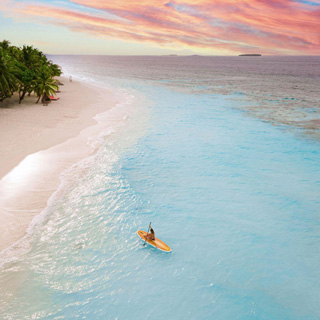 If you are looking for sun, sea and sand, nothing can beat the Maldives. The national territory is 99% water, and the remaining 1% is blessed with some of the most picturesque beach scenery you can imagine. There are countless sandbars and tiny uninhabited islands with picture-perfect white sand beaches gently lapped by aquamarine seas. The resorts and hotels themselves are providers of most activities for land tourists, and you can partake in plenty of the usual aqautic activities such as parasailing, kitesurfing, wakeboard, catamaran sailing and sea kayaking. The archipelago is also quite a popular destination for surfers, where shoulder- or head-high swells attract intermediate and advanced surfers. The best breaks are on the outer reefs on the southeast sides of the atolls, especially in the Deep South and North Male Atoll. March to November is the best time to visit to make a splash.
Male City itself is not a thriving hive of activity for tourists, although the nearby artificial island of Hulhumale is making progress towards this aim. It has long white sandy beaches lined with coconut palm trees, and a central park which you can stroll or job around. Watersports are available, including snorkelling. Hulhumale is easily accessible from Male City and airport. In Male City itself, the National Museum has collections from colonial and pre-colonial times, including royal antiquities from the Buddhist era the period of Islamic monarch rule, such as ornaments and costumes worn the sultans. Unfortunately many Buddhist statues were destroyed or damaged during an attack in 2012. The museum is open Saturday to Thursday (excluding public holidays).
Now very much an Islamic nation, the Grand Friday Mosque is the biggest religious building in the country, housing up to 5,000 worshippers. It was built of white marble and opened in 1984. and features and impressive golden dome and beautiful minarets. Muleeaage is another must-visit building in the city. It was constructed between 1914-19 and today is the official palace and residence of the sitting president.
For more information and ideas on what to do, visit: The Maldives Tourism Board

.
Time Zones
The time throughout the country is 5 hours ahead of Universal Coordinated Time (UTC +5).
Business Hours in the Maldives
Banks are open Sunday to Thursday from 08:30 hrs to 14:00 hrs (closed Fridays, Saturdays and public holidays). During Ramadan, the banks are likely to be open 08:30 - 12:00 hrs.
Electricity
Most resorts in the Maldives use 220/240 volt AC at 50 cycles. Wall sockets are usually the 3 square pin - 13 amp British type or the 2-pin European style, so it is always worth carrying an international adapter. If you need a 110V supply you will need a small transformer to convert from 240V to 110V.
Communications
There are 2 cellular network providers in the Maldives: Dhiraagu and Ooredoo. Both offer good coverage, although there are still lots of areas in the atolls without coverage. You can buy a local SIM card at Male International Airport, Male City, and other inhabited islands, but not at resorts. The resorts though do have telephones, either in the rooms or at reception. Charges are nearly always high so visitors are advised to try free calls through Whatsapp, Viber, Skype etc. The international country code for the Maldives is '960'. To make an international call, dial '+' or '00' and proceed with the number.
All the resorts offer wi-fi internet and most provide it free of charge. There are surprisingly few internet cafes in Male City, but most tourists can access the internet in restaurants and regular cafes instead.
Fixed postal delivery takes about 1 week to reach overses destinations. International courier services operate from Male City.
Codes of Behaviour
There are plenty of shops and stalls in Male, selling local handicrafts such as wooden curios and woven mats. There are also a lot of jewellery shops selling silver, gold and mother-of-pearl (made from mollusc shell). Some of these shops also sell turtle shells and coral, which we do not recommend tourists buy since the trade in these items has negative consequences for the marine environment.
When in the Male, displays of affection, including holding hands and kissing, may offend local people.
Tipping and bargaining
It has been customary to give tips in Maldives since time immemorial. Indeed, the government has now passed legislation making it mandatory for a 10% service charge to be added to all bills. This means that you do not need to worry tipping, unless you want to give even more to your dive guide and other staff members who look after you well during your stay.
Clothing
The Maldives is a conservative Muslim country so nudity is forbidden. Unless you're at a private pool or beach, swimwear should be decent, and wear modest clothing when dining out. If you visit any inhabited islands you will be expect to wear clothes that cover your torso and your legs at least down to your knees.
Criminality in the Maldives
The law most commonly violated by tourists in the Maldives is bringing alcohol in to the country. If you do have any alcohol with you, declare it at Customs; you can claim it back when you leave. They usually x-ray all incoming passenger luggage, so any undeclared bottles are likely to be found. Other items that you are not allowed to bring in to the country include pork products, idols of worship, and spear guns. 'Inappropriate' books, magazines and DVDs have also been known to be confiscated too.
Note that drugs are illegal and trafficking offenses are punishable by life in prison. Likewise, homosexuality is against the law. However, there have been no legal-related issues reported by LGBTQ+ couples staying in resorts in the Maldives.
Useful References for Maldivian Dive Packages