>
Dive Destinations
>
Maldives
>
Ari Atoll
Your Guide to Diving in Ari Atoll
Maamagili, Rasdhoo and More...
...Highlights: whales sharks, hammerhead sharks, shark action, manta rays, schooling fish & big pelagics...
...Ari Atoll's diving environment: wreck dives, drift diving, beginner and advanced divers...
After North Male, Ari (also known as Alifu) is considered the atoll most open to tourism and this is thanks in no small part to the high quality of the scuba diving. Many divers consider its sites to be the best in the country and it features prominently on the routes of many Maldivian liveaboards.
Topographically, Ari Atoll diving differs from many other areas in the Maldives since it does not feature many long stretches of barrier reef. Instead, there are a lot of thilas here where submerged pinnacles both inside and outside the atoll lagoons act as sites of marine aggregation, making for wonderful diving both in and around the pinnacles and in the kandus (channels).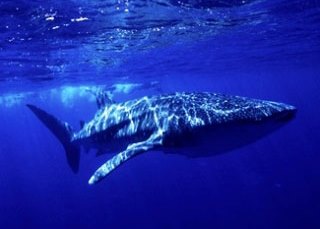 Diving at Ari Atoll is not famous for its coral splendour. In fact, its thilas, giris and kandus can be a little dull by comparison to many other Asian dive destinations due to the strong currents in this region. There are some exceptions to this generality but divers do not visit here to gaze at pretty corals. Rather, visitors choose the destination for the regular encounters with big marine life.
Hammerhead sharks, manta rays and other pelagic fish are more commonly encountered around Ari Atoll and even the mighty whale shark regularly puts in appearances, especially in its marine protected areas. Although there are spots elsewhere for sharks and mantas the most reliable sites for this ever popular passing trade are located here.
Maamigili's plankton rich waters at the southern tip of the atoll allow scuba divers and snorkellers the opportunity to get up close with a whale shark, or you can snorkel with them too at Gangehi Maavaru in the north west.
There are several places for frequent manta sightings when diving in the Maldives, but Ari Atoll leads the way with several cleaning station hot spots: Donkalo Thila in west Ari, Rangali Madivaru in the south west, and Kudarah Thila in the south east. And for schooling hammerhead sharks, Hammerhead Point at Rasdhoo Atoll, northeast of Ari, is the location most often visited by Maldives liveaboards. Its proximity to deep waters lends the location the best chances of getting close to these magnificent creatures.
If not the premiere dive site in the Maldives, then Ari's Maaya Thila is one of the best. This pinnacle has a tumultuous assortment of sea life, with an amazing variety and volume of creatures. Brightly coloured nudibranchs vie for your attention with giant frogfish. Turtles can be seen happily munching on the reef, and the elusive guitar shark can be spotted by the alert diver. Another Ari Atoll pinnacle, Fish Head is a favourite for packs of grey reef sharks that buzz past in search of food. Neverending trains of fusiliers and batfish often shoot past on the ocean highway, to further destinations at the atoll.
Dive Site Descriptions
Broken Rock
What seems an unusual name for a dive site becomes eminently clear when you first lay eyes on this reef in Ari Atoll. Normally you can expect to be dropped a short distance off the reef and you will make your way often aided by current to the large structure that features a large diagonal split down its middle, hence 'Broken Rock'.

The highest point of the reef is at around 12 metres and it drops to its base at 25 metres, where the early part of your dive is likely to be. Here it is possible to swim around the entire rock in slack currents. However, most dive guides will prefer to lead you through the canyon itself.
Show more
How to Dive Ari Atoll
Being over 40 kilometres long, Ari is the second largest atoll in the Maldives. Due to the long distances between the best sites, a liveaboard cruise is really the only way to see more than just a few of these excellent sites. The dive sites for big marine life are scattered across the atoll and, with 105 small islands, there are many great spots throughout.
For more information on the safari routes and all the other travel information you might need to visit Maldives, see our Central Atolls liveaboards section. Liveaboards in the Maldives become fully booked well in advance so we recommend that, to avoid disappointment or having to settle for a sub-standard vacation, you plan to book your trip at least 6 months prior to your proposed dates of travel.
If you prefer to stay on land, have a very limited amount of time available, or if you want to learn or try scuba diving, we offer some economy guesthouse diving packages on the picturesque and eco-friendly island of Ukulhas in North Ari.
The Ari Atoll Diving Season
Diving in Ari Atoll is all the year round but the recommended months for confirmed liveaboard departures are from December to May, when the seas are at their calmest. If you wish to come outside of these months then the seas are unpredictable and it may be more difficult to find a departure date that suits you. Water temperatures are fairly constant at 26-29°C and visibility is consistent at 15-30m, but varies from site to site depending on which side of the atoll you dive in which season. Weather Atlas

has some useful information on the climate and sea temperature at Ari Atoll.
Whale sharks, hammerheads and other sharks are present throughout the year. Mantas are here in large numbers year round too but the peak time to see them is August to November.

Where is Ari and How Do I Get There?
Review our maps below of Ari Atoll and its host country Maldives. Here, you will find information on how to get to the Maldives, and then cruise on to Ari.
Reef Summary
Depth: 5 - >40m
Visibility: 10 - 30m
Currents: Can be strong
Surface conditions: Usually calm but can be choppy in southwest monsoon
Water temperature: 26 - 29°C
Experience level: Intermediate - advanced
Number of dive sites: >50
Distance: ~35 km south west of North Male
Recommended length of stay: 1 - 2 weeks
Useful References

---
CUSTOMER TESTIMONIALS OF DIVE THE WORLD
... Prompt email responses and thorough with regards to our itinerary (arrival times, transfers etc.). Easy to navigate payment system ... -- Rick Horbury, Australia. [More customer reviews]