>
Dive Destinations
>
Maldives
>
North Male Atoll
Your Guide to Diving in North Male Atoll
Scuba Adventures in Maldives
...Highlights: shark action, manta rays, schooling fish & big pelagics...
...North Male Atoll's diving environment: wreck dives, drift diving, advanced divers...
Also known as North Kaafu, North Male is perhaps the best explored diving atoll of the Maldives and most well known, having long been recognised as providing a great variety of scuba diving, beautiful scenery and a geographical location that makes it relatively easy to get to - the international airport is in Male, the port of departure for many of the Maldives liveaboards. North Male Atoll diving is characterised by reefs, caves, current-swept channels and drop offs. The atoll sees plenty of fish action and is generally a good area for large pelagics, with reef sharks and mantas at the front of the queue.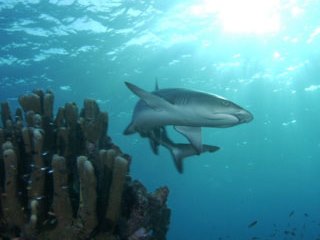 A shipping route through one of the atoll channels has also left a few wrecks for future generations to enjoy as colourful and thriving artificial reefs. In addition, the North Male dive sites enjoy some of the best coral reefs in the Maldives. The islands are not really known for their pristine coral coverage these days but there are spots in this area as healthy and bright as anywhere in the world.
Manta Point is a cleaning station in the south east of North Male Atoll that's great for divers, not just for observing manta rays at close quarters, but also reef residents such as octopus, moray eels and white-tip reef sharks. With a little luck (but not too much) you'll see, not just one or two mantas, but more than your fingers can count of these magnificent graceful rays.
Girifushi Thila is one of North Male's pinnacles, covered in a riot of colourful soft corals and swept with currents that sweep in masses of schooling fish. From one of the many crevices, you can shelter and watch tuna, jacks, reef sharks and eagle rays sweep by.
Dive Site Descriptions
Back Faru
The dive site is located only 1 hour away from Male City, on the northeast of Farukolhufshi, on the outer reef. It's an easy drift dive as it's well protected by the strong winds during the southwest monsoon season, and also because it's not greatly affected by the currents. It's not uncommon to see snorkelers on the site as well, as the reef is very shallow at the top and then it gradually gets deeper. Visibility is also usually very good.

The short distance from Male plus easy diving conditions make this site a perfect spot for a check dive. It's an easy site but that doesn't mean that surprise encounters with big fish aren't possible. Several turtles can be seen on the same dive, as well as eagle rays, dogtooth tuna and white tip reef sharks swimming freely and almost unaware of scuba divers and snorkelers.
Show more
How to Dive North Male Atoll
Liveaboards are without doubt the best way to see around the dive sites of North Male. For more information on the tour routes and all the other travel information you might need to visit Maldives, read our Maldives Central Atolls liveaboard section.
Most of the atoll is inhabited, with more development in the south, with the north being more sparsely populated. This results in the more remote sites of the north being less visited and consequently more pristine. However, there is a greater concentration of dive sites to the south. As with most of the diving in the Maldives, there is often some current present so many dives are drifts.
Due to the popularity of North Male Atoll as a diving destination, we recommend you book 6 months in advance otherwise you may find the boats you want are already full. The Maldives is not a destination where you will find much last-minute availability so pre-planning is very much advised.
If you prefer to stay on land and only have a very limited amount of time, or if you want to learn or try scuba diving, we offer some affordable resort diving packages and day trips.
The North Male Atoll Diving Season
The northeast monsoon from December to May is dry and brings gentle breezes. Currents pick up from November onwards which bring colour, good visibility and pelagic fish life, including manta rays and reef sharks, to the channels and pinnacles, although mantas and sharks are present the whole year round.
The southwest monsoon runs from June to November with a greater chance of rain and less calm sea conditions in exposed areas. However, there is less rain here than in the southern atolls of the Maldives. Late May 'til July are the months when conditions might be less than ideal and most liveaboards will go elsewhere during this period.
Air temperatures at North Male Atoll stay pretty constant at between 30 and 32°C, and water temperatures tend to hover around 26 to 29°C, although thermo-clines at depth can bring a sudden rush of cooler water. Visibility can be greater than 30m all year round when diving at the channel entrances with inflowing currents, and 15m at outflow. Visit Weather Atlas

for more information on the climate and sea temperature at Male City.

Where is North Male and How Do I Get There?
Review our maps below of North Male Atoll and its host country Maldives. Here you will find information on how to get to Male City on the atoll.
Reef Summary
Depth: 5 - >40m
Visibility: 10 - 30m
Currents: Can be very strong
Surface conditions: Generally calm but can be choppy in southwest monsoon
Water temperature: 26 - 29°C
Experience level: Beginner - advanced
Number of dive sites: 35
Recommended length of stay: 1 - 2 weeks
Useful References


---
CUSTOMER TESTIMONIALS OF DIVE THE WORLD
... The information I received from you was clear and detailed and all of my questions were promptly answered ... -- Alicia Wilkinson, Canada. [More customer reviews]