>
Liveaboards
>
Belize
Belize Liveaboards
Best Dive Tour Options and Travel Information
One of the most famous dive sites in the world, The Great Blue Hole is what puts Belize on the scuba map. Yet there is so much more to see on a Belize liveaboard adventure. The region offers some of the finest diving in the whole of the Caribbean. This small Central American country is home to the longest stretch of coral in the western hemisphere and boasts 3 distinct Caribbean atolls.
You will be amazed by the colorful reefs with visibility often exceeding 130 ft (40m), spectacular soft coral gardens, sponges and channel formations. The warm waters teeming with large and small fish, are what make Belize a premiere liveaboard diving destination. The easy diving conditions make this destination attractive to scuba divers of all experience levels and safari cruises here concentrate their regular itineraries around the magnificent atolls of Lighthouse Reef and Turneffe Atoll. And let's not forget the presence of one of the most iconic dive sites in the world - The Blue Hole!
The combination of having the second largest barrier reef in the world located on its Caribbean coast, some stunning palm-fringed beaches, vast rainforests full of wildlife, and dozens of ancient Mayan ruins to explore, make Belize an ideal travel destination for both liveaboard divers and non-divers alike. So whether it's immersing yourself in clear warm waters, jungle adventures, or simply kicking back Caribbean style on the beach, Belize is a wonderful diving and vacation destination.
Liveaboard Diving Cruise Options in Belize
To witness the region at its best, there really is no substitute for a liveaboard diving safari, operating out of Belize City:
These tours including diving at Turneffe and Lighthouse reefs, including the Blue Hole. Lighthouse Atoll has no established accommodation options so the most practical means of diving at both of Belize's 2 premier destinations is by liveaboard safari.
Furthest from the mainland is the most easterly and best area for diving in Belize, the world renowned Lighthouse Reef. Great visibility all year round, critters galore, fantastic steep drop-offs and walls plastered with huge gorgonians can be found all along the eastern and southern side of the atoll. But perhaps the key attraction are the vibrant reef flats - jungle-like, swaying soft coral gardens that are cut with gullies and fissures and make ideal sites for divers to explore. Spotted eagle rays, barracudas and hawksbill turtles are frequently sighted at Half Moon Caye Wall and Que Brada. [More details on these dive sites: Lighthouse Reef].
Lighthouse Reef is home to The Blue Hole, a collapsed freshwater cave system approximately 1,000 feet across and over 400 feet deep. Most liveaboard cruises include multiple dives on Half Moon Caye, another spectacular site where the wonderful visibility means great sightings in the blue of turtles, sharks and rays, as well as a lot of macro creatures to marvel at. [More details on these dive sites: Blue Hole].
Turneffe Reef is the nearest of the 3 atolls to the mainland. The lagoon inside the mangrove covered islands that make up the atoll acts as an important nursery for reef fish such as snappers and groupers. It is also home to several pods of dolphins and manatees, which are sometimes seen on visits here. The surrounding waters are home to many of the larger fish species such as dog and cubera snapper, permits, horse eye jacks and black groupers. Dives here tend to be shallow but on healthy reefs teeming with life.
The Elbow is the highlight here with schools of spawning fish congregating in vast numbers off the wall. The sight of a slowly swirling wall of large fish is enough to put a smile on the most world-weary of diver's faces. Other dive sites include the Front Porch, a great place for underwater photographers to snap pictures of Turneffe's endemic spotted toadfish. [More details on these dive sites: Turneffe Atoll].
Most trips are 7 nights (but there are some of 10 nights) and they are surprisingly affordable. The liveaboard boats follow the same route so your choice of boat will be a judgement of price vs boat facilities/service/accommodation. Most of the dives are suitable for qualified divers of all levels of experience.

Key Belizean Travel Facts
The Climate and Best Time to Visit
Belize enjoys a sub-tropical climate with temperatures at 77-95°F (25-35°C) from April through October, and at 70-90°F (20-30°C) from November through March. May is often the hottest month. It is usually a little cooler on the mainland, especially in the south. Oceans breezes are a welcome respite from the heat given the high humidity of over 80%.
There are 2 seasons - the dry season which runs from December through May. The rainy season which is June through November, but more than a short squall of rain is rare. it rains less offshore at the atolls than on the Belize mainland. The cooler weather from November through February is caused by 'Northers' which blow in and can cause choppy seas at dive sites on the west of the atolls. During the rest of the year easterly trade winds blow bringing swells to the sites on the eastern and southern sides. The Belize liveaboard boats simply switch to the leeward sides of the atolls when strong winds are blowing.. Although there hasn't been a big one since 2000, August through October is historically the hurricane season.
Belize is a year round liveaboard diving destination, although April through June is the period generally regarded as the peak season for divers. Visibility is best in dry season when it can exceed 130 feet (40m), but it can drop to around 50-70 feet (15-20m) in rainy season. Water temperatures hardly ever fall below 79°F (27°C) and reach a high of 85°F (29°C) from August through October.
Turneffe Atoll in particular is a favored spot for fish to spawn. From January through July different fish species aggregate in vast numbers on the reefs, especially at The Elbow. Sea turtles nest at both Lighthouse and Turneffe atolls. June through November is when they nest at Lighthouse and July/August is the time you will see more loggerheads in the water at Turneffe.
Liveaboard Ports of Departure in Belize and How to Get There
International flights arrive in Belize City. Some buses and taxis run from the airport to the city center which takes about 30 minutes. However, all boat operators run an airport (and hotel) pick-up service in an air-conditioned van to the dock at Radisson Fort George Hotel.
There are 2 hour international flights to Belize from various cities in the USA such as Los Angeles, Atlanta, Dallas, Charlotte, Houston and Miami, as well as from El Salvador, Guatemala, Honduras and Cancun in Mexico. Airlines that operate flights to Belize include Continental, Delta, American, TACA, US Airways, as well as the local airline Tropic Air

.
Sometimes unexpected circumstances can cause travelers to cancel their trip. For this reason we recommend you take out insurance to cover trip cancellation, as well as scuba diving and travel activities. See our insurance program for a competitive quotation:
Tourist Visas
United States citizens, member states of the European Union, many central and South American countries, as well as visitors from CARICOM nations, do not require visas. You will need a visa if you are a national of China, Colombia, Cuba, India, Libya, Pakistan, Peru, or Taiwan.
You will need to show a return ticket and a passport that is valid for 6 months beyond your intended stay. You will be given a 30-day entry stamp and extensions may be obtained in the country. It is possible you will be asked to show you have sufficient funds for your stay (US$ 50 per day).
Visit Embassy of the United States for Belize

and The Belize High Commission

websites for up to date details.
Places to Stay
If you plan on staying in Belize before or after your liveaboard diving safari then check our affiliated hotel reservation agents, hotelscombined.com. Browse their website choices for accommodation options, use their online chat to ask your questions, then simply book with your credit card:
All bookings made with hotelscombined.com carry their 'Low Price Guarantee' to ensure you get value for money.
If you prefer, it's also possible to dive these sites, including the Blue Hole, by staying at a resort on Ambergris Caye or, more easily, on Turneffe Atoll.
Visitor Health
There are no serious epidemic diseases in Belize and vaccinations are not required for entry. It is advisable to use anti-malarials for extended stays in the jungle, and there are also some areas with yellow fever and dengue fever. We recommend you consult with your local doctor for vaccinations and other health precautions for your liveaboard trip.
There is a hospital and several private medical centers and clinics in Belize City. Crucially for scuba divers, there is a hyperbaric chamber on Ambergris Caye.
Tourist Security and Safety
It is not especially dangerous to visit Belize but, like anywhere, using good sense goes a long way. There is probably a greater risk in a busy area like Belize City than what you will be exposed to staying on a Belizean liveaboard.
When visiting here, the usual good pieces of advice apply. Avoid dark or suspicious looking areas, do not wear expensive jewelry or accessories and stay in groups. If you are taking tours then make sure you are dealing with qualified agents and guides.
Useful Tips for Tourists
Sightseeing, Activities and Adventure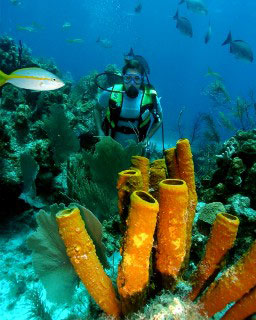 The Museum of Belize is an impressive brick building and a former colonial prison. Much of the museum is dedicated to its history as a prison but it is also a great place to get an introduction to the ancient Mayan and colonial history of the country. The museum can be found at the corner of Gabourel and Hutson streets.
Caracol Ruins are the most well known of the Mayan ruins. They are close to Guatemala in the Chiquibul Forest. They are a must-see for anyone who stays on the mainland and a great place to learn about the area's ancient peoples and culture.
Altun Ha is the most extensively excavated ruin in Belize. It was a major trade center and there are 13 temples and residences. Cerros and Lamanai are worth a visit for the beautiful scenic settings and rich historic background.
Belize Zoo is 31 miles (50 km) west of the capital and enjoys international acclaim as a wildlife education center. The exhibits include more than 100 native species, including some large species that are housed in large enclosures that allow a good degree of natural behaviour.
For some more ideas on things to do, visit the Belize Tourism Board

website.
Belizean Time Zone
Belize is in the same time zone as United States Central Time: -6 hrs GMT or -1 hr EST.
Electricity
The national electricity voltage as in the USA - 110/220V AC, 60 Hz. Plugs on electrical devices are either North American 3-pin (2 flat blades with round grounding pin), or UK-style (3-pin rectangular blade pins). The Belize liveaboard boats have 2-flat pin sockets.
Communications
Internet services are widely available but internet is still expensive so they are not on every street corner. The liveaboard cruise boats in Belize do provide a wi-fi service. Telephone and fax facilities are generally available. The international dialing country code to Belize is +501.
The postal service is quite reliable. Air mail can take around 2 days to the USA or 8-10 days to Europe. The main post office in Belize City is on the north side of the swing bridge.
Codes of Behavior
Tipping and bargaining in Belize
Many hotels, resorts restaurants and tour operators will include a 10% service charge meaning that further tipping is discretionary. Tipping is customary in restaurants that do not include a service charge, and 10-15% is the norm. You may also give tips to private tour guides or others who you feel have given a good service.
Best Clothing to Wear
Belize can be hot so you should wear cool light clothing to help avoid excessive sweating and fungal infections. Formal clothing is generally not expected, even in the higher end places. Make sure you put on sun protection and wear a hat. Refreshments are not always easy to find when out sightseeing so you should take necessities like drinking water in a small backpack.
Criminality
You should not have any major concern about crime. Use good sense, avoid wearing expensive jewelry and exercise the sensible caution of a stranger in a strange land. No doubt around the borders there will be some miscreants ferrying contraband but it is very unlikely that tourists will encounter such individuals.
Useful References for Liveaboard Charters in Belize


---
CUSTOMER TESTIMONIALS OF DIVE THE WORLD
... I just wanted to email you to say what a wonderful time we had. Thanks so much for all the smooth organisation for our stay, everything ran so smoothly it was really great. Thanks to you all at Dive The World ... -- Emily Thompson, UK. [More customer reviews]