>
Dive Trip Reports
>
Belize Aggressor III
Liveaboard Your Guide to Diving in Belize
Belize Aggressor Trip Report
Click on an image to enlarge

It has been said by many that Lighthouse Reef in Belize offers the best diving available in the Caribbean Sea. I recently had the opportunity to see for myself if this was true onboard the Belize Aggressor III 7 night liveaboard cruise.
The reef gardens were sensational in their life, colour and topography and it is hard to imagine anywhere else could top that. The combination of tall palm-like sea plumes and sea fans of pink and purple, yellow tube sponges, red stove-pipe and rope sponges interspersed by gullies and tunnels that lead to the reef wall drop-offs, presented an irresistible temptation for exploration.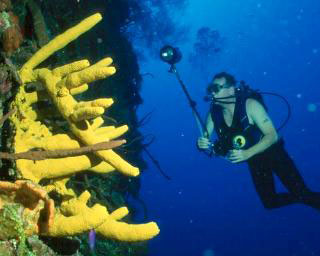 A welcome bonus for me was the prevalence of critters which made night dives among the most eagerly awaited of the day. Toadfish are indigenous to the Caribbean Sea and Belize has 4 species. It was always a delight to search and listen out for these bizarre creatures. Octopus and reef squid, always favourites with scuba divers, were spotted on most night dives. Shells, especially conch and ovulidae, and lobsters could all easily be found. One of my favourite encounters was a sculptured slipper lobster scurrying over a coral bommie, looking for all the world like a giant bed bug. Cryptic neck and decorator crabs, arrow and hermit crabs are all here in abundance.
And an ever-present on night dives are hunting tarpon - a rather grumpy looking 3-foot long predator fish, huge groupers and jacks.
Other favourite encounters on the trip were a pod of Atlantic bottlenose dolphins that came to inspect the boat and then hung around playing with a pod of delighted snorkelers from the Aggressor! A tiger shark was spotted in the shallows on one crossing and the many eagle rays that swoop along the reef walls and over the gardens in search of food held everyone's amazement.
The diving at Lighthouse Reef is relatively easy if you chose to stay in the shallow gardens, which for most divers were the main attraction anyway. The absence of currents makes the destination appealing to a wide range of experience levels - our trip had several liveaboard first-timers and some divers that did nothing but liveaboard cruises. It may be that the lack of strong currents is why there were not so many shark encounters and big schools of fish, but we did see Caribbean reef sharks and blacktips at some of the sites.
• Watch our Belize diving video

The Boat and Cruise
The Belize Aggressor offers standard 27-dive week long cruises, with the main focus being on Lighthouse Reef at Half Moon Caye and Long Caye. A dive at Blue Hole and a few dives at Turneffe Reef are also included. The Blue Hole is such an iconic site that I better pass comment ... it was a 42m dive, well guided and thoroughly briefed, to see some underwater stalactites formed many thousands of years ago. I have ticked that box in my log book now but it didn't excite me much. There is usually 1 land visit at the picturesque Half Moon Caye Island to visit the red-footed booby sanctuary. This was a welcome interlude and added some fun and variation to the itinerary.
The communal areas of the boat are the main deck saloon/dining area and upper deck lounge area. The saloon is air-conditioned but a little on the small side - if it's raining or windy outside, the saloon would struggle to accommodate all the guests. There is a large screen TV with a reasonable selection of movies to watch. Guests can also plug & play their own movies if they have them on a flash stick or external hard drive.
The upper deck is where most guests choose to spend the sunny afternoons. There is a whirlpool hot tub as a central feature of the deck. There are a few sun beds available and some much needed shade too - it can get very hot in Belize! The upper deck also has a bar and this was the hang out for those guests that chose to forego the night dives and opted instead for a glass of wine or beer.
As with all the Aggressor boats, guest safety onboard is a serious issue and the list of safety features on board is very impressive. As part of the boat introduction, we watched a boat safety video which was thorough, informative, professional and reassuring. Lost diver devices are available for rent for those guests that are concerned their navigation might not be up to scratch, but the good visibility and easy scuba diving made these seem a little redundant.
The Aggressor may not be the newest boat in the world but this was overlooked by guests as it is well maintained and constantly cleaned.
The Diving Facilities and Service
When diving in Belize on the Aggressor liveaboard, you have the choice of guided or unguided dives. There are always 1 or 2 guides in the water but you are not forced to accompany them if you prefer not to. However, my recommendation is that you do follow a guide as they are very knowledgeable about the local area and good at finding the local critters. The dive crew never stopped being helpful and friendly. The saloon has a wide selection of fish and marine creature books which are great for identifying the sea life you encounter.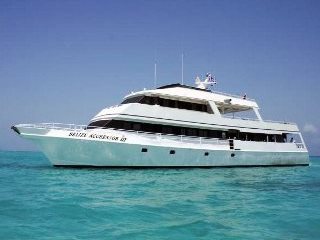 The Aggressor provides membrane nitrox for appropriately qualified divers. This is especially important on their cruises since they offer 5 dives per day. The first dive of the day is after breakfast at 8:15 am, the second is at 10:45. The third is after lunch as 2:15 pm, and the fourth is at 4:30 pm. The final dive of the day is a night dive after dinner at close to 8pm. For my own personal taste, I thought the diving day starts a little late, but I suppose they can not please everyone.
The dive deck is really enormous, possibly the largest I have ever seen. There is a central camera table and the diver stations are located down both sides of the deck with some central. Each station has a large bin under the seat for storing personal items etc. There are lots of rinse tanks that are dedicated to different pieces of equipment, hangers for wetsuits, a bathroom; overall the deck is very good.
The dive platform has 2 solid and deep ladders - very practical for egress, a 5m hang bar, a night light, and there are 2 hot water shower heads. All dives are made from the platform itself.
The Food and Dining Service
I must say that I thought the food was good. Being a vegan, I often feel short-changed on the dining options when I'm on holiday, but on the Aggressor the chef really went out of her way to make me full meals, afternoon snacks and desserts. I enjoyed the imaginative range of soups, the soya mince curry, Caribbean rice n pea, the blackberry muffins and butterscotch mousse.
The regular diners were also fed well with an ever changing selection of meals, sometimes spicy, sometimes not - Belizean, Mexican, Caribbean, North American, European, even a little Asian. Some of the favourites were oven baked snapper with lemon cilantro sauce, rib-eye steaks, chicken fajitas, flaming mignon, home made chocolate cookies. The chef was very accommodating with special requests throughout. Some of the European guests thought that the food was a little heavy for their palate so you might want to speak to the chef about this if you prefer simpler dishes.
All food and drinks on board are complimentary, including wine and beer but excepting liquor spirits. The day begins with a continental pre-breakfast, followed by a full cooked breakfast, lunch and dinner. Freshly prepared snacks are served mid afternoon.
Meals are served at 4 dining tables in the saloon. As the dining room is small, the fourth table is separate and located in the lounge area - maybe not great for team building but fine if you are group of 4 friends and want to dine alone.
Cabin Accommodation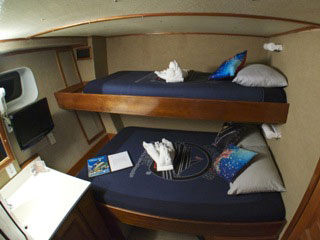 The standard cabins (called Deluxe) are located on the lower deck. They aren't the most spacious liveaboard cabins you'll ever come across but they are reasonable and satisfied most guests. They are fitted with a double bed lower bunk and a single upper bunk, so couples and singles can share them. All the cabins have individual controlled air-con, a private bathroom with shower, toilet and toiletries, a sink, a small flat screen TV and DVD player. There is no wardrobe or bedside table but there are 2 drawers to store clothes.
If you want a more spacious cabin then the Master en-suite cabin might suit you better. This has a double bed and is located on the upper deck so it has a window too.
They are made up daily so are always spotless.
Getting to Belize
The boat departs from Belize City and the crew will meet and greet you on arrival at the international airport. There are direct flights into Belize from several USA cities, especially those in the south such as Dallas and Houston. There are also international flights from Guatemala, El Salvador and Mexico, for those that have a problem with going through the USA (transit visa requirements etc).
The easy access from the USA makes this liveaboard trip an obvious and affordable one for North Americans. Just over 50% of the guests on our cruise were from the USA, with the others coming from Europe and South America.
A word of caution: 2 guests arrived without luggage - lost somewhere at Dallas airport. They flew with American Airlines and almost all the guests reported similar occurrences when flying with American Airlines - you have been warned!
Conclusion
Overall, the stand out attraction of choosing the Aggressor fleet for a liveaboard holiday is their ability to deliver reliable and great level of service. They have many boats dotted around the world and they draw on their huge international experience to deliver consistency in many of the world's best and most popular dive destinations. The Belize Aggressor is no different in this regard. There are more spacious and newer options out there but the Aggressor's service and experience make up for this.
As for diving at Lighthouse Reef in Belize? I'd suggest that it measures very well against other destinations in the Caribbean. The colours and health of the reef are second to none. It offers easy diving conditions but with the option to choose deeper dives if you prefer. Belize is very easy to get to for North Americans so it is an obvious attraction to divers of all experience levels from there. And for scuba divers that are more used to diving in other parts of the world - you will get to see lots of species that are unique to the Caribbean Sea too, making a trip here worthwhile too.
Written by Sheldon Hey, August 2013

---
CUSTOMER TESTIMONIALS OF DIVE THE WORLD
... Website and booking were great. No need to change! The best thing is that we can book wherever we want in the world, it's easier than contacting every club separately ... -- Thierry Simard, France. [More customer reviews]