>
Dive Resorts
>
Fiji
>
Viti Levu
Viti Levu Diving Packages
Best Dive Resort and Travel Information
Great Fiji, largest of the islands, Viti Levu is where it all happens in Fiji. ¾ of the country's population live on the island, which is roughly 120 km by 100 km, and which serves as the political and economic centre of the country. The island boasts the highest peak in Fiji, Mount Victoria at 1,323 metres, international airports at Nadi and Suva, and the world famous resort dive destinations of the Coral Coast, Rakiraki and Beqa Lagoon.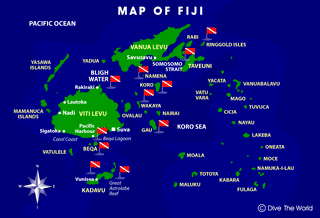 There are some fabulous accommodations and beautiful spots along the coastline although the tiny, deserted, postcard-perfect beach scenes of the Fijian Islands tend to be more numerous further afield. For those who do not want to take an internal flight or spend too long after touch down before reaching their dive resort, Viti Levu has plenty to offer.
The capital, Suva is on the more lush eastern side of the island although the vast majority of international flights land in Nadi. Within a couple of hours drive from the airport are wonderful trekking opportunities, the excellent Natadola Beach, and plenty of high quality Viti Levu scuba diving, particularly along the north and south coasts.
Where to Stay in Viti Levu
You will find superb reefs off the coast at RakiRaki, and excellent shark diving packages and more in Pacific Harbour. Elsewhere on Viti Levu, it can be disappointing for experienced divers. Choose a resort or location for diving on Fiji's main island:
The shark action on Shark Reef is what has made Pacific Harbour world famous. On a good day, you can spot 8 different type of shark on the reef, including tiger and bull sharks. Here we offer a mix of day trips to Shark Reef and Beqa Lagoon, an area renowned for its coral reefs and bommies. [More information on these dive sites: Shark Reef, Beqa Lagoon].
This is the Adventure Capital of Fiji so there are plenty of exciting things to do in the area for active visitors, both adults and children. White-water rafting, rainforest walks and zip line, surfing and watersports are among the most popular activities. Golf and horse-riding might appeal to those seeking a more relaxed time.
The Coral Coast is quite a long stretch along the south west coastline of Viti Levu. There are several dive resorts along it that run daily excursions to their local spots, although high quality scuba diving is really only found quite close to the tourist town of Pacific Harbour. [More information on these dive sites: Viti Levu].
Accommodation options along the Coral Coast of Viti Levu include beachside resorts for the young and energetic, or a more tranquil yet high quality tropical resort setting for those seeking peace and relaxation when back on dry land after a day's diving.
This part of Viti Levu is less developed but the diving in nearby Bligh Water is amongst the best in the entire country. Daily boat trips will take you out to the 50 or so sites that are accessible from here. If you still want more then there's always the option of unlimited self-guided shore dives too. [More information on these dive sites: RakiRaki].
Accommodation here is in the small beach resort of Volivoli which boasts a swimming pool, kayaking, beach volleyball and various other watersports, as well as diving packages. Fire dancers, Fijian dancing and other traditional ceremonies keep guests entertained during the evenings.
At Pacific Harbour plan on a stay of 3 nights for the Shark Reef encounter, or up to 1 week to enjoy diving Beqa Lagoon and explore the other adventure activities on the island. Pacific Harbour dive packages are inclusive of bed & breakfast accommodation and dives, or day trip diving only. At RakiRaki stays of 1 week are ideal. RakiRaki dive packages are inclusive of full board accommodation and scuba diving activities.
Click to view product.
Special discounted trips highlighted in yellow
Choose Your Own Accommodation
For those that prefer to find their own accommodation, we also offer day trips from Pacific Harbour, Rakiraki and Nadi.
If you are planning to stay in Fiji before or after your Viti Levu resort diving vacation, you can find a range of accommodation choices in Viti Levu, along the Coral Coast, Nadi, Suva or the popular islands on the north coast, at our affiliated hotel reservation specialists hotelscombined.com. Browse their website choices, use their on-line chat to ask your questions, or simply use your credit card to make your booking:
Take your pick from dozens of options, from top-of-the range international beach resorts to budget lodges, and everything in between. There's something to suit everyone's taste and pocket. And you can be sure that whatever options you select, it will be backed up with their 'Low Price Guarantee' to ensure you get top-dollar value for money. They have also introduced a "book now and pay later" policy, to allow you to secure your reservation now and only pay on your arrival.

The Climate and Best Time to Visit
Just like the rest of Fiji, Viti Levu has a tropical climate, meaning that the weather is nearly always warm and there is little seasonal variation in temperature throughout the year. The summer months of January to March are the hottest, with average temperatures around the 29-30°C. The winter months of July to September are only a little cooler, with temperatures about 26-27°C. There is an average of 5-6 hours of sunshine every day throughout the whole year. Summer is the higher rainfall season in Fiji.
The dive resorts are open all year round in Viti Levu and they do not recognise any period as a 'high season'. The summer rains can reduce visibility somewhat but not to such an extent that it interferes with enjoyment. The summer has the warmest water temperatures at 28-29°C; in winter the sea temperature drops to 25-26°C.
There are some seasonal factors for marine life, especially the sharks at Pacific Harbour, so we recommend you consult our detailed dive site descriptions for more information.
How to Get There
Nadi is the main international gateway to Viti Levu, Suva is also an international gateway. These are the only international airports, therefore our recommendations for how to get to Viti Levu are the same as in our main How to get to Fiji section. Most resorts will run transfers to their property so there is little to do when you arrive but look out for the relevant hand in the sea of waving hands upon arrival. Taxis and buses also run to just about everywhere on the island from the airport.
Unexpected events sometimes cause travellers to change their plans. For this reason we recommend you consider trip cancellation insurance, as well as cover for scuba diving and travel activities. Visit our insurance programme website section for a competitive quotation:
Sightseeing and Things to Do in Viti Levu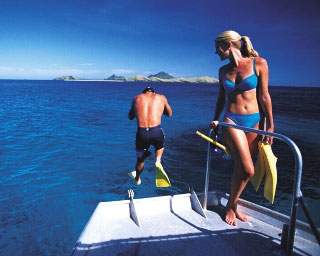 Pacific Harbour, in the heart of the Coral Coast, along the southern edge of Viti Levu and about 50 km west of Suva, promotes itself as the Adventure Capital of Fiji. For such a small, little developed village, there really is a lot to do from here, besides being the main launch point of most diving tours out to Beqa Lagoon. For instance, there's a shark feeding concession at Shark Reef Marine Reserve, where you can dive with 8 different types of shark, including bull sharks and tiger sharks - one of a very few places in the world where you can do this.
If you'd like to extend your life expectancy just a little, you can canoe the Navua River for genuinely adventurous river rafting and kayaking trips in the Namosi Highlands. An exhilarating journey down the river, past villages and rainforests, and through grade III rapid-filled gorges. Dare to plunge off the towering, waterfall cascades? Take the opportunity to see some of the Fijian wildlife with wild river ducks, and black and white herons.
And if you enjoy the wind in your hair, take a jetski tour across the 12 km passage to Beqa Island to enjoy snorkelling the shallow reefs there, take in the sights and try your hand at waterskiing.
For more sedate interests, join a cultural village tour and learn about age-old customs and traditions such as the Kava ceremony, war dances, mat plaiting and traditional handicrafts, and herbal medicine farms. Round it all off with a sumptuous lovo - earthen oven.
Mountain biking in the Sabeto foothills can be relatively gentle and is a great way to see around, taking in jungle, waterfalls, Natadola Beach and even a visit to a local village.
Sigatoka offers horse riding and surfing as well as a visit to Tavuni Hill Fort which was the original home of an old Tongan clan and now serves as an information centre where you can learn all about the locals' heritage and flesh-eating past.
For hikers and nature-lovers a trek through the Koroyanitu National Heritage Park in the Viti Levu highlands is a must. Waterfalls, archeological sites, bird-watching and breath-taking views all conspire to keep you rapt as you hike through this beautiful countryside.
One of the most fascinating sights is the spectacle of the firewalkers of Beqa (pronounced 'Benga'). This can be witnessed both on Beqa Island itself and in the Pacific Harbour area. It is quite something to behold the serenity of the men who step slowly over the burning, white-hot stones and receive no burns or pain whatsoever.
Suva, on the east coast, is the country's capital and has less island charm and more smog than elsewhere, although it does have libraries, museums and cultural centres, in addition to the interesting colonial architecture. Visit the Fiji Museum website

.
Nadi (pronounced 'Nandy') lies on the west coast of Viti Levu, 170 km from and opposite Suva by road. Don't plan on spending much time here as it really only serves the purpose of a stop-off for international flights in and out of the country.
The Beaches
If you are coming to Fiji solely for the beaches then the best advice is to take an internal flight to the more remote parts of the country where enchanting empty white beaches are scattered throughout. Viti Levu's good beaches are limited to some nice spots along the Coral Coast, where some of the island's best diving packages are to be found, and the beautiful beach at Natadola about 30 minutes south of Nadi. Beqa has some fine beaches most notably the secluded pristine white sand beach at Lakawi, as does the secluded area of Rakiraki in the north.
Restaurants and Entertainment
Suva tops the list in terms of party options, with Victoria Parade becoming a hive of activity at night. There are pubs and clubs galore here including trendy dancefloors, the ubiquitous Irish bar, and for those with no sense of good music, a barndance club.
Nadi has a few spots, particularly on the main street downtown. Live bands and other forms of entertainment such as fire-walking are not unusual. There are also a couple of cinemas. Elsewhere you may find a few small bars dotted around but most bars and discos will be found in the higher-end resorts.
Throughout Viti Levu you will find a variety of restaurants catering to most tastes and all budgets. In most places you will come across a mix of local, Western, Indian and Chinese. Indian restaurants in particular are everywhere, very cheap and sport an array of spicy, mouth-watering morsels. No stay in Fiji would be complete without a lovo night, where your food is cooked in a traditional pit oven. There are also plenty of little cafes serving cakes, pastries and local coconut pies - yum yum.
Don't come to Fiji expecting to leave with all the latest Tommy Hilfiger, rather some wood carvings and a sari or two. Handicraft shops such as those at the airport, downtown Nadi and some of the hotels are good places for, unsurprisingly, handicrafts, but also the only place to buy books.
Suva Municipal Market is worth a visit for its kava, exotic fruit and vegetables and Indian sweets. For her, the sari shops of Suva's Cumming Street will have her cumming back for more.
Local Transport Options
Most dive resorts run airport transfers so many visitors see nothing much more than this journey as they spend the rest of the time scuba diving and chilling. However, buses do snake their way all over the island and are inexpensive and fun ways to get around if you are feeling a little more active.
Taxis are also plentiful but meters are not standard, so pre-trip negotiations need to be concluded before you get in. If hiring a car and you intend to penetrate the interior, then a 4WD is a prerequisite. For the more Bond-like, cheap scenic flights between Nadi and Suva cost about US$ 46.
Useful References for Viti Levu Dive Packages

---
CUSTOMER TESTIMONIALS OF DIVE THE WORLD
... This was a very effective way of organizing a diving trip for rme and my travel friends, from far away. You replied fast to all of my requests, and I received all the information that I needed to go ahead with making the booking ... -- Are Mjanger, Norway. [More customer reviews]