>
FAQs
>
Fiji Islands
Fiji Scuba Diving
Frequently Asked Questions
General Diving FAQs
Liveaboard Diving FAQs
Diving in Fiji FAQs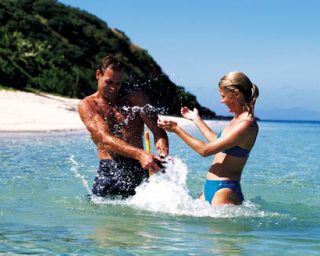 Which season has the best scuba diving?
The main dive season in Fiji is April to October but you can dive here all year round. Visibility is best during the winter months from July to September when the surface can be a little choppy and potentially as cool as 22°C. The rainy season runs through the summer from November to March, when the water temperature can reach 30°C and there is an increased chance of cyclones.
However, there are regional variations so it's a good idea to review our Fiji dive site descriptions for details on the specific destinations in which you are interested.
Which destinations are best for beginners?
Most of our Fiji destinations such as Taveuni, Beqa Lagoon and Kadavu are suitable for inexperienced divers and accessed by the resorts. You can also complete scuba certification courses and learn to dive in Taveuni or Kadavu. However, our Fiji liveaboard cruises to Bligh Water in the Koro Sea are best suited to intermediate divers as currents can be quite strong. The exhilarating shark feed dive at Shark Reef in Viti Levu is not suitable for novices. The first dive is to 30m depth and you must have at least 10 logged dives under your belt.
Minimum water temperatures at the Fiji Islands are 22°C in the southern hemisphere winter and 26°C in the southern hemisphere summer. For the summer we recommend at least a 3mm full length wetsuit, and possibly a 5mm full length if you are susceptible to cold. In the winter you'd best bring a 5mm full length wetsuit.
What about the passport and visa requirements?
Fiji welcomes visitors and to facilitate easy entry, everything has been done to make the process as pleasant as possible. A valid passport for at least 6 months beyond the intended period of stay and a ticket for return or onward travel is required. Entry visas, for a stay of 4 months or less, are granted on arrival for nationals of most countries. It is necessary however, to have an onward or return ticket and sufficient funds.
For up to date information on all the latest regulations, visit are more details in our tourist information section.
I am travelling alone. Will my resort package involve a single supplement?
Fijian dive resorts as a rule have the same policy as hotels when it comes to single travellers; there is no option for you to share your room with another guest. You will occupy the room and pay a single supplement for that.
Can you arrange accommodation for me in Fiji?
Our affiliated hotel reservation agents hotelscombined.com have a variety of accommodations

throughout the Fijian Islands, especially in Viti Levu. Browse the choices on their website, use their live chat to ask your questions, and then simply use your credit card to make your reservation.
From top-of-the range international beach resorts to cheap one-star lodges, there's something to suit everyone's taste and needs. And you can be sure that whatever option you go for, it will be backed up with their 'Low Price Guarantee', so you will always get top-dollar value for money.
Why don't we sell more diving in Viti Levu?
On our fact-finding trip we found that the quality of the dive sites is fairly poor. Except for the excellent shark feeding dives at Pacific Harbour and one or two other areas we recommend, we advise that our guests leave this administrative and not-too-pretty main island to seek out the best diving at the islands elsewhere. If you are going all the way to Fiji just for the diving, you may as well go that last extra mile to get to the best quality. There are many big resorts along the Coral Coast but these tend to cater for American and Australian families on package beach vacations, not scuba divers or nature lovers.
What about diving at all those islands in the east?
Well there probably is a lot of good scuba diving out there but the resorts and liveaboard coverage is limited. So, for the time being we have limited our dive destinations that have great sites and are accessible. This often means getting away from the main tourist spots to find the best of the diving and of the Fijian islands themselves.
Are the dive operators in the Fijian Islands reliable?
The operators we promote are those which we are confident can provide a good quality and safe diving vacation. However, it sometimes takes longer than normal to communicate with them, due to changeable internet connections and the "South Pacific pace of life". Please be patient when waiting for replies from us when booking a Fiji diving trip.

Fiji Liveaboard FAQs
What is a liveaboard diving charter?
Liveaboard safaris provide scuba activities and cabin accommodations. The boat becomes your home and you eat, sleep and dive on it! Liveaboards stay at sea for the duration of their cruise and therefore can explore the more remote Fijian sites. This type of activity opens up a whole world of top class diving opportunities that would simply not be available on regular day trip boats, such as exploring Bligh Water.
Additionally, Fiji diving and adventure cruises offer plenty of non-diving activities for guests such as mountain biking, hiking, cultural village visits and kayaking. These types of cruises are designed to attract both divers and non-divers with an interest in other adventure activities as well as scuba.
How many dives will I make per day?
Generally you can make 4 dives a day, including either a night or sunset dive. Adventure safaris schedule 2 dives per day plus other activities and sightseeing between dives.
What type of tanks and valves are on the boats?
All liveaboard boats carry 12 litre aluminium tanks with yoke or A-clamp international valves as standard. If you have a DIN regulator, you should bring an adaptor. Enriched air nitrox is available on some boats. See the "Facilities" information of each boat for more details.
Please review the "Facilities and Food" section for details of the food served on each of the Fiji dive cruises. Most dietary requirements including vegetarian can be met on each liveaboard safari. However, please do tell us your requirements at the time you make your booking, so that we can meet your request.
Where can you pick me up from?
We can arrange transfers to your cruise boat from your hotel, or from the airport if you arrive just before your boat departure. Please advise us of your preferred transfer point at least 2 weeks before you arrive.
What should I bring on my Fiji liveaboard diving cruise?
All your personal scuba equipment (except tanks, weights and weight belts), a bathing suit, towel, toiletries, T-shirts, shorts, and sun cream. If you are joining our adventure cruise then walking shoes will be a good idea, and a more formal, conservative set of clothes for village tours. You may also want to bring something a little warmer for the evenings.
Is dive insurance for customers included in the cruise price?
Some charters for diving the Fiji Islands do provide insurance, others do not. For details please review the "Safety" information for each boat. Suva in Viti Levu is the only place in the country with a re-compression chamber. We recommend you take out personal dive insurance, for your own peace of mind.
There are no single cabins on Fijian diving cruises, so the only way to guarantee a cabin for yourself is to pay for 2 beds. These supplements range between 50% and 100% of the 'per person' published price. It may be, if the boat is not full and there are an odd number of passengers, that you can have your own cabin, but this situation obviously cannot be guaranteed.
Can I rent an underwater camera?
Some Fiji liveaboards have cameras available for rent. See the "Facilities" information of each boat for more details.
Can I explore the beaches at the islands?
Our regular liveaboard diving safaris do schedule a cultural village tour at one of the islands during your trip.

---
CUSTOMER TESTIMONIALS OF DIVE THE WORLD
... All my email enquiries were answered swiftly. This is the main reason that we booked through Dive The World ... -- Robert Bertram, United Kingdom. [More customer reviews]