>
Dive Destinations
>
Fijian Islands
>
Kadavu Island
Your Guide to Diving in Kadavu
The Great Astrolabe Reef
...Highlights: manta rays, schooling fish/big pelagics...
...Kadavu's diving environment: healthy reefs, walls, drift dives, beginner & advanced divers, off the beaten track...
Kadavu is one of the less visited islands of Fiji which is precisely the reason why you should go there. No big resorts and fast food outlets here. Instead you can get a taste of the real Fiji, where the quickest transport is by boat, where the Kadavu dive resorts are in tune with nature and where the true local culture and warmth of this South Pacific nation shines through.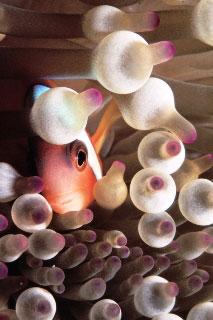 Pristine hard corals in massed stands of colour abound, around which play a tremendous variety of marine life. The Great Astrolabe Reef, which curls away into the deep blue distance from the shoreline, is what scuba diving in Kadavu is all about. The reef is about 100 km long, making it the 4th largest barrier reef in the world. It stretches from the south side of Kadavu near Vunisea, and runs along the south coast before looping around Ono Island and ending off the east coast of the main island.
The reef boasts a variety of stunning hard coral outer reef slopes in wonderous colours, and steep soft coral drop-offs. The dive sites here exhibit a tremendous variety with several passages, submerged pinnacles and manta ray cleaning stations adding to the reasons why Kadavu is a great spot for several days diving.
Now, the fringing reefs of Kadavu are becoming as recognised as its barrier reef, and the reputations of Namalata and Tavuki Reefs along the north coast, are growing in reputation. These are soft coral pinnacles and great areas for the student or less experienced divers as conditions can be easy and the sites are varied. South Sea Reef to the south west of the island too, has hard corals and steep walls. Here again the reefs are in prime condition and the numbers and variety of fish life is richly rewarding.
Most of the dive sites in and around Kadavu are easy to access by short boat ride and see little more than moderate currents. The innumerable bays that lie all along the coastline also provide an idyllic setting for sea-kayaking, swimming and snorkelling.
Whatever your standard, however low your boredom threshold is, there is such variety in these sites and wonderful untamed reefs and reef-life that you too will join the growing number of scuba divers who think Kadavu has all the elements of a perfect Fiji dive trip.
Dive Site Descriptions
Broken Stone - is one of a cluster of dive spots found in an area of Kadavu known as 'Alacrity Rocks' at the eastern end of the Great Astrolabe Reef. These sites are characterised by their networks of passages, swim-throughs and caverns; Broken Stone is no exception. If you like cavern formations you will love this site as there seems to be a never ending series of tunnels, arches and canyons to explore.
Show more
Broken Stone consists essentially of 4 bommies which will give you so many directional diving options as to appear almost maze-like. One thing you will want not to miss is the central cavern. Here a shaft of sunlight beams down from above. This scene, particularly in the middle of the day makes for a most dramatic picture and an inspiring, almost spiritual moment. The light filters down through the clear Fijian waters, sparkling across the rocks and sand and really makes for an unforgettable scene. It is experiences such as these that make scuba diving in Kadavu so highly rated.

When you have moved on from the central chamber to the exterior of the bommies, keep an eye out for long-nose butterflyfish and yellow-breasted wrasses. Since these pinnacles break the surface of the water, it is possible to slowly make your way up to end your dive while still inspecting their surfaces.

Unfortunately, what were once walls with a healthy covering of hard corals, encrusting sponges and sea-whips as well as resident lobsters, are now bare walls, but it is the topography of this site that has always been its true gift anyway.
Eagle Rock - represents all the very best that the Great Astrolabe Reef has to offer - rock pinnacles, fast water passages, abundant and healthy hard corals, and fish life from pelagics and rays to swarms of colourful reef minnows.
Show more
Timing your entry into this dive site is key to an eventful and safe scuba ride. Starting from the calm shallows inside the barrier reef, your boat captain will take you out into the narrow Nacomoto Passage entrance, 1 of 5 gaps that punctuate the length of the Great Astrolabe Reef. Through these gaps rush the incoming and outgoing tides that wash Kadavu. It's important that you arrive at or just before an outgoing slack tide, otherwise the large surface swells will tell you that the currents are too strong to brave.

Once in, you dive down to the sunken boulder pinnacle at the mouth of the channel. Often on the surface of this huge boulder at 12 metres, you can shelter on the lee side and watch spotted eagle rays fly past. Few hard corals are resilient enough to resist the currents here, but large beige knobbly leather corals cover the rocks and passage walls. Large red snappers congregate in the mid waters.

It's at this point in the dive that the true beauty of the Great Astrolabe can be seen. The coral growth in the outer edge of the reef is phenomenal. It's unlikely that you will have ever seen a more colourful and vibrant assemblage of hard corals than the spectrum on display here. Pale blue branching acrapora, mustard green lettuce leaf corals, violet warty finger corals, pale grey sheet corals, brown table corals, lime bottlebrush corals, many of which will be as large examples of each species as you are likely to have seen before.

As the surf breaks over head, you'll rock backward and forth over the reef, marvelling at the fish life that compliment this site. Bicolour butterflyfish slip through the coral branches on which freckled hawkfish perch themselves, watching the world go by. Napoleon wrasse pull up for an inquisitive look at this strange bubble-blowing newcomer in their town. Bright yellow sunset wrasse flit by, adding yet more colour to the seemingly endless palette.

A superbly varied Kadavu dive site with so many features to hold your attention that you're sure to be starting your ascent long before you are ready to leave. All barrier reef dives should be like this one.
Naiqoro Passage - is now a recognised marine sanctuary and is part of the Great Astrolabe Reef, just off the south east coast of Kadavu Island. The passage is often visited by serious current as it forms a narrow channel. When the current is at or near its strongest, you had better hold on to your hats because it can be a really exciting ride.
Show more
As you stride in at the start of this dive off the boat, which you will next meet quite a distance from where you enter the water, you will see before you a vertical wall with a base at around 21 metres, from where a sandy slope gradually falls down to the 36 metre floor.

As you drop through the shallows, the colours of the anemones and predominant soft corals is quite breathtaking. Red and orange is well represented but Prince himself couldn't imagine how much purple there is here. Many varieties of snapper and sweetlips seem to enjoy Naiqoro Passage and you would be well advised to consult your fish books before diving here so that you can distinguish between them. Potato cod also accumulate here in large numbers to breed.

At full depth here you can enjoy the enormous soft coral trees that blanket the floor, sprouting seemingly everywhere and wafting in the current. As you make your way back up, the sessile feast continues as more purple soft corals, large sea fans and whip corals all compete for space and for the endless supply of passing nutrients that the currents bring.

Naiqoro Passage can be a very rewarding site but it is also one that should not be blindly undertaken. Consult with your guide about the dive conditions, the plan, and any concerns you may have of diving in current. Done correctly there is no reason why Naiqoro Passage will not rank highly in your scuba memories of Kadavu.
Pacific Voyager - There are any number of natural coral reefs in Fiji and in this area, which has enjoyed many long years of coral growth and has fully established reef eco-systems. So it may seem a little unnecessary to create an artificial reef. In 1994 this tanker was sunk near to Rooper Reef to its current depth of around 30 metres on the northern side of Kadavu and every year sees it become more and more a part of the seascape.
Show more
Here there may not be the sort of huge, hard and soft coral formations you will see on your other dives around Kadavu but that does not mean that the Pacific Voyager is a site not worthy of a visit. Having dropped down to where the flank of the ship lies facing upwards, you can begin your hunt to find some of the creatures who flourish here in the sheltered conditions in numbers that you cannot find in the more perilous open reefs.

You can penetrate the wreck and see what lurks in the wheelhouse, crew quarters and vast holds but don't be alarmed by the metre long grouper that hangs around, or the cleaner shrimps that will swarm over your resting hand to pick off microscopic parasites from your skin.

This is a useful site to add to your Kadavu selection regardless of your particular interest, but is a must for macro photographers, wreck diving fans and critter lovers.
Seafan Alley - Seafan Alley lies at the extreme western end of Kadavu. Once the dive boat rounds Mount Washington, or Nabukulevu, and motors its way down the short western coast , you'll come across a rather unusual geographical feature. A small ragged islet, perhaps 80 metres across, lies a hundred metres off the coast. Nagigia Island is tree topped and almost spirit-level flat, 3 or 4 metres above the water's surface. The outer edge, rocked by breaking swells is where you start your descent.
Show more
The indigo water here is a clear indication that the visibility is truly special, and the water drops away quite deep. The dive begins with a gentle slope running down to 20 metres or so. Here the reef is healthy and dominated by lobe and porites corals and green sponges. Warty finger corals host pretty pixy hawkfish, white-tailed damsels swim across your approach, green turtles dive down away from your advance.

Once down to 20 metres the reef begins to slope steeply away. Now the landscape in punctuated by deep crevices through which swim black and white banded sea snakes. Gold and green seafans populate the steep bank, taking advantage of the steady currents. Pinktail triggerfish and pinstriped angelfish move up and down the wall.

At certain times during the dive, the bank is so heavily indented that you'll need to swim out a little into the blue. Look down into the deep water here because hammerhead sharks are sometimes glimpsed lurking in the depths. More often though, you'll see small schools of blacktailed barracuda moving on mass through the open sea.

Finally, you'll come across an 18 metre ledge jutting out from the deeper water. This signifies time to ascend and you can now enjoy a relaxing safety stop, playing with the anemonefish that come up to inspect you.
Yellow Wall - Mellow Yellow or Yellow Wall is not, as you might guess, a treacherous zone but is a nice easy Kadavu dive site suitable for students, novices or as a re-acquaintance dive for those who haven't been under the waves for a while. In fact at times the current can kick up here but your guide will know the tides and will only take you diving here at times when you won't be struggling against any current, namely at high tide or at low tide.
Show more
As you descend it will become clear that the site is characterised by a group of half a dozen large rock pinnacles looking like a miniature mountain range. The pinnacles are adorned with colour and yellow soft corals are the predominant sessile feature, flourishing in the nutrient rich currents.

You can navigate your way in and around these rocks which start at just a few metres below the surface and run down to the sandy bottom at around 28 metres, so there is no hanging around doing your safety stop in the blue. Every minute of this dive can be a minute of entertainment. At the top of the reef are schools of scissortail black and white sergeants. They must have been hand fed before as they continuously follow you around, pleading for food.

Love is often in the water around here and if you are fortunate enough, you may catch sight of male exquisite wrasses flashing their fabulous shiny colours to the groups of females, seemingly oblivious to the young buck's ardour. There are also titan triggerfish here and if they are protecting their eggs they won't take too kindly to your unwelcome invasion. Check with your dive guide if this is a time of year in Kadavu when this is likely, otherwise they may wish to take a nibble out of your fins or worse. Normally however, scuba diving at this site is nothing but a gentle, beautiful and rewarding experience.
How to Dive Kadavu
For information on your diving options, and all the other travel information you might need to visit Kadavu and Fiji, view our Kadavu dive resort section.
There is a clear north-south divide on the island when it comes to the Kadavu resorts. The southern shores are dominated by the untamed Great Astrolabe Reef, one of the largest barrier reefs in the world. Colourful banks of hard corals prosper here with some high energy passages that attract reef sharks, rays, schooling fish and large groupers. Manta Reef is also located in the south, in the central region, where mantas are very common. If you like hard corals, diving in remote locations and simple, easy-living, then the south of Kadavu is for you.
The north of the island is markedly different, with lots of soft coral bommies and pinnacles where the sites are easier. The resort has modern facilities and can arrange scuba diving all along the northern coast, the deeper western sites, and Manta Reef, though not the Great Astrolabe Reef. If you need your mod cons and enjoy soft corals, then the north is for you. Not sure which is for you? Why not try a short stay in the north and in the south and get the best of both worlds!
The Kadavu Island Diving Season
The season for diving Kadavu is year round. August to October generally enjoys the best visibility when the cooler sea conditions arrive (24°C). The summer time between November and April has the seas at their warmest (30°C) although there is a greater chance of rain at this time.
When the rain comes in the summer time this usually coincides with calmer sea conditions. Then in winter the surface can kick up a little although this period, with reduced rain, also means better visibility.
Mantas can be seen throughout the year at Kadavu. Pilot whales can be spotted in April and May, while July to August is the best time for oceanic hammerheads.

Where is Kadavu and How Do I Get There?
Review our map below of the Fiji Islands, showing the location of Kadavu Island. Here, you will find information on how to get to Kadavu.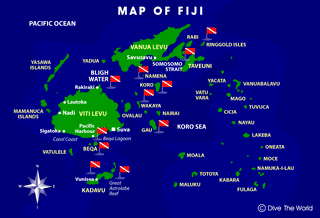 Reef Summary
Depth: 5 - 35m
Visibility: 10 - 40m
Currents: Gentle to strong
Surface conditions: Mostly calm but can be choppy further from shore
Water temperature: 25 - 29°C
Experience level: Beginner - advanced
Number of dive sites: >60
Recommended length of stay: 7 - 10 days
Useful References


---
CUSTOMER TESTIMONIALS OF DIVE THE WORLD
... Very quick reply and great assistance and patience ... We were given a lot of options and help to choose the best with your operator advice ... -- Helen Kornilova, Russia. [More customer reviews]