>
Dive Resorts
>
Fiji
>
Kadavu Island
Kadavu Diving Packages
Best Dive Resort and Travel Information
Few places offer an experience of the real Fiji in the way Kadavu (pronounced "Kandarvu") does. The remote island boasts rugged natural beauty, with wooded hillsides, valleys and grassy meadows, stunning bays and reefs, and none of the excessive tourist development that can detract from nature's charm.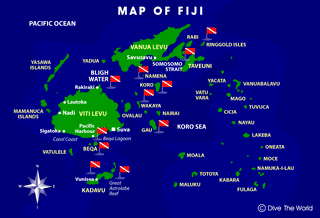 Home to the Great Astrolabe Reef along the south coast and around Ono Island in the east, the resort diving in Kadavu is excellent. It is easily the best in southern Fiji, made all the more special by the very limited number of other divers here. Famed for its pristine hard corals, steep drop-offs and pelagics, words such as "wild" and "untamed" are often used to describe the reefs that fringe this island.
Kadavu is Fiji's 4th largest island and this narrow strip of land snakes along in roughly a south west to north east direction for 60 km. It's popular with surfers, scuba divers, nature lovers and those who are looking for something a little more Fijian than the sometimes bland international resorts. With no road network to speak of, you get around chiefly by sea. If your priorities are shopping, a variety of dining options and snazzy resorts, other parts of the country may suit you better. Kadavu is about nature, simplicity, local culture and great diving packages.
Where to Stay in Kadavu
Although the island's simplicity is its charm, you will not want for comfort as there are some very good value-for-money dive resorts in Kadavu, where quality accommodation and dining complement the superb diving and topside island scenery. Check out your resort options for staying on and diving at this natural paradise island:
The island is in many ways a look back at a simpler time but that does not mean the resorts are very basic. You can choose to stay on the north side of the island which means diving mostly on Kadavu's fringing reefs. Here the sites are easy but beautiful. Alternatively, you may prefer a place to stay in the south or the northeast, closer to the Great Astrolabe Reef where the reefs are more breathtaking and the accommodation is more natural and simple. [More information on these dive sites: Kadavu].
Scuba diving is usually conducted from speedboats. The dive resorts offer other activities such as kayaking, hiking trails, snorkelling and village visits.
There are more than 60 recorded dive sites dotted around the island so stays of 1 week are ideal. Kadavu dive packages are inclusive of full board accommodation, scuba diving activities and airport transfers from Vunisea.
Click to view product.
Special discounted trips highlighted in yellow

The Climate and Best Time to Visit
Kadavu's summer months are from December to March, when temperatures average 29-30°C. This is also the rainy season with the wettest months being from January to April. The dry winter months are from June to September, with temperatures averaging around 25-26°C. The island enjoys an average of 5-6 hours of sunshine per day through the whole year.
The diving in Kadavu runs all year round and packages are the same price throughout the year. The sea is cooler (24°C) in winter but this is when visibility is best. The water warms up to 30°C in the summer but then the visibility is reduced from the extra rain.
How to Get There
Kadavu lies 100 km directly south of Viti Levu. There are return flights to the island - 5 per week from Nadi (50 minutes) and 1 per week from Suva (40 minutes). The flight can be fantastic, particularly on the way there, as you soar over the spectacular reefs. Fiji Airways flies this route

.
There is an unreliable and incredibly long, uncomfortable ferry from Suva which you will choose to go on only if you cannot physically fly (in which case, how did you get to Fiji?) or if you are excessively miserly.
Unexpected events sometimes cause the need to cancel travel arrangements. We therefore recommend you consider diving package, travel and trip cancellation insurance. You can visit our insurance programme section for a competitive quotation:
Sightseeing and Things to Do in Kadavu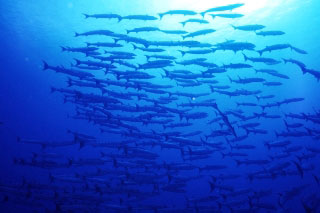 If you have time to do anything other than dive on these fabulous reefs then hiking, mountain biking and bird-watching are among the most rewarding pastimes. There are trails galore winding up into the rainforested peaks where all manner of shrill and colourful birds flit through the trees. The amazing bird life includes 3 indigenous species - the Kadavu honeyeater, fantail and fabulous musk parrot, as well as velvet fruit doves. There are also several picture-postcard waterfalls waiting to be discovered and plunged into with zeal.
Back in the sea, there is some 'totally wicked' surf around Cape Washington pretty much all year round. This is at the far west of the island where the extinct volcano Nabukulevu rises high from the water's edge. For the more sedate, sea kayaking here is what sea kayaking should be. The coastline is varied and beautiful with plenty to see and explore, and a day sea-kayaking around this lovely slice of Fiji coast will stay with you for a long time.
Checking out the villages here is surely the feather in the cap of Kadavu. Here you won't find villagers too jaded of troops of vacationers poking around and buying their mass-produced tourist tat. Here a visit to a village is a genuine experience. In Kadavu it is probably more important to observe the accepted customs: don't wear a hat, shades or jewellery and ask to speak to the Turaga-ni Koro when you arrive so that you can establish that your purpose isn't to rape and pillage.
The Beaches
The coastline of Kadavu seems to have been drawn by an unsteady hand as there are many more little bays and inlets than an island this size should have. It is possible to find small, secluded and empty spots for a day's bathing if you are prepared to look around. As most travel is by boat, this is often a case of checking out one bay after the next. The most popular beach is Long Beach which, like many others, has snorkelling equipment available for rent.
Restaurants and Entertainment
No bright lights or big cities on this island so disco shoes are non-essential items. A few drinks in your dive resort or maybe a night of kava drinking with the locals will be the extent of your partying ... although, depending on the company, that could prove more than enough.
There is no real strip of restaurants either as there has been very little development on Kadavu, so most of your dining will be at your resort. If this is not enough to sate your appetite, there are several little stores throughout the island where you can stock up on additional munchies.
Incidentally, shark and octopus will not feature on too many menus here since local legend has it that an Octopus God once brokered a deal with the Shark God to protect the good folk of Kadavu from shark attack, a protection they continue to believe they enjoy.
Apart from the few little shops selling snacks, drinks and the like, there is little in the way of shopping here. Leave your memento purchases until passing through Nadi or Suva on the way home. In the meantime concentrate on relaxing and enjoying the dive sites and natural wonders of this island; retail therapy can not possibly compete.
Local Transport Options
Vunisea, the main town, boasts a few basic roads but apart from these, land transport is restricted to walking trails. Boats are therefore the chief mode of transport. Dive resort boats will pick you up from the airport and take you to your accommodations. Many guests don't get back into a transport boat until the sad time comes to leave.
Useful References for Kadavu Island Dive Packages

---
CUSTOMER TESTIMONIALS OF DIVE THE WORLD
... It was very easy to move around your site. Once I figured out the payment procedure it was quite easy.Your responses to my questions during the booking procedure was always answered promptly. We will look at booking other dive vacations through you in the future ... -- Christy McKain, USA. [More customer reviews]