Resort Trip Reports
Worldwide Scuba Diving Tours - the Nitty Gritty
Dive The World is founded on the idea of offering only the best diving vacations. We strenuously investigate liveaboard and day trip operators and resorts' services, their facilities, location, accessibility, eco-friendliness, safety procedures, resort security, value-for-money and most importantly - their fun factor. With over 100 staff trip reports, no other agent has more first-hand product knowledge than Dive The World!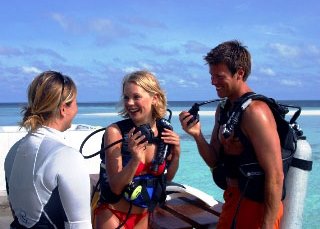 Having excluded many that fall short of our criteria, we hand-select only those liveaboards, dive resorts and day trips which we would personally enjoy with our own friends or family.
We hope these diving trip reports will make the descriptions far more real to you. With all the technical information supplied in each dive operator's detailed product section, these reviews provide you with that extra insight, describing everything about the product - its staff, accommodation, general facilities and very importantly detailing the diving operation, accessibility to dive spots and product's availability.
In addition to the good, we also let you in on those minor inconveniences and the 'not so great' aspects, even if it is recommending you go to the toilet before getting on the dive boat, or "the beds are a little hard", thus helping you to make your own scuba diving tour more enjoyable. Hopefully you will see and appreciate the difference between the marketing gloss of the operators' promotional materials and our honest appraisal, which we feel you should be aware of.
Select a trip report for the product you are interested in from the list below:
Dive Resorts and Day Trips
Belize
Caribbean Sea
Costa Rica
Uvita
Fiji
Taveuni
Viti Levu
Indonesia
Sulawesi
Malaysia
Sipadan
Lankayan
Layang Layang
Red Sea Resort
Egyptian Mainland
Sinai Peninsula
Thailand
Andaman Sea
Gulf of Thailand
Liveaboard Charters
Australia
Osprey and Great Barrier Reef
Belize
Lighthouse Reef and Turneffe Atoll
Burma
The Mergui Archipelago
Costa Rica
Cocos Island
Ecuador
Galapagos Islands
Egypt
The Northern Wrecks
Fiji
The Fijian Islands
Indonesia
Banda Islands
Malaysia
Sipadan Island
Maldives
The Maldivian Islands
Mexico
Socorro Islands
Micronesia
Palau
Thailand
Hin Daeng and Phi Phi Islands
---