>
Dive Trip Reports
>
Orion
Liveaboard Diving Trip in the Maldives
M/V Orion Report
Click on an image to enlarge

"Sorry ladies and gents but we have to cancel our visit to Male due to the arrest of the vice-president. There might be turmoil in the city". It was the end of our week-long liveaboard trip on MV Orion and I looked around at the faces of my fellow guests. Not a single one would allow this hiccup to spoil what had been a fabulous few days of diving, laughing, dining and chilling out. The look on people's faces was one of 'not wanting the holiday fun to end'. Our liveaboard cruise in the Maldives had been full of highlights: encounters with sharks and rays galore plus a fantastic array of colourful reef life.
We had been spoilt by the comfort of the boat and the personal attention of the crew (18 staff for a total of 20 divers on board…). We gathered unforgettable memories from the excellent diving that these waters never fail to deliver. The Maldives lived up to its worldwide reputation. The first day of diving we had manta encounters on all the planned 3 dives, countless encounters with sharks and rays, including an extraordinary night dive with a school of 5m long nurse sharks feeding on glass fish. Wow!
• Watch our Maldives diving video

MV Orion: Features and Facilities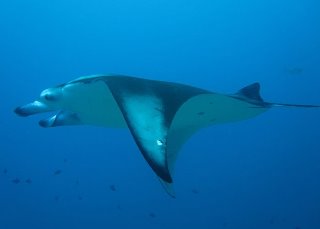 MV Orion is part of the Constellation Fleet. Of the 3 boats, Orion is the top of the range; the biggest one and the most comfortable. Having had so much space at my disposal, I'm not sure if I will ever fit again in any other boat… Despite being 20 divers on board (it can take up to 24), the common areas always seem to have space, even the saloon on the main deck at meal times! It's easy to forget that you are indeed on a boat and not in a small hotel, with so much space around.
Standard cabins are located on the lower deck, while the upper deck features the deluxe cabins and the master cabin with its own Jacuzzi and private terrace. A door then leads you to the bar and the common Jacuzzi located at the back of the upper deck. I must say that I spent quite some time in the Jacuzzi, especially after the morning dives. There is also a toilet and a massage room where Dayu (a Balinese woman) is on duty when customers need a massage to relax from the long day of diving, eating and sleeping… Massages are offered at an extra cost.
A wooden set of steps leads guests to the sundeck, where sun chairs and double-size sunbeds are displayed in both the sunny area and in the shaded area. The latter is probably the only weak point that I found of this boat, as the roof is only 1.5m high so I (and others) managed to bump our heads quite a few times over the trip. The best suggestion I can give you is to…mind your head while there!
The Cabins
All the cabins on board are really hotel size. I was in a standard cabin downstairs and I never felt more at ease. There are cabinets with hangers where you can store your clothes, drawers, and even a desk that you can cluster with your electric equipment as there are built-in UK sockets. It surprised me to find out that there were 4 or more different settings for the cabin and toilet lights (from dim lights to more powerful ones).
There was hot, high pressure water in the shower, finely tiled walls, and a stylish basin. The toilets are really nicely done and I often forgot that I was on a boat in the middle of the Indian Ocean instead of in the comfort of my own home.
Beds are king size (for the double bed cabins) with also a selection of 4 different pillows to choose from, depending on your likes. Standard cabins feature portholes only, but it's possible to open them. No shades though, so the sunlight might be a bit annoying, especially if you are trying to catch up with your sleep in the afternoon. I managed to cover them with towels though…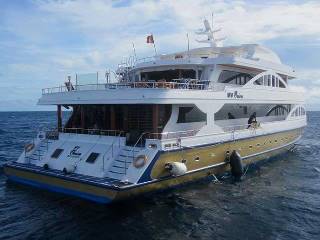 The liveaboard saloon really looks like a restaurant area, with 2 5-metre long tables where divers can eat together, but there are also 3-4 smaller tables for couples that want to have their own privacy or for small groups of friends. All the briefings are done in this common area by showing dive site maps on a big flat screen that can also be used by customers that want to plug in their own computers or simply play one of the movies available on board.
We did enjoy watching some of the underwater videos that one customer was making during the days of diving. It was fun to discuss with others about things that we saw or we missed, since we were diving in separate groups. It pleased me to see that the dive guides on board were taking part in the discussion and added more details to the images we were watching. It gave me the impression that they were not just there to do a job, but they were avid scuba divers with an endless passion.
Speaking with a German couple on board, they confirmed my impression that the boat deserves a score of 10 out of 10. On board with us there was also an Indian family with a couple of kids that seemed to enjoy the trip very much. They always stayed shallower than us, according to their junior certificate, and it seems to me that their diving was always very safe and well-controlled and organized by the guide on board. I'd definitely recommend this boat to any family seeking a week of great and safe diving.
There were a few Brits on board as well, confirming that the Constellation Fleet is very well known in the UK. The owner is British and dedicates a lot of time and effort advertising the boats there. He also joined us on board for a couple of nights.
• Watch our Orion liveaboard video

Food
The food was always welcomed and appreciated by all on board. Even the most amazing diving trip can be ruined by bad or insufficient food. There are 5 meals a day, including a light, pre-dive breakfast and an afternoon snack. All the meals are buffet style, mainly western cuisine but also curries were often served as one of the choices. Fresh fish and seafood were also a pleasant part of some meals.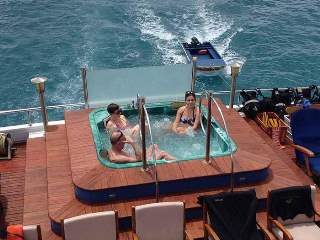 I particularly enjoyed the spicy edge of the curry plates that seemed to me more authentic than some milder versions I have experienced on other liveaboards. There were good attempts to make tuna pasta and even 2 different types of parmigiana (one traditional version with eggplants, and another with a mix of courgettes and eggplants). The pizza was a bit of a failure, I must say. Maybe that's because I am Italian. Also a wooden oven is a feature that I haven't seen on a boat before!
Unfortunately a cloudy sky prevented us from doing the usual barbeque on a private island, which is usually one of the highlight of these trips as it's a chance to set foot on land and enjoy big portions of grilled meats and fish. The crew on board was well organized though and we managed to only skip the visit to the island, but we had the grilled meal on board, in the comfort of our dining area.
The Diving Procedure
I can't repeat enough times how useful the dhonis are for the diving in these areas. Having a dhoni means more space on the boat as the compressors and all the dive gear are located on the dhoni, noise-free times between dives as the tank refilling is not done on the main boat, and of course easier giant stride entries and diver-pick ups at the end of the dives. It's just a great idea and it works all the time. Plus of course it saves fuel as well since the dhoni is smaller and requires less petrol to run.
We were divided in 4 groups, diving all at once. Personal scuba gear is stored beneath every diver's spot on the long benches at both sides of the covered area of the dhoni. Nitrox fills are available on board and are included in the trip price. The blend is usually between 30 to 32% oxygen. The standard day includes 3 dives, plus a couple of night dives in the middle of the trip. There are 2 fresh water hoses at the stern and a big fresh water tank where divers can rinse their electrical equipment. There is also a black bin full of water dedicated for the wetsuits.There is a toilet on the dhoni, although it is to be used only in case of "last minute emergencies" since it's the crew's toilet. In fact, the dhoni staff has also bunk beds in a lower deck. This is where they live.
All levels of scuba diver are welcomed on board. Diving is conducted in a very safe manner by the Maldivian guides. Briefings were done in a methodic way, making sure to cover all the aspects of the dives and not just lists of fish that might be seen: entry and exit the water procedures, currents, directions taken underwater. Use of SMBs was mandatory because it's easier for the dhoni captain to spot you and your dive buddy, also due to the occasional presence of several other boats in the same area, not just diving boats like MV Orion, but also local boats.
Reef hooks could be borrowed from the boat operator and they became very useful in at least 2-3 dives where the current was stronger than usual. Buddy teams were very much encouraged. I'm almost ashamed to admit that I got "warned" because I left my dive buddy a bit too distant from me. I guess they were right and I then did my best to stick to my dive buddy. Dive safe.
Scuba diving in the Maldive Atolls
The itinerary we did is a classic liveaboard route that most of the boats follow throughout the year. It starts from North Male then goes south (Rasdhoo, North Ari and South Ari). It was then time to go east (Felidhoo) and eventually head north again until reaching South Male for the last dive of the trip. South Ari Atoll includes 70 islands over a vast area of 100 km in length by 50 km in width. The size of this atoll alone explains how the dive sites are always quite different, no matter how often you dive there.
We indeed spent a couple of days diving in the atoll. We found a medium-strong current at Kalhahandi Huraa and therefore we drifted in the channel until we reached a depth of about 28m. We used our reef hooks to attach ourselves to the reef and then watched all the feeding action that was going on around us. The hungry hunters were there for us to see: white tip reef sharks but also a lot of trevallies and over-sized dog-toothed tunas. We were also lucky to witness the stroll of a grey reef shark that looked very much at ease in the current.
On the next day we spent the morning searching for "the big, white spotted" fish (aka: whaleshark) around the southern point of the South Ari Atoll. It was fun to see crew and divers on the sundeck of the dhoni trying to spot the big shadow that would have signalled the start of our snorkelling session followed by a dive. This time we were out of luck, also because the sky was a bit overcast and therefore the shadow was hard to see. Speaking with the crew on board, they told me that it's very rare not to find one, and dives with whale sharks happen on pretty much on every trip. I guess it was just a day off for them then.
We had to wait only until the next day to see big-size sharks though. This time was a night dive, and the sharks were not whalesharks, but nurse sharks. It's a famous "circus style" night dive that occurs in Felidhoo Atoll, nearby the resort jetty in the laguna where we spent the night. There's definitely been some heavy feeding by the customers and staff of the resort in the past (and probably the present although everyone denies it). The result is a huge school of 4-5m long sharks that await the divers just below the surface, in a depth that varies from few metres to 18m.
Despite their size, those creatures have a mouth of only few centimeters and feed on small fish and molluscs. They don't seem to be bothered by divers but instead they actually seem to come closer in search of a little caress (which is to be avoided though as it's harmful for the fish for several reasons). I was not only impressed by them, but also by the behaviour of the glass fish that were getting illuminated by our lights and becoming easily spotted prey, especially for the fast and slick blue fin trevallies. There were clouds of these little fish that were fleeing in every direction, bumping against divers on their way. I felt like I was in an ice storm, glad to be wearing a wetsuit as protection.
The last dive of the trip in South Male was also a great dive, with a gentle current helping us drift along a colorful wall in Vilivaru Giri, covered with hard coral (a common feature in the Maldives) but also some colorful anemones and seafans to add a bit of soft coral to our underwater sightseeing. We spent a few minutes watching a green turtle feeding on coral, apparently unaware of our presence. I was glad to see that no-one from our group dared to get too close to the beautiful reptile, risking to scare it away, or worse, blocking its way to the surface. They are not fish and they sometimes need to surface in order to breathe, although they are capable of staying up to half an hour without the need of new air.
In Summary
The MV Orion boat delivered more than I was expecting. It surely stands out as one of the best boats in its price range. Nothing onboard looked old or cheaply done. Guests were enthusiastic in their praise for the boat and so am I.
Is there room for improvement? In my opinion, probably there is, on the food side. Don't get me wrong, I probably managed to gain a couple of extra kilos in just a week on board. But I was hoping for something that eventually really sticks in your memory and you tell to other divers that you meet on other boats in future, such as a nice and unexpected Maldivian style meal. It would have been nice to try some of the local food, but I guess playing on the safe side by serving western-style dishes has the advantage of not disappointing any of the hundreds of customers that the boat hosts each season.
However, that is really a small issue compared to the other 99% of the trip which was more than satisfactory. We have had customers who cried when their tour on MV Orion was over. I managed to hold back the tears, but it is fair to say that a great week was had by all and I would not hesitate to recommend this liveaboard trip to anyone destined for the Maldives.
Written by Enrico, October 2015


---
CUSTOMER TESTIMONIALS OF DIVE THE WORLD
... Dive The World kept me up to date throughout the process. Gave me confidence that everything was well planned. ... -- Elliott Hey, UK. [More customer reviews]