>
Dive Destinations
>
Maldives
>
Southern Atolls
>
Felidhoo Atoll
Your Guide to Diving at Felidhoo Atoll
The Southern Atolls of the Maldives
...Highlights: whale sharks, hammerhead sharks, shark action, manta rays, turtles, schooling fish & big pelagics...
...Felidhoo Atoll's diving environment: drift diving, beginner and advanced divers, off the beaten track...
Felidhoo (or Vaavu) Atoll is an undeveloped vacation paradise comprised of 19 beautiful isles and the natural atolls of Felidhu and the Vattaru Reef. It is located just to the south of South Male Atoll and is the smallest and among the least commercialised atolls in the Maldives. The pristine, warm waters of Felidhoo Atoll are teeming with fish and larger marine life providing superb scuba diving for both beginners and experienced divers. The atoll boasts Fotteyo Falhu - the largest unbroken barrier reef in the Maldives. The reef is 50 km long and the easternmost point of the Maldives archipelago. Felidhoo is mostly visited by dive liveaboards and this is undoubtedly the best way to explore these unspoilt sites.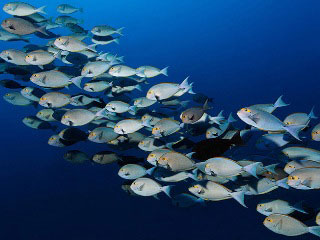 One of the features of this diving area is the deep channels known as Kandus that bring in fast-flowing currents full of nutrients. Throughout the year you can find numerous sharks in the heavy currents and there are many thrilling shark dive sites. As well as plenty of grey reef and white tip reef sharks, you may be lucky enough to see hammerhead sharks.
In addition, Felidhoo is an ideal place for divers to ecounter manta rays and they can be found in great numbers from May to July. Whale sharks are common here at certain times of year, particularly on the east side of the atoll. You will also be treated to encounters with huge schools of fish such as barracuda, snapper and trevally.
Fotteyo Kandu is a favourite location and is considered by some to be one of the best dive sites in the Maldives due to the vast array of marine life that can be found there. The channel is narrow and features swim-throughs, small caves and large overhangs. The drop-off at the channel entrance is covered in colourful soft corals. Titan triggerfish are common here along with grey reef sharks, white tip reef sharks, tuna and barracuda.
In the early morning you might be lucky enough to get a glimpse of hammerhead sharks in the most outer side of the channel. This is also where eagle rays can be spotted, along with big groupers such as the potato grouper and the black saddle coral groupers. Look out for sting rays resting on the patch of sand and turtles on the channel walls.
Bodu Miyaru Kandu, or 'Big Shark Channel', is another top Felidhoo dive site and certainly lives up to its name. Dropping in at the south eastern corner you keep the reef on your left until you reach the drop off at the channel entrance which is approximately 30 metres deep. This site features small caves and numerous overhangs, and there is a sloping section on the left side of the channel covered in hard coral and some soft coral.
A variety of marine life, including tuna, large schools of grey reef sharks, whitetip reef sharks, tuna, and Napoleon wrasse can be seen here, as well as many colourful reef fish. An underwater photographer's paradise! Mantas can often be seen too when the channel current is outflowing.
To dive at Alimathaa Island Dhekunu Kandu, or 'South Channel', and at Devana Kandu ('Second Channel') you start at the south western corner of either of the 2 channels and follow the reef as it slopes gently downwards on either side of the channel. These 2 sites offer encounters with several different rays including and squadrons of spotted eagle rays and big marbled stingrays.
There is a small drop off on the right side at the beginning of the channel that is covered in stunning hard coral and some soft corals. The current is mostly moderate to extremely strong bringing in white tip reef sharks, giant trevally, tuna, huge schools of snappers, unicornfish and masses of fusiliers.
Alimathaa is also home to an amazing night dive. Typically, night dives elsewhere are slow paced searches for macro life, such as crustaceans and sea snails; not at Alimathaa Jetty. The resort at Alimathaa has been feeding fish and resident nurse sharks at the jetty for several years. Although the practice has supposedly stopped, the area is full of overgrown but harmless nurse sharks on the prowl for a free lunch (or supper). Some of these nurse sharks are comfortably over 3m long and have huge girths - testament to their overfeeding - and are an impressive if startling sight at night.
Many giant trevally have got wise to this easy meal time and they too sweep the area in large numbers. Black-blotched and Tahitian stingrays also frequent the area for tasty morsels and often clamber over scuba divers in their search for free food.
Visiting Felidhoo Atoll, you will be treated to awe-inspiring Maldives diving at untouched sites where few divers have been before!


Reef Summary: Channels, submerged pinnacles, walls and overhangs
Depth: 5 - 40m
Visibility: 20 - 30m
Currents: Moderate to strong
Surface conditions: Can be choppy
Water temperature: 27 - 30°C
Experience level: Beginner to advanced
Number of dive sites: 23
Diving season: All year round, with the best conditions from January to May
Distance: 75 km from Male
Access: Maldives liveaboard charters
Useful References


---
CUSTOMER TESTIMONIALS OF DIVE THE WORLD
... Thanks Pip, for the countless time and effort answering my inquiries and helping me book this trip. I will gladly recommend your services, and I hope to be using you again in the near future ... -- Jeff Gepner, USA. [More customer reviews]