>
Liveaboards
>
Cocos Island
Cocos Island Liveaboards
Best Dive Tour Options and Travel Information
A small outpost in the middle of the Pacific Ocean that is teeming with pelagic action, the remote Costa Rica island of Cocos is one of the world's finest liveaboard dive destinations. It is a remarkable location frequented almost entirely by Costa Rican liveaboard expeditions, drawn by the promise of squadrons of hammerhead sharks, Galapagos, tiger, silky, blacktip, silvertip and whitetip reef sharks and a multitude of numerous species of rays.
This region has been afforded marine park status to protect the thriving rainforest on the island and marine eco-system underwater. The eco-system has been largely untouched by humans, offering the lucky few liveaboard divers a rare glimpse into a world where nature reigns supreme. The marine life is largely unafraid of humans. Mobula rays even seem to mistake divers for cleaning stations as they gracefully swerve ever closer. It is not by accident that the island was the setting for Jurassic Park.
Located 342 miles (550 km) south west of Capo Blanco in Costa Rica, the closest La Isla del Coco ever came to being inhabited was by the pirates and whalers taking shelter on their route along the Central American coast. Over 20 dive sites are located in close proximity to Cocos Island, offering liveaboard guests varied scuba experiences around the vertical granite walls, volcanic boulders and pinnacles. Diving in the often strong surge and currents, the lure of blue water and distance from the mainland require a certain skill level.
The incredible Cocos Island, the subject of strong conservation efforts, is on the 'To do list' of all sorts of divers who have been scuba diving everywhere else and those who simply wish to visit a genuine natural paradise. Memories of happy people enjoying a delicious evening meal together as the boat is moored in a quiet bay, reliving the day's beautiful underwater sights in this special destination, will last forever. Privileged divers who have treated themselves to a Cocos liveaboard trip all agree that it is an amazing experience and an important entry in any enthusiast's logbook.
Since there are no resort options on Cocos, once you've finished your liveaboard cruise, you'll return to the Costa Rican mainland. The country is both an exciting adventure destination as well as a haven for rest and relaxation. Windsurfing, canyoning, forest canopy tours and many more heart-stopping activities can be added to diving with hundreds of sharks at Cocos Island. There are also beautiful, serene beaches, and relaxing spas for those who prefer idle pampering.
Liveaboard Diving Cruise Options in Costa Rica
If you're ready for some unforgettable encounters with hammerhead sharks, eagle rays and whale sharks, or you just love to dive in water filled with schools of fish, we recommend liveaboards that operate on Costa Rica's west coast out of Puntarenas to the island of Cocos where the country's best scuba diving is located:
For many people, the prospect of liveaboard diving around Cocos seems like a distant ambition. However it is easily done. You simply need to decide that you deserve to be surrounded by thousands of fish, hundreds of hammerhead sharks, dolphins or silky sharks, in a location in the middle of nowhere with few other divers. Those who have dived Cocos share the opinion that it is one of the very few places on earth that can provide such a treasured experience
Bajo Alcyone is a submerged seamount, unsurpassed as the place to be treated to more hammerhead sharks than you will ever see anywhere else. The marine life at this remote site is mostly unafraid of scuba divers and the sharks and rays will swim within metres of you as they come in to be serviced at the many cleaning stations.
The large boulders and pinnacles break the surface at the very popular dive site of Dirty Rock. Below the surface the channel is calmer, protected as it is by the rock formations, making it more accessible to less advanced divers. The hammerhead sharks and marbled rays are the main attractions with large shoals of bigeye jacks followed by hunting tuna.
Scuba divers are expected to be experienced as some of the sites are deep and strong current is often present. Many of the dives will be quite relaxed too. Cocos Island may not be for beginner divers, but as long as you are comfortable in different conditions, you will love the diving here. What's more, thrilling encounters with large and dangerous predators are likely, including tiger sharks, hammerheads and Galapagos sharks; divers must be happy to see them!. [More details on these dive sites: Cocos].
If you have dived several places and feel it is time to treat yourself to somewhere truly spectacular and to somewhere you can look back on all your life, then it is time to give Costa Rica liveaboard diving some serious thought. For men and women, young and old alike, Cocos has become a 'must visit' destination, and it is a very popular destination with limited spaces. So we recommend you book many months in advance of your travel dates to avoid disappointment.
Most liveaboard diving trips to Cocos Island run for 10 nights as the tour includes a 1½ days cruise out there, and the same on return. This gives you plenty of time to make sure your equipment is in order, to get to know the other boys and girls on board and learn more about the island's history and eco-system from the on board information.
The boats tend to be relatively high-spec to cope with the potential demands of operating in such a remote location and aim to provide a comfortable experience with fine food and beverages to compliment the fabulous scuba diving.
An exciting option on some of the liveaboard boats is to take a deep sea submersible down to the ocean depths of Cocos on a once-in-a-lifetime dive to see deep sea creatures and landscapes way beyond recreational scuba limits. Imagine looking up through the glass viewing bubble of the submersible to the ocean's surface 328ft (100m) above and witnessing the silhouettes of a school of hammerheads or a squadron of mobula rays overhead!
As an alternative in Costa Rica, some liveaboards operate scuba cruises to sample the diving delights of Caño Island which is much closer to the mainland. This can be an option if your visit is between January through early June. You can expect more color here and more in the way of coral reefs. There is a greater variety of tropical reef fish here than in Cocos but less in the way of large pelagic action. You may however encounter sharks, rays, turtles and maybe even dolphins and whales if you are lucky. [More details on these dive sites: Caño].

Key Costa Rican Travel Facts
The Climate and Best Time to Visit
Costa Rica's climate is described as mild and subtropical year-round. Rainy season is approximately May through November, with more showers and lower water visibility, but this is also the time when there is most action underwater around Cocos Island. Dry season occurs between December and April. The temperature does not vary a great deal, with the average range being between low 70s to low 80s°F (23 to 28°C) although a few degrees either side would not be a rare occurrence, especially in the higher altitude locations such as San José.
Truly there is no best time to go to Cocos as the island offers great diving all year round and the weather is very changeable. June through December sees more rains and rougher seas, carrying more plankton, attracting the big fish but also reducing visibility. There are more hammerheads, whale sharks and manta rays at this time. December through May is drier and the seas calmer while still having great pelagic sightings. As always, open ocean conditions can vary so these Cocos liveaboards are not recommended for those who suffer badly from motion sickness.
The water temperature ranges between 75-86°F (24-30°C). We recommend you take a 5 mm full length wet suit, hood, globes and boots on your Cocos liveaboard safari to be comfortable at all times, depending on the presence of thermoclines. These can cause a drastic 43°F (6°C) drop in the water temperature.
If you are visiting during January through early June you may want to consider a dive cruise to Caño Island. This is a destination visited by some of the Costa Rican liveaboards at this time of year.
Liveaboard Ports of Departure for Cocos and How to Get There
Costa Rica, is one of a number of small nations that comprise the isthmus of Central America. Its eastern shore is lapped by the Caribbean, and its western shore by the Pacific. The land border to the north is Nicaragua and to the south is Panama.
Major airlines with regular direct flights to Costa Rica from North America are: Air Canada, American Airlines, Continental, Delta, Frontier, Grupo Taca, Mexicana, Spirit Air, and US Airways. From Europe: Iberia, Condor Air, Martin Air, American Airlines and British Airways have established routes to San José, some direct and others with one connection. Most routes pass through the US, meaning non-US passengers have to comply with US entry requirements for transiting the country. It takes between 3 and 7 hours to fly there from most U.S. cities.
International flights land either in San José's Juan Santamaría International Airport or in the city of Liberia's Daniel Oduber International Airport. Liveaboard charters pick up from San Jose hotels and transfer guests to the departure port of Puntarenas (a 2 hour ride), so we recommend you fly into Juan Santamaria. The cruise from Punteranas to Cocos Island takes roughly 35 hours. Current park regulations require proof of a negative COVID PCR test result within 96 hours (4 days) prior to boarding.
We recommend you take out insurance to cover health, diving and travel activities, including trip cancellation. See our insurance program for a competitive price.
Tourist Visas
Everyone needs a valid passport to enter Costa Rica. At the time of writing US, Canadian, EU and Japanese citizens do not need an entry visa. However, visa regulations change and we recommend consulting your Costa Rican consulate or embassy when planning your trip. Visit the Costa Rica Embassy USA website

for further details.
Places to Stay
If you plan on staying in Costa Rica before or after your liveaboard diving safari, then check out our affiliated hotel reservation agents hotelscombined.com and their accommodation options. Browse their website choices, use their on-line chat to ask your questions, or simply use your credit card to make your booking:
All their options are backed up with their 'Low Price Guarantee' to ensure you get top-dollar value for money.
Visitor Health
Costa Rica has among the highest levels of health services in Central and South America. The main concerns are Hepatitis B and C, Dengue fever (especially on the Caribbean coast) and rabies. If you behave sensibly, drink bottled water and ensure you consume well-washed vegetables and peeled fruit, you will limit any risk. If eating meat, try to ensure it is well cooked. Avoiding contact with animals frothing at the mouth might also be a wise idea. Any bites should be swiftly followed by medical attention.
There are 3 main hospitals in San José which are reasonably well-equipped. Hospital CIMA San José is generally considered to be the best hospital with the most modern technology. Others are Hospital Rafael Angel Calderon Guardia, which is generally considered the best place for serious emergencies. Hospital San Juan de Dios specializes in surgery and is the only adult burn unit it San José.
Tourist Security and Safety
At the time of writing, there have been no recent acts of terrorism in Costa Rica. Liveaboard visitors may encounter work stoppages and strikes which are rare but inconvenient. The normal rules about not displaying wealth, e.g. flashy watches, and avoiding carrying credit cards or important documentation apply. Opportunistic thieves exist in Costa Rica as they do everywhere.
Useful Tips for Tourists
Sightseeing, Activities and Adventure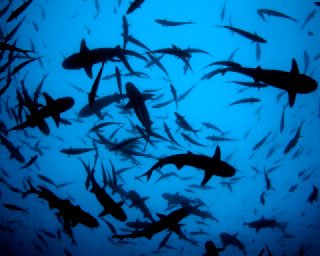 Apart from a couple of opportunities to go ashore on the island to explore the bays and a limited amount of the coastline, your time in Cocos will be spent on board your liveaboard. There are no inhabitants or shelters on Cocos Island at all. For sightseeing and things to do beyond your liveaboard vacation in Costa Rica, the focus is on the mainland.
'Traditional' pastimes such as surfing, rafting and fishing remain very popular and can be the main reason for visiting Costa Rica if they are your main interest. More modern pursuits such as canopy tours are becoming more popular. Imagine yourself whizzing through and over the rainforest on a zip line that can stretch great distances and reach heart-pumping speeds.
Costa Rica is part of a volcanic region so climbing and trekking the peaks is another popular thing to do, particularly the Arenal volcano where there are daily, and visible, 'eruptions'. Poas Volcano is an interesting one to visit with its mile wide crater and huge geyser. Hot spring spas also benefit from the geothermal activity and can make for a very relaxing day of pampering.
An exploration of the tropical rainforests is close to the top of everyone's priorities in Costa Rica and Monteverde Cloud Forest is the most popular. It is the perfect haven for lovers of nature including bird-watchers, for whom a trip to the Quetzal is also a must-do.
For more information on what to do, check out our Costa Rica tour information page and visit the Costa Rican Tourism Board

.
The Beaches
The country is a beach-lover's paradise, enjoying more than 800 miles of coastline fronting both the Caribbean and the Pacific.
Cocos Island
The island itself has 2 bays, Chatham and Wafer, which are sheltered spots in which to anchor and go ashore. You can enjoy a little stroll on terra firma and Chatham Bay is a great spot for taking in sunsets over Manuelita Island.
Pacific Coast Beaches
On the Pacific side of Costa Rica, you can find both black and white sand beaches leading to rainforests where all manner of life exists. These include sloths, iguanas and hummingbirds. The beach scene here includes restaurants and beach bars, where music fills the air and umbrellas fill your cocktail glass. These beaches tend to be more populated and there are therefore more beach-style businesses to cater to sun-lovers.
Caribbean Coast Beaches
In contrast to the Pacific coast, the Caribbean beaches see more rainfall and are therefore flanked by thick vegetation and dense forestation which runs well inland covering all the lowland areas. These beaches are more natural and a great variety of plants and animals thrive in the forests. Turtles also come ashore in many locations along the coast for nesting purposes.
Costa Rican Time Zone
Standard time in Costa Rica is 6 hours behind GMT (GMT -6 hours), or -1 hr EST.
Electricity
Costa Rica uses 110 volt, 60 cycle electricity, the same as in the USA, and uses plugs having 2 flat pins. The Cocos Island liveaboard boats have the same fittings.
Communications
Internet cafes are fairly easy to find in tourist areas and in San José. Some of these offer long distance calls over the internet and many have Skype and other instant messaging software.
Public phones are plentiful and will either accept coins or phone cards. Many of the more modern phones also allow SMSing or emailing too. Phone cards are available from many outlets including pharmacies. Mobile roaming is possible and you should check with your provider as to what they recommend for Costa Rica. You can also purchase pre-paid SIM cards here.
If at sea or at Cocos, your best chance of communication is to use the SAT phone that the liveaboard dive operators have, although this can become quite a costly means of communication.
506 is the international calling code/country code for Costa Rica.
Codes of Behaviour
Tipping and bargaining in Costa Rica
Tipping is not the norm here and you can expect restaurant bills to include a service charge (10%) and sales tax (13%) which should be sufficient to douse any intentions of a further tip. Even when this is absent, tips are not expected. However a little loose change to guides, porters and taxi drivers will be gratefully received.
Bargaining on the other hand is expected at markets and craft shops. Failure to do so will result in a fiscal disadvantage to you of outrageous proportions. The vendor's starting point is usually exorbitant. Taxi drivers in Costa Rica, as in the rest of the world, will take as much as they can so some prior knowledge of the expected fare is wise.
Best Clothing to Wear
Costa Rica tends to be hot and can be humid so bring clothes that suit these circumstances. Unless you are traveling on business, leave the suits at home. Light, airy clothes are the order of the day. Women might want to think twice about wearing shorts or strapless dresses to finer restaurants or occasions.
Criminality
Travel smart. Bulging wallets, passports in short pockets, flashy watches and cameras are all to be avoided. Carry only what you need. Don't carry important documentation on a stroll around town. There are opportunist thieves in every country on earth, including Costa Rica.
Use only official foreign exchange outlets and avoid drink-driving, for which the penalties can be strict. Tourists who avoid unnecessary risks seldom encounter problems of a criminal nature here.
Useful References for Liveaboard Charters in Costa Rica


---
CUSTOMER TESTIMONIALS OF DIVE THE WORLD
... I was very impressed with all aspects of Dive The World. The speed at which I received answers to my inquiries was impressive as was the security in paying for my trip using PayPal. My only suggestion would be to include more pictures of the resort ... -- Aimee Tapia, USA. [More customer reviews]