>
Dive Trip Reports
>
DeepSee Submersible
Deep Sea Your Guide to Diving in Cocos Trip Report
The DeepSee Submersible Tour
Click on an image to enlarge

Rising stealthily through the deep water column, we peered overhead. A school of hammerhead sharks lazily made their way across our view some 30 or 40m above, etching that iconic hammerhead silhouette firmly into our heads. Mobula rays swooped past us and circled for a few minutes playing in our bubble wake.
Finally as we reached normal recreational scuba depths, a school of bigeye jacks engulfed our viewing sphere. The school was so large that all we could see was a wall of shimmering silver. When we finally managed to look beyond this circling silverside biomass, we could see that the jacks were still on the move, coming in to view in a train that stretched out beyond our vision. It was a sight that cheered the soul, to acknowledge that schools this size can still be found some place in the world.
These were just some of the sights I had of an entirely different and magical underwater world; on my maiden diving tour inside the DeepSee Submersible.
The DeepSee Sub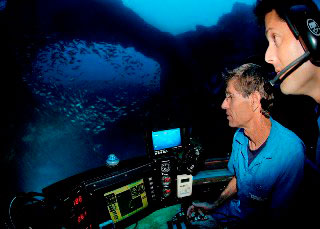 DeepSee is a custom-built 1 ATM submarine, capable of carrying 1 pilot and 2 passengers to a depth of nearly 475m (1,500 feet). It is a high-tec hybrid sub-boat that weighs over 7 tonnes and cost USD 3 million to build. If you like the idea of exploring and going to places that no one has been before, seeing animals that no one has seen, now you can at Cocos Island.
The sub is housed on the Costa Rican liveaboard, the MV Argo which runs regular diving cruises out to Cocos. You can book your seat on this once-in-a-lifetime ride as a passenger on board one of the Argo scheduled cruises or as a guest on one of the other fleet boats - the Sea Hunter or the Undersea Hunter (provided that the Argo is present at Cocos Island during your trip).
It is highly advisable that you prebook your DeepSee dive as seats are obviously highly restricted.
Inside the Sub
After a thorough safety briefing and a dive site description that includes instructions on what to do and what you can expect on the dive, and then signing on the dotted line of the inevitable liability release, you're ready to go! A quick change of clothing into DeepSee overalls (to prevent accidental scratches to the sub), grab your camera and enter the sphere.
Once the sphere lid is closed and sealed, you are towed out the 5 or 10 minutes to the drop zone, then you begin your descent. Once submerged, the 12 cm thick acrylic flexiglass becomes totally invisible. This gives an out-of-this world sensation, you feel to be so close to the water and its creatures, yet sealed off from them. There's a strong sense of privacy; the whole underwater world is out there and you are the only one seeing it, it's just fantastic. The 360° field of vision is truly wonderful once you get used to it but at first you just don't know in which direction to look.
The sub is very stable and you slowly descend at 10m per minute. The 1 atmosphere cabin pressure means you breathe air normally as if on the surface - no need to equalise or to decompress afterwards. The controlled internal environment means that the sphere temperature is a comfortable 26°C throughout your dive.
As you near the ocean floor, the sub uses compressed air to establish neutral buoyancy. Its remarkably precise thruster system means you can move along at 1½ knots just 20-30 cm off the sandy bottom without disturbing sediment. The sub is very quiet and powered by electric so the fish are not disturbed or frightened by this weird looking sea creature among them.
The DeepSee Submersible is constantly tracked on radar and through voice contact with the support crew at the surface.
Climb Everest or Descend Deep Water Trenches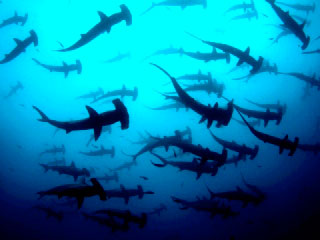 Our deep sea dive took us to a deep underwater mountain called Everest. It rises from the ocean's floor at 90m to its peak at 45m below the surface. It is so named, due to the white deep water octo coral species that cover its lower slopes, looking like snow on a mountain top.
We saw some special creatures that only exist at depths beyond recreational diver limits, such as some moray eel, bigeye and grouper species, brotula and scythe butterflyfish. One special sighting was of an endemic Cocos batfish, found only at depths of 35m and beyond. Several of Cocos' signature marine life are regular visitors to these depths too. Both hammerhead sharks and mobula rays are often seen at depths of up to 250m. The total tour time is about 1½ hours, and total time inside the sphere is 2 hours.
• Watch our Cocos diving video

And for those that want an extra special kick of truly diving into an alien world, the sub also makes dives into a nearby deep water trench, that begins at 200m and goes down to 300m. Here you really are in another world. Unlike the Everest dive, the creatures here exist in complete blackness and the sub's powerful lighting system lights the way. Many of the fish, sharks and other animals live only in these deep water environments so you can never see them on recreational dives. On this dive, the total dive time is 2½ hours, and total time inside the sphere is around 3½ hours.
Ready to Try?
I must say that I loved the experience; not just the marine life encounters but the whole sensation of being inside a submarine in an alien underwater environment. I promised myself that next time I'm out at Cocos, I'll give the 300m dive a try, for sure. Life's too short and we only live once. To have done something that very few have ever done and few will ever get the opportunity to ever do, makes you feel honoured and fortunate indeed.
If you'd like to partake in this experience, you need to get yourself booked onto the Argo (preferable) or one of the other Sea Hunter fleet boat trips to Cocos Island, Costa Rica, and then make an advanced booking for a DeepSee Submersible dive.
Written by Sheldon Hey, April 2011
Update: The liveaboard Undersea Hunter has since been sold. However the DeepSee remains on Argo and can be experienced by customers of any Cocos liveaboard. It is wise to arrange this in advance since spaces are limited.
I went on DeepSee in 2019 and did the same dive to the foot of Everest. We saw several Galapagos sharks and tuna at deeper sections and, when we got to about 55 metres approaching Manuelita we saw directly above us a large adult whale shark off to the right and a huge school of some 80-100 hammerheads weaving their way across the 'sky' from the left. It really is a special experience and it doesn't come cheap but opportunities like this do not come around often. I would strongly recommend it if you can afford the price (US$ 1,500 for a dive of up to 100m, US$ 1,895 for a dive of up to 300m). Written by Gavin Macaulay, August 2019.


---
CUSTOMER TESTIMONIALS OF DIVE THE WORLD
... I thought that the website worked fine and I like how I can look for specific times and places with descriptions of locations and boats. Booking seemed to work out, I had my questions answered quickly and was glad that a reminder was sent out since I could not figure out when the bill was due. The best part is that it is an all in one site so I can check through multiple boats, locations, times, and prices. It would have taken forever to do it individually ... -- Lora Sutter, USA. [More customer reviews]