>
Liveaboards
>
Philippines
Philippines Liveaboards
Best Dive Tour Options and Travel Information
The Philippines is an island nation located in the 'Coral Triangle' – the most bio-diverse marine region on Earth. And with over 7,000 islands to explore, the Philippines is an ideal liveaboard safari destination. However such geographic spread makes it a lot of work to travel around with sometimes unreliable flights, ferries and jeepneys. Allow a professional cruise operator to navigate through these hassles of travel. Simply choose your preferred route and your trip will be a breeze!
What a choice you have, with many of the best liveaboard areas now protected under national park legislation. There is the UNESCO World Heritage Site Tubbataha Reefs Natural Park, deep in the heart of the Sulu Sea, as far from land as is possible in this part of the world. Then there's the Visayas region of the country, famed for everything from almost guaranteed whale shark encounters to amazing macro life. And in Mimaropa, you can explore the world class wreck diving destination of Coron, the second largest unbroken reef system in the world called Apo Reef, or head south from Manila by road to Anilao, now known as the Nudibranch Capital of the World.
In addition to its magical underwater realm, the Philippines is a popular choice for non-diving tourists. With its pretty beaches the island of Boracay receives its fair share of attention. Bohol and Palawan both offer plenty to do for the active eco-tourist, and Siargao in northern Mindanao is a firm favourite with travellers and surfers.
Liveaboard Diving Cruise Options in the Philippines
The best sites in the Philippines are either located far from shore or spread across numerous island chains. This means that liveaboard safaris are the optimal solution from which you can enjoy this exciting destination:
The incredible richness of the marine life at Tubbataha is so significant that it has been recognised by the UNESCO World Heritage programme. The importance of these tiny atolls to the sustainability of many species in the region cannot be overstated. And its remoteness, in the middle of the Sulu Sea, allows fish populations to thrive as nature intended.
The park is home to huge schools of fish such as trevally, barracuda, surgeonfish and snappers. Turtles, rays and reef sharks are all regular sightings. The excellent visibility also allows divers to search for hammerheads, whale sharks, silvertips, guitar sharks and even tiger sharks. The reef flats and walls are all in great condition, creating a wonderful environment in which to explore for smaller creatures too. Divers should be 'intermediate to advanced' in order to make the most of the opportunities here. [More details on these dive sites: Tubbataha].
Dedicated liveaboard trips to the nr 1 dive spot in the Philippines are 6 or 7 nights in duration. There are also occasional transit trips (9+ nights) that including diving in the Visayas and the Cagayancillo Islands. Because Tubbataha is only open from March to June, these dive charters are booked a long time in advance, so you should be plan well ahead.
The Visayas is the central region of the Philippines, stretching from Panay in the west to Samar in the east. There are innumerable liveaboard diving opportunities throughout the whole area.
The island of Bohol is one of the most popular tourist destinations in Philippines, but its healthy coral gardens and excellent wall diving make it equally popular with scuba divers. This is evident from the large number of liveaboard cruises that include it in their itineraries. The little islands that dot its coastline are home to turtles, sharks and pelagics, as well as wondrous macro stuff. [More details on these dive sites: Bohol].
The regional centre of Central Visayas is Cebu, the most populated and developed island in the Visayas. But the most popular dive destination along its coastline is Moalboal, a tiny village in the south west. Here you can dive the famous Pescador Island with its huge biomass of reef fish, and Pangasama Reef where you could be engulfed in a huge cloud of sardines. Elsewhere in the south you will find Sumilon Island and Oslob, where you have an almost-guaranteed chance of encountering whale sharks. [More details on these dive sites: Cebu].
Dumaguete is the largest city in the southeast of Negros and a hub from which to explore several excellent dive destinations. Dauin is renowned as one of the best muck diving destinations in the world, Apo Island is a marine protected area with healthy fish populations, and Siquijor Island is where you can dive a variety of marine environments and find endemic species. [More details on these dive sites: Dumaguete].
Arguably the best dive area in the region is Malapascua. This small island has become renowned as the best place in the world to dive with pelagic thresher sharks. But it's not all about fox sharks; there are also manta rays, hammerheads, and several wrecks, and one of the nearby islands hosts a sea snake sanctuary. [More details on these dive sites: Malapascua].
Over in Eastern Visayas is Southern Leyte, an up-and-coming Philippines liveaboard destination famed both for whale sharks and fabulous macro diving. Sogod Bay is the place to be to see whale sharks, the sanctuaries at Napantao and Santa Paz offer superb diving, and Limasawa Island is where you can find the greatest range of critters.
Liveaboard safaris in the Visayas are 6 to 10 nights in duration and offer a variety of different routes all year round. Less experienced divers would enjoy these cruises but some sites are deep and are exposed to strong currents.
Coron Bay is the main attraction for wreck diving enthusiasts in the Philippines. Few places in the world have such a high concentration of history below the waves. 24 Japanese supply ships came under attack during US bombing raids during World War II and now 12 of them rest in surprisingly great condition on the sea floor. Coron also has some other surprises in store, such as a fresh-salt water lake dive, caves and dugongs. [More details on these dive sites: Coron Island].
Apo Reef is a popular marine park and the second largest contiguous reef in the world (after the Great Barrier Reef). The walls are decorated with colourful soft corals and the reef is home to dense of schools of fish and hunting pelagics. You can spot reef sharks, hammerheads, and occasional thresher sharks. [More details on these dive sites: Apo Reef].
Dedicated liveaboard tours to Apo Reef are 3 nights long, but you can also incorporate the dugongs and the Coron wrecks on extended trips of 4-7 nights. You can visit all year round and, although some of the sites are quite shallow, several will require advanced experience to dive deep.
Being a short 3 hour drive, Batangas is the liveaboard port most handily-placed for Manila (the most common arrival point for visitors to the Philippines). Close by is Anilao, a world famous muck diving mecca and self-proclaimed Nudibranch Capital of the World, with new species often being found there. Underwater photographers and macro lovers come from all over the world to dive here and find all the weird and wonderful creatures that live in the shallows. Nearby at Verde Island you can enjoy adrenalin-filled channel dives with big schools of fish and an impressive number of pelagics. [More details on these dive sites: Batangas].
Next stop on the route is Romblon, an area known for its diversity of seascapes and rare critters. You will dive on rich reef flats, walls, caves, canyons and overhangs. The range of shrimp species is particularly impressive so you can imagine how good the night dives are here, when you can take advantage of your torch light to spot them. Further along the Luzon coastline is Tiaco Island, near Masbate in the Bicol region. Here you can encounters manta rays, and sometimes spot oceanic sharks such as whale sharks, hammerheads and tigers.
These liveaboard safaris are 7 nights long and run from July to September. Advanced certification and experience of diving in current are recommended.
Or review our entire range of Philippine liveaboard options:.

Key Philippine Travel Facts
The Climate and Best Time to Visit
The Philippines have a tropical, humid climate with the average temperature being 26.5°C/80F. The warmest months are generally March to October, with May being the hottest at 28°C/83F. There are 2 seasons – the dry season from June to the early part of October, and the rainy season which runs from the latter part of October to May, although this does vary a little depending on region. There is also a risk of typhoons. They can hit at any time, but the general typhoon season is roughly June to December. Although you can dive here all year round, there are obvious regional differences. Check out our dive site descriptions of each Philippine destination for more precise information on the best time to plan a visit to each location.
Liveaboard Ports of Departure in Philippines and How to Get There
Manila (Ninoy Aquino International Airport [MNL]) is the main gateway for most visitors to the Philippines, with direct flights from most of Asia, North America, Australasia and Europe. There are other international airports and the relevant ones are detailed below.
You can view which ports each boat uses on their trips in the 'Departures & Prices' section of each boat's webpage. You will also receive full departure details from us during the booking process. The main ports used are as follows:
Atlantis Dive Resort, Dumaguete (for Visayas, and Tubbataha transit trips) - Dumaguete is a city in the south of the island of Negros, some 900 km south of Manila, and 150 km southwest of Cebu City. There are direct flights from Manila and Cebu City with Cebu Pacific and Philippine Airlines to Dumaguete City Sibulan Airport (DGT). The flight time from Manila is 1 hour 30 minutes. Dumaguete is also well connected by ferry service with several other islands, including Cebu and Bohol.
Atlantis Puerto Galera Resort (for Coron and Apo Reef) - Puerto Galera is located in northeast Mindoro. Transfers are provided from Manila by minibus and boat. It's about a 140 km journey and takes 2½ hours, depending on traffic and your location in Manila.
Cebu Yacht Club (for Visayas, and Tubbataha transit trips) - Cebu is the 9th largest island in Philippines and lies 570 km south of Manila. Cebu City is the second largest and the oldest city in the country, and was the first capital of the Philippines. Mactan Cebu International Airport (CEB) is the country's second busiest airport and is well served with many direct flights from Manila and several other major Philippine cities with Cebu Pacific, Philippine Airlines or Air Asia. The flight time from Manila is 1 hour 15 minutes. There are also several direct international flights to Cebu from Hong Kong, South Korea, Singapore, Dubai, Taiwan and China with Cebu Pacific, Asiana, Emirates, Singapore Airlines, Cathay Pacific, Philippine Airlines, ANA, China Eastern, and EVA. Cebu is also well connected by ferry service with several other islands. If you are arriving from Bohol or Dumaguete, this could be a good option, but the ferry journey time from Manila is 22 hours!
Coron Bay Harbour (for Coron and Apo Reef) - Coron Island lies almost equidistant between the islands of Mindoro to the northeast and Palawan to the southwest; both being 100 km or so away. It is 280 km southwest of Manila. You can fly to Coron's Francisco B. Reyes Airport (USU) (formerly known as Busuanga Airport) from Manila with Skyjet, Philippine Airlines, Cebgo, and PAL Express. The flight time is 40 minutes.
Puerto Princesa Port (for Tubbataha and transit trips) - Puerto Princesa is just under 600 km southwest of Manila and a similar distance west of Cebu City. There are direct flights to Puerto Princesa Airport (PPS) from Manila and Cebu City with Cebu Pacific, Air Asia, and Philippine Airlines. The flight time from Manila is 1 hour 30 minutes. There are also a few international flights from Hong Kong, Taiwan and South Korea with Eastar Jet, Tiger Air and Cebu Pacific.
Solitude Acacia Resort, Anilao (for Batangas and Bicol) - Anilao lies 100 km south of Manila. It is on Calumpang, the peninisula that divides the bays of Batangas and Balayan. Taxis and minibus transfers take about 1½ hours to make the journey from Manila.
Useful airline links - Cebu Pacific/Cebgo

, Philippine Airlines/PAL Express

, Air Asia

, Skyjet

.
Whichever port your boat uses, the liveaboard operators usually provide a transfer to the boat from the local airport or hotels (if you overnight beforehand) for your convenience. We recommend you take out insurance to cover diving and travel activities, including trip cancellation. See our insurance programme for a competitive quotation:
Tourist Visas
Visitors from most Asian and European countries, North America and some South American countries will be issued with a 30-day permit to stay on arrival. You will need to show a valid onward ticket, and a passport that is valid for 6 months beyond your intended stay (unless you belong to a country whose embassy/consulate extend or renew their passports in the Philippines). Extensions can be obtained from within the country. Please check the immigration requirements on the Bureau of Immigration

website before you travel.
Places to Stay
If you plan on staying in the Philippines before or after your liveaboard dive safari, you can find a wide range of accommodation options at hotelscombined.com, our affiliated hotel reservation specialists. Browse their website then use your credit card to make your booking:
All bookings are backed by a 'Lowest Price Guarantee' to ensure you get the best value for money.
We also offer dive resort stays in Anilao, Dauin (Dumaguete) and Puerto Galera. Please contact us for more details.
Visitor Health
Manila and Cebu City both have modern international-standard hospitals, as do other major tourist hubs such as Angeles City and Subic. The quality of health care elsewhere in the country varies greatly but there are always some local facilities available. Many locals cannot afford any health care and resort to 'mananambals' (folk healers); these are not recommended. Seek real medical help if you have any health problems while travelling.
By far the most common health issues that tourists face in the Philippines are pre-existing conditions. After that, diarrhoea is the most common issue faced. This is best treated by talking rehydration solutions. Avoid drinking tap water because it is not potable. The following diseases are present in parts of the country: dengue fever (the most common disease), hepatitis A and B, diphtheria, tetanus, chickenpox, polio, typhoid, measles, mumps, rubella, rabies, encephalitis, TB, meningitis, and malaria (not present in major conurbations),
You should obtain medical advice about immunisations at least 6 weeks before travel, and take out health insurance if you are concerned.
Tourist Security and Safety
The Philippines has, among some, a reputation as a dangerous place to travel. We believe this is a myth fuelled by frequent, overly-cautious Western embassy travel warnings. However, there are some real concerns and we bring a number of them to your attention below.
There is a self-autonomy movement mostly in a few remote islands in the southern region of Mindanao. You are unlikely to visit these islands unless you deliberately seek them out, so you are unlikely to come in to contact with members of this movement. More likely are the frequent natural disasters such as volcano eruptions, floods and typhoons. Try to keep up to date the news feeds so that you can heed warnings of this type. Ferries also carry a risk of travel as they have a habit of being overloaded and sinking. You can avoid this by opting to fly instead. Pickpockets are also a concern, but the threat of kidnapping is often grossly overstated; keep your wits about you.
We have travelled to all the tourist areas described in this section and we have never experienced any threats. Filipinos have a happy-go-lucky attitude towards unexpected events, and we recommend you adopt a similar attitude when visiting in order not stress when things go wrong. "I … have been thwarted by luck and chance, those wreckers of all but the best laid plans." – JK Rowling.
Useful Tips for Tourists
Sightseeing, Activities and Adventure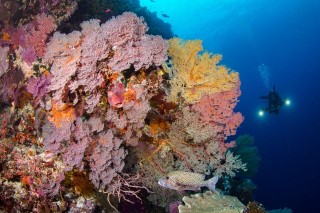 You can enrich your liveaboard cruise in the Philippines by adding on a few days to enjoy some of the other attractions of the country.
Boracay is perhaps the most popular tourist island in the Philippines, mainly as a result of being the preferred spot for weekend travellers from Manila. White Beach has been voted "the world's best beach" on numerous occasions by numerous organisations, and it has many hotels, bars and restaurants. There are the usual tourist activities available here, such as parasailing, island hopping, snorkelling tours, banana boats.
Bohol is a better choice if you seek a more eco-friendly location yet still enjoy the luxury of good quality beach resorts. Panglao Beach is the preferred spot to stay, and day trips are very popular to see the Chocolate Hills - over 1,000 chocolate-coloured mounds as far as the eye can see, and to visit the tarsier sanctuary – the oh-so-cute but endangered indigenous primates that are found here.
More natural and more wondrous still is the island of Palawan. El Nido is one of 2 main attractions here. The area is surrounded by rugged limestone karsts and pristine beaches. Island hopping, sea kayaking, and walking trails are popular activities here. The other main attraction of Palawan is The Underground River. This cave system is the world's longest navigable underground river and is a UNESCO World Heritage Site and protected within a national park. Guided paddle boats will take you inside a section to the show you the intriguing rock formations and resident bats.
Really, the country has many more attractions and we have only just scratched the surface with the samples above. For some more ideas on what to do and see, visit the official: Philippines Travel

website.
Philippine Time Zones
The Philippines has only 1 time zone and there is no daylight saving: +8 hrs GMT (+15 hrs PST).
Electricity
The standard power in the country is 220V / 60 Hz AC. Electrical sockets are normally 2 round prongs, as in most European countries, or sometimes 2 flat prongs. This is what the liveaboards have too. Electricity is usually reliable but there are occasional blackouts in the countryside … indeed some less developed parts of the country, including El Nido, do not have 24 hour electricity. It's recommended to bring your own adaptor if required.
Communications
There are many internet cafes throughout the country but perhaps the easiest thing to do is buy a local SIM card on arrival. Mobile internet is cheap although speeds can be slow for streaming. Several of the liveaboard yachts provide internet, although this will only be available in the Visayas region and near Batangas.
You can make international calls from most hotels and from the many booths, counters and shops that deal in telephones. The international dialling code is 00, and the country code for Philippines is 63.
Registered delivery services are the way to go if you need to send something physically.
Codes of Behaviour
The Filipino culture is an example of "east meets west", which reflects its colonial past, and this is also reflected within its Tagalog language which uses many English words (as well as Spanish); indeed it is often referred to as 'Taglish'. Filipinos are very family-orientated, and the Catholic Church still has a strong hold on society (except in parts of the deep south which are Islamic), which is reflected in the sports team-sized families that are so common. Elders are also highly revered.
Tipping and bargaining in Philippines
Outside of Manila, tipping is not widely expected. But if you do enjoy a meal for example, even a small tip of say PHP 50 would be highly appreciated by your waiter/waitress. Similarly when on day trips, some tips are very welcomed by the often low paid staff. Taxi drivers, similarly. Airports and ferry terminals often have private porters that you can tip a dollar or so, but still it should be "small change".
Prices are fixed in department stores and most retail outlets in shopping malls, but you're expected to haggle in markets. Try to keep the bargaining amicable and relaxed; confrontation is likely to cause offence or embarrassment.
Best Clothing to Wear
Philippines has a hot and humid climate so light, loose clothing is a must. Shorts and T-shirts are fine for most occasions anywhere, bikinis are only for the beach and even then a sarong is better for wandering around a resort. Topless sunbathing is unheard of among Filipinos. However, if you are required to attend the office of an official building, for example an immigration office, formal clothing is required and you will not be admitted without it.
Criminality
Just like nearly everywhere in the world, pickpockets and thieves are prevalent in the Philippines, so don't go wandering around with flaunting expensive jewellery or great wads of cash, and stay away from dimly lit streets in metropolitan areas. Most hotels and resorts have guest safes in the rooms. Some taxi drivers will try overcharging or 'forget' to switch on the meter, so pay attention to what they do to avoid such situations.
Officialdom
Local police seem to have a better image than in most neighbouring countries, and there are tourist police units (TUPs) in most major Philippine tourist destinations. Do not attempt to tip or pay officials for services rendered because there are usually very strict departmental regulations against this and you could land the intended recipient in trouble.
Useful References for Liveaboard Charters in Philippines


---
CUSTOMER TESTIMONIALS OF DIVE THE WORLD
... Quick response to emails and friendly service are Dive The World's main strengths. I wasn't sure how to sign up for the included dive insurance, but it was quickly explained when I sent an email. ... -- Mike Teske, Canada. [More customer reviews]