>
Dive Destinations
>
Philippines
>
Malapascua
Your Guide to Diving in Malapascua
Best Place in the World for Thresher Sharks?
...Highlights: hammerhead sharks, shark action, manta rays, dolphins, turtles, great macro life/ marine diversity...
...Malapascua's diving environment: healthy reefs, wall diving, wrecks, beginner and advanced divers, off the beaten track...
Malapascua is a small and delightful tropical island just off the northernmost tip of Cebu right in the heart of the Philippines. With a lush green interior, white sand beaches and clear blue shallows, it is a picture of the island idyll. Best known for the chances of encountering thresher sharks, Malapascua is in fact a very varied dive destination, with a wide range of sites and amazing creatures, large and small.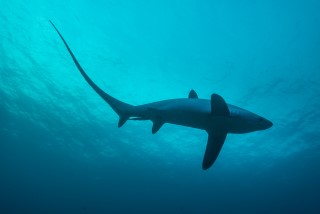 Cebu is a renowned hotspot for diving in the Philippines, with Malapascua being the jewel in its crown. While the list of exciting creatures features white tip reef sharks, hammerhead sharks, tuna, barracuda, sea snakes and amazing macro from mandarinfish to mantis shrimps, most divers come with thresher sharks in mind.
Alopias pelagicus, the pelagic thresher shark, can grow up to 6m in length, which includes their characteristic whip-like tail. This is the species seen here, as opposed to other species like the common or bigeye threshers. Malapascua is one of the best places for diving with thresher sharks in the whole world!
The range of diving in Malapascua varies from flat coral gardens to sheer walls; from muck dives over a sandy floor to fascinating wrecks. There are enough sites here to do several days of top quality diving, which is why it is included in so many Philippine liveaboard boats' routes.
Dive Site Descriptions
Monad Shoal
Monad Shoal is the thresher shark dive site, not just in Malapascua, but in the whole world. These shy sharks normally inhabit deeper waters but they visit the Monad Shoal plateau at about 26m to benefit from the cleaning station here. The spa treatment they seek is the removal by cleaner wrasse of little parasites and imperfections from their skin, mouth and gills.
Normally, but not always, this is a morning dive where you drop to the sea floor, wait and watch with limited movement between vantage points. You may see one of more of these sleek sharks appearing from the blue. They are easily distinguishable from other sharks with a distinctive body, eye location and tail. Since you will be spending a lot of time at depths in the mid 20s, this is the perfect profile for nitrox so you can extend your bottom time.
Other creatures may also appear including schools of mobula rays, manta rays and hammerhead sharks, particularly during the January to April period. However, for most people it is all about the threshers. Sometimes the cleaning stations are enjoyed by more than 1 of these big species simultaneously, and threshers are sometimes seen breaching the surface. Howeve,r such scenes are witnessed only by the lucky few.
Kemod Shoal
Kimud Shoal, as it is sometimes spelled, is a sunken island located in the same trench at Malapascua as Monad Shoal. That means threshers can sometimes be seen by divers here too, however it is more a hammerhead territory. Hammerheads can be spotted here throughout the year but during peak hammerhead season, which is from December to May, the chances of seeing large schools is much higher. April is considered the very best month for seeing a school of up to 200 individuals.
The island rises from a depth of over 200m to a flattish top of around 14m on average and can sometimes be visited by turtles, tuna, dolphins, devil rays and manta rays. Among the sponges and hard and soft corals in the shallower sections you can look out for frogfish and moray eels ,plus a vast array of nudibranchs and shrimp species.
Dona Marilyn Wreck
This 100m long wreck lies intact at a depth of between 18 and 33m on its starboard side. A Cebu-Manila passenger ferry, it sank at Malapascua during a typhoon in 1988 with considerable loss of life. Depending on your experience level, you can dive the outside only, or penetrate at various points and inspect the many navigable channels.
Marine life you can expect to see includes a number of large individuals like big sweetlips, cuttlefish and a giant moray! There is a lot of soft coral growth on the structure plus many fire urchins. Nudibranchs and scorpionfish are also present. There are also a number of batfish and thousands of glassfish lurking in the more sheltered recesses.
Lighthouse
This is a site that showcases the diversity of Malapascua. While scuba divers might spend the morning and early afternoon in the company of thresher sharks, hammerhead sharks, manta rays and mobula rays, at sunset it is a different story. At Lighthouse, when the light is fading, you will descend onto this shallow reef in the hope of observing the incredible mandarinfish. These psychedelically multi-coloured little fish will perform a mating ritual before your awe-struck eyes. Shyly a male and female will emerge from the coral before consummating their union in a rising spiral dance. As soon as the job is done they part and dash back into the coral.
After the show is over your dive will continue as a more usual night dive but with a mesmerising line up of creatures. Banded pipefish, juvenile sweetlips, seahorses, frogfish, and myriad crabs and shrimps can all be seen. However, this site may be best remembered for the parade of cephalopods that will entertain you. Cuttlefish, starry night and even blue-ringed octopus, as well as reef and bobtail squid are all quite regularly seen.
Gato Island
Lying around 45 minutes boat ride from Malapascua is the fabulous marine reserve and sea snake sanctuary, Gato Island. There are in fact a number of different dive sites here. At any one of them you can see banded sea kraits, mantis shrimp and cuttlefish. In the blue, distant from the reef you can see baitballs with feeding big-mouth mackerel as well as schools of reef squid.
Among the best known Gato Island dive sites is The Cave. This is a 30m swim-through tunnel below Gato Island which is home to multiple white-tip reef sharks. Often divers have to wait until the sharks vacate before they can enter the cave. In so doing the sharks may swim right past your face! The 10m deep tunnel also shelters bamboo sharks, pufferfish, lobsters and cardinalfish.
The Guardhouse is a site where photographers will want to bring their macro lenses. Potential subjects include pink and yellow seahorses, painted frogfish and Spanish dancers. Cathedral boasts impressive rock formations with a channel and overhangs to dive through. Harlequin shrimp, spider crabs and ribbon eels can all be spotted as well as blue-spotted rays and white tips. Hermit crabs, scorpionfish and a vast variety and number of nudibranchs are all likely to put in an appearance at Nudibranch City.
Other Malapascua dive sites
Among the other local sites you might visit is Lapus Lapus, an 18m dive site with fantastic hard and soft coral coverage. This is another great macro-photography opportunity with frogfish, mantis shrimp, cuttlefish and crustaceans galore among the stars of the show. At Calanggaman Island, which is often dived together with Nunez Shoal, you can dive a beautiful shallow reef with a steep wall. In the blue may be thresher sharks, tuna and barracuda while the shallows are home to hammerhead nudibranchs, mushroom coral pipefish and many pygmy seahorses. The shallower corals are swarmed by vibrant schools of dancing anthias.
Chocolate Island is a sweet spot for some of the more rare critters in the region including flamboyant cuttlefish and pegasus sea moths. Mating flatworms are a common topic of discussion here and can cause a few snickers as they twirl themselves into a flatworm double-decker. Cowries, dwarf cuttlefish, sea-snakes and juvenile batfish add to the bounty of this site. Deep Rock is among the favourite dives of Malapascua and is, unusually for the area, a pinnacle. This shallow sea mount is carpetted in soft corals. Residents include black cowries, spotted leather coral cowries, frogfish, nudibranchs, harlequin shrimp and pygmy seahorses.
How to Dive Malapascua
There are several dive resorts based on Malapascua, however we recommend a liveaboard safari to visit the area. This is because you can easily explore all the local dives spots, plus the best of the entire Visayas region - Cebu, Bohol, Dumaguete, Camiguin, plus Southern Leyte - on one diving cruise. These tours typically take 7 to 12 nights.
The Malapascua Diving Season
You can dive at Malapascua all year round but there are seasons. Late February to May represents spring, when the Visayan Sea is at its calmest, the visibility at its best (15-25m), and water temperature rises from 27-29°C/80-84F. This is the high season, with the most sunshine, and the air temperature rises from 30-32°C/86-90F. This is the best time of year to see hammerhead sharks.
The summer runs from June to September. You can expect hot, sunny days at 32°C/90F, but rain during late afternoons and the nights. The sea temperature is 29°C/84F, mostly calm, and there is good visibility (15-20m). This is the jellyfish season, so use a full length wetsuit.
The winter runs from October to January, with the typhoon season from October to December. This is the rainy season and there can be rough seas. The sea temperature drops from 28-26°C/82-79F (25°C/77F at depth), and visibility falls from 15m to 5-10m. The air temperature drops from 31-29°C/88-84F. It should be noted that Malapascua is a small island, so it attracts less clouds and rain than nearby Cebu, and typhoons usually pass further to the north. Hammerheads can be seen from December.
Generally, currents are non-existent at the sites close to shore, but they can be strong at the sea mounts and offshore islands. Thresher sharks are present all year round, although the increased diver numbers during busy holiday periods (Christmas, New Year, Chinese New Year, Easter) can make them more wary. For more details on the climate of Malapascua Island, visit the Weather2Travel website

.

Where is Malapascua and How Do I Get There?
Review our maps below showing Malapascua's host country Philippines' location in the world. Here, you will find information on Cebu or Dumaguete, and then on to Malapascua.
Reef Summary
Depth: 5 - >40m
Visibility: 5 - 25m
Currents: Can be strong
Surface conditions: Calm but choppy in rainy season
Water temperature: 26 - 29°C
Experience level: Beginner - advanced
Number of dive sites: >30
Distance: ~140 km north of Cebu City (12 hours)
Recommended length of stay: 7 - 12 days as part of a Philippine liveaboard charter
Useful References

---
CUSTOMER TESTIMONIALS OF DIVE THE WORLD
... Everything was amazing, it was the highlight of our holiday and the boat surpassed expectations. Dive The World were great at dealing with my myriad of questions. It was great. Thanks once again! ... -- Skye Cornell, Cambodia. [More customer reviews]