>
Dive Destinations
>
Philippines
>
Cebu
Your Guide to Diving in Cebu
Adventures in Moalboal, Sumilon, Oslob, Mactan
...Highlights: whale sharks, dolphins, turtles, great macro life/ marine diversity, schooling fish & big pelagics...
...Cebu's diving environment: healthy reefs, walls, drift diving, wrecks, caverns, beginner and advanced divers...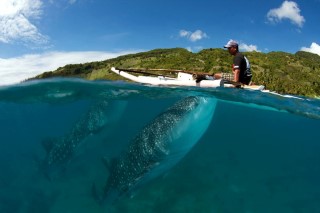 Cebu is one of the best diving locations in the Philippines and in fact the island boasts several different destinations: Malapascua, Moalboal, Sumilon, Oslob and Mactan,. Each offers something distinct and the diversity of diving in the Cebu region makes it a favourite for Philippines liveaboard boats.
If the excellent Malapascua is the Cebu destination you are interested in, then check out our dedicated Malapascua dive sites page.
Cebu holds the promise of vast schools of sardines, whale sharks, thresher sharks and manta rays. There is also all manner of critters to thrill lovers of macro: blue-ringed octopus, pygmy seahorses, frogfish, pipefish as well as electric clams. Considering Cebu as a whole, the variety is really incredible.
You can expect relatively stable water temperatures averaging around 29°C (84°F) and visibility is normally somewhere in the 15-20m (50-66 ft) range. In addition to the variety of marine life, Cebu also has a wide variation in types of dive site. You will dive in caves and caverns, pinnacles, walls and wrecks, exposed oceanic sites and sheltered coral gardens.
Dive Site Descriptions
Moalboal
Pronounced Moh-al Boh-al, this small town in Cebu is a very diverse scuba diving destination in itself. The creatures range from the humble nudibranch to the mighty whale shark. It is perhaps best known for the vast school of sardines that so many divers enjoy here. You can expect pristine fields of coral, healthy walls and a huge variety of fish and reef creatures. With famous dive sites like Pescador Island and Panagsama Reef, Moalboal is among the best places to dive in Cebu.
Show more
A protected marine park, Pescador Island is located in the Tañon Strait. Here you will dive a steep and dramatic wall and encounter a great variety of fish. Off the wall in the blue you may see schools of sardines, midnight snapper, big-eyed trevally, barracuda and tuna. Sharks include whitetips and maybe even a passing thresher shark, particularly in the deeper sections of the wall which drops to as much as 600m.

In the shallower sections there is a lot of colour and life. Smaller reef fish include red toothed triggerfish, surgeonfish and fusiliers. Innumerable little chromis, anthias and damsels flit all around the reef flat. It is also worth looking out for frogfish, lionfish and anemonefish. The island features a number of caves and tunnels to explore, most notably a large cave on the northwest of the island known as The Cathedral which ranges in depth between 37m and around 15m.

Panagsama Reef is truly the sardine dive in Cebu, sometimes referred to as The Sardine Run, however the sardine baitball is seen here in the same spot year after year, and need not be chased down. Thousands of these tiny fish form one big school and represent a banquet for hungry trevally and barracuda as well as sharks, including thresher sharks. If you are in the right place at the right time, you can see these predators feeding in the baitball, dashing in at great speed to pick off a single individual.

Away from the baitball, this reef has much else to delight. On the steeply sloping reef are gorgonian fans, soft corals and sea whips protruding out far into the water. Resting turtles, frogfish, pipefish, blue-ringed octopus and myriad crustaceans are all possible sightings. Keen-eyed divers can find pygmy seahorses on fans clinging on with their prehensile tails. Panagsama Reef makes an excellent night dive and is worth diving more than once to experience it both in daylight and after nightfall.

Tongo Point is a steep and heavily decorated wall that reaches to a mere 2m from the surface at its top. Large branching corals grow out from the wall offering shelter to little schools of razorfish. They are many ledges and crevices all over the wall. Green and hawksbill turtles can be found resting here. Moray eels, scorpionfish and octopus lurk in fissures on the reef.

Tongo Point is one of the best sites for finding pygmy seahorses, sometimes several on the same pink sea fan. It is also well known as a great site to see flame fire shells, otherwise known as electric clams. When you watch it seemingly strobing white light, it is hard to believe electricity is not on display! Other creatures regularly seen here include banded sea kraits, schools of reef squid, batfish and nudibranchs.

Sunken Island is a site that can only be visited at certain times of the year and the current needs to be assessed before entering the water. Even then the site is not for beginners although it is much-loved by experience divers, especially those with cameras. The currents that wash around this submerged island which starts at 22m and drops deep, bring food to large numbers of fish.

There can be fantastic school of jacks, barracuda, tuna, snapper and grouper here. Expect plenty of blue-toothed triggerfish and, unusually a school of lionfish on the reef top. Spanish dancers and frogfish are also common, however, divers mostly value Sunken Island for the big stuff in the blue. This can mean manta rays and sharks, maybe even a whale shark.

You may also dive some other leading Moalboal dive sites like White Beach where a sandy slope is home to a field of garden eels and the occasional flounder. It then gives way to a soft-coral covered wall with a lot of reef fish swimming around the wall and with scorpionfish and nudibranchs on it. Ronda Marine Park is a wall renowned for its enormous gorgonian fans. Off this wall it is common to see eagle rays and even a possible whale shark, while interesting creatures like leaf fish and ghost pipefish are worth taking your attention away from the blue. Dolphin House features a number of interesting overhangs in which you can see larger fish like groupers and Napoleon wrasses, although the dolphins the name might suggest are a rarity. Airplane Wreck is a sunken 2 seater that lies at around 20m depth. It has become colonised by an impressive amount of soft and hard corals and is home to triggerfish, scorpionfish and sweetlips.
Sumilon Island
Sumilon is a marine sanctuary located southwest of Cebu island near Oslob, and is often included on the routes of liveaboards that visit the area. Opened in 1974, this reserve is widely recognised as being among the Philippines' most bio-diverse marine regions. In addition to the species diversity there are spectacular coral gardens and a variety of overhangs and swim-throughs. Various shark species are also commonly sighted in Sumilon such as blacktips, whitetips, hammerheads and whale sharks.
Show more
Typically Sumilon dive sites follow the pattern of being a shallow coral garden that slopes down to a sandy sea bed. Currents are sometimes present at Sumilon, particularly at full moon and new moon, and when the currents are right drift dives are the best way to dive. In the shallows you may encounter nudibranchs and cuttlefish. In low or no current conditions you can admire these creatures for as long as you wish, but on a drift dive your time may be limited. You can explore deeper sections around 30m where the sandy floor is interspersed with patches of coral. Larger creatures, easier to observe in the blue, include white tip and black tip sharks as well as impressive whale sharks.

Although there can be current at Sumilon, often there is little to none and the dive sites around this 24 hectare island are such that it is a great destination even for newly qualified divers. Shallows coral gardens with incredible soft corals in various colours and a vast array of reef fish are what every new diver wants. Clownfish in their host anemones, clown triggerfish, bannerfish and lionfish are all commonly seen. Meanwhile all around the shallow sections swarms of anthias and chromis flit chaotically, adding little specks of purple, orange and blue-green to the scene. There is a wall running the length of the island where the blue is the best place for sighting sharks, tuna and other meaty pelagics. Impressive turtles are also commonly sighted, as are big schools of jacks and snapper.
Oslob
There is only one creature that people come to Oslob too see; the biggest fish in the ocean… the whale shark! Here, in the deep south of Cebu, is one of the best and most affordable opportunities for an encounter with these gentle giants of the ocean.
Show more
A mere 50m from the shore there is a steep and deep drop-off allowing the sharks to approach with ease. The sharks stay at the surface so there is no need to be too deep. While February and April are the best months, whale sharks can be encountered here year-round.

This has more to do with the feeding activity that happens in Oslob than seasonal movements. This is a controversial activity that divides opinion. This human action is interference with nature and can alter whale shark behaviour by interrupting their natural migratory movements. Why would they travel to far off planktonic blooms when there is plenty of food year-round at Oslob? However, given how shark populations throughout the world, not least in Asia, have been decimated, feeding is a lot less injurious than finning and killing. Also, conservation fees generated by the activity help to protect the population.
Mactan Island
This is the nearest diving destination to Cebu City, being separated from the capital by the Mactan Channel. There are sites both around the island itself and also around the many nearby islets. The visibility can be extraordinary and there is a variety of dive sites here from wrecks to drop-offs, caves to current-swept channels.
Show more
Tambuli plane wreck is is a relatively shallow structure lying at a maximum depth of 20m about 1.6 km from Mactan. It has been largely consumed by the marine environment although is likely a single seater twin engine aircraft. Inside the wreck you can see scorpionfish, lionfish and frogfish. The wreck is a photographer's favourite. The site is more than just the wreck however. You can drift over to the nearby coral gardens with gorgonian fans and soft corals sometimes overshot by a large school of sardines. Other schools can include groupers, snapper and jacks. On the reef are frogfish, mantis shrimps, porcelain crabs and pipefish.

Not for beginners, Marigondon Cave is at a maximum depth of 37m and represents one of the best known dive sites of the Mactan area. With an entrance 10m wide the cave is easily penetrable by multiple divers and allows some respite from the currents that can sweep around the external wall. Before you enter the cavern you will see a lot of colorful fans on the wall and these continue to feature in the internal walls and ceiling. The swim through the cave is for about 40m so the site is a good profile for nitrox. Creatures to look out for include lionfish, pufferfish and large crabs. As you make your way to the exit, you should deaden your torchlight to witness the remarkable blinking of the schooling flashlight fish. These fish have a bio-lumiscent organ beneath their eyes believed to be for attracting prey, evading predators and also for communication. After exiting the cave you will likely end the dive with a delicate drift back up along a spectacular wall, as good as you will see anywhere in the area.

San Juan Wreck was 180m long passenger ferry that sank, without loss of life, in 2000. It now lies on a sandy floor on the starboard side at a depth range of 37 to 48m. At this depth it is only for the suitably qualified for whom it has multiple penetration possibilities. There is plenty to see when finning around the decks and bridge although bottom time, even on nitrox, is quite short. The structure has sponges, bushy coral trees and tunicates on it, although it has not yet become the most colourful artificial reef. The wreck is very much intact with the propeller being a favourite photo opportunity.

Kansantik is located in the Olango Channel, on the other side of Olango Island from Mactan, this is another site appreciated by more experienced divers. The currents can whip through this channel and visibility can be limited. The site is a pinnacle rising from the depths to within 30m and is home to an impressive number of soft corals, sea whips, hard corals and enormous sponges. Moorish idols move around the reef while schools of fish such as grooper and jacks hang, near motionless, enjoying the nutrient-rich currents.

There are many other dive sites worthy of mention in the Mactan area. Shangri-la Sanctuary is one such much-loved spot on the northern east coast of the island. A marine sanctuary since 2007, starting at only 5m deep, there is a lovely coral garden where soft and hard corals are surrounded by spadefish, snapper and barracuda. On the reef itself look out for nudibranchs and frogfish. Pelagics may patrol the blue off the steep slope. Kontiki House Reef is often dived at night. This shallow flat reef is home to an amazing number of shrimp and crabs who are all out in force as soon as night falls. Banded sea kraits are also common here, adding a frisson of excitement when they come into view under your torchlight. Hilutungan Island Marine Sanctuary is popular with photographers given the shallow sunlit reefs awash with schools of batfish as well as turtles, parrotfish, sweetlips and more. Nalusuan Island Marine Sanctuary is an amazing place for seeing a large colony of blue-spotted stingrays, as well as huge groupers, living near to an area with some impressive table coral coverage.
How to Dive Cebu
Although there are many resorts all across the island of Cebu, we recommend liveaboard tours to visit the area. This is because on one diving cruise you can explore all the local dive areas – spread across the full length of this long island - plus the best of the entire Visayas region - Malapascua, Bohol, Dumaguete, Camiguin, plus Southern Leyte. These trips take 6 to 12 nights, depending on the itinerary.
The Cebu Diving Season
You can dive in Cebu throughout the whole year. The dry season is February to May, with mostly sunny and hot days. The months of November to January have sunny days too but with a greater chance of rain and sometimes typhoons. The rainy season is June to October, when you will encounter rain on roughly half the days. The average temperature is 30-33°C/86-91F, maximum in May, minimum in January. Visit the Weather Atlas

website for more details on the climate of Cebu City.
The sea temperature ranges from 26.5-29.5°C/80-85F, warmest in June, coolest in February. Visibility can exceed 30m during the dry season, and drop to 15-20m in rainy season. Although there are many sheltered sites, there can be strong currents at the deeper and more exposed sites. The best time for whale shark sightings is between February and April but, due to the feeding practices at Oslob, you can see them all year round. The sardine run in Moalboal is occurs all year round.

Where is Cebu and How Do I Get There?
Review our maps below showing Cebu's host country Philippines' location in the world. Here, you will find information on how to get to the Cebu, or Dumaguete and then on to Cebu.
Reef Summary
Depth: 5 - >40m
Visibility: 15 - 30m
Currents: Can be strong
Surface conditions: Calm but choppy in rainy season
Water temperature: 26 - 29°C
Experience level: Beginner - advanced
Number of dive sites: >50
Recommended length of stay: 6 - 12 days as part of a Philippine liveaboard tour
Useful References


---
CUSTOMER TESTIMONIALS OF DIVE THE WORLD
... It was very easy to move around your site. Once I figured out the payment procedure it was quite easy. Your responses to my questions during the booking procedure was always answered promptly. We will look at booking other dive vacations through you in the future ... -- Christy McKain, USA. [More customer reviews]