>
Dive Destinations
>
Philippines
>
Dumaguete
Your Guide to Diving in Dumaguete
Adventures in Apo Island, Dauin, Siquijor
...Highlights: dolphins, turtles, great macro life/ marine diversity, schooling fish & big pelagics...
...Dumaguete's diving environment: walls, drift diving, beginner and advanced divers...
Dumaguete is a laid-back little town near the southern tip of the island of Negros. It is geographically close to waters south of Cebu and to the island of Siquijor. The location of Dumaguete is therefore right in the middle of one of the Philippines' best scuba diving regions. The diving is a splendid mix of magnificent muck/macro, riotously coloured reefs and pelagic predators.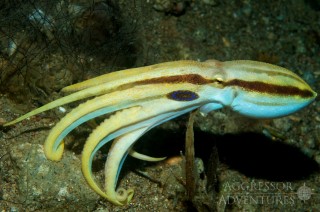 Coming under the umbrella of Dumaguete diving are a number of distinct destinations: Apo Island, Dauin and Siquijor, each with their own characteristics. Viewed as a whole and for those visiting via liveaboard, the region promises extraordinary diversity of both dive sites and encounters with creatures large and small. It is often visited in conjunction with the neighbouring spots on Cebu Island such as Moalboal, Oslob and Sumilon.
Impressive schools of fish with whom you will share the water include snappers, jacks, big-eye trevally, red-toothed triggerfish and barracuda. Among the line-up of larger species are bumphead parrotfish, marbled groupers, manta rays, mobula rays, whale sharks. If using a macro lens with your nose in the sand is more your style, then the photographer's mecca of Dauin can deliver diver sightings of blue-ringed octopus, flamboyant cuttlefish, pygmy seahorses, ghost pipefish, leaf fish and many more. Of course, turtles and sea snakes will appear on many dives in Dumaguete too.
Dive Site Descriptions
Apo Island
Situated 30 km south of Dumaguete, Apo Island is one of the Philippines' best known dive locations. It is part of a marine sanctuary with records of over 400 types of coral and 650 species of fish. The excellent visibility rarely changes, allowing you a clear sight of the fantastic coral coverage and rich marine life. There is a small human population here that survives upon fishing permitted in certain restricted areas. They employ traditional techniques such as using hooks or bamboo fish traps.
Show more
Coconut Point
This is known as The Place in Apo for the best drift dive in the region. You can allow the current to do the work as you glide over the sloping reef which boasts an impressive array of soft corals and barrel sponges decorated with crinoids. Large schools are often present such as jacks, blue-dash fusiliers, barracuda and bignose unicornfish. There are also some pristine, expansive table corals passing beneath you as you drift. Sea snakes are common here and you can watch them hunting around the nooks and crannies of the reef.

This site is sometimes named 'Washing Machine' because of the currents and how they can change direction. There is a sheltered patch of sandy sea floor between 2 walls where you can slip out of the current and enjoy the eddy. This might be a good place to look around for turtles, manta rays or, if your luck is in, you might spot the the unmistakable shape and coloration of a whale shark.

Rocky Point West
Hard coral lovers will appreciate the seascape at Rocky Point West. Many divers believe the coverage here to be the best in the Apo Island region. Competing for space on the reef are staghorn corals, table corals, mushrooms corals and also endless stretches of leather corals. Vast numbers of smaller fish are a feature here and you can see seemingly thousands of pyramid butterflyfish and red-toothed triggerfish swimming first out into the blue and then back to the safety of their 'burrows' in the reef.

While mobula rays, manta rays and schools of fish are often present, this site is mostly prized for the smaller creatures living on the reef. Frogfish and cuttlefish are among the most sought-after residents of Rocky Point West. Banded sea kraits, adored by some, feared by others, are also commonly seen. You could encounter them in double figures on a single dive.

The Chapel
Named after the house of worship on the nearby Apo shore, this site can be a religious experience in itself. You will be gathered here to pay homage to this stunning site that has a little bit of everything. Your dive will begin as you descend into a heavenly shallow coral and sandy area. Then you cross over to where the reef drops away becoming a holey wall that won't leave you wailing.

Priestly black and white snappers are cloistered together alongside barracuda and dog-toothed tuna. The foot of this divine wall is about 30m depth and there are a series of overhangs and caverns to explore. While this dive is suitable for all levels, some of the caverns may only be for more experienced divers since you need to bow your heads and control your fin kicks. Many reef fish, some in schools, will be all around the wall while small blessings such as leaffish and myriad nudibranchs can be spotted upon it. Sea snakes and bumphead parrotfish are also regular sightings amid the fishy throng. Amen.

Mamsa Point
Mamsa is the local word for jacks and they are here, sometimes in incredible numbers. However as you may expect from Apo Island, the species are numerous. The currents can fairly whip up at Mamsa Point, so it is mostly for experienced divers, although at times the currents might be too much for anyone to enter the water. Other fish enjoying the nutrient bounty that the running currents deliver are groupers, big-eye trevally, blacktips and whitetips. Less mobile diners include large barrel sponges, sea urchins and lots of featherstars.

Look out for sunburst butterflyfish, scorpionfish, lionfish, frogfish and moray eels all around the reef. If you turn to face the blue you might see pelagic tuna who have more than a passing interest in the massive school of jacks. You might also see one or several eagle rays seeming to hover in the current or swimming against it, apparently with the minimum of effort.

More of the best dive sites of Apo Island
Baluarte features geothermal bubble streams emanating from the sand which is an unusual sight. This little wall and sandy slope also feature many of the more usual sightings of Apo such as turtles, banded sea kraits and butterflyfish. Largahan has a sea bed of dark volcanic sand where you could spot nudibranchs, flatworms and ribbon eels. Scorpionfish and frogfish are also likely to be seen on the ledge-strewn reef. Streams of bubbles are present here. Kan-uran Point is a fantastic wall with numerous sandy ledges where nudibranchs and sailfin gobies can be found. You may even spot radial filefish (Acreichthys radiatus) as well as numerous bignose fieflish and surgeonfish. Marine Sanctuary is a no-fishing zone allowing for the marine life of the island as a whole to regenerate. Corals are many and various, as are anemones with their resident clownfish. Oblique banded sweetlips can be seen as well as multiple species of surgeonfish.
Dauin
Dauin is a little spot and a suburb about 12 km south of Dumaguete city centre where there are a number of fabulous sites along the coast. As a marine sanctuary, fishing is not permitted and in fact boat traffic is also not allowed. Some of the Dauin dive sites can only be accessed by shore. There are a number of artificial reefs here too and these are popular among everyone, from beginner divers to salty old photographers.
Show more
The Cars
This is a fabulous wonderworld of critters in the rather inauspicious setting of a pile of car parts, some almost entirely intact. The steering wheels, tyres and open doors make interesting photography subjects. Among the twisted metal and hunks of junk live an astonishing array of macro-life. The list includes snake eels, Pegasus seamoths, cockatoo waspfish, dwarf cuttlefish (Sepia bandensis) and orange ring-tailed cardinalfish. If that was not enough, there can also be fingered dragonets, lionfish and waspfish. This site, as with many in Dauin ,features large numbers of crinoids often hosting a squat lobster and a clingfish within their protective feathered fingers. Crustaceans are also numerous with great variety of both shrimps and crabs, including porcelain crabs.

San Miguel
Holiday-makers in the Philippines often enjoy a few San Miguels and this one should be no exception. Drink in the macro sights of this fantastic critter site. You will find an artificial reef consisting mostly of old car tyres tied together on a sandy floor with patches of coral and sea grass. The line-up of critters is very impressive: cockatoo waspfish, flamboyant cuttlefish, stargazers. You may spot numerous species of ghost pipefish and frogfish including painted and striated. Nudibranch spotters cannot fail to be impressed by the variety. The coral patches have blue and orange schools of damsels and anthias swaying above them. This is also a great place to see mimic octopus who can exhibit the kind of behaviour that will leave you in awe.

El Dorado
Continuing the theme of discarded car parts, El Dorado features a sea bed of car parts but also a number of wrecks. Together this jumble creates an artificial reef for more of Dauin's great critter life. This includes peacock razorfish, flying gurnards, flamboyant cuttlefish and orangutan crabs. Among the creatures that get everyone the most excited is the pygmy pipehorse (Kyonemichthys rumengani). The dive also covers a field of garden eels and a healthy sloping wall. The wall features healthy hard corals, barrel sponges, crinoids and whip corals. Dancing around the wall you can see lots of little chromids, fairy basslets as well as mimic filefish, juvenile filefish, boxer shrimp and even electric clams. The whip corals are worth inspecting for the life they host such as xeno crabs and coral shrimps.

Dauin's other top class dive sites
Secret Corner is a sandy stone-strewn slope with many different creatures, but mostly renowned for octopus. Species includes mimic octopus, wonderpus, poison ocellate octopus (Octopus mototi), and blue-ringed octopus! Atmosphere offers delight on the muck and delight on the reef, so there is something of joy division here. Known pleasures include cuttlefish shrimps and ghost pipefish. Pyramid is named after the shapes of the artificial reef structures. All sorts of nudibranchs abound, as well as multiple frogfish species. The Pier at Dauin will see scuba divers poking around the base of this structure will reveal various octopus species, nudibranchs and flatworms. Watch out for kids jumping into the sea over your head!
Siquijor
This little island lies less than 30 km to the east of Dumaguete. It has dozens of dive sites around the coast offering a variety of vibrant reefscapes, wondrous macro life, some shark and ray encounters, and even endemic species. Known as the Island of Fire, Siquijor has a reputation for consistent weather and sea conditions, unaffected by extreme monsoons (it also has a local reputation for witchcraft!).
Show more
Maite Sanctuary
You will start this dive by descending down to 16m and on to a white sandy slope that is home to many fascinating critters including ribbon eels, nudibranchs, frogfish, bannerfish, longnose butterflyfish and lionfish. As you make you way into shallower sections where coral patches become more frequent there are a number of fun swimthroughs between them. There are a lot of crustaceans living in the fissures of the reef although the shrimps and crabs really come out at night. That is one reason it is popular for night diving. Here there is a good number of brightly coloured mandarinfish who can be seem mating at Maite at dusk. Ironic that a site whose name means cemetery should be a place where you can witness the beginnings of life.

Paliton Wall
The wall begins at 8m and drops down to a floor at 32m, and deeper at one end. It is renowned as a site with reliably great visibility and a wall where you need to keep a close eye on your depth gauge. The wall itself is healthily populated by gorgonians and soft corals and features an overhang and a cave to explore. You can see many of the typical creatures of the area including frogfish, moray eels and ghost pipefish. You can also spot the spectacular sight of a Spanish dancer. As you make your way along, the wall becomes and sandy slope littered with slow-moving nudibranchs and fast-scuttling mantis shrimps.

Tubod Sanctuary
This is one of the most-loved dive sites of Siquijor and with good reason. This easy, shallow slope is suitable for divers of all levels with healthy coral and sponge coverage and many fun creatures to spot. Commonly sighted creatures include red-toothed triggerfish, surgeonfish, turtles, banded sea kraits, flutemouths and pufferfish. There are many anemones here with resident clownfish and many little colourful reef fish like anthias and chromis. You can also see giant frogfish, skeleton eels and even stargazers, if you can find them. Mating mandarinfish are also seen at this site at dusk.

Other dive sites among the best at Siquijor
Sawang has a series of swimthroughs, channels and fissures where you can spot myriad shrimp, frogfish, and a vast array of nudibranchs and flatworms. Poblacion is a site near to San Juan town where the pristine hard and soft corals offer shelter to orangutan crabs, ornate ghost pipefish, and banded pipefish. Larena Wreck is a small Japanese boat now lying at a maximum depth of 30m. While the structure is damaged beyond penetration, many artifacts are still visible. It is home to various sealife including frogfish, moray eels, trevallies, nudibranchs and surgeonfish, cardinalfish and lionfish. Silinog Wreck is a transport and cargo vessel that burned and sank in 1987 without loss of life. It is a deep but spectacular wreck lying at around 60m and so is only for the suitably experienced.
How to Dive Dumaguete
Although there are some dive resorts in Dumaguete, especially in Dauin, we recommend liveaboard trips that visit the area. This is because you can explore all the local dive areas, including Apo Island, and the very best of the entire Visayas region - Malapascua, Bohol, Cebu, Camiguin, plus Southern Leyte – all on one diving safari. These trips take 6 to 12 nights, depending on the route.
The Dumaguete Diving Season
You can dive in Dumaguete throughout the whole year. The dry season is from January to May, with hot and sunny days. This is the best time of year to visit. The rainy season is June to November, with June being the wettest month. Air temperatures are 30-32°C/86-90F throughout the year, except it is slightly cooler in January/February. Visit the Weather Atlas website

for more information on Dumaguete's climate.
The water temperature around Dumaguete is 26.5-29.5°C/80-85F, warmest in June, coolest in February. The visibility is 15-30m during the dry season and drops to 10-20m in rainy season. There can be strong currents at Apo Island and the wall dives at Siquijor, and moderate currents at the deeper Dauin sites. There is little to no current at the shallow shore sites.

Where is Dumaguete and How Do I Get There?
Review our map below showing Dumaguete's host country Philippines' location in the world. Here, you will find information on how to get to Dumaguete, or Cebu and then on to Dumaguete.
Reef Summary
Depth: 5 - 40m
Visibility: 15 - 30m
Currents: Can be strong
Surface conditions: Calm but choppy in rainy season
Water temperature: 26 - 29°C
Experience level: Beginner - advanced
Number of dive sites: ˜70
Recommended length of stay: 6 - 12 days as part of a Philippine liveaboard safari
Useful References

---
CUSTOMER TESTIMONIALS OF DIVE THE WORLD
... Love what you all are doing and thank you for all of the animal information that you offer. Very pleasant chat with Sheldon. Thank you Sheldon. Look forward to more info on packages you all offer ... -- Lainey Simpson, USA. [More customer reviews]