>
FAQs
>
Cocos Island
Cocos Scuba Diving
Frequently Asked Questions
Diving FAQs
General FAQs
Diving at Isla del Coco FAQs
Is the scuba diving any good there?
The vast majority of divers who have been to Cocos, agree that it is among the world's most spectacular diving spots. The statistics also lend support to this theory with some 250 fish species and over 32 coral species. As a speck in the ocean, Cocos' shores enjoy a concentration of nutrients drawing in various life forms in the food chain, culminating in scalloped hammerheads, dolphins and Galapagos sharks.
What is the best way to dive Cocos?
The island is a long way from shore. It takes up to 35 hours to get there from the Costa Rican mainland. Cocos Island liveaboards are the only option since there are no facilities on the island.
Where is the best diving at Cocos Island?
Cocos is not big. There are over 20 dive sites all around the island. The top spots are around Cocos Island itself! Some of the best known and loved dive sites have names like Bajo Alcyone, Manuelita Deep, Dirty Rock and Dos Amigos Pequeña.
What is the water temperature?
Water Temperature varies depending on the time of year, generally ranging as follows: 78-82°F (25-28°C) between November and May, and 76-80°F (24-27°C) from June through December. Temperatures can also vary from site to site and thermoclines can mean any given dive has quite a wide temperature range.
What equipment should I bring?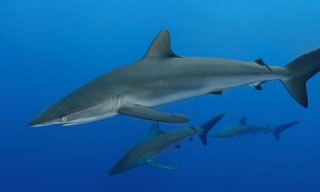 Generally speaking a 3 to 5 mm full length wetsuit plus a hood and booties are sufficient for most divers. However an extra mm or two plus gloves might be needed if you feel the cold more than the average scuba diver. We recommend you bring sufficient equipment to cover the full range of temperatures.
If you have a choice of fins, bring those which generate the greatest power since current and fast-moving creatures mean you might want more thrust. Drift dives mean a safety sausage is another "must have" and reef hooks are optional, and clearly each diver should have their own computer.
You might also want to consider bringing a spare mask, whistle, torch and signaling mirror. Cocos Island is not the kind of place you want to be where you break equipment and don't have a spare, or where you run into difficulties, made worse by the lack of suitable equipment.
Is Cocos suitable for beginners?
No it is not. Cocos Island is a destination for experienced divers with a degree of confidence and fitness. There may be considerable current and surge in some areas. Drift dives are common. The marine creatures can be big, plentiful and in-your-face. For these reasons, divers need to have a reasonable level of experience.
There are other factors that suggest scuba divers ought to have earned their stripes before any Cocos Island liveaboard trip. Thermoclines, heavy rain on the surface and a 30+ hour boat crossing from the Costa Rican mainland are not elements that an Open Water student would expect to be part of their early scuba training.
The cruise to the island and back can be uncomfortable for some. It usually takes between 30 and 32 hours. We recommend taking precautions for motion sickness. You might also want to load up your MP3 player, bring some DVDs and a good book.
Does Costa Rica have other world-class dive destinations?
Yes. Cocos is not the only place worth diving in Costa Rica. Caño Island is recognized as another top dive spot. You can visit Caño Island via liveaboard during the months of January and June. The diving here is characterized by coral reefs with lots of schools of fish as well as meatier subjects including sharks, rays, dolphins and even whales. Find out more about diving there in our Caño Island diving section.

General Cocos Island FAQs
It is located in the Eastern Tropical Pacific, 340 miles (550 km) southwest of Cabo Blanco on the Costa Rican mainland. It lies just over 5° north of the Equator and directly on route of the Pacific's Equatorial Counter Current. This currently flows constantly in an easterly direction, bringing nutrition and life-bearing coral replenishment from the central and Western Pacific.
The island experiences rain on most days. December through April is considered the dry season, although even then brief showers are likely. In fact rainy spells plus sunny equatorial skies are normal throughout the year.
When is the peak season for tourism?
The dry season is when underwater visibility is at its best, up to 82ft (25m), and currents generally at their mildest. At this time of the year you can expect a lot of silky sharks and rays although hammerhead numbers are not huge. Most scuba divers favor rainy season, from May through November, when, despite lower visibility and potentially stronger currents, you are more likely to see hundreds of hammerhead sharks.
Do I need a visa to visit Costa Rica?
Visit our visa section for up to date information on visa requirements to enter Costa Rica. Visa regulations change and we recommend consulting your Costa Rican consulate or embassy when planning your trip.
If you want to know more about the incredible variety of tourist activities in the country in general, check out our Costa Rica tour activities page.
What are the languages spoken in Costa Rica?
Spanish is the official language but English is widely spoken within areas related to tourism and by the dive operators who run trips to Cocos Island.
The Costa Rican currency is Colones. However, international credit cards and US Dollars are also widely accepted in tourist places and by the liveaboard operators.
What credit cards are accepted?
Visa is the most widely accepted card in Costa Rica, and the PLUS system is best for ATM availability. Credit card fees vary greatly from an acceptable 0% to an enragingly unacceptable 18%, so always make sure when paying with a credit card, where in this range you are likely to be stung.
Will I have to pay a single supplement on my liveaboard because I am on my own?
Liveaboards in Costa Rica view cabin-sharing as standard practice. Single supplements need only be paid if you insist on having your own private cabin. In Cocos, this single supplement ranges from 65% to 100% of the published price. Please check with us.
Can you arrange accommodation for me on Cocos Island?
There are no accommodations on the island whatsoever. Your hotel stays will be on mainland Costa Rica, most probably in San José. Aggressor Fleet recommends you stay at their host hotels in San Jose; The Alta Hotel, Indigo Hotel or Marriott Courtyard Hotel are the only 3 hotels that the Okeanos Aggressor bus picks up from. Sea Hunter fleet has a range of favored San Jose hotels too and they can arrange for accommodation to be organized for you. If you do not stay in these hotels, you need to make your own way there for pick-up.
Our affiliated hotel reservation agents hotelscombined.com have a variety of accommodations throughout Costa Rica

. Browse the choices on their website, use their live chat to ask your questions, and then simply use your credit card to make your reservation.
From top-of-the range international beach resorts to cheaper hotels, there's something to suit everyone's taste and needs. And you can be sure that whatever option you go for, it will be backed up with their 'Low Price Guarantee', so you will always get top-dollar value for money.


---
CUSTOMER TESTIMONIALS OF DIVE THE WORLD
... Beef answered all my questions promptly and thoroughly, and dealt with a lot of issues I created! Firstly we couldn't use the website to pay, and at the last minute our flights got cancelled/changed. Thank you very much - you made the whole disaster much easier to deal with! ... -- Michelle Reeves, New Zealand. [More customer reviews]
Operator websites: Costa Rica SCUBA