>
Liveaboards
>
Cocos Island
>
Costa Rica Tourist Activities
Costa Rica Tourist Attractions
Vacations in Central America
Costa Rica, the 'rich coast' is becoming known as the jewel in the crown of central American tourism. What makes it so special? Why should you consider it as travel destination for your next tropical getaway? Its renowned diving destination, Cocos Island, has long been perceived as the destination for those with a love of the ocean.
To dive here among huge schools of fish, innumerable sharks, including countless hammerheads and a line-up of meaty pelagics, is the stuff of dreams. However, there is so much more to Costa Rica. It is a country of diverse habitats and ecosystems: beaches, jungle, mountains. The country is something or a safe haven for a wide range of endangered species, and encounters with beautiful and rare creatures is one of Costa Rica's trump cards.
There is a lot to do for the adventurous traveler and nature-lover, so read on for more ideas on Costa Rican tour activities and make your vacation one to remember ...
What to do and where to go in Costa Rica?
The official Costa Rican tourism website, Essential Costa Rica

can help guide your choices and offers a plethora of information on how to get there, where to go, what to do, where to stay, entry requirements and tips for travelers. However, we can get your juices flowing with a few choice titbits which promise adventure and awe ...
Monteverde's Cloud Rainforest and Arenal Volcano National Park
Monteverde's Cloud Rainforest and Arenal Volcano National Park are the top 2 spots on many visitors To Do list when they come to Costa Rica.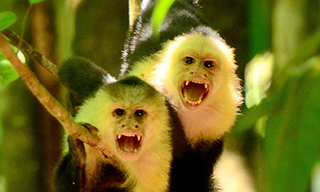 In the Monteverde Cloud Forest Reserve there are more than 13 km of trails to explore surrounded by dense tropical vegetation. It is home to an incredible range of wildlife. There are more than 400 species of birds, 100 species of mammals and 1,200 species of reptiles and amphibians. This reserve is among a small group of habitats where all 6 local wildcat species of Costa Rica can be found. They are: margays, jaguarundis, ocelots, oncillas, jaguars and pumas. With an eagle eye you might also be able to spot the endangered three-wattled bellbird and the extraordinary quetzal.
Consisting of primary rainforest, The Arenal Volcano National Park spans 4 distinct life zones and harbors a stunning array of flora and fauna. Nearly 3/4 of Costa Rica's total 850 species of birds are here. Other wonderful beasts include coati, sloths, deer, white-faced capuchin monkeys and snakes, including the notorious fer-de-lance, boa constrictor and parrot snake. Possible activities are things like canopy tours, horseback riding, trekking, white-water rafting, canoeing and even waterfall repelling.
San Jose's cultural opportunities
Most people's Costa Rican adventure kicks off in the capital San Jose. Before diving into to all the exciting and natural wonders of the country, you might want to ease it with some culture. There are several good museums here such as The Costa Rican National Museum, The Museum of Costa Rican Art and The Gold Museum. Also worthy of a visit is the National Theater, both to admire its architectural beauty and to be entertained by a performance within its ornate walls.
UNESCO Heritage Sites
It is amazing that a small country like Costa Rica has no less than 4 UNESCO World Heritage Sites. Cocos Island National Park is the obvious one for scuba divers. However, you would be well advised to check out the Area de Conservación Guanacaste, the Precolumbian Chiefdom Settlements with Stone Spheres of the Diquís and La Amistad National Park.
Nicoya Peninsula
For those around the Pacific Coast area, is the palm-fringed coast of the Nicoya Peninsula with its soft sand beaches and turquoise waters. The area is dotted with remote spas, spiritual retreats and romantic hideaways. You can explore the mountainous areas with their many rivers and scour the shoreline looking for nesting turtles laying eggs in the sand.
Endangered Species
The country's large national park system affords the wildlife a higher degree of protection than you will find elsewhere. Costa Rica is home to over 250 endangered plant and animal species. The highest profile endangered creatures include the jaguar, the leatherback turtle, the jaguar and the blue macaw.
The list also includes the Central American squirrel monkey, the country's smallest primate, and the American crocodile. Incidentally, if you want some snaps of these mighty reptiles, stop on the bridge over the Tarcoles River and gaze down at the riverbanks below.
For those seeking to get involved in a hands-on way, you can volunteer at San Miguel's Costa Rican Animal Rescue Center in the town of Turrúcares. Volunteers help with reporting on the well-being of injured or abandoned creatures here, as well as cleaning, feeding and nurturing them. Check out more on volunteering in animal rescue in Costa Rica

.
Where else can we dive other than Cocos Island?
Of course Cocos Island is the first word in Costa Rican scuba diving, but it is not the only place worthy of mention. Growing in popularity is Caño Island. This marine biological reserve is a wonderful place for coral reef diving in impressive visibility of up to 30m. You will see more color and more small reef fish here than at Cocos, but it is not devoid of meaty and impressive characters either. Divers at Caño Island can be treated to rays, sharks, marlin, wahoo and even whales. The highly rated Okeanos Aggressor I and its sister vessel Okeanos Aggressor II are the liveaboards we recommend to dive Caño Island from January to May each year.
We also offer day trips from the Costa Rican mainland to the following Pacific coast destinations: Bat Islands, Caño Island. and the Catalina Islands.
Tell me more about Costa Rica!
The small Spanish speaking republic of Costa Rica is viewed as an oasis of political stability in the midst of a turbulent region. It has one of the highest levels of foreign direct investment in Latin America, coupled with the government's limited economic presence that has facilitated a business environment based on tourism, agriculture and technology.
Costa Rican economy
The currency is the Costa Rican Colón. (Colón means Columbus; a respectful nod to Italian explorer Christopher Columbus who 'discovered' Costa Rica in 1502). In January 2015, the Central Reserve Bank of Costa Rica announced the adoption of a managed float exchange regime, allowing the value of the Costa Rican Colón to float against the USD. The Central Reserve Bank pledged to only intervene if the currency shows excessive fluctuations; their steadily increasing international reserves will allow them to do so if it is deemed necessary (International reserves incremented from US$ 3.1 billion in 2006 to US$ 7.2 billion in 2014). On a lighter note, in 1995 tourism overtook bananas to become Costa Rica's leading foreign exchange earner.
The Switzerland of Central America
Costa Rica joins 15 nations which do not have armed forces. Considered a radical move by some, the military was abolished way back in 1948; the country has since successfully maintained Police Guard Forces. The country is not unprotected; 21 countries, including the United States, signed the Inter-American Treaty of Reciprocal Assistance in 1947, pledging to provide military support to Costa Rica (and any other signatory) should they need it. The military budget is dedicated to education, culture and security; this policy is summed up by Mauricio Ventura, the Minister of Tourism: "Welcome to the happiest country in the world, where we gamble on peace and education, for democracy and sustainability".
The Ticos
Costa Ricans colloquially refer to themselves as Ticas (ladies) and Ticos (gents). Peaceful, nature loving, culturally diverse Ticos are commonly known for their hospitality and are quite happy to live up to their reputation. They are well-educated, hard working and are quick with a handshake or a smile, and will most likely help foreigners when they are lost or explain things that might seem quiet strange to visitors. It has been said that the ticos are the nation's greatest asset, and once you've experienced their friendliness and spontaneity, you will have no doubt to that regard.
Eat, drink and be merry Costa Rican style
Like most colonized countries, Costa Rican cuisine is influenced by its heritage as well as by modern international influences. Corn is still a major part of the diet as it was in the pre-Columbia era, as well as dishes that are influenced by the Spanish conquest and Afro-Caribbean dishes feature on the east coast. In the cities a variety of international food is available, including Chinese, Italian and Peruvian to Japanese.
Traditional Costa Rican food is mild and relies on fresh fruits, vegetables, rice, potatoes, beans, chicken and pork - providing a well-rounded diet. The Costa Rican staples are rice and beans. Variations are eaten for both breakfast and lunch. Gallo pinto is the common breakfast and is available at just about any restaurant, or soda (snack stall). It is a mixture of rice and black beans cooked in coconut milk, and is sometimes served with fried or scrambled eggs, plantains, and / or meat.
The typical lunch dish is casado, again featuring rice and beans, however at lunch they are served separately and may include plantains, tortillas, cabbage, cheese and or a choice of meat / seafood. If excesses of rice and beans are not to your liking, ceviche locally prepared with tilapia, cilantro, lime juice, and finely diced vegetables is a real treat. Tres leches cake, or triple milk cake, is the go to option if you have a sweet tooth. It is widely available throughout Central America and, if you develop a taste for it, you may even find it in your bakery back home.
La Pura Vida
Costa Ricans will often greet one another and bid farewell by saying "pura vida." But pura vida, which translates to "pure life," is more than a turn of phrase to Costa Ricans - it's a state of mind. Costa Ricans take every opportunity to live life to the fullest, and they sure know how to party - they even use religious holidays as an excuse for festivals! A multitude of small festivals occur year round, and no matter when you visit Costa Rica there is sure to be a celebration, festival or carnival happening somewhere in the country during your visit.
In late December and early January Fiestas Zapote takes place in the outskirts of the nation's capital, San Jose. The fiercest bulls from all over Costa Rica congregate for the biggest rodeo of the year and spectators can enjoy fair rides, folklore dancing and general debauchery. The Santa Cruz Fiestas also occurs in January; This festival in Santa Cruz, Guanacaste, also features folklore dancing and bullfighting in honor of the Black Christ of Esquipulas.
If you're visiting in February, do not miss the Los Diablitos Games: a re-creation of the fight between the Boruca tribe and the Spanish held in Rey Curre, Boruca. Fireworks, masks and traditional dancing help to set the scene. The indigenous tribe is represented by the diablitos, or little devils, and the Spanish by a bull.
Costa Rica hosts an international arts festival bi-annually (on even numbered years during March). A central exhibition of first-class art performance theater and dance is hosted in San Jose and surrounding areas.
There is certainly no shortage of fun to be had ... in Costa Rica!


---
CUSTOMER TESTIMONIALS OF DIVE THE WORLD
... The trip arrangements from you were excellent. I had a very good time! I can fully recommend the servies from Dive The World to my friends. ... -- Panu Kuoppala, Finland. [More customer reviews]