>
Dive Trip Reports
>
Wind Dancer
Liveaboard Your Guide to Diving in Cocos
Wind Dancer Trip Report
Click on an image to enlarge

Being such a rare sighting these days, the hammerhead shark evokes strong passion among divers and many would say that scuba diving with schools of hammerheads is one of the top moments of their scuba careers, or top of their "must do" list if they have yet to experience it.
At Cocos Island, your hammerhead fantasies will become a reality. There is every chance that you will witness the classic image of dozens of hammerheads moving overhead, silhouetted by the sunlight on the water's surface. It really is a magical moment when you first set eyes on them moving in from the deep. At up to 4m in length, they might not be Great Hammerheads but they are sizeable enough and certainly bigger than this writer has seen before.
In all probablity, the memory will be seared forever into your mind as it has been in mine. Such memories are the priceless reward for diving around this isolated island on a Cocos diving safari such as the one I experienced on the Wind Dancer. At Cocos, it is not a question of 'if' you will see any The diving in Cocos will not disappoint. Aside from the almost daily magical hammerhead sharks encounters (perhaps best at Dos Amigos Pequeña where they seem curious and come at you from all angles), there was plenty of other big marine life to get excited by too.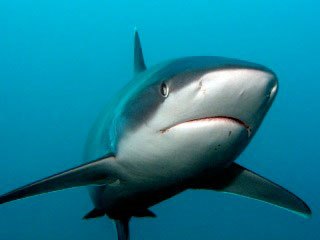 I saw several Galapagos sharks during the trip and a fleeting glimpse of a tiger shark - now a regular feature at Cocos. This was at Manuelita Garden, one of my favourite dive sites. Finning across the edge of the shallow reef slope here was amazingly rewarding. As well as the tiger shark encounter, I also saw feeding eagle rays and mobula rays here and a small group of tarpon - a rare oceanic fish as big as a small pelagic shark.
In fact, Manuelita Garden is also the location for one of the most spectacular night dives you are ever likely to do. As soon as the sun sets, you can plunge down to just 7m or so and watch the famous "whitetip reef shark fish hunt". Dozens and dozens of whitetips swim frenziedly about the reef, following the black jacks, which are very proficient hunters. Once fish are located under a rock or coral bommie then a scrambling mass of white tip bodies ensues; it's quite a spectacular sight.
I have never seen as many whitetip reef sharks before as I did at Cocos Island. Nearly all dive sites have dozens, some sites have hundreds. Not quite as numerous but plentiful nonetheless are the giant marble rays that roam the sea floor and pinnacle walls. Eagle rays too, are very frequently seen on the reefs.
Another incredible feature of the diving at Cocos is the sheer volume of fishes that you see here. The island's isolation and protection as a marine park has led to fish volumes being maintained at a level near how they should be on reefs (if we hadn't eaten all the fish). Often you will descend into a school of fish and be unable to see the reef. Bigeye jacks, bluefin trevally, Pacific creolefish, snappers, grunts, all in awesome numbers. No place better exemplified this than Dirty Rock. The experience was sensational and made me realise that this is how all reefs could be if humans did not over-exploit them.
Cocos is not the place for macro creatures or marine diversity, but for shark (especially hammerhead) and ray action, as well as fish volumes, I imagine it would be pretty hard to beat.
Visiting in April, my liveaboard trip was at the end of dry season - a little early to see the shark numbers at their best. Most dives are around small islets close to shore, with a few being submerged sea mounts. There are a couple of wonderful deep water arches to swim through. The scuba diving was a lot easier than I had expected but I imagine the conditions could be harder in rainy season. Most dives were to about 30m in depth, so it's ideal for nitrox and some sites such as the deep sea mounts can only be fully explored on nitrox.
Surface conditions were generally fairly calm, water temperatures around 28°C with 26°C thermoclines. Visibility was patchy - anything from 10-30m. It is worth noting that currents can be strong but usually moderate at nearly all the sites, and there is nearly always strong surge in the shallows.
• Watch our Cocos diving video

Cocos Island itself is also a delightful little spot and worth a mention here. The mixed weather (mainly sunny with a few showers) perhaps best showcased the island. At times when the rain falls, the brooding island displays a menacing face, looking quite prehistoric. At other times when the sun shines, it looks like a nature lover's paradise with waterfalls tinkering down the cliff sides and cascading into the sea. There are verdant green forests, caves and coves to explore with powerful blowholes. Fluffy white baby boobies perch on the cliff sides while their parents pepper the sea surface in their hundreds searching for food.
The Wind Dancer Boat Features
The Wind Dancer is a large steel hull boat run by the reputable Dancer Fleet liveaboard franchise. A quick look around the Captain's cabin will reassure you that the navigational and safety equipment are up to scratch for the long journey across to Cocos Island.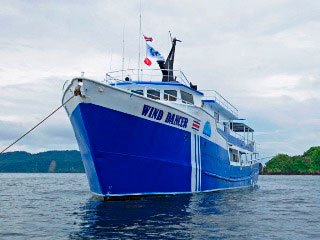 The main deck saloon and upper deck shaded area are the main places to socialise with the other guests. The saloon is quite nice with large windows creating a bright ambience. There is usually plenty of space to sit and relax, using their 2 computers for photo editing, watching a movie or reading a book from their impressive library. But at meal times, the 4 set tables are a bit of a squeeze if you're booked on a full charter of 22 guests.
The same applies with the upper level sundeck; there is plenty of space once the boat is at the island, but space is limited during the journey to and from the Costa Rican mainland.
The boat crew did a really good job throughout in being helpful, willing and friendly. The other guests onboard can also influence one's enjoyment of a dive trip. On this particular trip, divers came from 9 different countries and covered a broad range of age groups. It was a real mixed bunch and this is quite standard on Cocos Wind Dancer liveaboard trips.
Silver Service Dining
Dining onboard Wind Dancer is in the main deck saloon. Breakfast is fixed buffet items such as cereals, bacon/sausage, cheese, croissants/toast, fresh fruit, yoghurt, fruit juice, tea & coffee, plus eggs to order. Usually breakfast is served before the first dive daily at 7 am.
For most guests, lunch was the best and most varied meal. This was usually a buffet too. Dinner is waiter service, fine dining style; neatly prepared and presented. All drinks, including beer, Chilean wine and spirits are free of charge.
For the most part, the dining service and food made a favourable impression. Some favourites included burgers, roast chicken, spaghetti Bolognaise, and the final night barbeque. It appeared that the chef could handle vegetarian food too, but vegan food was bridge too far. My recommendation to vegans would be to send your agent specific lists of ingredients and foods that you want beforehand and bring recipes for the chef to cook to.
The Cabins
How fortunate I was to be issued an upper deck Suite bed! The 2 suites are wonderful, just like staying in a hotel room - seaview windows, large double or twin bed, TV and DVD player, a walk-in bathroom with separate toilet and shower cubicles, remote control air-con, plenty of space for luggage etc. I really enjoyed my stay there.
There are also 8 lower deck Standard cabins with a twin/double bed bunk configuration. All of these cabins have private bathrooms and have plenty of head room for tall people. However, they are small, particularly the back 4 cabins. On a fairly long 10 day cruise, you might prefer to book the Suites if you are type of person that enjoys privacy and a welcoming private quarter to retire to. Otherwise, I would suggest that you book one of the front 4 standard cabins as these are larger than the rear 4. The air-con temperature is fixed/shared for all 8 cabins.
There is also 1 Owner's cabin on the boat's main deck. This cabin has a double bed, TV/DVD, bathroom and porthole. It is also fairly small.
Diving Onboard
The dive deck is spacious and can comfortably handle 22 divers. This is because each guest is issued with his own equipment bin under the seats in the kit up area. This works really well as it reduces dive gear clutter substantially. The deck also has 2 large rinse tanks for electronic equipment, a camera table, toilet and 3 hot water showers. Overall - pretty good.
All scuba trips are conducted from 2 RIBs, fitted with central tank holders and a single 140 HP engine. On a full charter, these RIBs are a bit of a tight squeeze but passable. Guests are split into 2 groups for the duration of the trip and a divemaster leads each group. 4 dives per day is the norm, though one or two night dives might be missed due to lack of availability of suitable sites. 25 is a reasonable estimate of the number of dives one might make on the trip.
Another neat feature of the trip is that each diver is issued with an in-water satellite tracking device for use in case of lost-diver emergencies. Nitrox is offered and recommended but it is an extra to the trip price.
Getting There
Wind Dancer collect guests from a small number of specific hotels in San José. The bus then transfers guests at 10 am, down to the port of Puntarenas for departure 2 hours later at noon. You might have to overnight in San José, depending on flight arrival times, otherwise you can make your own way to one of the hotels in San José for collection, or make your own way to Puntarenas if you are already in the country.
From Puntarenas, you then have the long 36 hour crossing out to the island. On my liveaboard trip, the crossing was calm. However, in rainy season from June to December the seas can be rougher. If you are prone to sea sickness you might need to factor this into your planning. There may be a trade off since rainy season is also the best time to see the biggest schools of hammerheads.
The Acid Test
So the big question is, would I go again? I would answer that most emphatically with a "yes", though I might be tempted to come at a different time of year, just to see how a different season effects the diving.
I really enjoyed my time in Cocos and some of the memories will live with me for a life time. Cocos may not have great diversity of marine life, but for hammerhead and shark action, it is a special place to dive.
A quick sample survey of guest feedback scored the Wind Dancer trip as 8.5 out of 10 for overall value for money, so it would appear that most customers were more than satisfied with the Dancer Fleet trips to Cocos.
Written by Sheldon Hey, April 2011


---
CUSTOMER TESTIMONIALS OF DIVE THE WORLD
... As a heavy dive traveler, and a diver who has used your services more than 5 times, I believe that you have at least 2 very important strengths.
1. Coverage: Unlike any other online-based dive trip agencies, Dive The World really covers destinations around the world from Asia to Americas. Whenever I plan the next trip, I don't need to search many sites. I think you can even expand the coverage, such as Philippines.
2. Local Expertise: Even if you have wide coverage, I was impressed many times about the accurate and helpful local information provided by the Dive The World agent. Whenever I asked questions, I always got right answers. ... -- Seung An Park, South Korea. [More customer reviews]