>
Dive Trip Reports
>
Colona VI
Liveaboard Your Guide to Diving in Phuket Trip Report
Colona - a Great Bunch of People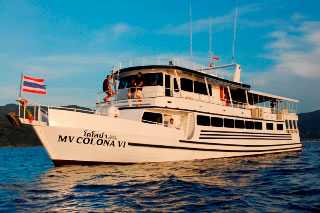 It had been over a year since my last trip to the Similan Islands so I was obviously very excited to get back there and explore all the best dive sites in Thailand. What really makes or breaks a liveaboard tour is the guests on board as having a good bunch of people on the boat with you for 4 days is what changes an ok trip into a great vacation. We have found that Colona VI caters for a broad mix of customers and this trip was no exception with 5 nationalities of varying ages on board and roughly half couples and half single travelers.
Colona VI departs from Patong Bay, Phuket so after a boat briefing from Harley the tour leader, and once everyone was checked into their cabins; we had a light dinner and then a 6 hour crossing to the Similan Islands. This gave us all time to get to know each other over a few beers in the open air saloon but the early start planned for the following day meant that most were tucked up in bed before midnight.
Similan Islands Dive Sites
The crossing was smooth so we awoke at 6.30 am to a rising sun in the spectacularly beautiful Similan Islands. After a thorough dive briefing we were ready for our first dive at East of Eden. This is one of the most popular sites in the Similans and this dive did not disappoint with 40 metre visibility, a marble ray and a huge banded sea snake as the highlights. We searched for Emma, the famously friendly moray eel but she wasn't around and we spent around 15 minutes on the huge, soft coral covered bommie that National Geographic once spent a whole week filming.
Dive number 2 was at Anita's Reef, sometimes called Barracuda Point. The best part of this dive for me was watching 2 clown trigger fish defend their territory. Clown triggers can often be skittish and difficult to photograph but these guys were so intent on protecting their turf that they made for easy photo targets. Dive number 3 at Beacon Beach started on the Atlantis X wreck which sank there in 2002. I last dived it in May 2006 and since then the wheel house has slid over the port side into the sand. The wreck is small and worth just a quick circuit before drifting off along the reef. A solitary eagle ray was the highlight of this dive.
The liveaboard moored at the southern end of Similan island number 9 and were entertained by a friendly turtle at the back of the boat which just couldn't get enough of the bananas that we fed it. On the night dive in the sheltered bay we bumped into this fellow again, he was easily recognized by the chunk that had been taken out of his shell. We also saw several crabs and lionfish which topped off a very good first day's diving. I was impressed with the site selection which was well suited to the abilities of the scuba divers on board and everyone was looking forward to the next day.
• Watch our Similan Islands diving video

Koh Bon - Koh Tachai - Richelieu Rock
Day 2 started at island number 9 as after this dive we would be motoring north to Koh Bon. At the aptly named Breakfast Bend we saw 3 more turtles plus a school of barracuda slowly swimming in circles in the clear blue.
Everyone jumped into Koh Bon with high hopes of manta ray sightings but it wasn't to be on this occasion. Personally I think that the conditions were just too good to spot mantas. Mantas like current and plankton and this dive had neither. Often Koh Bon can have ripping currents out on the tip but this time it was possible to swim right out to the tip and hover there, admiring the stunning seascape. The same was true of the next dive at Koh Tachai pinnacle. It is almost unheard of to have no currents at here but that's exactly what we had, but again no Mantas. The night dive on Koh Tachai reef was fairly uneventful except for the impromptu Rave under the boat as divers used there strobes to create shapes in the dark. Afterwards the liveaboard motored up to the Surin Islands to spend the night so that we would be closer to Richelieu Rock in the morning.
Richelieu Rock is a very popular dive site because it is frequently visited by whale sharks. There are lots of reasons suggested for this, however whale shark movements and particularly their mating habits are not yet that well understood. On this morning as we neared the site we were disappointed to see that, despite our early start, there were already 10 other boats there. I feared that we would be sharing the rock with more scuba divers than fish but I had underestimated Richelieu Rock.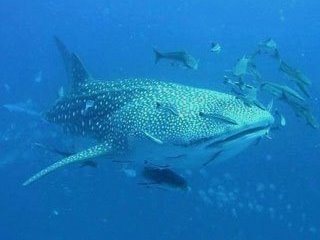 It truly is an amazing dive site with so much to see. We found 1 yellow tiger tail seahorse at 20 metres plus octopus, cuttlefish, lionfish, scorpion fish and much more. There was no whale shark though and I wasn't really surprised. I just thought that so many boats and divers, together with the clear water would keep the whale sharks away. Well that just shows how little I know because after 30 minutes of the second dive a 4-5 metre whale shark cruised on by. Cue an army of stupid divers to chase after it, finning furiously against the current. Of course they couldn't catch the gentle giant and by the time it came around again, half of those excitable fools were back on their boats, out of air. Those who had hovered patiently waiting were greeted to a second, closer fly-by and a wonderful photo op.
The dives on the final day were at Elephant Head Rock and Shark Fin Reef. The 6.15 am start was too early in my opinion; I think the liveaboard captain wanted to get back to Phuket early. But we had time to sleep and sunbathe on the 6 hour ride home. I much prefer sailing into Phuket than sailing to Tap Lamu and then having a 90 minute minibus ride to Phuket. Patong Bay is a beautiful sight to arrive at.
Life on board Colona VI
• Watch our Colona VI liveaboard diving video

It has to be understood that this is not a luxury boat but it is well designed for it's job. All cabins are twin bunk except for 1 master double. Cabins are smallish but they are en-suite, this is one of the cheapest boats with en-suite bathrooms. Showers are cold water although they are never that cold in Thailand's climate. Each cabin has a minibar fridge and storage space for clothes, and power outlets for charging cameras and strobes. Each cabin has windows although these cannot be opened.
The main problem with the cabins is the air conditioning. There is 1 compressor for the port cabins and 1 for the starboard cabins. The AC cannot be individually controlled in each cabin and it can be very cold. If you are too cold you can curl up in the provided duvet, open the cabin door, or sleep on deck under the stars. On our trip, every time the boat's generators were switched over the AC cut off and, if the engineer is asleep or forgets to flick the switch and turn it back on, the cabins soon heated up. This is a problem that Colona are aware of and I am assured that it is being rectified. The forward cabins are preferable to the aft cabins as they are further from the engines, although this is only really an issue on the first night.
The other major problem on board was the slippery floor on the saloon deck. 3 guests slipped and fell on deck, sending food flying in the process. This was in flat seas and good weather. No one was hurt, just some bruised pride, but on another day bones could have been broken. The deck is being repainted this week with non-slip paint. The saloon area is large and comfortable. There is no saloon but the open air area is well shaded and is the social hub of the liveaboard boat. There is a very comfortable cushioned area back from the saloon which is a great place to lounge and read a book or listen to your iPod. The entire upper deck is an open sundeck, great for catching a few rays between dives.
The dive deck is spacious enough to kit up in 2 groups and there is space for camera gear set up and storage. Nitrox is available to those who want it and nitrox certification courses can be completed for those keen to learn. The torches provided for the night dives were good quality LED types. All dive sites were entered by giant stride from the Colona VI platform and all pick ups were also with the main boat although dinghy support was always there if needed. The 2 boat boys were excellent at helping customers with their equipment and getting into and out of the water.
The liveaboard tour leader, Harley, was very customer service orientated and speaks English, French, Spanish and some Thai. The other DM, Enrico, is Italian and speaks perfect English. They were always available for their guests and were fun to be onboard with. Note that Colona VI only has 2 dive staff giving a ratio of 7 divers to 1 guide. This is less than most boats that offer a 4:1 ratio. However both staff are experienced instructor/guides who handle their groups expertly and know the area well, this is not true of all boats that sometimes employ inexperienced DMs.
Food Aplenty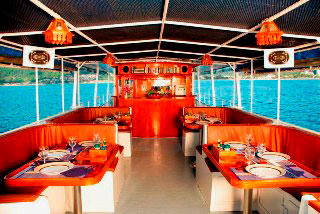 Food was plentiful and varied, served buffet style. Having lived in Phuket for 8 years, I often find tourist Thai food rather bland as all the chilies are removed to cater to a western palate. I personally felt that that was the case again on this liveaboard trip but every other guest on board gave a big thumbs up to the food so I guess Colona has got it about right. If you do like your food spicy you just have to ask and Mami the cook will be happy to spice a dish up for you. One customer on this cruise had a particular liking for Khao Tom (rice soup) and Mami was happy to make it especially for him.
A typical breakfast was toast with scrambled or fried eggs, bacon, cold cut meats and salad. Fruit juice was always available as well as fresh tropical fruits. Some mornings we also had yoghurts and Khanom Jiin (Chinese dim sum).
Lunch was rice with 2 Thai dishes. Examples are chicken with cashew nuts, Massaman curry, squid with garlic and pepper, tom yam gung (spicy prawn soup) and tom kaa gai (chicken and coconut milk soup). Plus a mixed vegetable dish and a mixed salad. Dessert was fresh fruit. Dinner was also mainly Thai food although we did have Spaghetti Bolognese with garlic bread one evening.
Snacks like freshly baked cakes and salapow (Chinese sweet dumplings) were available after the third dive and fruit, candies and butter cookies were always available.
Drinks on board were water, Coke, Sprite and beer plus tea, coffee (Nescafe instant) and Milo chocolate drink. All dietary requirements can be catered for with advanced notice.
A Recommended Trip?
All in all this cruise was excellent with great diving and a friendly bunch of fellow divers. I was happy with the dive schedule although I think that the starts could have been slightly later and I would have liked the chance to visit a beach which was not offered on this trip. I am assured that those who do want to go on land can do so if they want.
I would recommend this trip to those who don't want to pay top dollar for a Similan liveaboard but still want some comforts like a private bathroom on a non crowded boat. Colona VI is also a good bet for solo travelers as it's a sociable boat that tends to get a good mix of guests rather than all from 1 country. After this trip most divers went back to their hotels for a hot shower and then met up at Dive The World in the evening for a farewell dinner followed by a stroll around Patong's lively nightspots. Good diving, good times, good memories, what more could you ask for?
Written by Paul Flaxman, November 2007


---
CUSTOMER TESTIMONIALS OF DIVE THE WORLD
... Great service, Vic was very thorough with looking into options and making suggestions that suited our budget and diving 'wish list'. The booking process was easy and the format of the confirmation came in was very useful. I would recommend you to others and book through you again ... -- Hillary Twigg, Australia. [More customer reviews]