>
Dive Destinations
>
Thailand
>
Koh Bon, Koh Tachai & Richelieu Rock
Your Guide to Richelieu Rock, Koh Tachai
Dive Adventures in Thailand
...Highlights: whale sharks, manta rays, great macro life/ marine diversity, schooling fish/big pelagics...
...Richelieu Rock's diving environment: wall diving, advanced divers, very popular...
This famous stretch of Andaman Sea lying between the Similan and Surin Islands is well renowned as whale shark liveaboard safari territory. It lies immediately to the north of the Similan Islands and covers Koh Bon in the south, up to Koh Tachai, and finally northwards on to Richelieu Rock, just below the Burmese border.
Although there are many sites in Thailand for diving with whale sharks, Richelieu Rock stands proudly at the top of the list. The surrounding deep sea upwellings of nutrient-rich water make for excellent diving where plankton blooms attract many fish, most notably, the biggest one of all.
It is a large site that can be dived several times over without the need to cover the same area twice. This aspect, plus the superb bio-diversity it boasts - both macro and large marine life - makes Richelieu Rock one of Thailand's top dive sites and a hot favourite on liveaboard diving cruises.
Dive Site Descriptions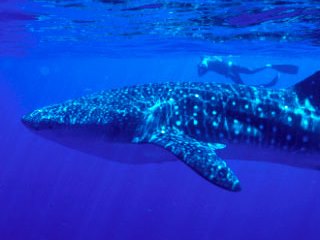 Koh Bon
As well as Koh Tachai, Koh Bon is part of the Similan Island national park and is only an hour or so away from the Similans so it is worth special mention as one of the best dives sites in Thailand for manta rays. In addition to mantas, it is also possible to find Napoleon wrasse, leopard sharks, eagle rays and black tip reef sharks. The Koh Bon area is not, however, only about pelagics since critters are numerous and varied which makes night diving here exceptional.
Koh Bon Pinnacle
A.k.a. 'Fishermen's Nightmare' , this is a separate range of pinnacles a few hundred metres to the north west of Koh Bon island itself. The shallowest pinnacle starts at 18m and is subject to strong currents so this is a site for experienced divers only who are capable of making a negative buoyancy entry. Across the top of the colourful coral covered peaks there is a good chance of Napoleon wrasse, hunting trevallies and manta rays. Whilst down in the deeper areas you can look for sleeping leopard sharks and blotched fantail rays.
Richelieu Rock
This horse-shoe shaped site consists of a huge central pinnacle surrounded by smaller jutting rocks, every inch of which has been colonized by something: soft corals, anemones, barrel sponges and sea fans. In addition to the possibility of swimming with whale sharks you can also look forward to the likes of manta rays, barracudas and huge groupers. All of this before you even begin to explore the fascinating smaller creatures lurking in every nook and cranny.
Koh Tachai
This site is often visited en route to Richelieu Rock from the Similans and is in fact an island which has several nearby dive sites. Koh Tachai Plateau is the best known of these and as the name suggests is a submerged plateau of hard corals and boulders. Typically of the area there are swim-throughs and channels all over the place. The larger fish include manta rays, huge schools of swirling chevron barracuda and large numbers of tuna; and if the whale sharks are not at Richelieu, they may well be here.
How to Dive Richelieu Rock
To review your scuba options, visit our website Similan liveaboards or Khao Lak day trips sections.
Diving at Richelieu Rock and Koh Tachai and Koh Bon islands is best done by liveaboard and most of the dive cruise operators include these sites in their itineraries. Whether you wish to dive here as part of a long dive liveaboard taking in the Similans, and maybe even Burma, or as a short trip (minimum of 4 nights) you will find the itinerary that suits you.
It is also possible to dive here in season on day trip boats from Khao Lak, although the travel times are longer (40 km away). It's also possible to dive here on day trips from Phuket day trips (Koh Bon only, 85 km away). But if you are short on time or don't fancy sleeping on a boat for a few nights, then these might be the right choices for you.
The Richelieu Rock Diving Season
Diving in Richelieu Rock, Koh Bon and Koh Tachai is limited to the months from October until early May, when the conditions are usually excellent and all the liveaboards visit regularly. February to April is the best time to encounter whale sharks in this region. It is also the time when manta rays are most frequently seen although there is a pretty good chance of seeing them at any time of the year here. The months of March and April might see a drop in visibility (from around 20-30m) due to a higher density of plankton in the water.
The water temperature is usually around 30°C at the surface and 27/28°C at depth, but occasionally it can drop down to 25°C due to thermoclines. These are like 'blankets' of cold water and are a natural phenomenon that happen most often in November and early December as a result of the transition of wet season into dry season.
February and March are the driest months and, with regular flat seas, are probably the best time to visit Richelieu and the rest of the area. From May to early October, the area is closed due to rough sea surface conditions. Visit The Traveler website

for more details on the climate at the nearby Similan Islands.

Where are Richelieu Rock, Koh Bon/Tachai How Do I Get There?
Review our maps below of the northern Thai Andaman Sea and its home country Thailand. Here, you will find information on how to get to the departure points of Phuket and Khao Lak.
Reef Summary
Depth: 5 - 35m
Visibility: 15 - 35m
Currents: Can be strong
Surface conditions: Can be rough
Water temperature: 26 - 29°C
Experience level: Intermediate - advanced
Number of dive sites: 5
Distance: ~145-200 km north of Phuket (7-10 hours), 40-80 km north west of Khao Lak (3-4 hours, or 1-2 hours by speed boat)
Recommended length of stay: 3 days
Useful References


---
CUSTOMER TESTIMONIALS OF DIVE THE WORLD
... The entire experience was well organized, with collections and transfers well planned ... -- Gavin van Popering, South Africa. [More customer reviews]