>
Scuba Day Trips
>
Thailand
>
Khao Lak
Khao Lak Diving Packages
Best Dive Daytrips, Resort and Travel Information
Khao Lak's undeveloped coastline, beaches and forests are a natural and convenient gateway to explore Thailand's ultimate diving destinations. The Similan and Surin Islands provide the most beautiful and diverse dive destinations in Thailand. Koh Bon, Koh Tachai and Richelieu Rock are the best places for opportunities of encounters with manta rays and whale sharks. It is resort area especially sought out by scuba divers wanting a quieter, less commercial land-based holiday. [More information on these dive sites: Khao Lak].
Khao-Lak Beach is situated about 1 hour drive north of Phuket, in Phang Nga Province on the west coast of the southern Thai peninsula, and it is fast-becoming a popular place for nature seeking tourists. It boasts over 12 km of gorgeous, peaceful beaches along its coastline with a back-drop of tropical coconuts and casuarinas.
There is a nearby national park dotted with waterfalls and all around are lush emerald-green hills, flowing rivers and valley-floor swamps. Sea kayaking around the tall limestone islands of Phang Nga Bay and visiting the Khao Sok National Park are both popular day trips from here.
Khao Lak Day Trip Diving Options
We recommend that you book a Khao Lak day trip diving package with us. There are over 30 dive sites visit. Explore them for yourself with our:

Where to Stay in Khao Lak
Choose from a wide-range of options, including international beach resorts, 2-star hotels, bungalows and guesthouses. hotelscombined.com, our affiliated hotel reservation agents, have a good choice of accommodations in Khao Lak to suit all divers' tastes.
Make your choice and book from their full range of Khao Lak resort options

on their website and simply use your credit card to make a booking. If you have any questions you can make use of their on-line chat. Thanks to their 'Low Price Guarantee' you can be sure you are getting the best value-for-money whatever option you choose.
Whichever option you choose, stays of 1 week are ideal. Khao Lak dive packages normally include diving, drinks, lunch and boat-hotel transfers.
It's also possible to visit these sites on a diving cruise, if you prefer.
The Climate and Best Time to Visit
Khao Lak has a tropical climate which means it is warm all year round. From November to March the northeast monsoon brings sunny, clear days and breezy, cool nights to the west coast of southern Thailand. From November to April there are an average of 26 sunny days per month.
The southwest monsoon arrives in May and continues until October, with rain showers and winds. The showers are usually light and don't last for long but there can be rainy days and thunder storms. Evidence of this rainfall can clearly be seen in the thriving lush jungle of the national park. During this season, the Andaman Sea can be quite rough with high waves meaning boat day trips often have to be cancelled. This is why we do not offer Similan diving packages during this time. Swimming in the sea on rough sea days is not advised but most hotels have swimming pools.
Khao Lak has 2 very hot weather periods, the first during April and May when temperatures can top 36°C although the occasional shower can cool things down a little. The second is from September to October but more frequent rainfall during this time brings relief from the heat.
The High Season runs from November to April and you can visit at any time during this period. Peak Season is December and January but we recommend you avoid this period if possible as most places to stay are booked up and more expensive, plus Khao Lak's dive sites can be crowded, in particular the Similans, Koh Bon and Richelieu Rock. It is a good idea to book Khao Lak diving packages and accommodation well in advance for this time.
Whether you are coming for diving in Thailand or not, we recommend February to April as the optimum time to come. There are fewer tourists then, accommodation is much better value-for-money and the weather is at its best with calm seas. The Khao Lak and Similan Islands dive sites are less crowded and it is whale shark and manta ray season, so you might get lucky! Review our dive site descriptions for details of the local diving conditions.
How to Get There
You can easily get to Khao Lak from Phuket International Airport, on Southern Thailand's Andaman Coast as it is only 70 km further north and a 1 hour car journey. Taxis from the airport charge a fixed Thai Baht price of approximately US$ 45.
Phuket has the nearest airport to Khao Lak but there are also some flights from the major international airports into Krabi which is 120 km and 2 hours south of Khao Lak; however, due to the volume of tourism in Phuket it is easier to fly into there. More information on how to get to: Phuket and Krabi.
You can get a direct air-conditioned and VIP buses from Bangkok's southern terminal to Khao Lak; they depart between 18:30 hrs and 20:30 hrs daily. There is also a train from Bangkok to Surat Thani from where you can get a bus to Khao Lak, although this way may take longer and is a little more hassle.
We suggest you consider taking out insurance to cover your diving package and travel activities, including trip cancellation. See our insurance programme for a competitive quote:
Sightseeing and Things to Do in Khao Lak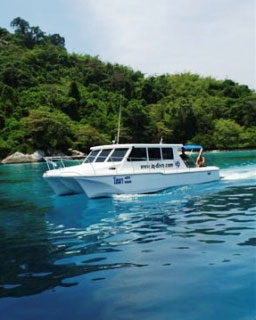 Khao Lak is a great tourist resort destination for divers, nature lovers, couples and families. The surrounding countryside is a tropical paradise of rice paddies, rubber plantations and coconut groves. Back from the coast, the interior and hills are covered in pristine jungle divided by running streams and flowing waterfalls such as Chong Fa, Lam Roo and Saeng Thong. There are all sorts of activities available here including jungle or elephant trekking, rafting and jeep safaris. You can also take a dip in one of the pools below the falls.
Alternatively, you can take a boat trip to Phang Nga Bay or hire a sea kayak to explore the bay's magnificent limestone rocky outcrops and sea gypsy village. Further north at Khao Sok in nearby Surat Thani, you'll find southern Thailand's oldest and largest national park where you can canoe or trek through the stunning scenery, view wildlife from a lakeside hide and camp the night.
Restaurants and Entertainment
Along the beachfront you'll find plenty of laid-back bars and restaurants and this is a pleasant spot to watch the sunset over the Andaman Sea. Up along the main road there are also a few eateries, bakeries and live-music venues.
Most of the resorts and hotels in Khao Lak have their own restaurants serving a good standard of all types of international food, traditional Thai food and fresh seafood. If you wander along the beach, you can find a different place to eat each evening.
Khao Lak is not a good choice of destination if shopping is high up on your list of priorities. There are no large department stores or shopping malls, however there are plenty of small shops and minimarts selling food, drink, snacks and toiletries and the odd souvenir. The larger resorts often have their own shopping areas with a wider selection of goods.
Local Transport Options
Local open-air buses are cheap and frequent in Khao Lak but they only travel along the main road north and south. Taxis are available in all the beach areas. There are also public transport services to all the outlying Khao Lak districts and other areas of Phang Nga Province.
If you'd like your own transport so that you can be more flexible, then you can hire a car or motorbike. Motorbikes are easy to hire in Khao Lak and car rental companies such as Budget can be found at Highway 4, Sawadee Plaza. Most hotels and resorts rent out bicycles and mountain bikes if you're feeling more energetic.
Useful References for Khao Lak Dive Packages


---
CUSTOMER TESTIMONIALS OF DIVE THE WORLD
... Everyone was very friendly and helpful. Before we arrived our emails were answered very promptly and professionally ... -- Chantelle Rule, Australia. [More customer reviews]