>
Scuba Day Trips
>
Thailand
>
Krabi
Krabi Diving Packages
Best Dive Daytrips, Resort and Travel Information
For many people Krabi is the ideal picture-postcard Thai destination, without the attendant hordes of tourists. Gorgeous scenery abounds, both above and below water. Here you can enjoy resort diving in the Phi Phi Islands, at Phuket's Shark Point, as well as the local dive sites; over 25 spots all-in-all. [More information on these dive sites: Krabi].
The peaceful, yet modern, resort town of Ao Nang Beach is the best place from which to explore the local diving, as well as the spectacular coastline and island scenery of Krabi.
There are 7 islands dotted around the area, all of which play host to colourful and varied scuba diving with fish and coral diversity as good as you will find anywhere in the southern Thailand. Their proximity to shore allows you to enjoy a dive trip in the morning and make it back in good time to spend the rest of the day with your family or friends. The absence of liveaboards and boats from other provinces means the sites will always be less crowded than elsewhere in the region.
The stunning tropical paradise of Krabi is situated to the east of Phuket on the Thai peninsula west coast and at the southern point of Phang Nga Bay. This beautiful bay is famous for its spectacular limestone outcrops set in turquoise-blue waters. For amazing scenery without all the bustling crowds and tourists of Phuket, Krabi is the place to be. And if you are looking for adventure sports you won't be disappointed!
Krabi Day Trip Diving Options
We recommend that you book a Krabi day trip diving package with us:

Where to Stay in Krabi
There is a wide range of different hotels and accommodations in and around Ao Nang Beach to meet your requirements. Take advantage of a 'Low Price Guarantee' and book your stay with hotelscombined.com, our affiliated hotel reservation specialists.
With such a great choice from top-end luxury beach resorts to budget guesthouses you are bound to find what you're looking for to suit your taste and budget. Make your choice and book from their full range of Ao Nang Beach resort options

.And all you need is your credit card to make a reservation. They also have an on-line chat in case you have any questions.
Whichever option you choose, a stay of a few days to 1 week is ideal. Packages normally include diving, lunch and boat-hotel transfers.
The Climate and Best Time to Visit
Krabi has a tropical climate which means it is warm all year round and there are plenty of sunny days. From November into April the northeast monsoon prevails which brings clear, sunny days and light breezes. This is the tourist High Season. At this time there are an average of 26 sunny days a month in Krabi.
Peak Season is in December and January when it is busy and accommodation can be scarce and more expensive. This is particular true of Christmas and New Year and Krabi's dive sites can be crowded then too.
Although we highly recommend any time during the High Season, the very best time to come on holiday to this part of Thailand is from February to April whether you are taking a diving package or not. We recommend this time of year as there are less tourists so the dive sites will be less crowded, you can get better value-for-money accommodation and the weather is often perfect with calm seas.
From May to October the southwest monsoon brings showers and winds but there are still around 20 sunny days a month on the west coast of southern Thailand. This is the Rainy Season but most showers are light and brief, however there can be heavier rains at times. The sea can be quite rough at this time of year and swimmers are advised to be cautious. Sometimes Ao Nang dive trips have to be cancelled due to high winds and rough seas.
Krabi has 2 very hot weather periods during the year, the first occurs between April and May when the average temperature is about 33°C. The occasional rain shower and tropical thunderstorm can cool things down briefly. The second occurs between September and October but the more frequent rainfall then brings relief from the heat.
Please read our dive site descriptions for details of the seasonal conditions for diving in Krabi.
How to Get There
Krabi province is located in Southern Thailand to the east and alongside Phuket Island. There are at least 2 flights a day from Bangkok with both Thai Airways

and Bangkok Airways

. Bangkok Airways also flies from Koh Samui direct. There are also direct international flights from Kuala Lumpur (Malaysia) with Air Asia

and Singapore with Scoot

.
Krabi's small international airport is around 18 km east of the town. Thai Airways provide a shuttle bus for just US$ 3 (pay in Thai Baht), or you can take a taxi for only US$ 14.
You can also get a direct air-con and VIP bus from the southern bus terminal in Bangkok. They depart between 18:00 hrs and 19:30 hrs daily, alternatively there is a train from Bangkok to Surat Thani from where you can get a bus to Krabi however this may be more time consuming.
We suggest you consider taking out insurance to cover diving and travel activities, including trip cancellation. See our insurance programme for a competitive quote:
Sightseeing and Things to Do in Krabi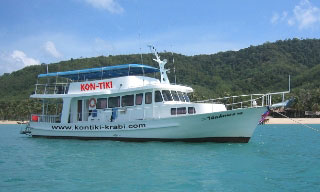 If you'd like to do more than just chilling on the beach, there are lots of other options in and around Krabi. Most of the tour agents sell trips to the local islands and coral reefs of the bay. Alternatively you can go hiking in the national park near Klong Thom where you might spot the rare Gurney's pitta.
If you'd like to see Krabi river's mangrove swamps you can either join an organised tour or hire a boat yourself with one of the locals who operate from the 2 piers. The tour highlight is the pair of spectacular limestone islands rising over 100m above the water's surface and now the symbol of Krabi.
You can kayak around the swamps if you like which gives you plenty of time to explore at your own pace, and why not try sea kayaking while you're at it? This has to be one of the best ways to really take-in the stunning coastline of Krabi. Make sure you visit Koh Hong, a tidal lagoon which you can only access by small boat or kayak at certain times of the day. The surrounding cliffs are covered in lush vegetation that are home to a large number of monkeys and flying foxes that have lived here undisturbed for centuries.
Pay a visit to Krabi Town. This picturesque provincial town centre stretches out along the west bank of the Krabi estuary. The harbour is full of old, traditional fishing boats and to the east mangroves line the shore. From here you can easily access the gorgeous mainland beaches of Koh Lanta and Laem Phra Nang and also take a short boat ride to Phi Phi Islands.
And of course no visit to Krabi would be complete without a boat trip to see the very famous James Bond Island or Khao Ping Gan featured in the film The Man With The Golden Gun. At the same time stop off at Koh Panyee, a traditional floating fishing village which makes a very interesting visit.
The Beaches
Ao Nang Beach, situated to the north of Krabi bay, has become a popular resort. It is quieter here and can be more private than Laem Phra Nang although the beaches are not quite as beautiful. Be aware that it is sometimes signposted as 'Ao Phra Nang'.
There is another gorgeous white sand beach around the other side of the small headland to the south, which is more peaceful.
One advantage Ao Nang has over Laem Phra Nang is that it has more developed tourist facilities. It is also easier to reach the other tourist destinations in the Krabi area from here. There are songthaews running to and from Krabi Town every 45 minutes or so. You can also get a longtail boat from both Krabi Town and Laem Phra Nang. This enables you to take in the full magnificence of the beauty of the bay with its limestone crags and dazzlingly-blue water.
The headland of Laem Phra Nang is a huge attraction with its soft, golden sand, clear shallow waters and impressive limestone islets rising steeply out of the sea. There are 3 beaches here within walking distance of each other - Ao Phra Nang which is on the south western edge with East and West Railay Beach situated on either side. This area boasts plenty of bungalows set in coconut groves or in landscaped gardens.
Ao Phra Nang is a tiny beach with gorgeous white sand and a back drop of emerald palm trees set against dramatic cliffs. Named after a Princess (Phra Nang means 'revered lady'), the beach is accessed from East Railay and offers some chilled out sea-front bars and restaurants. It attracts sun-worshippers and, as the interesting reef is just 200m offshore, plenty of snorkellers too.
West Railay, which is also sometimes known as Sunset Beach, has equally stunning scenery with clear blue waters but is far longer. If you'd like a little more privacy walk past the longtail boats and around the headland a few hundred metres to a beautiful beach with hardly anyone on it.
East Railay beach has numerous economically-priced bungalows but the beach is unsuitable for swimming as there are lots of mangroves and strong tidal movement. However, if you stay here the beaches of West Railay and Ao Phra Nang are just 10 minutes walk away.
You can only reach Laem Phra Nang by boat from either Krabi Town or Ao Nang Beach. Boats depart from several points along the Krabi riverfront and only set off when the boat is full.
The landscape at Laem Phra Nang provides lots of opportunities for rock climbing, abseiling and caving. On the cape there are over 300 bolted sport-climbing routes that vary in difficulty for the ultimate adrenalin rush. The climbing out-fitters here will rent you equipment, as well as guides and instructors.
If you enjoy kayaking there are some fantastic locations thanks to the limestone out-crops and mangroves. There are several operators hiring out kayaks by the hour, half-day or full-day at both East and West Railay.
Further north from Ao Nang you'll find the often deserted beach of Hat Nopparat Thara. This 2 km long beach is part of the Mu Koh Phi Phi Marine Park that includes Phi Phi Islands and there are vast numbers of hermit crabs and starfish here. It's not possible to swim at low tide but you can wade out to snorkel the tiny islands dotted off the shore.
If you want to get away from the more crowded Krabi beaches this is an excellent spot and it offers fabulous views of the karst islands. At low tide you can even walk out and explore the ones closest to shore.
Restaurants and Entertainment
The night-time atmosphere is very lively in Krabi Town and more venues are opening all the time. There are plenty of bars, cafes, night clubs and the popular Thai karaoke bars to stop for a drink or have a dance. There are also a fair amount of bars and nightlife at Ao Nang Beach although this is not on as grand a scale as Koh Samui or Phuket.
There are plenty of restaurants to choose from too, at both Krabi Town and Ao Nang serving all types of food. If you like traditional Thai food then you can't beat the riverside night market in town for a great cheap meal. The market is set up around the pier head and begins around 6 pm every night.
In keeping with Ao Nang being a laid-back resort destination, the shopping experience here is also more relaxed than you might experience elsewhere in Thailand. It is also fair to say that the range and quality of shopping is less than the larger urban centres of Thailand can offer.
Catalunya Walking Street is a permanent bazaar around which to amble and find artworks, ice-cream vendors, bars, restaurants and a place to be measured up for a new suit. There is also a plethora of souvenir shops and clothing stalls. Slightly more upscale would be the outlets of Nopparat Thara Plaza, about 500m from the north end of Ao Nang near the Luna beach bar. Here you can find a few shops selling branded clothes, handcrafted jewellery and good quality artworks. Ananya is a high quality silk shop along the beach road and opposite Krabi resort. Here you can buy fine cushion covers, bags and handicrafts. A Tesco Lotus is located on the southern part of Ao Nang Road and is well stocked with food drink, toiletries and all you might expect.
Local Transport Options
Local transport on Krabi's roads consists of a cheaply-priced local bus service (songthaews). Usually these buses are converted pick-up trucks with seats and an overhead protective cover. There is no fixed timetable but they run frequently on a daily basis to the local towns, beaches and a few tourist attractions. You can be picked up almost anywhere in the Krabi area and on the beach roads. There are also motorbike taxis available.
For your own form of transport you can choose from rented mountain bikes, motorbikes and cars. Most motorbikes are 100 CC scooters that can be driven with international driving license. These are a great way of getting about and give you the independence to visit attractions and explore when you want. They are also cheap to run as a tank of fuel costs about US$ 2 and lasts for around 150 kilometres.
The sea transport system is an important one here and is made up of mostly longtail boats running to the beaches and islands. They can carry up to 10 people and are available all day from early in the morning to around 5.30 pm. Once onboard you'll be asked where you want to go. Alternatively you can hire a longtail for yourself and visit somewhere like Poda Island for some snorkelling or a walk along a deserted beach. The cost varies depending on where you want to go and for how long, but hiring a longtail boat for the whole day usually costs around US$ 41.
There are local ferries for longer sea journeys and they run to and from all the major destinations, i.e. Krabi Town, Ao Phra Nang Beach, Phuket, Phi Phi Islands, Koh Lanta etc.
Useful References for Krabi Dive Packages


---
CUSTOMER TESTIMONIALS OF DIVE THE WORLD
... A prompt reply is always appreciated ... Good website! ... All the info you need to choose the dive centre ... -- Ilkka Tuohiniemi, Finland. [More customer reviews]