>
Dive Trip Reports
>
Krabi Daytrips
Thailand Dive Daytrip Report
Diving Krabi
"We need a daytrip report from Krabi" they said, "Do you fancy it?" Let me think, a few days in beautiful Krabi and a couple of days diving at their lovely local dive sites ... Oh go on then, I think I can manage that. So we contacted Kontiki, our favoured daytrip operator there and arranged a couple of days out with them so I could write a Dive The World report on exactly what Krabi has to offer and what you can expect when you visit here ...
About Krabi
Krabi is a beautiful province on the south west coast of Thailand. It is particularly noted for its spectacular limestone karst geography, great beaches and its many beautiful islands. The main tourist town in Krabi is Ao Nang. This resort town is not much of a party place but still offers plenty of accommodation, restaurants and bars. It is also an ideal base for your Krabi dive trips.
Pick up and the Dive Boat
The pick-up van arrived promptly at my hotel at 7:30 am on both days and just a few minutes later we were dropped off at Ao Nang Beach. From there we were collected by a longtail boat and taken out to the Kontiki dive boat. The Petchmanee is Kontiki's main dive boat and it is the biggest and fastest diving vessel operating out of Ao Nang. It is always nice when you are cruising out to the dive sites and you can see the other dive boats trailing in your wake.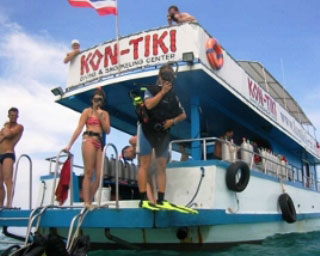 The Petchmanee has 2 decks. The upper level has a covered sundeck where they hold the briefings. Even in this covered area there will be plenty of reflected sun but if you really want to toast yourself you can go to the open front of the boat. The back of the main deck has the dive area and 2 toilets. The dive area can comfortably accommodate 30 divers. Dive entry is an easy big stride off the back of the boat.
The front of the main deck is the dry room. This is where the food is served and there are sofas, tables and a large TV as well as plenty of reading material.
Day 1 - Phi Phi Islands
Day 1 would be 3 dives around the Phi Phi Islands. It was a beautiful day and the sea was calm as we made the 1½ hour cruise from Ao Nang to Phi Phi.
The first dive was at Maya Corner. This is along the cliff face at the entry to Maya Bay on Phi Phi Leh island (where the movie 'The Beach' was filmed). It would be a nice relaxing opening dive with a maximum depth of 18m, 12m visibility and a gentle assisting current. It was nice dive with plenty of sea life around but afterwards most people were talking about the big mantis shrimp and the hawksbill turtle we all met at the end. However for me, I think one of the highlights of the dive was an inclined wall covered in multi-coloured anemones; truly beautiful!
The second dive of the day was at Bida Nok. It is one of 2 small rocky islands to the south of Phi Phi that both have good diving. This was the best dive of the day. We met a large octopus as soon as we descended although he wasn't in a good mood as he was being harassed by a few reef fish. He tried flicking his tentacles at them and then changing colour but eventually decided that retreat was the best option.
There is a corner of Bida Nok that is well known as a good spot to see blacktip reef sharks so we headed that way. We waited there for a few minutes but the sharks did not show. A few of the other dive groups were fortunate enough to catch a glimpse of them but after a couple of minutes waiting we moved on.
Then I saw the oddest sight of the day - a large grouper cruised into view. As it swam towards me, I could see there was something long and stripy dangling from its mouth. What was it? The grouper came closer and the view became clearer, but it couldn't be, could it? Yes, it really was. The grouper had a large banded sea snake trailing from its mouth, the snake longer than the grouper's own body. The grouper calmly found itself a ledge to rest on and then started to slowly munch down on its unfortunate meal. After a moment watching this morbidly fascinating scene it was time to move on again.
Around the next corner and I found myself in the middle of a school of trevally. These guys are such an impressive sight and of course they had no problem swooping around me at speed. There was plenty more life to see before we surfaced. Bida Nok is usually a fun dive and today it did not disappoint.
The third dive of the day would be at Lana Bay at the north west of Phi Phi Don. This would be a dive more for those who enjoy searching for the small stuff. Visibility was only around 8m but our guide was searching the nooks and crannies of the rock face and was soon introducing us to a mother seahorse and her baby. A ghost pipefish was found hidden in the corals and we found nudibranchs along the bottom of the cliff face. It is not my favourite type of diving but for those who like searching for little things, this is a nice dive.
Day 2 - Bida Islands
Day 2 would be a 2 dive trip to the Bida sites just south of Phi Phi. It was another beautiful day. The first dive would be Bida Nok again. Well it had been good the day before. So again we waited for the blacktips at the corner and again we were one of the few groups that did not see the sharks. Oh well, you can't be lucky every time.
Visibility was good and we did see moray eels, lionfish, many puffer fish, boxfish, all manner of other fish and again there was a hawksbill turtle. So maybe it was not quite as good as the previous day but still a thoroughly enjoyable dive.
The second dive of the day would be a bit of a treat. The Kontiki team decided we could make a rare visit to Hin Bida (Bida Rock). It is a submerged rocky pinnacle with 3 rock fingers extending out across the sea bed. The thing about Hin Bida is it is out in the open sea and therefore fully exposed to the sea currents. For this reason it is rarely visited. However, today we were fortunate in that not only was it a beautiful, calm day but also we had no students on the boat, so there was no need to worry about taking care of novice divers.
Hin Bida did not disappoint. We spotted 2 leopard sharks resting on the bottom before we even made our descent. We dropped down for a good look at the leopard sharks while keeping a respectful distance. We then moved on and our guide immediately spotted a rare starry moray eel swimming out in the open. The visibility across the reef was great and sunrays arrowed through the water, lighting up the corals.
Our guide spotted a large scorpion fish doing a bad job of camouflaging itself on the seabed. It was great to see that this reef was teeming with life. The corals looked healthy and were littered with urchins and starfish. Shoals of reef fish flitted over the corals while bigger fish cruised above. A magnificent titan triggerfish was searching for food along the base of the reef. The triggerfish around Thailand are generally not aggressive but get too close to their nest at your peril.
We meandered around the reef enjoying the abundance of life. We found some colourful marble shrimp hidden in a crevice and then an impressive lionfish. Before we knew it, an hour had passed and it was time to head for the surface. This dive must go down as the highlight of my trip to Krabi.
• Watch our Krabi diving video
Diving with Kontiki
The Kontiki name pretty much guarantees a professional operation and I must say I was not disappointed by the service. The dive guides were attentive, knowledgeable and friendly. Lunch was simple but ample and there were always fruit and drinks available. The trips ran to schedule and everything happened smoothly.
Kontiki run 2 diving boats out of Ao Nang in Krabi. The Petchmanee is their main boat that runs a regular weekly schedule that covers all the main local dive sites. These include the Phi Phi Islands, Bida Islands, Koh Haa, King Cruiser and Shark Point. Most of these trips offer a nice relaxing experience. It is not generally challenging diving but the dive sites offer plenty of diversity.
Their second boat out of Ao Nang is the MV Ing Mari. This smaller boat runs snorkelling tours and dive trips to the islands closer to Ao Nang and the schedule includes a sunset BBQ and night diving/snorkelling tour. These are ideal trips for some casual diving or for a mixed group of divers and snorkelers.
Where to Stay in Ao Nang
There are a huge number of accommodation options in Krabi and narrowing them down can be a tricky business. We recommend using our hotel-booking partner hotelscombined.com who have a great range of choices and guarantee the lowest price around. Accommodation decisions are largely influence by budget.
There is plenty of accommodation in Ao Nang

to suit all tastes. For my visit I decided to stay at the Krabi Aquamarine Resort

. It is on the Noppharat Beach side of Ao Nang and just a couple of minutes walk from the beach. This is the quieter side of town but still only a few minutes easy drive to Ao Nang Beach. This mid-range resort has comfortable rooms, a nice swimming pool, bar and restaurant.
Non-Diving Activities
There are plenty of non-diving activities around Krabi. You can go out on the water and visit Railay Beach or some of the islands. Krabi has some beautiful scenery and is well worth exploring. You can take a tour or even hire a car for a day. The Tiger Cave Temple is only half an hour from Ao Nang.
A further 50 km drive south are 2 lovely natural attractions - the Emerald Pool is a beautiful natural pool within a charming area of forest. Just a few kilometres from there is the Hot Spring Waterfall. This natural hot spring cascades water into drop pools at hot bath temperatures. It is utterly relaxing and when you want to cool off you can slip into the cool stream below. See our Krabi tourist section for more ideas.
Getting There and Away
There are direct flights from Bangkok to Krabi Airport located just outside Krabi Town. Airlines include Thai Airways, Bangkok Airways and several of the local low cost airlines. There are taxis waiting outside for the half hour drive to Ao Nang. You can also get a taxi from Phuket Airport but this will be a 2 hour dive.
If you are travelling by bus these will stop at Krabi Town and you can get a taxi or bus from there to Ao Nang.
My Krabi Trip
I thoroughly enjoyed my day trip diving in Krabi. I did 2 of the local day trips but there are plenty more dive sites there still waiting to be explored. You could spend a full week checking out all the local dive sites.
This is relaxing diving but still with plenty to see below the water. Most of the dive sites are not particularly demanding and, within reason, you can dive during the day and still go out and enjoy your evenings in town. Krabi is a fantastic destination for anybody who wants some nice casual diving in an absolutely beautiful location.
Written by Jim Spellman, April 2014

---
CUSTOMER TESTIMONIALS OF DIVE THE WORLD
... The website is OK. We could find all the info we needed before conactiving Dive The World to book the package. Everything in the booking was good. The best part of your service was communication with the Dive The World staff. Answer clear and fast for any question and helpful. ... -- Stefano Cavallini, Italy. [More customer reviews]