>
Dive Trip Reports
>
Khao Lak Daytrips
Trip Report: Daytrip Your Guide to Diving in Thailand
Dive Day Tripping in Khao Lak
What is the best way to enjoy diving the Similans with limited time and a partner who gets cabin fever on a liveaboard? With the Similan Islands just off the coast, diving Khao Lak seems like the perfect solution, whether you are on a Thai vacation with your family or planning a romantic honeymoon. So I decided to set out early November to select the best combination of Khao Lak diving daytrips and resort options for a fun Similan diving holiday.
About Khao Lak
Luckily for those of us who prefer a little peace while blowing bubbles, Khao Lak maintains its original Thai culture. The 12 km beach on the west coast and the green mountains covered with lush rainforest jungle in the background all form part of the Khao Lak National Park and have not been spoilt by overdevelopment. Formerly a small fishermen's village, it has grown into a world famous diving destination. November was great timing for my trip as it heralded the start of sunny, dry weather, ideal for diving. My only concern was the occasionally windy weather at that time of year.
Khao Lak Dive Boat Options
On the 1st morning I caught the minibus from Patong at 6:30 am and arrived at 8:00 am at Tap Lamu Pier, the starting point for boat trips to all the Khao Lak dive sites. I just had time for a cup of coffee before the speedboat took us to our dive boat anchored at Koh Bon. The speedboat journey takes 1:15 hrs to Koh Bon when conditions are fair and 1:45 hrs to the Similan Islands. The most popular boat in the area is MV South Siam III, a well-run organisation, and despite being full (maximum 28 divers plus 5 Dive Masters) everything worked smoothly and it was easy to have a pleasurable diving experience.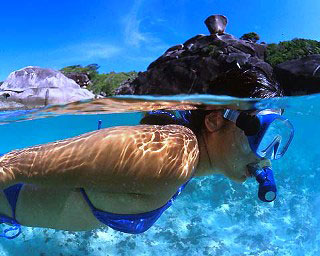 Another possibility is to take an overnight cruise aboard MV South Siam III that will allow you to see the spectacular sunset on the islands. A good alternative to South Siam III is MV Pinyo which is a daytrip boat that does not involve speedboat transfers. The crossing takes 2 and-a-half hours and you can relax in the lounge or the upper deck, enjoy breakfast and get your gear together at your leisure.
Diving Day 1: Koh Bon
By 11:00 am I was diving Koh Bon, enjoying good visibility and eagerly looking for manta rays among the colourful reef fish. Despite Koh Bon being famous for mantas, I was to be disappointed, but not too much as I knew it was too early in the season; they usually only show up later between February and May.
For lunch, we got a tasty Thai buffet onboard between dives, with 2 or 3 main dishes to choose from. You can expect noodles, rice, a thai-style chicken option and plenty of fresh vegetables. After a satisfying lunch onboard we had our 2nd dive of the day at Koh Bon which turned out to be even better with the appearance of leopard sharks.
On the return journey the trip was less than comfortable since the sea had become a little choppy. The boat journey took 2 hrs to arrive in Tap Lamu. But within 30 minutes I was in my hotel in Khao Lak.
Diving Day 2: Elephant Head and West of Eden
Conditions could not have been better and I really enjoyed these 2 famous sites. We were lucky to have no current and visibility of over 25 metres. Sea life was abundant. Passing a white tip reef shark on our descent, we were soon surrounded by a large school of fusiliers, then as we made our way around the distinctively shaped boulder at Elephant Head Rock we were entertained by blue spotted sting rays, groupers and surgeon fish.
In the nooks and crannies at West of Eden (Island No. 7) we found harlequin ghost pipefish amongst the soft corals and sea fans.
Diving Day 3: Koh Miang and East of Eden
The next day I had an excellent dive on Anita's Reef, with calm conditions similar to the previous day. Words are not enough to describe how good it was. The profusion of staghorn, bottlebrush and star corals interspersed over a sandy bottom, forms a playground for a healthy selection of reef fish like jewel fairy basslets and yellowfin goatfish searching for scraps to nibble on.
We made our giant stride into the 2nd dive of the day at East of Eden. Snorkellers also get to see action on this reef where the colours of the coral are amazing in the clear waters. This was the highlight of my trip with incredible variety of coral formations in blue, red and purple, stretching up the bommie from 21 up to 12 metres. I could have spent hours here mesmerised as I was by the large number of damsels, butterfly fish and many others foraging for tidbits. East of Eden definitely lived up to its reputation as the top Similan dive site on that day and was a fantastic way to end my trip.
• Watch our Khao Lak diving video
Resorts in Khao Lak
I stayed at Mohin Tara Hotel

situated on the beautiful, unspoiled Khuk Khak Beach, 7 km north of Khao Lak's centre and 2 km from Bang Niang Beach, which is the second most popular part of Khao Lak. The hotel is brand new and despite looking incomplete, offers all services you would require: a pool, restaurant and free shuttle service at fixed times to the beach and Khao Lak centre. I preferred having more freedom of movement and rented a scooter. Alternately you could always hop on a local taxi, if you're not concerned about the expense.
I found the most important factor in choosing accommodation to be whether you prefer the tranquility of Khuk Khak, or would rather be closer to where it's all happening in Bang Niang. If the latter, then I would recommend Ayara Villas Hotel

, or if you want to cut down on travel time and have access to more sociable activities then choose either Suwan Palm Resort

or Khaolak Golden Place

in the main centre of Khao Lak.
Non-Diving Activities
As I spent most of my days diving I did not explore the Khao Lak National Park. But for non-diving friends and family there are hours of cultural activities to be had. You can choose from hikes along rivers, exploring caves and enjoying waterfalls in the lush rainforest which is home to many types of birds and animals. There is even a possibility of seeing tigers. See our Khao Lak tourist section for more information.
Khao Lak is also a great option for snorkellers. Guides will take guests into the shallower, smoother waters and stay with them. Non diving guests can also go ashore and soak up the rays on some of the white beaches of Koh Similan.
Getting There and Away
One option is a land transfer from Phuket, Krabi or Bangkok. Phuket International Airport is the easiest access point and the trip from there via minibus or taxi takes about 1 hour. Your hotel can arrange the transfer from the airport for you if you prefer.
I used the minibus route, with pick up in Patong at 6:30 and by 8:00 am we arrived at Tap Lamu Pier ready to go day trip diving in Khao Lak. Then on my return trip I took a taxi back to Phuket after a short time relaxing on the pier.
An alternative way to travel from Phuket to Khao Lak is to book a daytrip boat transfer or an overnight cruise in the Similan Islands aboard South Siam III.
Similans with a Difference
Diving is an important activity in Khao Lak and life seems to revolve around the dive day trips. Personally I still prefer a liveaboard Similan liveaboard cruise where I can scuba dive more often, the marine park fees don't constitute such a large proportion of the cost, and where I can also dive Koh Tachai and Richelieu Rock.
A resort stay in Khao Lak is wonderfully suited to combining diving and snorkeling and is good for the less-experienced and family groups. In this way everyone has a terrific holiday and discovers the stunning scenery in the Similans together.
I really appreciated the atmosphere in Khao Lak, which is completely different from the other tourist places I have been in Thailand. Glorious white beaches with palm trees, refreshing lack of commercialism and high quality diving gave me a peaceful, relaxed vacation.
Written by Diego Bianchi, November 2009


---
CUSTOMER TESTIMONIALS OF DIVE THE WORLD
... Very prompt replies with details, found us the accommodation with very short notice, while other travel agencies couldn't do, also, cheaper package than other agencies. Quick responding and great package deal. ... -- Joy Tan, Hong Kong. [More customer reviews]