>
Dive Trip Reports
>
Kungkungan Bay Resort
Sulawesi Scuba Diving Trip Report
Critter Paradise at Lembeh's Kungkungan Bay Resort
Click on an image to enlarge

After diving in Lembeh Strait recently, I have come to 1 conclusion about fish identification books: the majority of pictures of weird creatures must have been taken in the Lembeh Strait! I thought I might never come face to face with such amazing marine species I had seen only in books. My trip to Lembeh, staying at Kungkungan Bay Resort, changed all that forever!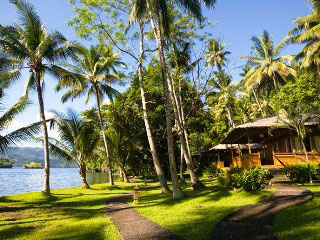 This is unsurprising given that it is one of the richest areas of marine diversity in the world. It is a fact. It is also a fact that I had the pleasure of taking some amazing pictures of a great variety of weird macro species myself. I spent a fascinating few days muck diving, together with the customers and dive crew of the Kungkungan Bay Resort, or KBR as they are more informally known.
Whether you are a novice or experienced with hundreds of dives, you will be astounded by the variety of species and the amount of living creatures that inhabit the Lembeh Strait. I surprised myself at how excited and enthusiastic I was before and after each dive here. I felt like a new diver all over again. Scuba diving here and enjoying the excellent resort at Kungkungan Bay Resort is a combination that is hard to beat!
The Diving
Kaj and Barb, an English and Australian couple with lots of experience of diving the Caribbean, now run the scuba centre at Kungkungan Bay Resort, Sulawesi. Keen photographers themselves, they always find the time for a chat about the latest critter found and share their passion and knowledge with their guests. Their enthusiasm is infectious.
We made 3 boat dives per day and transfers have never been easier as all the dive sites are no further than 10 minutes from the pier. I was pleased that we returned to the resort after each dive where snacks and lunch were taken, making the boat trips quick and easy. You can expect a full service from the dive crew and also some great eyes spotting the amazing creatures underwater.
Highlights included unique encounters with wonderpus at Jahir, rare rhinopias hiding among the corals, Pegasus seamoths chasing each other at at Pantai Parigi and so many encounters with seahorses that eventually you might run the risk of getting bored with photographing them. This is only a small taste of what to expect from this critter paradise that is the Lembeh Strait.
• Watch our Lembeh diving video
If 3 dives per day are not enough, you can pay extra for night and sunset dives or just grab a tank and you and your buddy can jump at any time on the house reef for free: This is a fun and quite safe option since Kungkungan Bay Resort actually owns the bay in which it is built, therefore there is no risk of having boats passing over you or, even worse, exchanging bubbles with too many scuba divers.
No fishing has been allowed in Kungkungan Bay since the resort opened way back in 1994, so expect a lot of interesting underwater encounters on your dives! The currents can be quite strong here at times so check with the guides each time before you dive.
The Resort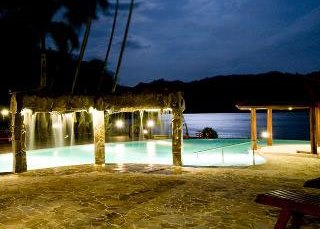 The resort boasts the Tepi Laut Spa which caters exclusively to its own guests and offers a full range of traditional Indonesian treatments as well as reflexology, the Green Tea Body Detox, manicures and pedicures. There is no shop available, but you can browse the selection of wooden crafts, resort t-shirts and diving books available for purchase at the reception area.
I enjoyed a few lazy hours beside the infinity pool which is close to all other amenities and provides you with an absolutely spectacular view over the strait. You can literally cool down at the pool side bar as the bar stools are built in the water.
Although I spent all my free time diving, there are some non-diving tourist activities where you can choose from a Bitung City Tour to see the fish market, Buddhist temple or get a taste of Sulawesi life downtown. The Minahasa Highland Tour takes in the Tondano Lake, an ancient Minahasan cemetery and the beautiful traditional wooden houses. Other options are the Manado City Trip to visit the Kali Waterfall or Tangkoko Jungle to see a variety of wildlife.
The Food
Before even sampling the food at Kungkungan Bay Resort, I was already in love with the restaurant building, a large and spacious wooden indoor area with a stunning view of the bay and Lembeh Island. It was just gorgeous to enjoy lovely meals on the water's edge.
The menu features western favourites as well as local Indonesian items. There were 21 different choices just for breakfast … sometimes I got pleasantly confused and did not know if I was still guest of a diving resort, or at one of the finest restaurants in Sulawesi!
I truly wanted to try some special meals and I was not to be disappointed. Chicken Tepi Laut and also Chicken Kungkungan are just 2 of the special Indonesian dishes that I would strongly suggest trying during your visit, if you are a meat-eater like me. The chefs clearly put in a lot of effort. In addition to Indonesian specialties and international fare, there are quite a few Japanese options, reflecting the popularity of the resort with Asian divers.
Most of the items in the menu can be made vegetarian as well, plus there is always plenty of fruit for breakfast and a wide dessert choice. The restaurant does not cater only to the resort customers, but on a few occasions other tourists (on cruises or possibly staying at other resorts) were drawn by the combination of the chefs' reputation and the idyllic location.
Beachfront is All I Need ...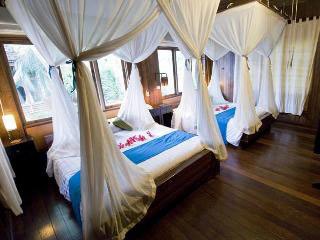 I could, if I was not against fishing in such an environment, have cast a line into the strait from my traditional, house-style accommodation, so close was it to the shore. I simply love wooden buildings and it was fantastic to discover that all the rooms and main section of the resort are built from coconut wood and blend perfectly into the surrounding vegetation.
It is important to note, however that they are not simple wooden huts. Inside my room I still found all the furniture and extras that I love, such as a queen size bed (actually 2 in this type of room, for a maximum occupancy of 4 people) to deservedly rest after my long day of Lembeh Strait scuba diving and dining. There was also a beautiful shower room, cable TV and air conditioning, so I did not have to go without a single comfort.
The rooms and furniture are in great condition, inside and outside, a sure sign of good maintenance. Kungkungan Bay Resort was one of the first properties built in the region and still looks new.
Less Than Perfect?
In my opinion, the resort is close to perfect so it is difficult to have any complaints, but in the interests of serious journalism …
The wi-fi signal from my room was weak, but it was little hardship for me to re-position myself in the beautiful restaurant where the signal was strong. Another minor annoyance was the loss of electricity that can happen during the day, but more often in the evening. It is a common issue in Bitung, and usually only for a short time period, especially since the resort owns its own power generator. However, I would still recommend being extra careful if you have any electronic device that might be damaged by this inconvenience.
Macro Pictures, Macro Service!
I met many returning guests during my stay at the Kungkungan Bay Resort and I shared their enthusiasm for coming back. The place is blessed with amazing underwater creatures, with fascinating physical and behavioural adaptations to their environment. A slightly less scientific theory I heard was that Lembeh was where god put all the mistakes he made when trying to create fish.
Add together the incredible scuba diving in the Lembeh Strait, top notch accommodation, food and convenience, and you can see why there are so many returning vacationers. I long for the day when I can say that I am one.
Written by Ricardo Rossi, June 2010


---
CUSTOMER TESTIMONIALS OF DIVE THE WORLD
... I appreciated the very good and honest explanation of the Celebes Explorer. The booking process was all good. Quick response. Good website ... -- James Hay, Scotland. [More customer reviews]