>
Dive Trip Reports
>
Caño Island Daytrips
Day Trip Report: Dives in Costa Rica
Diving Tours in Caño Island
While staying in the southern region of Costa Rica, I was enjoying getting to know the little Pacific coastal towns of Dominical and Uvita. On one drive into the hills I could see an island on the horizon. Could that be Caño Island, the most famous dive spot in the area? Would I get a chance to dive there before my time was up?
Yes I would. It was towards the end of April and therefore pretty much the tail end of the high season, but recent reports were of great conditions and plenty of interesting sightings, so I was very much looking forward to the Caño day trip, and with good reason. It was a day to remember!
Pick Up and the Dive Boat
I arrived at the dive shop in Bahia Uvita shortly before the stated 7 am meeting time. This meant I was first to get in on the freshly brewed coffee and delicious banana bread. The other divers dribbled in between 7 and 7:30 and, with the help of the good-natured dive guides, got their equipment together and took care of their paperwork.
At around 8 am it was time for the short walk down to Uvita beach to board the boat near the legendary "Whale's Tail", where the beach meets the sea in the shape of a tail - what a fluke! When you get to the beach the crew will be getting the boat into the shallows where the waves are breaking. Guests wade out and step into the boat. There is no jetty or mooring allowed, so this is how boats have to pick up guests. It reminded me of boarding a daytrip boat in South Africa, although here the waves were small and there was no need for a white knuckle ride over the breakers. Once in the boat, getting past the waves was easy.
The 1 hr boat ride was a breeze in near flat-calm conditions. The boat itself is comfortable and makes what is a pretty long journey, not too bad. It is a fully shaded fiberglass boat that comfortably takes up to about 15 guests. Guests sit on soft, cushioned benches running down either side of the boat. The twin engines hum along as the boat skims out across the sea to where Caño Island awaits you. Upon arrival you can go ashore, pop to the toilet, and listen to the dive briefing on the beach.
Little did we realize that one of the highlights of the day would happen a mere 5 minutes into the boat journey. A couple of kms out to sea we came upon an area of glass-calm water, the boat suddenly slowed as the crew had spotted something in the water. This was the end of April so not at all whale-watching time, but here was a mother Bryde's whale and calf gently breaking the water and blowing spray into the air. We watched for several minutes enthralled as they surfaced and dived, surface and dived. Suddenly, not far from our boat, the calf burst out the water soaring high into the air and exposing to our awestruck faces its bright white belly, and pink flanks. Then it crashed back into the water sending sprays into the air. What a great moment! There were such good vibes on the boat, even all the crew members were enthused and grinning from ear to ear.
Dive 1: The Anchor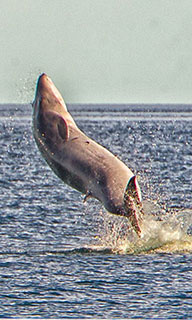 On this site you drop down a line to the sea floor at around 22m, where there lies a large discarded anchor, giving the site its name. The topography of this site, like several sites around Caño Island, is characterized by sandy channels among rocky ridges and bommies. We saw several white tip reef sharks, including a large pregnant female. There were also many small stingrays lurking in the substrate, almost invisible but for their protruding eyes.
Although the ridges are primarily rocky, there is some coral including small hand size fans, hard corals showing signs of parrotfish grazing, and other cauliflower coral (Pocillopora damicomis) playing home to small red coral crabs (Trapezia cymodoce). In the background in the blue you can see schools of fish such as grunts and wrasses in impressive numbers.
As you fin over the sandy channels you can see many little shrimp/goby partnerships doing their thing on the sea floor, and also the magnificent sight of a field of garden eels craning their slender bodies high into the water column. As you near them they withdraw to the safety of their burrows. However, get close to the sea floor and stay still and hundreds of them will gain the confidence to rise higher and higher to catch a few passing morsels in the current. This is (perhaps weirdly) one of my favorite sights! In a way it was a small-scale echo of the whale calf we saw earlier thrusting high in to the sky!
Dive 2: El Barco Hundido
Our 2nd dive was not to a wreck as the name might suggest, but a site with largely similar topography to The Anchor. Once again the divers in our group were entertained by numerous white tips and stingrays.
You will also see many different species of reef fish making their way around in search of food including: parrotfish, moorish idols, many little tobies, angelfish and butterflyfish. You may also feel a nibble or 2 on your legs from brave and hungry cleaner wrasses.
Among the rocks here are many cracks and fissures, and lovers of macro life will enjoy spotting different crustaceans including bizarre-looking spider crabs. However you should keep an eye on the blue as there will be large schools of jacks, blue and gold snappers, and grunts swimming around.
One feature of this site, as with Caño Island generally, is that it is a haven for moray eels. You will see a lot of them. They are everywhere! Species include: Panamic green morays, spotted morays, yellow-edge morays and zebra morays. If you see something moving deep within the reef here, that's a moray!
Other dives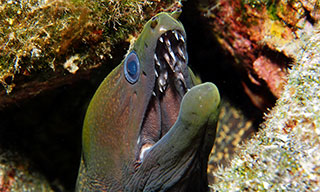 There are a number of dive sites close to Caño Island like the two that we visited that are suitable for all levels of scuba diver. This is important if the day boat has divers with a range of experience.
The very best dive sites in this general area include Bajo del Diablo and Devil's Rock. These can be visited on daytrips from Uvita if there are enough experienced divers to justify a boat to go there. They are not really suitable for inexperienced divers. It is a playground for hammerheads, blacktip sharks, nurse sharks, oceanic manta rays and mobula rays! These sites are so highly rated that even some of the Costa Rica liveaboards visit the area at certain times of the year, lured by the big fish action.
The Food
Your day begins with strong, black Costa Rican coffee and banana bread before heading to the dive boat. On the crossing more banana bread is passed out. In between dives you can enjoy lunch, either on the boat or on the beach. This usually consists of vegetables, rice and salad, with additional chicken for the meat eaters.
It is washed down by water or by the unappealing sounding and looking "agua de sapo" - toad water. This dull, greenish/brown drink is made with ginger, sugar cane, lemon juice and water, surprisingly tasty and refreshing.
Where to Stay
Most people who dive from Uvita are either staying there or in nearby places like Dominical and Ojochal. Sometimes divers staying as far away as Manuel Antonio/Quepos travel down to dive with this tour operator.
Overall
I enjoyed our day out. We saw plenty of interesting sights underwater and, of course, the breaching whale calf was a moment that will live long in the memory. Not many diving daytrips can promise such a bonus. There are also some dives along the local Marino Bellena coast too, with shorter journey times.
Some divers in Costa Rica, who are keen to do daytrips, do a combination of diving from Uvita plus also daytrips to the Bat Islands from Tamarindo and the Islas Catalinas from Potrero. These 3 would really represent the best 3 coastal options for diving in Costa Rica.
---
CUSTOMER TESTIMONIALS OF DIVE THE WORLD
... I am in the habit of taking 2 big trips a year, but never have I encountered a travel agent as efficient and thorough as Dive The World ... -- Denise Denghi, United Kingdom. [More customer reviews]