>
Dive Trip Reports
>
WAOW
Komodo Tour Report
Indonesia Liveaboard Diving with MSY WAOW
Click on an image to enlarge

To say I was excited to be joining a 9 day Komodo diving tour with MSY WAOW would be a huge understatement. The prospect of diving in the heart of the famed 'Coral Triangle' (which has more marine diversity than anywhere else on Earth) aboard a liveaboard with a 5 star customer rating, luxury facilities and top-class service, meant my expectations were understandably high.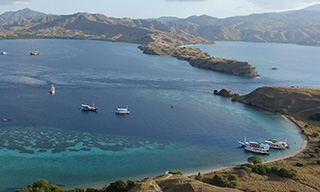 The problem with expectations is that reality often falls short. But not on this trip! By the end of the cruise, the consensus among the guests was that it would be difficult to beat this liveaboard diving vacation. One American couple, who have the fortune to go on liveaboard safaris about 4 times a year were back for their 2nd trip with WAOW.
The list of creatures we encountered underwater was huge. Highlights include: manta rays, mobula rays, wobbegongs, grey reef sharks, Napoleon wrasse, painted frogfish, octopus, Spanish dancers and mandarinfish.
Diving in the Komodo National Park
Unfortunately my diving was very limited during this liveaboard trip. During our 2 week Indonesian family holiday prior to the cruise, I was unlucky to get a sinus infection. So I snorkelled whenever I could alongside the divers in the tenders. I had fun, but had to live vicariously through the other divers' experiences.
The highlights in my fastidious buddy's log book included:
Sharks (whitetip, blacktip, nurse, carpet or wobbegong and grey),
Rays (reef manta, blue spotted, eagle, mobula and torpedo),
Mollusks (coconut octopus, day octopus, cuttlefish, squid and long arm octopus),
Crustaceans (shrimps: tiger, banded, soft coral, Zanzibar whip, Coleman, graceful anemone, humpback prawn, elegant crinoid squat lobster, Donald Duck and spear mantis).
Crabs: (porcelain, xeno, orangutan, spider, ocellated tozeuma, zebra, decorated and harlequin swimming),
Nudibranchs & slugs (nudibranchs: Pacific thecacera, kubaryana nembrotha, dark margined glossodoris, blue dragon, geometric chromodoris, Chamberlain nembrotha, Phyllidia, Spanish dancer, Anna's chromodoris and slender T-bar, Slugs: Mod-headed side gilled),
Eels (blue and black ribbon, crocodile snake, moray, garden)
Fish (Mandarin, longfin lion, finger dragonet, scorpion, giant sweetlips, five line sweetlips, big eye trevally, bluefin trevally, surgeon, fusiliers, titan trigger, redtooth trigger, unicorn, emperor, goat, flounder, long fin batfish, map puffer, Napoleon wrasse, painted frogfish, ornate ghostpipe and juvenile Oriental sweetlips)
and
Turtles.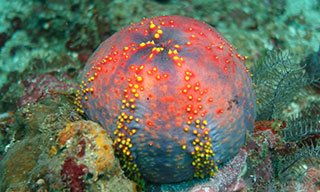 What I can add from my short forays into this incredible underwater world, is that the variety and quality of corals are stunning and the abundance of fish is amazing. The reefs of the Komodo National Park are teeming with life wherever you look.
The highlight was definitely Manta Alley. Swimming in very cold water (well for me as a tropical diver it was my first time in a 5mm wetsuit), in choppy seas, strong currents and soupy plankton rich waters together with a school of 6 feeding mantas circling right below you (if I reached out I could have touched them) made up for not being able to dive. I have previously dived with Mantas, but this experience far surpassed my first. They would swim right up to you, just below the water's surface. They circled countless times. The dappled light on their expansive wings was mesmerizing as they performed their version of a reef ballet.
The diving in Komodo and Sumbawa is a real mixture of diving environments, corals and marine life. During this tour you will have the opportunity to marvel at critters, reef fish, pelagics, sharks and rays. The dive sites were as varied as the animals that call them home or are just passing by.
Our cruise covered 270 nautical miles where 25 dives were completed off 12 different islands. The trip itinerary and every dive site was chosen according to the weather and current conditions. Each dive offered something different, whether it was swimming through the warm bubbles at 'Hot Rocks' off Sangeang Volcano, hooking onto the reef at Rinca Islands' 'Torpedo Alley' and having a front row seat as pelagics passed you by, or marveling at the swirling feeding mantas in South Komodo.
The diving can be challenging due to the strong currents in Komodo. Virtually all dives had some degree of current, except for some of the night dives that were located in sheltered bays close to the shore. It is a good idea to bring a reef hook with you, or you can purchase one onboard from the WAOW boutique. The water temperature was variable, divers went from 0.5mm skin suits in central Komodo to 5mm suits in South Komodo.
The Boat Features and Facilities
If you tend to prefer your own space, there are plenty of areas for you to retreat to on the 58m WAOW. The bow has hammocks and huge beanbags where you can take in the passing island scenery, although this is also the only designated smoking spot for guests.
Comfortable sun loungers with towels are located on the upper deck, and the main deck has a variety of seating in the shade. The saloon has ample seating where you can select your genre of music, read a book from the well-stocked library, or complete your dive log book with the help of fish identification books. If you would prefer a bit of action, there are 2 kayaks and 2 stand up paddle boards for guests use.
The crew members are warm and professional. They balance service with friendliness and all 23 crew members knew each guest by name by the end of day 1!
In Komodo it is advisable to let the staff know that you're going for a dip. One guest underestimated the strong current and was soon being pulled away from the liveaboard. WAOW's staff reacted with lightning speed. Threw the tired swimmer the safety ring, launched the rib from the stern and retrieved the swimmer in no time. The potential crisis was averted…
The Dining Experience on WAOW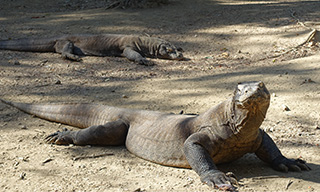 The French-Swiss owners of WAOW ensure that the standard of dining aboard WAOW is of restaurant quality.
Pre- and main breakfasts are served buffet style. Various freshly baked pastries, toast, homemade jams, cereals, fruit platters, fresh juice and coffee to order are served buffet style from 06:30-07:30 am to fuel divers for dive one of the day. Eggs cooked to order (an extensive list of options was available), fried rice, friend noodles, American pancakes or waffles, baked beans, mushrooms, bacon, more pastries (both savory and sweet) fill hungry tummies after the first dive at 09:00 am.
Lunch and dinner are both 3 course meals and waiter/waitress served. An entree of soup, salad or ceviche is followed by the main meal (often only after guests have enjoyed a second serving). Main meals are varied and may be an Indonesian dish of Ayam Sato soup, a light curry, or Western meals that included lasagna, breaded and fried chicken served with potato salad and sautéed vegetables. Dessert of chocolate mousse, cakes, profiteroles or fruit follow, and the meal is rounded off with specialist coffee to order. A delicious deck BBQ on the last evening included fresh seafood and top quality steak. A complimentary glass of wine or beer is served with dinner and further drinks are available for purchase from the well-stocked bar.
The Cabins
The cabins are spacious, comfortable and well appointed. I was in a Deluxe cabin with portholes which let in some light and fresh air (while the liveaboard was not moving). The main deck and upper deck cabins have large windows. If you prefer fresh air during the night, consider one of these cabins.
I was relieved that the mattress was firm (my personal preference), pillows soft, and there were additional blankets available. The bathroom included a spacious shower with sandstone wall feature and rainshower, hairdryer and toiletries. Slippers and a thick, soft bathrobe are additional touches of luxury. Each cabin is equipped with a flat screen TV and streamed entertainment (music and movies). A decent size safe (bigger than those in typical Indonesian hotel rooms), a small bar fridge, fire extinguisher, and a portable, rechargeable safety light highlight the attention to detail that the WAOW owners have paid to all aspects of the liveaboard.
Excursions
The tour itineraries are somewhat flexible depending on the make-up of the group. We had 3½ (yes the ½ is me) non-divers out of 11 guests. The cruise director did a wonderful job of accommodating everyone.
We were fortunate to witness mating Komodo dragons on the beach, as well as the usual land excursion to Rinca Island. One evening, those so inclined, hiked up a hill to a magnificent view of the surrounding islands - this proved so popular with one guest that he requested a second hike! Sundowners on the beach included a game of football with the crew, dancing and singing the Indonesian national anthem (Independence day was approaching), delicious snacks and complimentary drinks. Another enjoyable outing was to Bat Island (Pulau Kalong) where thousands of bats fly overhead at sunset as they set off into the night.
The weather was fair for most of the trip and unusual for a tropical destination, we did not have any showers. Sunny days and cooler nights made for a comfortable cruise. We did experience some breezy evenings, when dinner was served in the saloon. The wind definitely picked up as we cruised towards Labuan Bajo on the second last day of the trip. Unfortunately this meant that we did not experience WAOW under full sail.
The Diving Procedure
One of the many extra, above and beyond, services that WAOW provides, is a digital dive log of all the dives that were completed during the tour. The date, location, site name, average visibility, current and highlights were all provided. The level of detail extended as far as calculating the total amount of gas consumed during the cruise. Some people definitely contributed more to this total, but we will keep that information secret.
The cruise director gave informative dive briefings at precisely 15 minutes before each dive. During the first briefing, we were shown how to use the Nautilus LifeLines, which are complimentary for each scuba diver. Detailed maps of each dive site were displayed on the large flat screen TV in the saloon. These briefings were among the best I have ever experienced.
The equipment room is located on the main deck. It is well organized and has individual spaces for 25 divers. WAOW offers both air and nitrox options. Donning your wetsuit, booties, mask and carrying your camera, you simply stroll down the steps to the platform and step into the dive tender. Here your weight belt, fins and dive gear are in your allocated place. Entry is by back roll and exiting the water is via a sturdy ladder, hooked in the middle of the tender. Upon returning to WAOW you are greeted on the main deck where your wetsuit is unzipped for you.
Getting There
My flight from Bali to Bima, with Wings Air was delayed, not a surprise as I knew this is quiet common in Indonesia. We landed in Bima and walked into the small airport terminal. Although it was a domestic flight, we were asked to present our passports to the immigration official.
We were asked to confirm that all our bags were accounted for and were presented with laminated numbers to attach to them. We were assured that they would be waiting for us in our cabins once we boarded WAOW. My first thought was wow, the service from WAOW is off to a great start!
Summary
On the last evening of the tour, there was much banter as we gathered and chatted about the highlights of the vacation. A vote was taken, Shotgun and Manta Alley were voted the top dive sites, not only of the cruise, but they came in the top 5-10% of all the dives sites that the divers had ever experienced. High accolades from a group that had all dived across the globe!
Our American liveaboard non-diving buddy voted WAOW as the best liveaboard for non-divers (and she has many to compare) and I concur. The entire experience was amazing, despite my disappointment of not being able to dive. If you are considering a liveaboard tour in Komodo with non-diving family members, book your trip with WAOW!

---
CUSTOMER TESTIMONIALS OF DIVE THE WORLD
... Very easy to navigate the website and able to see specials clearly (highlighted in yellow). Very simple and easy to follow process. Staff got back to me timeously and were very efficient. ... -- Angelique Mostert, South Africa. [More customer reviews]