>
Dive Trip Reports
>
Parinee
Liveaboard Diving Charter in Thailand
Parinee Trip Report in the Similans
No matter how many times one visits the Similan Islands, they never fail to impress their beauty upon the senses. Waking up at 7 am on the first morning of this liveaboard charter, the sun was shining, the sky was blue and the temperature in the shade was already touching 30°C. Looking across to Koh Payu (island no. 6) at the verdant green foliage, the soft sands, and exposed granite boulders, one's eyes are always drawn to the hypnotic mélange of greens and blues in the Similan shallow waters. And so it was after our previous night's transfer and overnight cruise on board the Parinee to the islands, we were all eager to sample the enticing Similan Islands in Thailand's Andaman Sea once more.
Similan Islands Diving Tour Highlights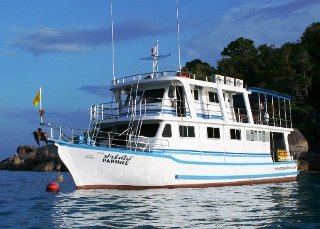 Day 1 saw us focus our attentions on the southern Similan Islands. Highlights of the day were the beautiful coral landscapes of East of Eden, home to a marble ray, a giant-but-friendly moray eel, a large banded sea snake, and bicolour parrotfish. 3 green turtles joined us for lunch. They were immediately welcomed by a carpet-bombing of pineapple and papaya slices, which they gobbled up in no time. The fusilier hunt at Deep Six was a spectacular sight, and I spent a good 20 minutes just parking off and watching the school of 20 or so bluefin trevally and 3 dogtooth tuna run amok amongst the fusiliers gathered at the mooring point.
As the boat carries a maximum of only 12 guests, and our trip included only 7 experienced divers (from Germany, Japan, Switzerland, Thailand and South Africa), MV Parinee often has the flexibility to offer you more opportunities to explore the type of sites that you want to dive. So on the morning of Day 2, I got the chance to dive the submerged pinnacle off Elephant Head Rock. This pinnacle rises to 16 metres below the surface and drops down to over 50 metres, making it a site for advanced scuba divers only. The visibility on our second morning was fabulous at well over 30 metres, and we were lucky enough to see a school of 50 or so chevron barracuda. North Point Pinnacle offered up a leopard shark, Batfish Bend was just one long cleaning station, with batfish, a great barracuda, and nesting titan triggerfish.
Despite the 10 dive boats that had decided to call in on Richelieu Rock on the morning of Day 3, testament to the lasting popularity of this site, the rock was looking as good as ever. And our luck was in too, albeit briefly, as a 4 metre whale shark youngster came by before the multitude of divers frightened the poor thing away. But Richelieu Rock is much more than a site just for whale shark encounters. The plethora of soft corals and anemones on the walls and upper surfaces provides the foundation for a colourful dive.
Large schools of goatfish and smaller snappers drift past, whilst the steep walls are home to a multitude of groupers and shelter baitfish and juvenile fishes, constantly harassed by hunting yellowtail scad. The cracks and crevices are good places for divers to spot moray eels, and we saw several different species as well as octopus, mantis shrimp, and dozens of scorpionfish in the shallows. Meanwhile at Koh Tachai, a school of 100 blacktail barracuda, lazily swimming in formation against a stiffening current, held everyone in awe.
The half-day's diving on Day 4 was perhaps less eventful - only 3 leopard sharks, an octopus and some reasonably-sized schools of lunar fusiliers were the best to report at Koh Bon - but I suppose that Mother Nature can not be expected to show all her glories every time. After all, then there would be no reason to go liveaboard diving in Thailand again, would there?
• Watch our Similan Islands diving video

The Positives from the Trip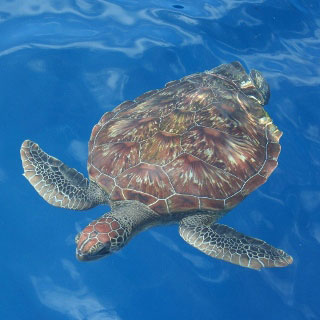 Several of the guests were joining their second iveaboard dive charter of the season on the very same boat, a strong recommendation and very clear sign that they enjoyed the tour immensely the first time. The boat crew are a tight-knit bunch and provide a good service, honed from several years of working with each other. The cruise price is very affordable and the low numbers of guests appeals to most divers.
The Negatives from the Trip
There's no smoke without fire: it seems that the operator allows smoking in the open-air areas of the boat. Call me a boring old fart if you will, but I'd prefer that all the smokers were thrown overboard after leaving port, or else at least banished to the bow of the liveaboard to partake in their habit, leaving the rest of us in peace and clean air. Smokers lighting up in the dining area whilst you're still digesting your noodles is a real turn-off for me.
One further point to note is that whilst the boat does have a DVD player and TV, there is no movie library, so please bring your own to watch. Also, there are no fish ID books and dive magazines, so bring something good to read too. The tour leader did assure me that the boat normally does have these onboard, it was just a temporary problem with this being one of the first cruises of the season, but it's wise to be prepared just in case.
Please note: since this trip report was written, Andaman Divers has endeavoured to fix these problems, and now Parinee has a movie library, fish ID books and dive magazines.
Dining on the Parinee
Here's a sample of the food you can expect on your Thailand liveaboard diving cruise:
Lunch and dinner: Tom Yum soup, chicken nuggets, fried rice, mixed vegetables with cashew nuts in oyster sauce, clear soup with tofu and pork balls, fried squid, steak 'n chips, chicken green curry, sweet 'n sour fish, fried fish in Prik Pao sweet chili paste, spaghetti Bolognaise with rissoles, fried chicken drumsticks, water melon and pineapple slices.
Breakfast: Coffee, tea, ovaltine, Luuk Chin Plaa (fish balls), ham, fried eggs and sausages, toast and jam.
Afternoon snacks: Pancakes, banana fritters. Biscuits and fruit available at all times.
Vegetarian lunch and dinner: Tom Yum soup with mushrooms, Krueng Gaeng (stir fried mixed vegetable curry with rice), Phad Kraprao Phak (vegetables with basil leaves and chili, Gaeng Juud Taohoo (clear tofu soup), onion soup, sweet 'n sour mixed vegetables, vegetable green curry, potato red curry, vegetables and cashew nuts, Spaghetti Pomodoro.
Vegetarian breakfast: Noodle and water cabbage soup, or Raad Naa (flat noodles and vegetable in gravy), vegetable and basil leaf fried rice.
Whilst most guests expressed their satisfaction with the food, some suggested that the breakfast was repetitive and a little cold. The only soft drinks available on board the liveaboard were water and Pepsi Cola, and this could be rectified quite simply too, especially with fruit juices at breakfast.
Please note: Parinee now has a wider selection of soft drinks and fruit juices for sale.
A Place to Sleep at Night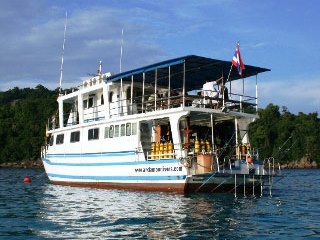 The cabins on Parinee are clean, tidy and reasonably sized for a boat in this price range, despite being rather basic. Each bed is 2 metres long. Their best feature are the large windows that run almost the entire length of the upper bunk bed. This affords each cabin plenty of natural lighting, especially since they are located on the main deck, rather than the lower deck like on many other boats. It also means that the windows can be used for natural ventilation at night if you prefer not to use air-con.
Indeed, the location of the air-con, right at the end of the upper bed means that either your feet or head will get cold unless you make full use of your bed blanket or persuade your cabin partner that they'd be better off on the top bunk. Please also remember to bring your own towel and toiletries, as they are not provided on this charter. One seemingly rather odd oversight on behalf of the Thai dive operator is the lack of wall mirrors in both the cabins and bathrooms, making it rather awkward to shave, unless you have use of a personal pocket mirror too.
As for the communal bathrooms, they were recently increased in number to 3, meaning easier access for all. Also, water heater units have now been installed to provide hot water showers. However, the experience could still be easily and significantly improved if there was shower gel, soap, wall mirrors and hand basins provided for guest use.
Please note: Andaman Divers, ever the diligent dive operator, has now fixed these problems too. The air-cons have been re-positioned, and the bathrooms fitted with wall mirrors and supplied with shower gel and soap for customer use (now there are less reasons not to join the cruise!).
The Overall Picture
At US$ 150 per night on a 5 day / 4 night liveaboard charter, the MV Parinee is pretty hard to beat on price alone. Admittedly, the cruise does lack some of the trimmings that other boats have, but Duck Paté and Chateau Neuf du Pape doesn't grow on trees, as you know. Ultimately, "the proof of the pudding is in the eating", and all the guests on this trip commented that they thought the Parinee liveaboard offers pretty good value for money.
Written by Sheldon Hey, November 2007


---
CUSTOMER TESTIMONIALS OF DIVE THE WORLD
... Found your website very useful because you had a variety of liveaboards sorted by location and dates. Excellent website and responsive to requests ... -- Scott Wenke, Switzerland. [More customer reviews]