>
Dive Trip Reports
>
Dolphin Queen
Thailand Liveaboard Diving Trip Report
Home Away from Home in the Similans
Click on an image to enlarge

Going back to the Similan Islands after 4 years absence, I was very excited to get back there and visit all the best dive sites in Thailand on a liveaboard trip the MV Dolphin Queen. I was especially keen to see if there were still any effects of the Tsunami (that hit Thailand in 2004) visible underwater and to my relief there were none.
Instead I was treated to excellent visibility and some fascinating diving around the unique topography that the Similans islands enjoy. Huge impressive underwater boulders the size of buses provide all manner of interesting swim-throughs and opportunities to investigate every nook and cranny.
Elephant Head Rock is a great example of the impressive seascapes that will amaze you here. Barracuda, leopard sharks, sea snakes, white tips sharks and turtles all turned up to say hello and enrich my experience of these abundant waters.
• Watch our Similan Islands diving video

A particular highlight for me was our dive at Richelieu Rock, a very popular site because it is frequently visited by whale sharks. There are lots of reasons suggested for this, however whale shark movements and particularly their mating habits are not yet that well understood. On this morning there were already 4 other boats there. I feared that we would be sharing the rock with more divers than fish but I had underestimated Richelieu Rock and the timing capabilities of our liveaboard staff.
It truly is an amazing dive site with so much to see. We found 1 yellow tiger tail seahorse at 25 metres plus ghost pipefish, octopus, cuttlefish, lionfish, scorpion fish and much more. Excellent.
Life on board Dolphin Queen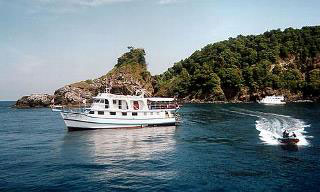 Dolphin Queen is not a luxury liveaboard boat but it is well designed for its job. There are 2 deluxe double bed cabins on the top deck and 2 double bed plus 4 quad share bunk bed cabins on the main deck. Cabins are small-ish but sufficient and all have air conditioning and windows which can be opened.
You should only bring things on the boat that you really need since there is not a great deal of storage space and too much luggage could make your cabin cramped. Not to worry, because there is plenty of storage space back at their offices in Khao Lak.
There are only 3 shower / toilet combinations on the main deck close to the dive deck. As long as common sense prevails in the usage of them, you won't have to wait too long for your turn. Showers are cold water although they are never that cold in Thailand's climate anyway.
Guests relax around the 2 long dining tables or on the sun deck where you can make use of the 3 wooden sun loungers, 4 sun mattresses or the hammock. It would not be true to say that it is easy to find a quiet spot away from all the other guests. It is not the largest boat and can take up to 24 scuba divers so it is best described as a sociable boat, not really one for personal zen contemplation.
• Watch our Dolphin Queen liveaboard diving video

The Diving Service
The dive deck is spacious enough to kit up in 2 groups and there is space for camera gear set up and storage. The torches provided for the night dives were good quality LED types. At some sites were entered by giant stride from the Dolphin Queen platform and some from a back roll entry from the spacious and stable dinghy.
Pick ups were also with the main boat although dinghy support was always there if needed. The 2 boat boys were excellent at helping customers with their equipment and getting into and out of the water.
The tour leader, Gerald, was very customer service orientated and speaks English (and various other languages that are still to be proven) and some Thai. You need to bring your sense of humour onto this boat because his boat and dive briefings are colourful to say the least. One of the other DMs, Stefano, is Italian and speaks perfect English as well.
They were always available for their guests and were fun to be onboard with. All the staff are experienced instructor/guides who handle their groups expertly and know the area well, which is not true of all boats that sometimes employ inexperienced DMs.
Food Aplenty
Food was plentiful and varied, served buffet style. You wouldn't expect it on a boat with a higher number of customers but there is actually a breakfast 'wish list' available. All you have to do is to tick off how many eggs (any style), ham, sausage, French toast and sometimes even banana pancake you want, and it will be sitting there for you on the table to eat when you get back from your first dive of the day. Please only order want you want to eat and then eat what you have ordered! (right, Gerald?)
Fruit juice was always available as well as fresh tropical fruits and plenty of biscuits, cereal, milk and even Nutella (thanks Joe).
Lunch was rice with 2 Thai dishes. Examples are chicken with cashew nuts, Massaman curry, squid with garlic and pepper, tom yam gung (spicy prawn soup) and tom kaa gai (chicken and coconut milk soup). We did have some western dishes as well, such as spaghetti plus a mixed vegetable dish and a mixed salad. Dessert was fresh fruit. Dinner was also mainly Thai food, including sashimi with wasabi on one night, courtesy of the liveaboard captain.
Snacks like freshly baked cakes, French fries and salapao (Chinese sweet dumplings) or spring rolls were available after the third dive. Fruit, candies and butter cookies were always available.
Drinks on board were water, cola, lemonade and beer (marked on an honesty list and paid at the end of the trip) plus tea, instant coffee and hot chocolate drink (all free of charge). They say that all dietary requirements can be catered for with advanced notice.
Getting There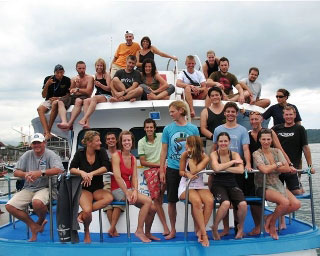 Dolphin Queen departs from Tap Lamu. I was picked up by a minibus from our Dive The World shop in Patong and swiftly transferred to the Similan Diving Safaris offices in Khao Lak. The transfer is THB 600 one-way payable at the office. Here you also have to pay the THB 1,600 Similan park fee.
Joe, Nut, Stefan, Julie and all the other guys make you feel very welcome and you can help yourself to coffee, tea or water whilst waiting for all the other guests to arrive before everybody gets on minibuses for a short 10 minute ride to the pier in Tap Lamu, where the boat is waiting. They always try to leave the port just in time for the sunset on the way out to the Similan Islands, which makes for a beautiful start to the tour.
A Recommended Trip?
On a liveaboard you also meet interesting people from other countries to share the experience with so I was looking forward to that too. Dolphin Queen caters for a broad mix of customers and this cruise was no exception with 7 nationalities of varying ages on board and roughly a third couples and the rest single travelers.
All in all this trip was excellent with great diving and a friendly bunch of fellow divers. I was happy with the dive schedule and I think that the early starts helped us to get some of the dive sites before too many other boats arrived. For those who wanted it there was also a visit to the beach and viewpoint at Island No.8 (Donald Duck Bay)
I would recommend this trip to those who don't want to pay top dollar for a Thai liveaboard but still want to see all the best dive sites around the Similans and beyond. Dolphin Queen is also a good bet for solo travelers as it's a sociable boat that tends to get a good mix of guests rather than all from 1 country. Good scuba diving, good times, good memories, what more could you ask for?
Written by Detlef Sarrazin, November 2008


---
CUSTOMER TESTIMONIALS OF DIVE THE WORLD
... Dive The World web site is very easy to use and find the information which I need. Most of the booking process through the Dive The World is quite good and comfortable. The best thing is the reasonable price and well experienced staff ... -- Han Suk Woo, South Korea. [More customer reviews]