>
Dive Trip Reports
>
Southern Sport
Liveaboard Diving in Mexico Trip Report
A Southern Sport Safari to Socorro
Click on an image to enlarge

Our small group of divers listened intently to the countdown, eager to back roll from the dinghy into the rolling Pacific season. 3-2-1, we flipped out of the boat and descended through the surging shallows and into a heaving shoal of creolefish, encircled by pairs of stalking black jacks and white tip reef sharks. After admiring this scene for a few moments, the waters suddenly cleared. A school of several hundred yellowfin tuna, like a squadron of WW2 bombers in battle formation, zoomed into view.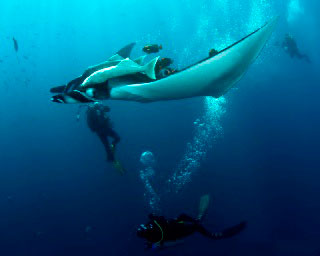 Following the hungry tuna were a pack of sharks – silkies and Galapagos – but it was difficult to spot them, such was the immense size and high speed of the tuna. The action intensified as the tuna hurtled in to catch their prey, and the sharks and some wahoo joined the swirling scene.
After several mesmerising minutes, the tuna moved on to hunt elsewhere and we reluctantly moved out into the blue. After only a few more minutes the distinctive shapes of a school of scalloped hammerhead sharks came into focus as we approached. Luckily, we managed to get quite close before the shy nature of these creatures saw them retreat into the distant watery haze. But their place was soon taken by some silvertip sharks which had taken a keen interested in a passing school of skipjack tuna.
This was my favourite dive during my liveaboard trip to Mexico's Socorro Islands, otherwise known as the Revillagegidos, a group of 4 islands 450 km west of the Baja California coast. I had been invited to join a week long diving safari onboard the Southern Sport liveaboard, operating out of Cabo San Lucas.
For me, the best feature of a trip to these remote islands is the opportunity to dive with healthy schools of large pelagic fish and sharks. The region lies within a marine protected area and it was wonderful to experience the effects of such conservation measures at work. Other highlights of the tour included 2 dives accompanied by 5 very inquisitive Pacific mantas. These rays repeatedly approached us, seemingly eager to experience the sensation of our bubbles rippling across their underbellies. And then there was the appearance of a 5m whale shark which we saw several times from the boat but also underwater at Roca Partida.
Bottlenose dolphins could be heard on many of the dives and a small family group, complete with baby, gave us the pleasure of several passes by. On the final day of diving at the Boiler we had 20 or more dolphins swimming around and through our group for a whole dive. The dolphins would hang vertically in the water and blow tiny bubbles, as if mimicking the scuba divers. Then they would spin off and zoom to the surface in incredible acrobat displays. What a fantastic week's worth of diving!
I visited Socorro in early May, which is the tail-end of the diving season that begins in November, and made 18 dives. The water temperature was 24-25°C (75-77F). I used a full length 5mm wetsuit with hood and was comfortably warm enough. Earlier in the season the water temperature can be as low as 21°C (71F). The weather was sunny for the most part, with day time temperatures reaching 30°C (86F).
Surface conditions were often choppy, especially at Roca Partida, and surge and current were present on several dives. Visibility was 15-25m. The crossing from the mainland takes 24 hours and can be fairly rough at times, depending primarily on the wind.
The Boat
Southern Sport is by no means a luxury liveaboard but it is practical and this is the most important characteristic on boats that run long journeys on potentially rough seas to remote destinations such as Socorro. Although the fixtures and fittings are not the fanciest you will ever see, the boat is stable on the water and its best feature is its spacious dive deck.
Undoubtedly, one of the highlights of the trip was the boat crew. They are a cheerful and friendly bunch and enliven the day. They like to play infectious Mexican Cumbia music during dive preparation so all the guests are in a buoyant mood by the time they enter the dinghies. Most of the staff can speak English and they are always eager to chat and spend time with guests.
The air-conditioned saloon is a reasonable size, if a little dated. It has a large TV and a good selection of videos. There are several couches, a drinks fridge, portholes for natural light, and a water dispenser. The canteen and galley lead off the saloon.
The sundeck, however, is the most popular spot to relax during the day. There are benches with mattresses for guests to take in some Mexican sunshine. The area is partially shaded too, so everyone can enjoy this deck.
The Diving Procedure
There are 2 motorised RIBs (hard hull inflatable boats) used for diving, each with its own divemaster, so guests are split into 2 groups for briefings and diving. On our trip, that split ran down the language divide – one group for Spanish speakers and one for English (most guests come from Mexico and the USA). Both dive guides have been working as DMs and with Club Cantamar for several years, so they are well trained and language is not a problem.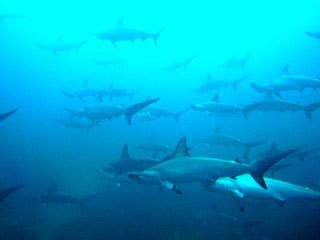 The liveaboard has a membrane nitrox system onboard and EANx is available at USD 125 per week. Since most dives are around the 20-28m, the use of EANx is recommended to prolong bottom time. Maximum dive time is 50 minutes and maximum depth is 30m, primarily due to the use of 32% nitrox.
Tanks are filled in situ each day on the dinghies, which reduces the amount of hauling of scuba gear required. Guests simply don and doff their wetsuit on the liveaboard deck and carry their mask. Use of SMBs is encouraged and radio diver locators are available (if guests are willing to use their credit card to guarantee the safe return of the devices). The dinghies do not have ladders so be prepared to haul yourself in and out of the water!
The dive deck is one of the boat's best features, being spacious for 18 scuba divers. Everyone has a dedicated spot on a bench with an equipment crate underneath. There are several rinse tanks, camera tables, hanging rails, showers and a men's toilet. Divers are greeted after each dive with a warm and glowing towel.
The Cabins
The best 2 cabins on this liveaboard boat are the 2 identical ones at the stern of the upper deck (Rooms 3 and 4). These rooms are the most spacious on the boat and are fitted with a double and additional single bed. They have seaview windows and a small private balcony at the rear. They also have their own air-conditioner unit with controller and a good sized bathroom with shower cubicle, sink and toilet.
Since all the cabins currently carry the same price, I recommend you book one of these if possible. The next best alternative (Room No. 2) is the adjacent smaller ensuite double bed cabin with a large window; also with its own air-con unit.
Also on the upper deck are another 2 smaller en-suite cabins. These have bunk beds, portholes and a shared air-con system. This can be a problem for those that do not like air-conditioning or cold room temperatures. One cabin has a 2 single bunk bed configuration, while the other has a lower double bed bunk and a single upper bunk.
At the bow of the main deck are 2 small double/single bed cabins that share a bathroom. Again, these share an air-con and have small windows. On the lower deck are 2 small twin bunk bed cabins that share a bathroom and an air-con system; these cabins have no natural light.
All the cabins have towels, reading lights and smoke detectors, and the bathrooms have shower gel and soap.
The Food
Pre-dive breakfast is muesli or other cereal, fresh tropical fruit, toast, juice, tea or coffee. Breakfast is eggs any which way, such as omelettes, scrambled, with ham or chorizo. Lunch and dinner are mostly Mexican affairs, with dishes such as tostadas, enchiladas, quesadillas, and tortillas. Salad and soups such as tortilla, vegetable, or lentil soup are occasionally served as starters. Ice cream and lemon pie are available as dessert. Snacks are available throughout the day, like cashew nuts, chocolate bars, pastries and biscuits. All drinks served on board are free of charge, including wine, beer, soft drinks, coffee and herbal teas.
The vegetarian food seemed to be 101 different ways to serve beans and rice with tortillas, although soya meat was occasionally served and rice milk was available.
The canteen area was a good size for our group of 13 guests but I imagine it might be a little cramped with a full boat of 18.
How to Get There
San Jose del Cabo Airport at Cabo San Lucas, Baja California, is served by regular international flights from many US cities, including Los Angeles (2 hours), San Francisco, Atlanta, Phoenix, Seattle, Washington and Denver. There are also regular domestic flights from Mexico City, Monterey and Guadalajara. It is recommended that guests have an overnight stay both before and after the liveaboard cruise in Cabo San Lucas since it is difficult to find flights that match the boat's arrival and departure times.
Conclusion
The Socorro Islands represent a great opportunity for shark lovers to indulge in their passion. Some of the dive sites here, such as Roca Partida and the Boiler, are truly world class in terms of schooling pelagic fish, shark, dolphin and manta sightings. Humpback whales can also be regularly seen on scuba at the right time of year (February and March).
Comparing the region to Galapagos may be a little far fetched since the islands lack endemic species or visitor attractions on land, and there are a very limited number of sites (you'll be doing multiple dives at each site). However, a liveaboard diving trip to this part of Mexico is certainly worthwhile if you have an interest in sharks, and with Southern Sport you'll be in safe hands.
Written by Sheldon Hey, May 2015


---
CUSTOMER TESTIMONIALS OF DIVE THE WORLD
... Just returned from a fantastic experience in Socorro. Dive the World made everything easy - from helping me find this location, answering any questions, and making me feel a valued customer. Thanks again Dive The World. ... -- Ann Lee, USA. [More customer reviews]