>
Dive Trip Reports
>
Diva Andaman
Myanmar Liveaboard Diving Trip Report
Diva Andaman Dive Safari in the Mergui Archipelago
Click on an image to enlarge

The diving in Myanmar has long been in the shadow of its neighbour Thailand. However, things seem to be changing. People are increasingly viewing Myanmar's more remote and less visited sites as a greater draw than the better known Thailand sites of the Andaman Sea, such as the Similan islands. I was interested to see how the experience of a Burma liveaboard would compare to a Similans cruise. As it turns out, the differences were many.
One of the most notable was that we were completely alone. We didn't see another liveaboard boat until the last day of our cruise. Sometimes in the past in Thailand there could be several boats all moored near to the most popular dive sites. In the Mergui Archipelago you will barely see another soul.
By the end of the trip I would have memories of nurse sharks weaving through schools of blue dash fusiliers and black pyramid butterflyfish. I recall perching on the Diva Andaman's prow watching a pod of dolphins ride the bow wave as we returned from Burma Banks. In my mind's eye I see crustaceans galore! Many dives features the ubiquitous Durban dancing shrimps, plenty of boxer shrimps and popcorn shrimp, mantis shrimps, squat lobsters in crinoids, shrimp and goby partnerships in their sandy burrows. It is a shrimp lover's haven!
The Diving Highlights
Our route was to have been the full Burma South route but due to weather conditions we were unable to venture as far north as Black Rock. The captain had a tricky call to make: to Burma Banks or not to Burma Banks? That was the question. Thankfully, by outrageous fortune, the gods smiled on us. The worst of the weather forecast did not materialise, so we managed to include this most remote and prized region.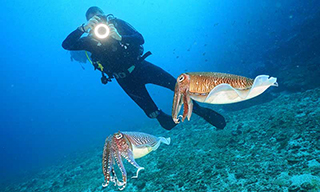 The route we finally took was: Shark Cave, North Twin, Moken Village Corner, Broccoli, Little Brother, Rocky Island, Stewart Island, Fan Forest Pinnacle, Western Rocky, Burma Banks: Silvertip Bank and Roe Bank, Northern Rocky, Lagoon at Cockscomb Island.
Our visit to Burma Banks was a highlight of the trip. We experienced nurse sharks, eagle rays and big schools of fish swarming these rich reefs. I have never seen porite corals hosting such a number and density of Christmas tree worms. Many were positively covered in these little feathery triangles of colour that disappear from view if you waft a hand nearby. Rising high above these plateaus on your ascent in the blue reinforced the sense of space that makes Burma Banks so special.
Another highlight was Shark Cave, one of the sites of the Three Islets. Here the rocky walls and corals are awash with thousands of glassfish, Looking beyond, you can spot pipefish, Durban dancing shrimp, morays, boxfish, marble rays, scribbled filefish, scorpionfish, anemonefish, and cowries galore, among many other inhabitants.
I was also thrilled at seeing multiple bobtail squid, as tiny as a thumbnail, in the beam of my torch on a night dive at Moken Village Corner.
Overall the coral is in decent health although some damage is visible here and there. There is quite a lot of evidence of fishing nets snagged on the reefs, but it has always been less fished than south of the border in Thailand. There are rules now in place under the new King of Thailand that seek to greatly limit over-fishing and over-diving of the Similan islands. Let's hope they are a great success. Burma diving is also notable for its interesting topography, with craggy rocks scarred with fissures full of life; with fun swim-throughs and caverns to explore.
• Watch our Myanmar diving video

The Diva Andaman Boat Features
Diva Andaman is old school. It is a traditional wooden-hulled sailing yacht. Everything is made of wood; from the hull to the decks, the panelling to the artwork. There are some cute, characterful features like the old-fashioned light switches (which are a joy to use), your in-cabin barometer and faux oil lamp.
All the cabins are on the lower deck either side of a central hallway. All cabins and bathrooms have sliding wooden doors. Although the cabins have some natural light via a porthole or 2, they provide the atmosphere an old-fashioned explorer may have had: the creaking wood, the dimly lit quarters, the sounds of water rushing by… For lovers of sailing ships, there is a lot of charm to be found on Diva Andaman.
Modern, purpose-built diving liveaboards could never match the character of Diva Andaman, but it could be argued they can boast more comfortable relaxation spaces and more efficient dive decks. There is something appropriate about diving from a traditional sailing ship when experiencing Burma. This is a country of ancient culture, in some ways less influenced than many by the modern world. These islands are remote and almost entirely unpopulated, so the pioneering spirit is in the air. A big, white fibreglass boat may be more suitable for somewhere like the Bahamas, but here the sleek wooden lines of Diva Andaman seem very much at home.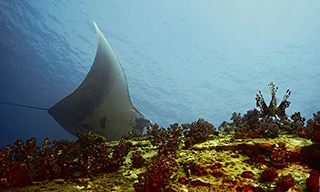 The large dining table on the main deck is the main socialising area of the boat. There is also a shaded area on the deck in front of the diving area. There are some little mats to sit on here around a low table. There is also a large upper deck, where we dined a few nights, but this space didn't get used much. The deck surface can get quite hot so if you want to spend your time outside, or soaking up the sun, you may want to have a pair of flip flops on.
It may have been particular to the cruise I was on but the sundeck was under repair to prevent leaks and it was not 'decked out' with sun loungers, so few guests ventured up there.
The boat crew did a good job throughout in being helpful, willing and friendly. The other guests onboard can also influence one's enjoyment of a dive trip and ours was a good group. On this particular trip, divers came from a variety of countries; mostly Europe, but also Malaysia and Australia, and covered a broad range of age groups. During one heavy downpour we huddled together around the dining table and bonded over a bottle of rum, like the weathered old sea dogs we were pretending to be.
Also worthy of note are Diva Andaman's energy and impact standards. Ever-increasing efficiency aimed at reducing fuel consumption is one of the operator's stated goals. All toiletries and washing products are chemical free. Solid waste is collected and dropped off at a waste collection point at the jetty. All guests are given a glass/aluminium bottle, not plastic and no straws are used on board. Future plans include harnessing heat energy from seawater outflow and installing new sails to reduce engine use where possible.
The Cabins
All the cabins are located on the lower deck and are divided into 4 double bed cabins, 2 twin bed cabins and 1 triple. They are all quite similar in size and quality. Natural light is limited to 1 or 2 portholes and the cabins and bathrooms are not the largest. However they do have that old-fashioned charm.
The air-conditioner is fixed/shared for all cabins so all guests are encouraged to keep their cabin doors closed to ensure an even and level distribution. From your cabin you will hear the sounds of the anchor chain being raised and dropped and people walking around on the deck as you waken from your slumber.
The Dining Experience
The dining area is adjacent to the open kitchen so you can see the crew hard at work preparing your meals and tidying up afterwards. Sometimes the crew are barely noticeable on a liveaboard. Not here! On this cruise you get to know the crew, particularly the chef, and appreciate the effort they put in to ensure you are well taken care of.
While many liveaboards claim that dining is of key importance, Diva Andaman really walks the talk. The Thai chef, trained in Lyon, France, produces a range of imaginative dishes at every meal. He is also keen and capable of providing delicious variety for vegetarians, vegans and those with dietary intolerances. There was plenty of vegetable, fruit, tofu and almond milk on board - bravo! I heard the other guests gush with praise for every healthy and tasty creation. I hope he stays for a long time. He is a great asset.
Degustational highlights included: Thai yellow chicken curry, Miso soup, spicy Thai salad, pan-roasted duck with mango sauce, roast beef tenderloin in green curry with sweet peas, baked vegetable provencale and black lentil pomegranate in radicchio wrap.
Chef-made desserts included panna cotta with coconut and fresh passionfruit, apple crumble, crème brulee, and of course plenty of fresh fruit. Afternoon snacks were provided such as chicken pitta pocket, Vietnamese spring rolls, fresh dragonfruit, mango and pomegranate
The cooked breakfast includes beans, mushrooms, tomatoes, hash browns, eggs cooked to order, ham, sausages, and a variety of breads and pastries. The coffee maker machine always gets a good morning work out, but there is also hot chocolate and a variety of teas, plus a large range of fruit juice.
The operator has even begun a onboard hydroponic vertical garden to ensure fresh herbs and greens for the guests.
There are plenty of cold beers, wine and spirits to purchase. On the final evening several bottles of complimentary champagne were cracked open on deck to mark the end of a successful cruise. What a classy touch!
The Diving Procedure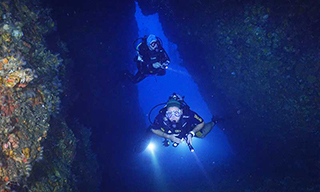 Diva Andaman's dive deck is quirky. Adjoining the dining area is the main dive deck where most of the dive equipment is stored and tanks are filled, with air or nitrox, in situ. If your gear is here that means gearing up and climbing down to the platform where you normally board one of the 2 RIB dive tenders. Some dives begin by striding directly off the platform of the mothership. The equipment for 4 or 5 divers is stored on the platform itself in which case you would gear up here. You step from the platform on to the tender where your fins await you.
The tenders have a ladder for egress from the water. You can either pass up your fins and then climb the ladder, or remove and pass up your weightbelt, BCD and then fins which makes climbing in much easier. Guests are divided into 3 or 4 groups depending on the number of guests onboard.
Diva Andaman provides a full set of dive equipment to guests included in the price and I didn't hear a single complaint about any of it.
Once back at the mother ship you can step onto the dive platform and the boat crew will lift all your gear back on to the boat. You can have a quick rinse in the freshwater shower before you dry off and pop back to your cabin for that urgent, post-dive pee. The dive deck also has rinse tanks including for cameras.
Getting There
For Burma trips, Diva Andaman starts and ends in Ranong. There is an airport there with direct flights to Bangkok. If you are coming only for this liveaboard trip then flying in and out of Ranong is the most convenient option.
I, and a few other guests, had been in Phuket so we took the minibus transfer from Phuket up to Ranong. It was longer than some had expected, clocking at around 6.5 hours. You should bring some snacks with you since there is no scheduled stop for lunch.
You will board the boat to a welcome drink, boat briefing and settle in to your cabins before the formalities of Myanmar immigration are handled. For your own convenience you should be sure to have crisp dollar bills in the amount necessary to cover the marine park fee and entry visa. For me this was USD 250. Best to bring large denomination notes likes 100s and 50s. Also you should bring with you 3 passport photographs each. Some guests had no photos (initially), some had only Thai baht and some had USD of insufficient crispness. However, we all made it through in the end with only minor stress.
Summary
I had a great time on Diva Andaman and probably gained some weight as well. Many say the future is bright for the Andaman Sea with new fishing and dive permit restrictions in the Similans. It is believed that more liveaboard boats will venture up into the water of Myanmar in seasons to come. There is certainly enough space for a few more, given that we saw no-one else during our cruise, until another liveaboard showed up on our final day.
Overall how would I rate the diving in Burma? To me the coral health, fish density and biodiversity were as good as I have experienced in the Andaman Sea. Burma Banks was especially impressive. There was a lot of colour here. When I picture the reefs we have been diving, I see a lot of soft corals, fans and anemones. I think of the nurse sharks on Burma Banks barely visible through thick walls of colourful reef fish. I see a large variety of reef dwellers such as damsels, anthias, fusiliers, butterflyfish, parrotfish and rabbitfish. I think of the variety of shrimps and the interesting topography of fissure-ridden rocky walls. Tthere is plenty to like. I cannot go as far as saying Myanmar is among the very best diving in South East Asia, but it certainly has its own charms and claims to uniqueness.
So too with SY Diva Andaman. It may not be the most shiny, sensual liveaboard experience. It may not be a modern-style boat with a surfeit of softly furnished lounging spaces, but it too has its own charm and claims to uniqueness. It is a boat built in the pioneering spirit of days of old, that in many ways suits this region. When I think of Burma diving in the future, I will think of the Diva Andaman liveaboard and will encourage others to do so. They were made for each other.
Written by Gavin Macaulay, November 2018


---
CUSTOMER TESTIMONIALS OF DIVE THE WORLD
... Everything went smooth. From booking of liveaboard to arranging transport, from the airport to hotel and on to boat.You reponded fast and with great knowledge of both boat and the surrounding area. ... -- Thomas Weber , Denmark. [More customer reviews]