>
Dive Trip Reports
>
Celebes Explorer
Liveaboard in Sipadan Trip Report
Ideally Placed to Explore Malaysia's Finest Diving
Click on an image to enlarge

Having been to Sipadan before and enjoyed resort-based diving I was intrigued to be given the assignment of experiencing life on board the MV Celebes Explorer, the only liveaboard boat operating in the area. As expected, the awesome quality of both the dive sites in Sipadan and Mabul did not disappoint and the liveaboard experience provided a whole new angle from which to view this jewel in the crown of Malaysia diving.
No sooner had I stepped on board and settled into my cabin, than it was time for our first dive at Barracuda Point, a highlight of anyone's Sipadan adventure. Within minutes of arriving, I was hanging in the current eyeballing 100's of barracuda, schools of bumpheads and flashing silver jackfish.
In essence, that is what makes MV Celebes Explorer trips unique: they offer more opportunities to dive Sipadan with far more convenience than a resort. However, in order to deliver this excellent feature there are, as you might expect, a number of compromises need to be made.
If your main focus is maximising your dive time at Sipadan and everything else comes a distant second, then this liveaboard tour is a great choice. If you have half an eye on a relaxing tropical vacation (with some excellent diving) then maybe a resort stay would be more suitable.
• Watch our Sipadan diving video

The Boat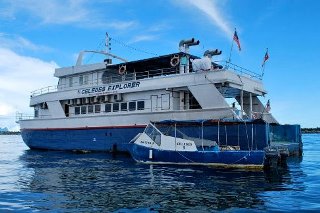 At around 11 am, I stepped onto the boat which was stationed at Sipadan, as it is most days. It was soon apparent that this would not be the most deluxe liveaboard cruise experience imaginable, yet the cabins are comfortable and nicely furnished. All have air conditioning and en-suite bathrooms. Indeed the cabins and bathrooms are of a high standard compared to the communal spaces.
The saloon is quite large and doubles up as the dining area and, with a little bit of refurbishment, could be very good as well. The dive deck consists of 2 seating areas and a number of baskets. There are no individual stations and it can become quite chaotic, so you would be advised to identify your territory and stick to it during your stay.
The sun deck is quite spartan and as a result, underused. This is a shame as, with some comfortable seating and a little tender loving care it could be the main relaxation area for between dives and in the evening. Instead, most guests tend to socialise in the indoor saloon.
If you are accustomed to well-appointed luxury vessels, you might find the thin carpets and painted metal outdoor flooring a little less than salubrious. The cabins and saloon are acceptable however, as luxury is not the main selling point of this boat: the ease and frequency of diving Sipadan is.
The Diving
Each morning, the MV Celebes Explorer leaves her night time spot just off Mabul and travels to Sipadan Island before 6 am. Guests go ashore to sign for their permits before the 1st dive; most days see 4 dives a day at Sipadan and the option of a night dive at Mabul. Normally in any week their programme includes 1 day diving at Kapalai and 1 day at Siamil, with the remainder at Sipadan.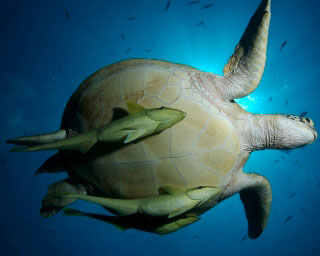 Dive site journey times can be counted in seconds rather than minutes and we returned to the mothership after each dive. While the boats from the resorts hang around between dives and guests go ashore for picnic style refreshments, guests on the Celebes Explorer enjoy a far more civilised time in between dives.
The liveaboard safari is popular with Asian divers and my group was mostly Korean and Japanese. They explained that diving Sipadan as much as possible was their goal. They loved the sharks, turtles, bumphead parrotfish and barracuda as much as the smaller things we spotted such as leaf-fish, mantis shrimp and innumerable nudibranchs. Personally, while I love Sipadan's sites very much, I was delighted to go on a night dive in Mabul just for a change and to witness some of the incredible sights to behold around Mabul after the sun has set – fascinating!
The frequency of diving can make the routine seem a little militaristic and time between dives seems to pass in the blink of an eye. For hardcore scuba divers that is just fine, but for those seeking relaxation, you may find yourself opting out of the third dive of the morning. If you are a group of keen divers you could even charter the boat and dive wherever and whenever you want, doing up to 5 per day. For a group of seasoned divers for whom Sipadan is the goal, this would be a fantastic option.
The dive deck is a little less than efficiently organized so take good care of your gear and always leave it in the same spot. There are small lockers which are useful for your more important smaller items and there are shelves for charging and storing camera equipment. The dive boat is quite narrow and taller divers may have to enter the water before donning their fins.
The Food
Meals are all served buffet style in the saloon from a large hatch to the kitchen. There was always plenty of food with cake, toast, biscuits, tea and coffee available 24 hours and fresh fruit in abundance, although the variety was not enormous. Most meals featured noodles or rice, french fries, a couple of meat or seafood dishes and a couple of vegetable dishes.
One would expect less choice on a liveaboard trip than in a resort and indeed that is the case. However the guests seemed reasonable happy and I heard no complaints about the food. One Korean group came with a box of their own provisions. Whether this says something about the food on the Celebes Explorer or more about the Korean diet is difficult to say.
The Staff
The staff were all friendly and helpful. The 2 divemasters were attentive guides, something that is not always the case at Sipadan. They looked out for all members of their dive group and were constantly showing creatures to each and every diver, which was impressive.
Unfortunately many other guides in the area consider that being first in the line of divers is where their job starts and ends. Taking time to ensure their guests are comfortable and experiencing the best of the dive sites seems not to be high on their list of priorities.
On board, the other staff, kitchen workers, dive deck and general saloon staff were all good, although there was a noticeable lack of a cruise leader, with one of the divemasters being the person everyone turned to for assistance.
Is the MV Celebes Explorer for Me?
This question depends on your priorities. If doing as many dives at Sipadan as possible is the only thing you care about, then yes. If you or your traveling companion like your creature comforts like a swimming pool, beach, wide choice of food, sunset bar or option to visit the local village then you would be better off at a Mabul dive resort.
At a resort you will probably dive Sipadan less frequently and do more dives in Mabul or Kapalai. For some this works out fine because they get a mix of large animals and walls, plus macro diving and critters. For others they might feel disappointed they did not have more time at Sipadan and the limitations imposed by permit numbers can lead to frustration.
That is what gives the Celebes Explorer liveaboard cours their advantage. They are largely unrestricted by permit numbers and can guarantee Sipadan diving on a number of days to each guest. Site travel times are short and even after only a few days' stay you will really feel you have got to know Sipadan's dive sites. If you are a serious diver (or a group of them) with only this in mind then the MV Celebes Explorer is a great choice.
Written by Gavin Macaulay, November 2009


---
CUSTOMER TESTIMONIALS OF DIVE THE WORLD
... Website was easy to use. Everything was very organized and the info on how to get there was very detailed. I most liked the ease of making the reservation and answering of our questions. The website is very thorough ... -- Tom Sikorski, USA. [More customer reviews]