>
Dive Trip Reports
>
Sharifa
Maldives Liveaboard Diving Charters
Trip Report for the MY Sharifa
Click on an image to enlarge

There is a natural progression to diving in the Maldives for many Europeans. They tend to cut their teeth on Egyptian liveaboards first and then progress onto the Maldives, and I was no exception. I had heard from a number of scuba divers of how good the Maldives were and wanted to be part of that experience.
I had booked a relatively competitive week-long Maldives liveaboard with Dive The World called Sharifa going to the central atolls in the middle of May 2014. This was the 3rd liveaboard trip I had booked with Dive The World, who as always provide a professional service.
I had a list of sea life I wanted to see: whale sharks, manta rays and sharks. I got to see all of these as well as many other amazing experiences. Fortunately I got dropped off in front of a whale shark and had a moment or two close to it swimming underneath me before the mayhem that followed with what looked like I was participating in a triathlon. I could not help thinking that the whale shark must like all this attention otherwise why not exit to the deep? I was assured by the divers on our boat that they had some good pictures of my arms and legs!
The night dive with 2 mantas swimming just above our heads for 50 minutes was just as amazing, as were the shark encounters. All in all it was a fantastic trip.
The Boat
My first impression of Sharifa was the sheer size of the liveaboard charter - the dining area was enormous. I could not believe this boat could only accommodate 18 guests. I was later to discover that there would be only 8 divers! In my opinion it's not "the more the merrier" but "the less the better".
Another pleasant surprise was the number of electrical points and most electrics were 13 amp European. Sharifa has plenty of space on the decks to read and relax. It is not a new boat but it is more than adequate for those divers who don't need a flat screen TV and a mini bar in their cabin. I was even further impressed when I was taken to my cabin and told I would not be sharing it.
The Cabins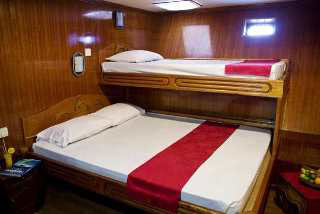 The cabin was a little odd to me. It looked like a double bed with a single bunk above it, as much as I tried to work it out I could not see there being 3 divers in the cabin unless they were from the same family. I since heard that this is quite a common configuration but it was new to me!
The cabin was much more spacious than the boats I had experienced in Egypt and included a very generous bathroom. The mattress was fairly hard but that works for me. A couple did raise the issue that the double bed was not quite a double, but she was a big lady so I guess, despite them being middle aged, it was like going back to their youth!
Food
The food was served 3 times a day following dives. It was basic but plentiful and there were no complaints. The crew were helpful on board the Sharifa and tried to accommodate any request, for example my dive colleague wanted soup every day at the dining table; he got it! We received a free bottle of water per day and all other drinks were payable.
Diving Trip Highlights
This charter trip contained many highlights for me. The most obvious one was seeing a whale shark for the first time - such a majestic and beautiful creature; a gentle giant. I can understand why everyone wants to see one but sometimes this means so many people scrambling around on the ocean's surface that the magic of the moment is not what it might be. I could not help thinking how awesome it must be to see one when on scuba. I imagine finning alongside the great creature at the same depth. Apparently it often happens in the Maldives that you can encounter them on a dive. Better come back next year!
The encounters with manta rays were also amazing and another first for me. And I always love seeing eagle rays with their cute faces and beady eyes. Generally speaking I was really struck by the sheer volume of fish and sharks. Some of those channel dives in the Maldives can really bring big results! Lots of sharks, chunky groupers and little packs of oriental sweetlips seemed to show up regularly. There were also vast schools of fish on the reef's edge such as red-toothed triggerfish; more than I could have imagined.
Another highlight I won't forget was the night dive. High-powered lights from the boat illuminated the scene and brought in the plankton which brought in the fish and 2 big mantas. To see 2 large manta rays barrelling around, scooping up their food only inches from our noses was just fantastic.
• Watch our Maldives diving video

The Diving Procedure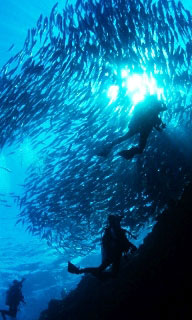 The process of diving in the Maldives, from my experience, and reading others', is to use the main boat for accommodation and dive briefs, and a dhoni (a second smaller boat) for the diving. All the equipment is kept on the dhoni which obediently followed Sharifa whereever it went.
The dhoni makes the dive experience much better, particularly from an exit and entry point of view if, you are like me, no longer young and able to exit the water like a penguin. I have never been on a liveaboard that uses such a big dive boat, although it seems like an expensive way of operating.
The briefings were a little unusual. To be honest I cannot say that either my dive buddies or I fully understood them, but it was comforting that once in the water the guides certainly knew what they were doing. The diving focusses on safety, with no-decompression scuba dives, maximum bottom time of 50 minutes, and max. depth set at around 27m for the first 2 dives and about 20m for the last. There were only 3 dives per day.
The main issue for the dive guide appeared to be assessing the current, for which the Maldives is famous. This needs to be done so we can make the correct entry onto the reef. Although I had gone fully equipped with a number of implements to hang onto the reef, I didn't really use them. This may be down to the good work of our guide but I would still recommend taking at least a reef hook. I would also recommend taking insect repellent with you.
My only disappointment was that I lost a weight pocket and was charged $40 for losing 4 kilos of weight. The crew member said that costs for loss of weights had been outlined in the dive briefing, which I do not believe was the case. There was no nitrox, but they do have 15 litre tanks for $10 per day.
The dive group on our cruise was small but diverse, with representation from Portugal, Germany, Austria and the UK. The UK diver was from my city and it was his second visit to the Maldives and on the same boat, Sharifa. I always feel a bit embarrassed when it appears that every nationality can speak 2 or 3 languages whilst I and my fellow Brit just expect everyone to speak English, which they often and kindly did.
In Summary
All of us agreed that the diving and sea life in the Maldives was exceptional and we all got to see more than we had anticipated, despite coming with high expectations. We all enjoyed ourselves and expressed a desire to return one day. M/Y Sharifa is not at the high end of Maldives livaboards luxury, but for me and my dive buddies it was good value, a great experience and one I would not hesitate to repeat.
Written by Steve Wood, May 2014


---
CUSTOMER TESTIMONIALS OF DIVE THE WORLD
... Very professional and friendly. Very thank to all you! ... -- Robert Biuk-Aghai, Macau. [More customer reviews]