>
Dive Trip Reports
>
Mermaid I in Myanmar
Liveaboard Your Guide to Diving in Burma Trip Report
A Journey Blessed by the Gods
Prior to getting underway and heading towards the renowned Mergui Archipelago on the Mermaid I our first task was to offer food and firecrackers to the gods to protect us from evil spirits on our journey.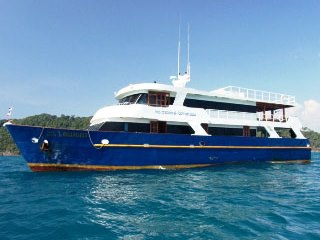 The captain and crew make a point of conducting this ceremony before every cruise. Once, when they could not get hold of any firecrackers, the ceremony was given a miss and resulted in bad visibility, high seas, flooded cameras and engine problems. I can picture the crew all nodding knowingly as if to say "Well, that's what happens ...".
• Watch our Mermaid I liveaboard video

Leaving Phuket behind, we cruised overnight to the Surin Marine National Park, about 80 km west of Ranong Province on Thailand's west coast. This area consists of 5 granite islands set in 135 km² of seas and is home to some excellent and diverse dive sites.
Koh Tachai features a series of reefs on various levels with each having its own individual appearance as well as being home to different types of marine resident. Koh Bon to the south is a favourite site for manta ray spotting, particularly during the February to April period which enjoys a spell of dense planktonic activity due to the upwelling currents at that time of year. You drop to around 25m in this large bay and hover at its outer edge to watch these beautiful creatures swoop and glide past. You can shelter from the current behind one of several large boulders without exerting yourself and watch the mantas move slowly and effortlessly around you.
Onto the Burma Banks
On the following day we headed to the border to clear customs at Ranong and cross over to Kawthaung on Burma's southern tip. The borders have only been open to visitors since 1997. Many are liveaboard divers who come to witness the underwater playground known as the Burma Banks, which is located some 200 km west of Ranong and is around 150 square km in area. The typical dive site here is a flat broad plateau at somewhere between 20-24m, which means that without nitrox bottom times can be quite short.
Around the banks the sea bed falls away to depths in the region of 300 m, and especially in the drop-off areas there can be strong currents. There can also be down currents and, given the remoteness of the diving areas, you would not want to become separated from the group and dive boat. However, there are no particular risks to diving here if you listen and adhere to the briefings, dive within your limits and use the appropriate safety equipment such as a safety sausage.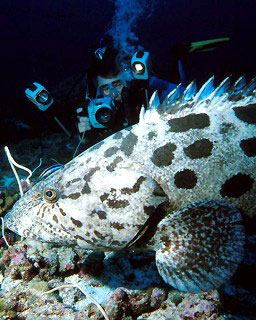 One of the shallowest dives around is Silvertip Bank, at around 18 metres depth over an area of approximately 1 km², although the western edge does drop to 45 m. Here I began by dropping down to 36m in a spot with beautiful soft coral and large barrel sponges. In the blue were rainbow runners, dogtooth tuna and jacks patrolling the drop-offs.
As I slowly edged my way up the slope to the flatter, shallower section a large potato cod kept me company. On the 18 m plateau I could see my fellow scuba divers also interacting with other meaty but very friendly potato cod. Presumably some of these gentle giants have previously been the objects of handfeeding or would otherwise not be quite so friendly.
Back in the Mergui Archipelago
One of the southernmost Burma dive sites is Western Rocky, located 80 km offshore. The most notable feature of this site is the tunnel which runs straight through the large barren rocky island. You enter the tunnel at a depth of 20 m and the tunnel runs for 36 m before giving you the choice of 2 narrow exits on the northern side. Inside is home to many lobsters and often resting nurse sharks. The narrow section of the tunnel can often be blocked by sand, swept in by the currents.
Heading north our liveaboard next stopped at North Twin Island where the surrounding sea bed has an average depth of around 20m. Here are several large boulders lying on the sea floor around which you will spot innumerable batfish. There are also a whole range of reef fish seeking shelter in the network of staghorn and elk coral which has formed on the top of these boulders. Despite an outbreak of crown of thorns sea stars which has damaged the coral here, there remain many healthy colonies.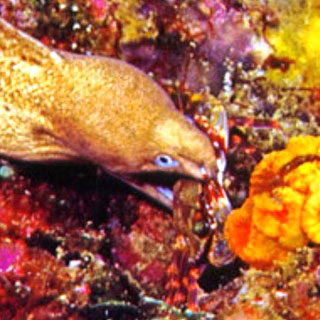 One of my favourite spots on the trip was Shark Cave, a fantastic swim through with large rock formations on either side. I used an entire roll of film on one dive snapping away at all the macro activity on the wall. We had such a good dive here and conditions we so ideal that we stayed on and did a night dive at the same spot. I was concentrating on taking a picture of a small glass shrimp on a cowrie shell and after a couple of minutes I realized my arms were absolutely covered in small reef shrimps. As I moved away they jumped off me back to the safety of the wall. I did remember a tickling sensation on my fingers and hands but I was concentrating too hard on the picture to really notice!
Another top spot was a pinnacle which breaks the surface and is just about the right size to get fully around in 1 dive; this site is known as Black Rock. Its western edge falls away to 40 m and is covered in brightly coloured soft coral where moray eels, cuttlefish and porcelain crabs all play. There are also large schools of baitfish that can mesmerise and disorientate you when they fill your entire field of vision.
We were here in the late afternoon and there was a fair amount of feeding going on. At one stage I was looking through my viewfinder at a crab eating a bit of jellyfish. Suddenly a moray eel appeared and launched a lightning attack on the crab and darted back to its burrow to feast on its prey. What great photos!
• Watch our Burma diving video

Not many Burma liveaboards visit the Mergui Archiplego and the Burma Banks. Imagine that you could be one of the very first to dive in some of these remote and exciting spots on Mermaid I, since there are always new sites waiting to be discovered.
Written by Marcel Widmar, October 2005


---
CUSTOMER TESTIMONIALS OF DIVE THE WORLD
... Communication was very nice and very helpful. Lots of valid information. Payment process was easy and reliable ... -- Jessica Siems, Germany. [More customer reviews]