>
Dive Trip Reports
>
Fiji Aggressor II
Liveaboard Your Guide to Diving in Fiji Trip Report
The Fiji Aggressor II
I was picked up by bus from the Raffles Gateway Hotel in Nadi, almost right beside the airport terminal and as I boarded the bus and said hello to my fellow Aggressor guests, I wondered what the trip would have in store. Would I be seeing some of the best dive sites in Fiji? How would it compare to diving in other places? Would Fiji live up to its billing as the soft coral capital of the world?
Let's Meet the Guests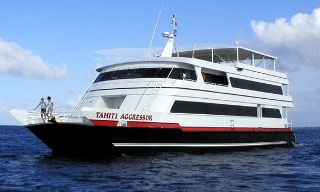 After picking up guests from a few hotels en route, the bus finally arrived at the Tradewinds Hotel just outside Suva and we were met in the lounge area by James and Marnie, our 2 English dive guides and cruise directors. While some boarded the 10-guest Aggressor III liveaboard, I lined up with a couple of excessively chatty English grannies and a group from Tennessee to step on board the 18 person catamaran, the Fiji Aggressor II. For those who know the fleet this used to be the Tahiti Aggressor and is the sister ship of the Palau Aggressor, so for many in our group the surroundings were familiar.
In my cabin I introduced myself to my roommate for the week, a guy who told me in his textbook southern drawl that his name was Steve. We stood for a moment contemplating the bed situation. As with all cabins on board there was 1 double bed with a single bunk on top. Ever the generous soul, I volunteered to take the top bunk which in fact turned out to be perfectly comfortable and just about long enough for my 6 ft 2" frame. I slept well on the first night which involved a steam out to Wakaya Island, where we arrived some time during the night.
The next morning I gave myself my usual small window of time for a coffee and to gear up. As I stumbled out on to the dive deck I was met with the sight of the Tennessee group all suited and booted and awaiting further instructions a full 20 minutes before the briefing was due to start. These guys were keen. It was a pattern that slacked off a little during the course of the trip but they were always prepared in good time, even Steve who moved as slowly as he talked. All the group were on nitrox throughout the trip. For unlimited nitrox use at US$ 100 on dives with the profiles that we encountered, this seemed to all, myself included, like money well spent.
The Bligh Water and Koro Sea Dive Sites
Our trip through the Koro Sea was from Suva to Wakaya and Makogai then on to the Namena Marine Protected Area before returning via Makogai to Gau and then back to Suva. Wakaya Island, which is home to a deluxe resort frequented by the stars, was the site of our first 2 dives, Blue Ridge and Manta Rock. Both sites featured enough healthy corals, hard and soft, and schools of fish including barracudas and red snappers, to have everyone chatting excitedly and in anticipation of the trip ahead.
Given what I knew of the itinerary and the briefing by James there was quite a feeling that Namena was our true destination and that the Nigali Pass in Gau was also due to be special. Therefore the first day's diving carried with it a sense that we were diving sites en route to, rather than at, our true destination. That said the first 2 dives which were followed by 2 at Christine's Place in Makogai, were reasonably good and certainly enough to get the trip going.
We then steamed up to the Namena MPA, an area generally regarded as having some of the best sites in Fiji. We were doing 4 dives a day and I was looking forward to the prospect of 8 dives in Namena. The first dive on day 2 did not disappoint and very much sent out the signal that we were here! Chimneys is a site with pinnacles and ridges, all covered in a glorious blanket of soft corals (among other things) with plenty of fish life and the occasional shark too. The colour and sheer health of the reefs were breathtaking. Dive 2, Ned's Head, was similar if a slightly poorer cousin of Chimneys, yet there was still a riot of colour and a remarkable amount of marine life here too.
'North Save a Tack' was the unlikely name for our next dive site and deserves special mention. Not only did it serve to break up the pinnacle diving (there are a lot of pinnacle dives in Namena), but it also really helped to hit home that some of these sites are truly world class.
Here the first half of the dive was on the lip of a deep wall with huge schools of jacks, yellow tail barracudas, chevron barracudas, a few meaty grey reef sharks, and even a manta, before the dive entered its second phase. This entailed swimming though a large archway festooned with gorgonians, whip corals and sponges, before taking in a series of ridges, providing the base for an impressive array of sessile life which is enough to make you forget that there are a lot of fish nearby including schooling needlefish, Achilles tangs and plenty of snapper. Surfacing from this dive it was difficult to know where to begin to discuss the highlights.
The next day we dived Keenan's, Black Forest twice and North Save a Tack again, and by the end of day 3 we said a fond farewell to the Namena area as we turned to head south. The only way to properly dive Namena is by liveaboard. There are land based operations that can visit there from Savusavu if the conditions permit, but the seas often make this too difficult. We saw only 1 other dive boat in the area, the Aggressor III, which was always in sight but never on the same sites as we were.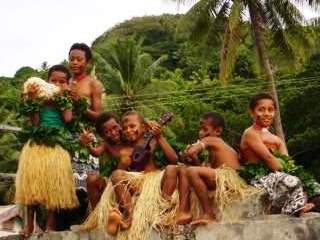 Wednesday saw us take in some more interesting (if not stunning) dive sites around Makogai, namely Becky's, Rick's Place and Pieter's Place, before going ashore for our village visit. We were entertained on land by the chief whose name is Watisoni (aka Watson) and were shown their giant clam breeding system and turtle conservation site.
We learnt how the island used to be a leper colony for the whole South Pacific, and in the evening were invited to join in a kava drinking ceremony. Various presents were distributed to the villagers and Jane, one of the English grannies, had brought the kids a rugby ball with which they were clearly thrilled.
The visit ended with children performing traditional dances for our entertainment before we all got up and shuffled around on the floor amid much laughter and not a little perspiration. Finally the locals dug up our 'Lovo' dinner which had been roasting in an earth oven for 2 hours, and we headed back to the boat to enjoy the delicious feast waving farewell to our friendly hosts.
Shark Feeding in the Nigali Passage
Thursday, as with all the Aggressor liveaboards, was our last full day's diving and we dived twice at Nigali Passage, which was another very impressive spot. The site is a large channel between 2 ridges where current often flows. Sometimes the current is mild, other times ripping, but there always seems to be huge schools of barracuda and grey reef sharks, lots of them!
Our first dive was a shark feed and we huddled in to a natural viewing area as fish heads were taken out, one by one, and tied onto a piece of rope. There were big numbers of red snapper, yellow lined snapper, and of course grey reef sharks everywhere in one's field of vision. I tried to count the sharks but got only as far as 35 before realising there was too much movement to make an accurate count.
Sharks swooped in towards the food from all angles, one brushing the top of my head with its belly. Most aborted their attack since there were a lot of fish in the way. However once a shark had grasped the fish head in its mouth it would wriggle and thrash to tear off the bait from its rope. I could really feel the water movement caused by the thrashing tail which indicated the immense power these sharks could generate. Later in the dive we hooked on with reef hooks in the strong current to watch the goings on with minimal effort. It was a stunning dive.
We dived here twice more, once on the Thursday and once on the Friday as our final dive. Thursday also saw us visit Jim's Alley a site known for its red anemones which are quite a spectacle, and also another pretty site called Anthias.
As I relaxed on the steam back towards Suva and chatted to the other liveaboard guests the general feeling was that we had had a very good trip. Despite grey skies, slightly choppy seas and disappointing visibility, we had all seen a number of excellent sights. We had visited some dive sites as good as anywhere in the world. There had been a great mix of macro life, big stuff and of course some incredibly beautiful reef scenery the likes of which cannot be seen in many places.
I was left without doubt that Fiji deserves to be mentioned in any list of great scuba diving destinations, and has some reefs of such health and vibrancy that it puts many 'bigger name' destinations to shame.
• Watch our Fiji diving video

What's the Aggressor Really Like?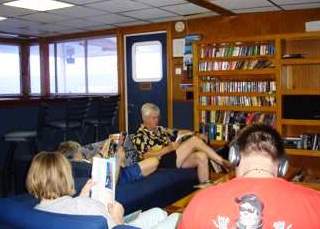 Turning to some detail on the boat itself, I would say that overall it is a very good liveaboard vessel. The dive deck is huge and caters easily to a full complement of divers. The dive skiff is raised and lowered by means of a hydraulic cradle. This meant moving to and from the deck to the skiff was a piece of cake, and one needed only to be in one's wetsuit since tanks were filled directly on the skiff. Getting in an out of the skiff in current or choppy seas was a bit of a challenge for the less mobile in our group (but this did include women nearing 80 years of age).
The communal areas of the liveaboard are comfortable and very spacious; and the sun deck, although we didn't use it much due to inclement weather, is great. The only negative I would have is that the cabins are no better than average, which is slightly disappointing on such a large and well thought out dive boat. You may find yourself in a double bed/single bed stand-off like I had, if you are a solo traveller. They are also quite small and the en-suite shower and toilet area is no more than adequate.
The staff, as you might expect of Fijians, are very friendly and capable, and James and Marnie were enthusiastic and professional throughout the trip. Safety seems to be paramount and we were fully briefed on all safety aspects of the boat. All divers were given a dive alert and surface marker if they did not have their own. Safe diving practices were encouraged and exercised on the Fiji Aggressor II at all times.
The food was good without being exceptional. If you are fond of garlic bread you will be happy since the vast majority of meals include it. None of the guests had any special dietary requirements so there was no need for a great array of choice, and on a few occasions there was no choice at all which suited me, and I suspect the other guests, fine. Marnie however is gluten and wheat intolerant so the kitchen staff are accustomed to catering for such needs.
The Verdict
So all things considered, it had been a great trip and the other guests were all delighted with the time we had. The liveaboard visited some of Fiji's finest dive sites, often inaccessible to land based operators and had been given a taste of local culture. Fiji's greatest asset is its people. Its healthy teeming reefs are another huge asset. Put them together and you know it spells an excellent scuba destination, and one that anyone who considers themselves a seasoned diver should certainly include on their list of 'must visit' places.
Written by Gavin Macaulay, November 2007


---
CUSTOMER TESTIMONIALS OF DIVE THE WORLD
... You have excellent search results and I've booked you multiple times. You provide a nice, one-stop web site to review multiple options for various dive locations. As I make my own dive groups, Dive The World provide a valuable service ... -- Robert Brice, USA. [More customer reviews]