>
Dive Destinations
>
Fijian Islands
>
Bligh Water & the Koro Sea
Koro Sea Diving
A Rich Bounty in Bligh Water
...Highlights: shark action, manta rays, great macro life/marine diversity, schooling fish & big pelagics...
...Bligh Water/Koro Sea diving environment: healthy reefs, drift diving, beginner and advanced divers, off the beaten track...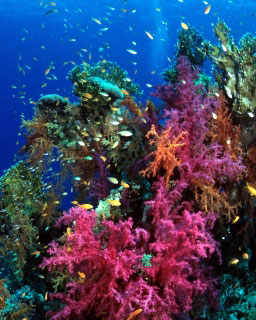 Named after the famous Captain Bligh of The Bounty, the Bligh Waters are a stretch of sea that separates Fiji's 2 main islands of Vanua Levu and Viti Levu. Although there area few resorts scattered around here and there in this large area, it is really the domain of Fiji liveaboards.
There's a great amount of water moving through this channel and this means incredibly nutrient-rich waters, especially where the channel narrows. This local bounty feeds huge numbers of smaller fishes, which in turn feed the larger fish. You can be there to dive and watch this extraordinary interplay of ecosystems in the Koro Sea.
Due to the strong currents, not al ofl the dive sites in Bligh Water and the Koro Sea are particularly suitable for beginners, but the reefs, which were once considered treacherous obstacles to sailing vessels in days long gone by, are now the modern playground of experienced scuba divers, particularly photographers, seeking healthy reefs, perfect conditions and uncrowded sites.
Dive Site Descriptions for the Koro Sea
E-6 - is one of Fiji's best known sites and with good cause. Sites like these are why many choose Bligh Water liveaboards over simply a Fiji resort based scuba diving vacation. The name E-6 comes from the amount of photographs that people tend to take on this site where you will likely dive at least once in the daytime and once at night.

The tip of the huge pinnacle rises up to less than a metre below sea-level and has its base at some 900m+. This occurs in the narrowest section of Bligh Water at Lomaiviti, the stretch of sea between the 2 big islands of Viti Levu and Vanua Levu. As if designed by a diver, this therefore means that the seamount is positively flushed with nutrients so has become a base for a spectacular marine ecosystem. Show more
How to Dive Bligh Water
For more information on your diving options, and all the other travel information you might need to visit the Koro Sea and Fiji, view our Fijian liveaboard section.
Although it is the domain of the liveaboards, the diving cruises we recommend follow different itineraries so check which suits you best from the following top quality options. We have Fiji dive safaris to Bligh Water, Wakaya, Gau and Koro and Namena Islands.
Alternatively you can dive some of the Bligh Water spots near RakiRaki, including E-6, while staying at Volivoli Resort in northern Viti Levu, or simply join our Rakiraki daily dive trips.
Koro Sea Diving Season
There is year round scuba diving throughout this region. 20-40 metre visibility and temperatures between 27°C and 29°C can be expected during October to March. It is this time of the year when the surface conditions are at their most calm and when liveaboards can reach the more remote dive sites which may not be possible at other times of the year.
Visibility can drop off a little at this time (15 to 25 m) since the warmer water encourages plankton blooms, but this is not all bad news since these attract plankton feeders like manta rays and whales.
Stunning visibility in the range of 30-40 metres, and cooler water of between 22°C and 26°C, are likely during the April to September period. Sharks, Spanish mackerel, dog-toothed tuna and barracuda can be seen on the reefs of the Koro Sea throughout the year.

Where is the Koro Sea and How Do I Get There?
Review our map below of the Fiji Islands, showing the location of Bligh Water and the Koro Sea. Here, you will find information on how to get to Viti Levu, from where you will transfer to the region.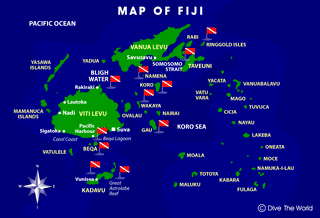 Reef Summary
Depth: 5 - >40m
Visibility: 20 - 45m
Currents: Moderate
Surface conditions: Can be choppy
Water temperature: 22 - 29°C
Experience level: Intermediate - advanced
Number of dive sites: >25
Distance: 20 - 150 km east of Viti Levu
Recommended length of stay: 7 - 14 days
Useful References

---
CUSTOMER TESTIMONIALS
... I liked how the information was presented, it was very clear and easy to understand. I also appreciated the prices were displayed and that you could book and make inquiries over the internet. I booked the whole trip (within a week of doing the diving course) and I was very impressed with how quickly Dive The World got back to me with answers to my questions and booking confirmation ... -- Karyn Richter, Australia. [More customer reviews]