>
Reefs & Parks
>
Fiji: Namena Marine Protected Area
Fiji Islands Diving
Namena Marine Protected Area, Koro Sea
The Namena Marine Protected Area (MPA) is located between the 2 main islands of Fiji, Viti Levu and Vanua Levu, to the south east of Savusavu and the north west of Koro Island.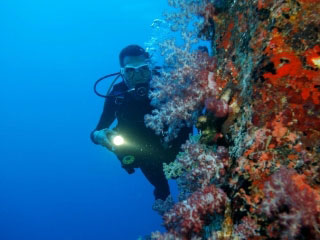 It is an area of exceptional reef health and one that the Fijian liveaboards will often visit as part of their diving itinerary. Some land-based dive operators can also go there but weather conditions and other factors mean this cannot be guaranteed. For those who want to dive in some of Fiji's most pristine reefs far from the crowds, we strongly recommend a Fiji Liveaboard trip which includes the dive sites of Namena in its planned route.
The island of Namena is part of the Lomaiviti group of islands which run along the east of Viti Levu north towards Vanua Levu. Villagers of the Kubulau District on Vanua Levu own the traditional fishing rights of the Namena Barrier Reef and they witnessed the threat imposed by increased commercial fishing in the area in the 1980s and 1990s. The chiefs of Kubulau reacted by imposing a total ban on all fishing within a certain area by creating the Namena MPA.
The area afforded protection encompasses the whole reef which surrounds Namenalala Island and forms part of a larger network of protected areas, identified by the Kubulau District, as being key areas of marine richness which deserve protection for the future.
The richness of the marine life they seek to protect has been catalogued and confirmed by scientists who detail the area as being home to more that 1,000 species of invertebrates, 400 known corals and 445 documented marine plants.
The area is home to some of Fiji's most pristine reefs and exceptional dive sites such as Chimneys and North Save a Tack, where you are likely to find several different types of barracuda in huge schools as well as impressive numbers of jacks, red snappers, grey reef sharks, and 3 different types of sea snake.
Namena is a migratory pathway for whale species including bottlenose and spinner dolphins, minke, pilot, sperm and humpbacks. Fiji is home to 4 of the world's 7 marine turtle species, and Namena provides nesting beaches for both green and hawksbills. There is also a major seabird nesting site on Namena with approximately 600 pairs of protected red boobies.
All visitors to the Namena Marine Protected Area must pay an entrance fee which remains valid until 31st December on the year of purchase. The fee is essential to the success of the project and covers management costs, such as patrolling and fuelling as well as mooring maintenance. A portion of the fee also goes towards community development projects such as the Kubulau Education Fund which enables the children of Kubulau to attend school.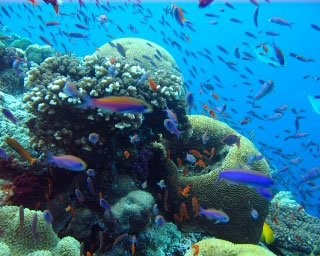 To date, proceeds from the visitors' fees have achieved many milestones, which include:
Elimination of destructive commercial fishing for nearly a decade.
Installation of mooring buoys to reduce anchor damage.
Provision of annual scholarships for Kubulau school children.
Extension of the MPA to incorporate an additional 11 protected areas in a district-wide network of MPAs.
There are a number of rules established to preserve the marine environment of Namena. These are sensible rules which anyone with an interest in protecting the marine environment should not only display but actively enforce. Sadly there are scuba operators (many in Fiji) who would prefer to cater to the wishes of their guests rather than strictly protect their nearby reefs.
Dive The World encourages all its customers to dive carefully and to observe or insist on the observation of such practices as outlined by Namena MPA, which are as follows:
All forms of fishing (line, spear and net) are prohibited in the MPA.
Use mooring buoys where available. If you must anchor, only do so in areas with a sandy bottom.
Do not collect marine life (plant or animal), either alive or dead. This includes sea shells, seaweed and coral.
Do not discard anything in the water including food or plant materials. Please dispose of all trash properly.
Do not walk on the reef flats, even at low tide when the reefs are exposed.
Never chase, harass or try to ride marine life. Do not touch, handle or feed marine life.
When scuba diving, maintain good buoyancy control and practice good finning technique to avoid contact with the reef.
Do not put your feet down when swimming or snorkelling. If you must stand up, look down first to find a patch of sand or dead coral.
The Namena Marine Protected Area seems to be a very good example of a successful initiative to preserve a delicate reef system with the full co-operation of the local people. If the colour and vibrancy of the reefs is any measure of success then all those involved in the project deserve great praise.
It is hoped that this fine example can be followed in other areas of Fiji, which is one place where coral recovery has been proven to be possible under the right circumstances. If local people can be brought into such a project and benefit from it, and if dive operators can observe protective measures such as those outlined above, there is every reason to be hopeful that Fiji's reefs have a bright future.
Human interference with such systems may then shift from destructive practices which serve no-one in the long term, to simply marvelling at and photographing Fiji's beautiful reefs and their incredible rainbow of marine life.
Useful References


---
CUSTOMER TESTIMONIALS OF DIVE THE WORLD
... Dive The World are very well organized with very good quality price and wonderful staff. The website is a source of reliable information on the boats and the sites ... -- Michele Boario, Italy. [More customer reviews]