>
Reefs & Parks
>
Fiji: Coral Re-generation
Fijian Islands Diving
Resilient Coral Reefs of the South Pacific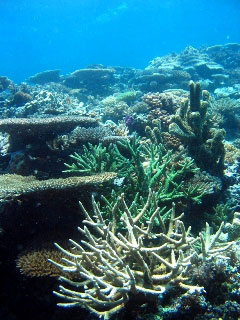 When you see an article these days about the marine environment the news always seems to be bad. It would appear that coral reefs face an imminent Armageddon and there is seldom, if ever, any hope expressed.
While there is no doubt that global warming and other human actions do indeed threaten our environment both above and below water we think it is worth drawing attention to the findings of an ongoing reef survey in Fiji. These studies took place in one of the areas where El Niño caused bleaching that was said by many at the time to be devastating. The results might surprise you.
Fiji is known as being the 'soft coral capital of the world' and there are some dive sites in the Fijian islands where the reefs appear to be in an exceptionally healthy state with hard and soft corals, gorgonian fans and crinoids making the reef burst with colour. However it is one thing for a recreational diver to enjoy these beautiful dive sites but hard data is needed to arrive at any meaningful conclusion as to the health of Fiji's reefs.
In the study, data has been gathered since 1999 from a variety of diving locations around Fiji including Kadavu, Taveuni, Viti Levu, Bligh Water and the Koro Sea and includes such key indicators as temperature, coral coverage and coral type as well as fish species identification. Fiji's coral reefs have been impacted by events such as bleaching and cyclones, but far from sounding the death knell, the figures actually make quite surprising and very encouraging reading.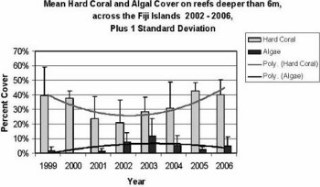 Take a look at the graph to the left. As you can see 2000 saw a startling decline in coral coverage, with coral loss between 40-80% nationwide. Since then there has been a rebound effect where hard coral coverage is well and truly back to pre-bleaching levels in Fiji.
What can also be seen is that there was a rise and then a fall in the quantity of algae present. Clearly this does not refer to the symbiotic unicellular algae whose disappearance following temperature change leaves the coral whitened or bleached. This refers to macroalgae, i.e. seaweeds that grow on top of dead corals, and on sand and rock in areas where there are plenty of nutrients and/or few algae-eating fish. The declining levels of macroalgae which swamped the bleached coral and the increasing hard coral coverage are both key indicators of complete regeneration.
Another interesting conclusion drawn by the study is apparent when you consider the graph below which details the specific coral coverage on one single dive site in the Fijian islands. From this it can be seen that coral cover on this one sample site has reached higher than pre-bleaching levels. Coral coverage has gone from a nadir in 2000 of 46% to a current 70% in 2007. Acropora levels have increased, particularly table corals, branching and digitate. Of the non-acropora corals, boulder corals now account for a much smaller proportion of the coverage (the large blue band in 1999 and 2000), with foliose, submassive and encrusting corals all growing significantly. The result has been an overall increase in coral coverage over the last few years as well as an increase in coral diversity at this one site.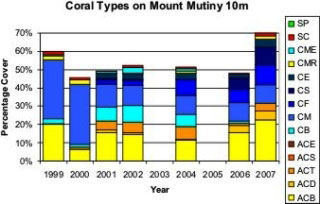 So after all the bad news it could be that corals are actually less fragile than we first thought. This should really be unsurprising since the oldest living coral is estimated to be about 4,200 years of age and corals have been around for hundreds of millions of years.
There is no doubt that human beings are damaging the earth and that much of this damage is being seen in the destruction of coral reefs. However, studies like this one show that if left unmolested and in the right conditions, the reefs of Fiji and elsewhere may be able to recover much more quickly than was previously thought. This is great news for scuba divers around the world.
If anything, news like this should be more of a call to arms than a comforting reason to be blasé. What this tells us is that it is not too late for the world's coral reefs. They may be more robust than we had thought and with our assistance could flourish once again.
Useful References


---
CUSTOMER TESTIMONIALS OF DIVE THE WORLD
... Easy to book and very responsive. I loved that I didn't need to do anything, and it was all taken care of when I arrived. I did have a great time! I really was overdue for some dive-induced sanity! ... -- Robin Martin, Malaysia. [More customer reviews]