>
Dive Trip Reports
>
Shakti
Liveaboard Diving Trip Report in West Papua
Dive Raja Ampat Onboard the KLM Shakti
Click on an image to enlarge

Having heard so many good things about diving in Raja Ampat in West Papua, Indonesia, I could barely wait to get out there and see it first hand. All the stories about wobbegongs, pygmy seahorses and epaulette sharks sounded too good to be true and I needed to find out for myself, but more about that in a little while. First let me tell you how to get there.
Getting to Raja Ampat and onto the Shakti
I flew into Sorong in Indonesia's West Papua province from Jakarta via Makassar (several daily flights but the schedules are relatively flexible) and spent a night in the JE Meridien in Sorong, which is about 500 metres as the crow flies away from the airport. A standard room with double or twin bed, hot shower and cable TV including breakfast will set you back about US$ 40 for the room, which is good value for money.
The next day I was picked up at 12 noon by David Pagliari, the owner of KLM Shakti, and his girlfriend Din, and swiftly transferred to the waiting tender in Sorong Harbour and onto KLM Shakti to arrive there about 20 minutes later. We were welcomed aboard the liveaboard by the ever-helpful and numerous crew and shown to our very nice cabins. Every night of the dive trip was spent sleeping soundly on safe anchorages, except twice when we were in transit between islands.
I was in a cabin with a double plus single bed combination, below decks. My cabin was not huge but sufficiently spaced, and besides you don't want to sit in your cabin anyways with all the scenery to be taken in, the dives to be done, and all the good food to be had in the lounge. Even though there are no en-suite facilities, there are 3 toilet / shower combinations on the boat, which is plenty if common sense in usage prevails.
The KLM Shakti liveaboard normally runs 12 days / 11 nights tours out of the port of Sorong, West Papua and is the only liveaboard that is permanently based in West Papua. It visits both the southern Raja Ampat area of Misool and the northern areas of Waigeo and Wayag, as well as everything in between. Of course sometimes the weather is not always perfect and that might restrict certain destination wishes, but Dave has a pretty good feeling for where to go to look for improvements so we always felt we were in good hands to get the best from the region.
We made our 12 hours cruise down to Misool Island, between Salawati and Batanta islands and spent the next few days around the islands of Jilliet, Kalig and Fabiajet, and then onto Wayil, Boo and Farondi. Around these islands you'll find an array of outstanding dive sites with a diversity of coral and fish species that is second to none in the world.
I encountered big schools of chevron barracudas, hunting dogtooth tuna and Spanish mackerel, huge bumphead parrot fish, but also the tiny pygmy seahorse in various appearances for which the area of Raja Ampat is renowned. That is why this beautiful animal will be on your marine park tag you receive for your paid park conservation fees, and serves as a useful souvenir. Of course you should always keep an eye a bit further into the blue as well to spot the ever present reef or ocean sharks that patrol the waters around the islands.
Overnight from day 4 to 5 of the trip we made our way north to the Jef Fam Islands group, where we spent the next couple of days exploring the riches of this area above and below the water, including encounters with the aforementioned epaulette sharks and wobbegongs to only name a few. On day 8 & 9 the wonders of Kri held us in its spell, before we moved on to the enticing passage between the islands of Gam and Waigeo for days 10 & 11, and back to Sorong for disembarkation.
• Watch our Raja Ampat diving video

Diving Highlights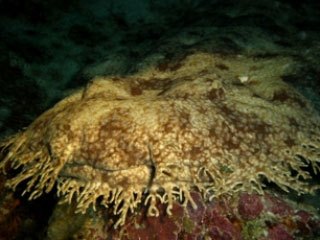 I saw nurse sharks, white tip reef sharks, black tip sharks, grey reef sharks and the crazy looking wobbegong that, outside of Australia, is only to be found here. Another very special encounter was with the epaulette shark (walking shark), named after his peculiar way of getting around on the reef. Turtles, sea snakes and stingrays also put in welcome appearances.
The soft and hard coral growth in the whole area is testament to the claim of Raja Ampat being the cradle of marine life in the world, with sea fans for example growing even in the shallows, filtering the plankton out of the sometimes very swift currents. To be able to see large congregations of marine life however, one needs to time one's entry at the dive sites in accordance with the tidal movements of the ocean and go pretty often in rather strong currents, which are not for everyone but well worth the effort.
On several days we had the opportunity of dinghy boat tours to explore these beautiful islands, even spotting juvenile sharks whilst snorkeling in the shallows, and using the inflatable kayaks that Shakti carries for your use. These trips added a lot to the liveaboard cruise overall and were a welcome distraction from scuba diving, eating and sleeping. The Jef Fam group has very picturesque islands with many inlets, bays, lagoons, beaches, cliffs and coves.
For me, also a very nice aspect of the trip was cruising on the boat itself and the many spectacular night skies, sunsets and sunrises that I saw. The liveaboard is a classical style sailing boat. It is very sturdy and is extremely stable in the water, both when still and when under motor. If you do mind noise from the engine room or generators at night, please bring your ear plugs and enjoy your sleep.
The 10 strong boat crew were also very good, being attentive and friendly throughout. The fact that many have been working on the boat for many years is a strong indication that they are happy with their jobs on the Shakti.
The Dining
On to the food: Breakfast is muesli, fruit, cheese and freshly baked bread, with coffee or tea aplenty throughout the day. You can also order fried or scrambled eggs. Lunch is Indonesian style curries and noodle or rice dishes.
Dinner is 2 Indonesian dishes with rice or noodles. Some examples are chicken satay, barbeque grouper or mackerel, chicken nuggets, seafood tempura, bean sprouts, always with lots of side chilli. Occasionally there is western fare such as potato chipolatas, fried chick bites, deep-fried prawns, spaghetti Bolognaise or even pizza.
Dessert is always fresh fruit, and afternoon cakes are served daily. But don't be surprised if Din appears with a little something in between, such as apple cake or bruschetta.
Soft drinks and juices are not included in the charter price, but are marked on an honesty list and paid for at the end of the trip. Beer is Euro 2 a can and soft drinks and juices are Euro 1 a pack. The dining can cater to the needs of vegetarians as well of course since Din is one herself.
Dive Planning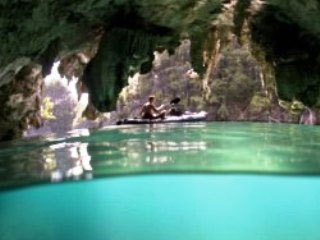 Being a traditional sailing boat, the dive operation requires a little thought and careful planning. All the dives are made from the 2 motorised dinghies. The kitting up area is at the bow of the main deck. The boat staff actually make the task of loading scuba gear very easy, carrying all the equipment to and from the dinghies.
There are also 2 rinse tanks on board for your salt-sensitive gear, but they are not very big so you need to time your rinsing with the refilling of the tank with fresh water, or just wait a little moment. Nitrox is not included but available at Euro 150 per person for the trip, to be paid on the boat if wanted, and this is a great perk in Raja Ampat, where most divers will want to maximize their bottom time.
The dive staff attitude was relaxed and easy-going but always having regard to the safety of the guests. Dave, the owner of Shakti, personally checks the conditions on every site before deciding how to dive it to maximize the chances of good sightings for everyone. The dive briefings are descriptive and complemented with hand-drawn maps. The staff are very experienced in the Raja Ampat area and will help you find unusual fish and marine creatures, but due to the occasionally strong currents you will need to make your way from the dinghy to the reef by yourself, and rather quickly.
Enthralling Raja Ampat
Shakti carries a maximum of 12 guests. On this liveaboard cruise the boat was not full, but it is difficult to imagine that it would ever be a tight squeeze anywhere in the boat even when it is. There was plenty of room for us on what was surely one of the best diving trips I have ever been on, and I really look forward to going back. Raja Ampat is a huge area with so much to offer you could probably do a different itinerary every year and still be enthralled.
On departure I was transferred back to Sorong airport for my flight out, with a head full of great memories both underwater and on deck, where the crew of the Shakti had ensured a great trip was had by all. I cannot wait to get another chance to revisit West Papua Province and the incredible Raja Ampat!
Written by Detlef Sarrazin, June 2008

---
CUSTOMER TESTIMONIALS OF DIVE THE WORLD
... Yes, the Dive The World website was easy. The booking was very good and your guys are doing a very good job. They are very good in giving info related to any kind of request ... -- Francesco Passeri, Italy. [More customer reviews]