>
Dive Trip Reports
>
Greta
Overnight on Phi Phi Islands Diving Trip Report
Fit More Dives Into Your Koh Phi Phi Experience
With just 2 days to spare and wanting to fill them with diving and fun, I decided to jump onboard the MV Greta. This overnight trip to Phi Phi, I thought, should be the perfect way to combine excellent diving opportunities with movie-set beaches. Having dived the Phi Phi Islands before, I was really looking forward to visiting a few of my all-time favourite dive spots again. Running twice weekly, the MV Greta departs either on a Monday or Friday with an overnight stay at the Bayview Resort on Phi Phi Don Island, and this trip was just what the doctor ordered.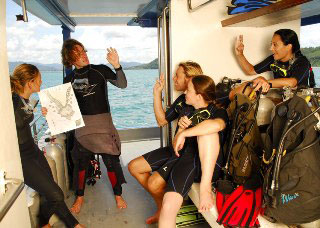 Diving at Phi Phi is quite different from diving in other places in Thailand. Rocky outcrops rise 500m into the sky creating majestic backdrops to the cerulean sea. Under the water, the limestone cliffs plummet to 25m covered in healthy sponges, hard and soft corals in pink, green, purple and blue. I came across moon and bird wrasse, lionfish and parrotfish while exploring finger reefs. After descending a mooring line into a swim-through I was enveloped by glassfish and then played in the shallows with cuttlefish. I even spotted some sleeping leopard sharks while traversing expanses of staghorn coral reefs.
The marine park area protects a great number of marine creatures and with visibility of 10-20m I was able to get many ideal photo opportunities. That doesn't mean ideal photos of course, but that is more to do with the photographer than the conditions!
I certainly was not disappointed on what turned out to be yet another perfect tour.
• Watch our Phi Phi Island diving video

Day 1: Wall Dives and Leopard Sharks
08h00 The first day of the trip began with a quick briefing, just thorough enough to let us know exactly where everything is on the boat and plan for the fun-filled days ahead. Breakfast was croissants and jam, with boiled eggs, coffee, tea or hot chocolate. Then it was time to make our way to the diving deck to set up and check our equipment for the 1st dive of the day!
09h45 Phuket Shark Point: There is no better way, in my opinion, to start a dive than to come across the gentle leopard sharks who were dozing on the sandy sea floor between the 3 large rock pinnacles. Some of them were over 2m long. While taking in the gorgonian sea fans on the southern rock pinnacle I spotted a couple of seahorses, and when rising we encountered some squid during our safety stop.
11h00 Lunch was a mildly spicy Thai curry served in a relaxed buffet manner on the open-air upper deck.
12h30 Koh Bida Nok: It was wonderful to leap into the azure water of this special place again. Anemones and soft corals decorate the homes of moray eels. The many caverns gave us lots to do on this dive. I was overjoyed to spot an octopus when I got to the sandy bottom. Upon surfacing, the sight of towering cliffs all around you is literally breathtaking and watching sea eagles flying above you will take your mind off getting back onto the boat.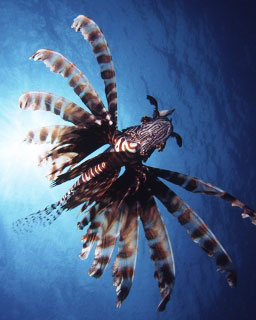 13h30 Fruit and snacks, with a welcome doze on the sundeck.
14h30 Koh Bida Nai: After descending a mooring line past the magical gorgonian fans and nudibranchs, our DiveMaster pointed us to a swim-through, almost invisible it was so full of glassfish. Yet they smoothly moved aside as we swam through them. Disguised in the depths I found scorpionfish, so best to keep your hands to yourself and monitor your buoyancy. Banded sea snakes moving in a rapid pack, filled my vision as I emerged out the other end.
17h00 An early dinner was a hearty beef goulash with potatoes, served on the upper deck, where we all relaxed and swapped stories from the day's diving.
18h30 Ton Sai Bay: This was a night dive filled with adventure. The corals had opened up to feed and their colours where vibrantly reflected by our lights. As your eyes adjust to the night conditions, you will be amazed at the creatures who come out at night: spiny lobsters, crabs and startling flashes of barracuda schools.
I was moved by the undersea Tsunami Memorial Site. Erected in remembrance of the victims of the 2004 Tsunami, each item in the memorial has meaning, including the distance between the markers, which correlates to the number of victims the memorial honours.
20h00 Bayview Resort: Checked into my bungalow overlooking the beach on Phi Phi Don Island. We were greeted with a welcome refreshment on arrival and then you have the choice of staying there and having a late dinner, strolling over to the beach for a long, cool drink, or you could take a 10 minute walk into Ton Sai Village, where there are a number of restaurants and bars. Do keep in mind that Day 2 will be an early start and another full day of scuba entertainment. When it was time to unwind in the bungalow, it was wonderful to luxuriate in the large, hot showers, before cooling off in the air conditioned bedroom, and gazing out at the breathtaking view over Ton Sai Bay from my patio. A very comfortable place to stay overnight.
Day 2: Macro Dives and Pancakes
07h00 Check-out from the bungalow was early, but we didn't mind as we were all eager to get the day's diving started.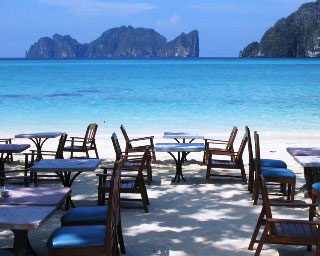 07h30 Breakfast at the restaurant on the beautiful beach offered a great variety of western and Thai dishes.
08h15 Koh Bida Nai: Our 1st dive of the day began over the staghorn coral with no other scuba divers except black tip sharks. Take your time on Fantasy Reef, the coral outcrop is home to lionfish hiding amongst the sea whips and barrel sponges, and schools of hunting trevallies and fusiliers. To round off a creature-filled dive, we were entertained by crazy cuttlefish as they played hide and seek in the coral garden.
09h30 A mid-morning interlude of snacks and fruit on the sun deck.
10h30 Anemone Reef is aptly named for the profusion of green, white and blue anemones that cover the rocky pinnacle. We were passed by schools of tuna and grouper as they circled the limestone formation in search of food. Clownfish are always an appealing sight and they certainly have the ideal breeding ground here.
12h00 Lunch was a delightfully tasty Thai dish with stir-fry vegetables and rice.
13h00 Koh Dok Mai: the "Flower Island" offers the best wall dive in Phuket below a jungle-topped rocky island. Faced with an artist's palette of colourful soft corals, sea fans and yellow tube corals, I was in a macro heaven with bountiful small species: yellow boxfish, frogfish, titan, orange-lined and clown triggerfish. Before leaving this site, have a look under rocks and coral ledges for sleeping bamboo sharks, and keep a lookout for octopuses and cuttlefish.
14h00 Ah, what a wonderful end to a great diving trip: delicious pancakes with jam while relaxing in the communal area.
15h30 Arrival at Ao Chalong harbour and transfer back to our respective hotels.
Diving Facilities and Staff
The dive deck is spacious with lots of room to manoeuvre. The crew are always there to help make the transition in and out of the water as easy as possible. A convenient feature of this trip is that only the 1st stage from your tank needs to be removed after each dive, which the staff then quickly re-fill making it ready for your next dive. All in all, they did their best to make this an unforgettable experience for everyone and it was a pleasure to tip them well.
Getting onto MV Greta
I found it very easy to get onto the boat for this trip. The Greta staff collect guests from Patong at 07h20 and from Kata / Karon at 07h40. Alternatively you could come directly to the Ao Chalong pier at 08h00, as I did. Kerry, MV Greta's tour leader was there to make us feel at home and usher us onto the shuttle bus. The staff take care of your diving equipment, transporting and loading it onto the boat for you. This leaves you with nothing other than a 3 minute ride down to the pier before stepping onto the boat.
Already Planning my Return
In my opinion this is the best diving trip that one can do between Phuket and Phi Phi. It blends all the aspects of a perfect holiday into a compact 2-day package: dive the best Phi Phi sites, encounter an abundance of marine life underwater and overnight in a sublime island bungalow.
I had a great time and am already planning my next 2-day break from work, so that I can fit in another overnight aboard MV Greta.
Written by Detlef Sarrazin, May 2009


---
CUSTOMER TESTIMONIALS OF DIVE THE WORLD
... One of the best parts of Dive The World is that the response time for any queries is replied quickly and efficiently with further explanations than required which is pretty helpful especially for first time divers like us. The package provided was value for money ... -- Shazlina Sahlan, Singapore. [More customer reviews]