>
Dive Trip Reports
>
Princess Haleema
Liveaboard Diving Charter in the Maldives Trip Report
The Superb Princess Haleema in the Maldive Islands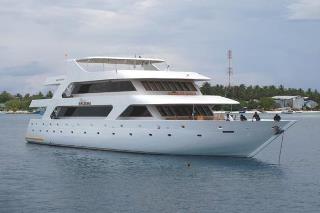 It was a beautiful April day as I was transferred to board the Princess Haleema, and since I was late joining the trip it appeared that all the other guests onboard had lined up at the stern to welcome me. However, it turned out that they were merely admiring a couple of manta rays that were circling the liveaboard. I hadn't even boarded the vessel and I was already enjoying seeing mantas, so I took that as a sign that an excellent diving charter was on the cards.
Arriving at the stern of the Princess Haleema, my initial impression was that the boat was enormous. At 36 metres long and almost 11 metres wide it's an imposing boat, especially from a small tender. Access is easy from the water level as there is a large swim platform on the back of the boat with 2 freshwater showers and a small flight of stairs on each side leading up to the rear deck.
The Cabins
The lower deck is the location for the 7 deluxe cabins that are sumptuously equipped, including private en-suite facilities. It should be noted though that as you get further forward the cabins are less spacious. However, that is not to say that they are cramped. Even the smallest cabins at the bow are equivalent to what you'd expect on a normal liveaboard. It is simply that the ones at the rear of the boat are much larger than usual.
All of the cabins have plenty of storage space in the wardrobes although as always it is best to bring soft sided luggage. They all have portholes and also unusually for a liveaboard boat, they also have skylights. The en-suite bathrooms all have a power shower that is the kind that will 'massage' you with various water jets, perfect for relaxing after your dives. Even the corridors onboard the Princess Haleema are lovely, with wooden paneling, featuring interesting art work.
The Diving Dhoni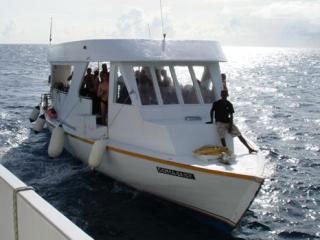 In true Maldivian fashion the Princess Haleema has a diving dhoni rather than a dive deck, and the dhoni carries on the spacious theme of the main boat. It has more than enough room for all scuba divers to be sheltered and out of the sun, as well as a sundeck on top for sun worshippers and non-divers.
There are individual storage crates under each dive station as well as overhead nets to put smaller items in, or even just your T-shirt to stop it blowing away. The dhoni has O2 onboard, GPS, sounder, camera bucket and a 420 HP engine. The standard tanks are 15 litre steel Coltri-subs although they have 10 & 12 litre aluminium tanks as well as a couple of 18 litre tanks for the real air-hogs amongst you. There is a clear benefit of using the 15 litre tanks in the Maldives, and this is that a lot of the dive profiles are deeper and require more exertion (due to currents) than a lot of people are used to. This tends to mean that they have reached 50 bar before they have run out of bottom time. The 15 litres help offset this.
The access from the dhoni to the water is simplicity itself. There are 2 exits at the front of the Dhoni and then a large platform at the back. This allows pretty much the whole group to hit the water within a very short time which is needed at some of the dive sites that require a pin point drop and a fast descent.
The compressors are also all located on the dhoni, where all the tanks are filled. They do not yet have nitrox onboard but as they only offer 2 dives a day, this has not proved much of an issue. The norm is that the dhoni will drop the divers back at the main boat after a dive and then depart again to fill the tanks. This is a nice idea as on some liveaboards there is an incessant compressor drone in the background that can get wearisome.
Once a dive is completed, the dhoni drops in a ladder, that has proper foot plates on it rather than just an uncomfortable rung, and you simply climb onboard. The dive crew are always on hand for you and were extremely helpful all round. There is normally a snack of fruit or coconut while the dhoni heads back to the Princess Haleema.
The Diving
Princess Haleema only offers 2 dives each full day plus 1 night dive per week long charter. Having been used to liveaboards that offer anything up to 5 dives a day, I thought that as divers we were being a little short changed at this. I had a chat with Marco, an Italian dive guide who has worked in the Maldives since 1983 and he summed it up best by saying that what they lacked in quantity they more than made up for in quality. 2 excellent dives a day with wonderful marine life are better than 4 boringly repetitive dives at a dreary location. The other issue is the currents. It is simply not safe to dive sometimes, and for this reason, plus the distances they must travel, are why 2 dives a day is often the norm.
Onboard with me were 16 divers and 3 non divers from a French scuba club. This is the 4th year in a row that they have chartered a liveaboard boat from that operator and they told me that the trips in the Maldives are more than just the diving, they are about the scenery, the laid back locals and the social interaction with the other divers onboard.
Typically the 1st dive of the day will be at 9.30 am and the second at 3.30 pm, although there is an early morning rise one day of the trip if you are lucky enough to have a dive at Madivaru, as you need to be in the water early in order to see the schooling hammerhead sharks.
Princess Haleema actually operates what is termed 'boat time', which is 1 hour ahead of Malé time and this allows you to think that you are having a later rise than you actually are. A 6 am wake up comes on the morning of diving Madivaru, and once you have had coffee and biscuits it's time to grab your camera and get onto the dhoni. Typically it will only be a short journey of 10 minutes or so to the dive site of Madivaru and this gives your guide a some extra time to go through the plan with you - jump in, hang out and wait for hammerheads - quite easy to follow!
As you arrive at the dive site the guides will check the current. This is always done when liveaboard diving in the Maldives since, with the vast volumes of water flowing through the passes, it is quite easy to miss the site if you are dropped in at the wrong spot. Once they have ascertained the drop point at the upcurrent end of the channel, it's: masks on and ready at the platform. On the signal, you perform a negative entry and descend behind your guide in the blue of the channel where the waiting begins. You may be lucky and spot a school immediately or you may have to be patient and simply hang in the blue and wait for the hammerheads. But I can assure you that the wait is definitely worth it.
Watching a school of a dozen or more hammerheads cruise beneath you is amazing, and it is normally at that point that you wish that you had a bigger lens on your camera! It is worth remembering that it is very easy to get far too deep chasing after that perfect picture of the hammerheads. It is not unusual for them to be at 60 metres or more so, once you do catch sight of them, remember to also keep an eye on your depth gauge.
During your week long Maldivian dive charter, Princess Haleema will normally offer 1 night dive. On the cruise that I was on this was at Maaya Thila. Now personally I dislike night dives and normally sit them out, but that particular night dive I now rank as the most enjoyable that I have ever done; it was simply amazing.
Maaya Thila is a smallish pinnacle at Ari Atoll that is only 30 metres or so in diameter, and the normal plan is that you simply spiral your way upwards as you work slowly around it. As soon as we descended a great barracuda cruised right past me only inches from my face; and they look mean at night!
Moving towards the wall, I could already see a turtle feeding, whilst just below on a small ledge was a resting nurse shark. With our torches playing between the turtle and the shark, I was at a loss as to what to take a picture of, as the great barracuda was still cruising past. There was also a free swimming honeycomb moray that was moving along a ledge on the lookout for dinner. At this point I looked at my computer to check the depth, I was at 16 meters and only 2 minutes into the dive and already I had seen enough to make it a great dive.
As we started to move along the wall 2 white tip reef sharks kept darting in and out of the lights, as they searched for prey. As we worked our way round, it seemed at first that the same 2 sharks kept coming back. However it was only when we went onto the top of the thila that I realised just what a great dive we were on; its wasn't 2 or 3 white tips, it was 20 or 30 of them cruising all over the thila. There were still more turtles here and a hawksbill spent 5 minutes trying to get a red tooth trigger fish out of a crack. The turtle was really tugging hard on the trigger's caudal fin, which made me realise just how effective a triggerfish's 'trigger' really is.
• Watch our Maldives diving video

The Food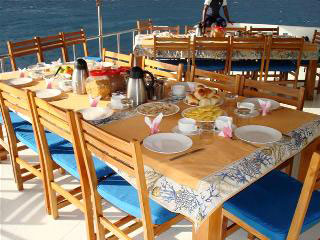 The food on the Princess Haleema was just as impressive as the boat itself, however if you do not like Italian food or fish, you will need to speak with the tour leader/chef and organise something else as this is what the fare tends to be. Nearly all the meals consisted of pasta, salad and fish, followed by fresh fruit or a freshly made dessert. It was filling and the crowd that I was sharing the boat with certainly cleaned their plates.
The freshly baked rolls that were served at breakfast were superb and the spinach risotto that was served on the second day was 'to die for'. All meals are table service, and there is a barman present as well to take your orders for the bar. There is always a range of soft drinks, water and alcoholic drinks (dinner only) on the tables but these are not included in the charter package price.
As the Princess Haleema liveaboard has a diving dhoni, the whole rear deck is given over to the outside dining area, rather than the usual clutter of a dive deck. At almost 40 m², there is a plenty of space for all guests to comfortably enjoy their meals, and it doesn't feel crowded at all.
The Saloon
The saloon is almost 60m² and has ample seating for everyone, with a combination of chairs and tables, as well as sofa-like bench seating. It is not air conditioned but there are several large fans and windows so there is nearly always a cooling breeze blowing through. There is an excellent selection of fish books as well as a huge plasma TV with DVD and music centre in the saloon so that you may view those underwater images that you captured, in supersize.
For those with cameras, Princess Haleema has a separate camera charging room on the rear deck with enough power points for all. There are also plenty of power points around the saloon, great for charging laptops. Situated in the saloon is the only communal toilet on the vessel. Other than this one (including onboard the dhoni) you need to use the facilities in your cabins.
It should also be noted that in the Maldives, most of the time when you are cruising you will be in mobile phone range. So for those with GPRS phones, a roaming package and the appropriate software, you will be able to email the photos you took of the manta rays and whale sharks straight away, rather than waiting to get back to Malé.
The saloon is also where the bar is situated, and this is staffed 24 hours day with a good choice of both non alcoholic and alcoholic drinks, including espresso - being an Italian boat they have a proper espresso machine, and this is extremely popular.
If you really want to know all about the rest of the boat ...
Moving forward to the front deck there is a popular shaded area that has seating for 20 people and is a perfect place for relaxing, reading a book, discussing the marine life of the last dive, or for people to try their hand at fishing.
The upper deck has 2 Suites that have panoramic views, and their bathrooms feature a whirlpool bath as well as a shower. The suites also have a plasma TV and DVD system, so you can relax in private and check out your days footage, or a DVD if you so wish.
The Spa/massage room wasn't that busy on the trip that I was on, but I was informed by the tour leader that it is normally very popular with customers. They have several packages available and this would be an excellent way to relax after a dive.
The top deck has another shaded open-air area, with comfortable sun loungers. This allows you to relax with a book or chat away the afternoon without being exposed to the sun, yet still enjoy the stunning views that the Maldives offer up. There are also 2 jacuzzis located in the shaded area. Half of the space is open to the sun for those that wish to top up there tan without going to the top deck.
Overall, and Excellent Trip
All in all this was an excellent dive charter that featured a great liveaboard boat, attentive and knowledgeable staff, delicious food and awesome diving. In fact the night dive at Maaya Fushi is the best dive that I have ever done. There was so much action going on that I was at a total loss at some points as to what to look at or film. From the moment that you board Princess Haleema to when you leave, you are well looked after on a supremely comfortable boat.
Written by Danny Galt, April 2008


---
CUSTOMER TESTIMONIALS OF DIVE THE WORLD
... The service we received was excellent. Everything was extremely organised. ... -- Sarah Hickling, UK. [More customer reviews]