>
Dive Trip Reports
>
Galapagos Sky
Galapagos Islands Cruise Report
Reaching for the Sky
Click on an image to enlarge

There are lots of great places in the world to dive; places that showcase a big marine species, feature topside fascination or an interesting history. Galapagos however, stands alone in doing all of these things and more. Hammerheads, dolphins, Galapagos sharks, sea lions, whale sharks, mola mola, giant tortoises, marine iguanas, fur seals, blue-footed boobies and an unrivalled position in the history of scientific endeavour.
Would I ever be lucky enough to visit the islands one day? Yes I would and that day had come. What would unfold would prove that when it comes to the diving cruises in the Galapagos Islands, you can believe the hype! ...
Getting There
2 days of travelling from Malaysia to Ecuador isn't easy. Doing so with a killer cold, sniffling, sneezing, coughing and shivering is no way to start "the trip of a lifetime". But having met up with some of our liveaboard tour guest group and had some sleep, things were looking up as we took our first class seats for the flight from Guayaquil to San Cristobal.
Arriving in San Cristobal, we hadn't even boarded the dinghies to the boat, before the first great photo opportunity presented itself. On the rocks by the pier was a blue-footed booby, flanked by a sea lion and surrounded by red crabs. Further sea lions were lounging all around the pier on benches, lazing in the morning sun. Welcome to the Galapagos!
On board the Galapagos Sky liveaboard we settled into our cabins and made our introductions. Among our number were some figures of note: Scuba Diving magazine editor, David Espinosa, renowned photographer Michelle Westmorland, and some guy called Peter Hughes who apparently knows a thing or two about liveaboards. And so we set off on our tour in search of what the Galapagos Islands had to offer.
The Diving at Galapagos
It seems that the trip started off with a kind of build-up to Darwin and Wolf islands. That is when the true quality of Galapagos diving shines through. In these far northern islands you are likely to encounter more hammerheads than you could possibly count (some did and came up with numbers like 72 in one school). Hammerheads seem to the main drawcard but there are so many others to consider.
• Watch our Galapagos diving video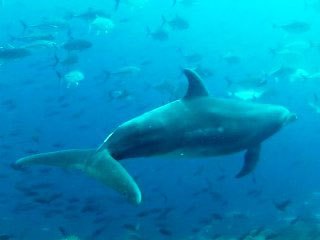 I had some enchanting moments with sea lions at both Darwin and Wolf, playing and swooping and coming right up to my mask as if to say 'hello'; once I had 3 around me at the same time. At Vincente Roca (further south) we watched as a sea lion picked a pufferfish up from the reef. The poor little fellow puffed himself up to full capacity. The naughty sea lion played and poked with it just for fun. Thankfully the sea lion got distracted and the little puffer darted off into the safety of the blue.
Dolphins came close enough to have a proper "on scuba" experience with them. One stayed and swam alongside when we were at about 15m depth. More often they appear on safety stops as they did on a few occasions and once I even saw a pair copulating!
Also during the cruise we saw tortoises mating and birds on a ledge doing the deed (and fighting over who would win fair maiden's hand). There was a considerable amount of such activity going on. Maybe it was the honeymooners we had on our boat, or the excessively smoochy Brazilian pair, but there was certainly something in the air.
If you like sharks, you will love the Galapagos. At Roca Redonda, when low on air and down current of the other divers, I did my safety stop alone. Drifting fast in the current I found myself literally surrounded (at least beneath me) by several Galapagos sharks and hammerheads. From the safety of the group these seem like beautiful benign fish. Suddenly, all alone, they took on a rather more sinister look. They seemed to grow in number and proximity as I stared urgently at my computer. My 3 minutes of safety stop took a little longer than I would have hoped. I was quite relieved to hop back into the dinghy.
Wolf and Darwin are also where others in the group, sadly not me, saw a tiger shark and a whale shark (although January is supposed to be way out of season). There were also quite a few silky sharks and white tips around.
Another memorable occasion occurred at the one really cold water site we dived during the trip, Punta Vincente Roca where there was a chance of sighting mola mola. We descended, adjusting our mask and fins and acclimatising to the cold. No sooner did the guide give the OK and the "let's go this way" than I turned to my right and there within 3 or 4 m was a big white sunfish. It swam in ungainly fashion around me and through our group before disappearing and leaving us all slack-jawed with wonder.
My list of "diving firsts" is a long one. Too long for this travel report. But the memories will stay forever.
The Liveaboard Boat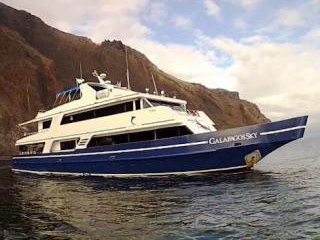 MV Galapagos Sky is every inch the purpose built diving cruise liveaboard. From the huge Wyland Hammerhead on the bow to the smooth-functioning dive deck at the stern, it all works well.
The cabins are fine, without being sumptuous. I was in a twin cabin on the upper deck. The beds were comfortable enough and there was plenty of natural light coming in through the big windows. In a place like the Galapagos Islands, the nature-spotting begins as soon as you open your eyes in the morning so having a good view is a real bonus. All the cabins are identical except some are twin bed and some are double bed, and those on the lower deck have portholes instead of windows. So when booking a cruise, request an upper deck cabin with windows if possible.
Other good points are the colour coded towels so you don't wipe your face where your room-mate wiped some other part of their anatomy. Also there is a music and p.a. system which functions very well as a wake-up call or call to dive. The captain's morning greeting became legendary, his smooth latin tones gently coaxing us to "wake up for a delicious breakfast and another day cruising in paradise!"
The deck features 2 hot showers (much loved by the guests) as well as 1 toilet. Hot chocolate and nibbles are served after each dive and each diver gets a warm towel, making the post dive ritual a very pleasant one. There are 2 hammocks and lots of sun beds on the big sun deck, a great place to watch the passing scenery and the seas that bubble with life. One strength of the MV Galapagos Sky liveaboard is that they get so many of the small luxuries just right. So you want for nothing.
All tanks are filled in their place during cruises so the diving procedure is simple. Go to your station, gear up and enter one of 2 dinghies from some steps on the portside. There is always at least 1 guide per dinghy. Although buddy pairs are allocated, you will dive more as a group than in pairs. There are always several strong Ecuadorian arms holding you throughout to ensure there is no danger of a slip. Entry is by backroll and you exit the water either by fin kicking yourself up and into the dinghy or, more elegantly, using the ladder.
There seem to be plenty of spare parts in the store cupboard on the dive deck, indeed all breakages and necessary replacements we encountered on our tour were handled with ease. There is a fair amount of camera table space, plus air hoses and a rinse tank. All washing and hanging of equipment is done by the liveaboard staff so simply slip out of your wetsuit and into a warm towel and enjoy your post dive hot drink and snack - just the way it should be!
Food Enough to Drive You Bananas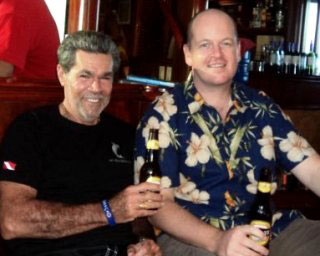 The food is mainly western with some Ecuadorian influences. Given that the local food seems to be based around corn and bananas, the western dishes are very much a necessity.
There is always a big spread usually with soup, a few salad choices, bread, fresh fish and or meat and rice or potatoes. Wine and beer are included in the liveaboard cruise price and offered to you by the friendly barman at every opportunity, sometimes even between dives, curiously.
The 24 hr snacks are good quality: nuts, dried fruit, biscuits, cereal bars and sweets are always available in the saloon.
Land Visits
Early in this trip we visited the giant tortoises on Santa Cruz. They are in an enclosed ranch in a part of the island which features deep green lush vegetation. On the drive from the port to the ranch, birds were bouncing off the windscreen! The driver shrugged his shoulders and ploughed ahead beeping to clear the road of finches. They obviously haven't evolved to fear traffic.
There can be no clearer reminder that even your presence on these islands is having an impact ... quite an audible impact! The tortoises here are busy grazing on the green grass and living in a large farm with plenty of space to roam and no competition for food.
We also did a dinghy tour off the coast of Isabela Island to see the basking sea lions, marine iguanas, penguins and pelicans which was a wonderful photo opportunity. Of course my battery died after 5 minutes.
On the final day of the cruise, there is a visit to the Interpretation Centre in San Cristobal where you can learn about the history of the islands, the endemic creatures of the Galapagos and the pressures they are under. In the past the liveaboards were able to do more land visits but this is strictly controlled now by the Marine Park Authority. For more lengthy visits to places where there are flamingos, sea lions, marine iguanas, land iguanas, nesting colonies of boobies and frigates, you need to consider doing a land-tour or a non-diving liveaboard safari.
Conclusion
As you can probably tell, I had a fabulous time on the Galapagos Sky. Other very experienced people on this cruise agreed that it was their best ever liveaboard trip too. Peter Hughes himself seemed to think we had done well with our encounters. He said tours like this happen "frequently but not always".
It seems strange that so many people flock to the Galapagos Islands during the season when the air and water are cold and the waves are big, simply because of the whale sharks. My trip was in January. If I was to return I think the January to May period would be my choice since it has warmer waters and sunny skies and offers the most pleasant all round experience with some of the best underwater action including for both hammerhead sharks and manta rays.
My experience of the islands has put just about everywhere else I have visited in the shade. There are of course loads of great places in the world to go scuba diving but Galapagos must be one of the very best. It can only be really understood after having been liveaboard diving here.
I may never return but I have glimpsed this magical place. My life experience has included marvelling first-hand at the Galapagos Islands, an absolute gem of nature. That in itself is something to be celebrated and cherished until my dying day.
Written by Gavin Macaulay, January 2012

---
CUSTOMER TESTIMONIALS OF DIVE THE WORLD
... I rely on your web site for selecting the best trip in the time frame I got available, anything you can do to illustrate the destination & keep the information complete & accurate is very much appreciated. I have booked many trips with you. In am very happy with your process, Beef is always attentive to my inquiries. The best part is reliability, I can count on you... & selection as well, one place I can go to see what is available all over the world ... -- Adel Zakaria, USA. [More customer reviews]