>
Dive Trip Reports
>
Lankayan Island Resort
More than a Diving Paradise in Borneo
Dive at Lankayan Resort in Tune with Nature
Click on an image to enlarge

I had made a previous trip to a couple of other places in Malaysia's state of Sabah and really enjoyed the diving so I was looking forward to visiting Lankayan Island. What I discovered there was more than just scuba diving:
The beautiful island surrounded by turquoise shallow reefs, sublime easy diving in small unhurried groups, baby sharks and turtles visible from the beach and impressive marine conservation efforts. It all combined to make my stay there very enjoyable and memorable.
Before going there I believed that Lankayan was only really for beginners but now I can see that scuba divers of all levels would enjoy their stay. Provided you are not looking for adrenalin-filled excitement with big pelagic action every 2 minutes, you will be seduced by the easy-going diving and the paradise island charm of Lankayan Island.
• Watch our Lankayan Island Resort video
Lankayan Diving Highlights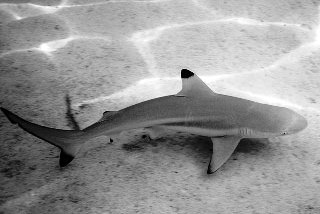 My favourite dive sites of the trip were Jawfish Lair, Goby Rock, Lost Reef and Pegaso Reef. With macro life in abundance, these dives deserve unhurried visits. Whether you long to be the object of a cuttlefish's curiosity, interact with pelagics, witness innumerable goby-shrimp partnerships, or see the iridescent purple mantle of the giant clams, you'll certainly find that to dive Lankayan requires minimum effort to see these creatures for yourself.
The first day began with our check out dive at the artificial Jetty Wreck reef which is built from sunken fishing boats and open wooden fish cages, creating a safe haven for juveniles. Each element is connected by a rope so you cannot get lost. It is a great place for beginners and for photographers to learn their skills before going out onto the more fragile natural reefs.
Although good for everyone, I imagine Lankayan is one of the best places to learn to dive and fall in love with scuba, with no currents, great visibility (10-30m), and tropical waters. You can easily be at a number of sites within 5 minutes of hopping on the boat, which allows you to comfortably fit 3 dives into your day.
During my 5 day stay I was only able to explore 25% of the dive sites, so a long stay is highly recommended as there is so much to see. The long jetty affords excellent and unlimited shore dives with immediate access to their artificial reef which is home to a lot of life. It also makes for an entertaining night dive.
• Watch our Lankayan diving video
A Truly Eco Friendly Resort
Lankayan flourishes in harmony with nature. The buildings take up probably one third of the island, leaving the balance of the island to thrive as primeval jungle. The resort is centered on the beach facing east, with the SIMCA conservation offices positioned at the end of the jetty, and you will find the dive centre has the most convenient access to the sea.
Whether you are part of a 6-diver group, a couple on honeymoon, or a single, there are chalets to suit your needs. Most exquisite are the double bed Chalets number 1 and 2 occupying the southern tip of Lankayan. With a balcony facing east and windows facing west, they serve up all the breath-taking sunrises and sunsets you could ever wish for. All chalets are equipped with private toilets and hot showers. During high tide, a swim in the clear, blue water is just a step away from your personal terrace. Or if that sounds too energetic, then swing in your private hammock and dream of the day's adventures below the waves.
Despite being a small island, it was a refreshing surprise to find that thrice-filtered water is delivered every week. The islanders are frugal with this treasured commodity, passing all waste water through a hydroponics treatment system before using it to water the plants. The health of the surrounding ocean is vitally important to the people at Lankayan and the seawater is tested daily to ensure the delicate balance is sustained.
The Diving Operation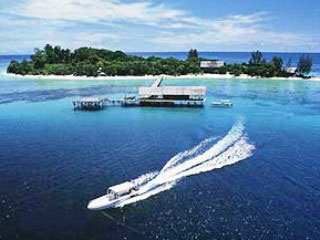 The resort has 5 fibreglass boats with roll back entry and handy ladders for getting back onto the boat. All the sites are just a few minutes away and easily accessible. Surfacing after the dive in the tranquil, aqua-marine ocean, just couldn't get better than being met by the friendly Lankayan dive staff, eager to help you back on the boat and out of your gear. They also do all the lifting and rinsing of your scuba gear in fresh water. It was probably the easiest diving I have ever done.
The operation was well organised and everything was kept sparkling clean. One drawback is you will need to use the toilet before leaving your chalet or pop into the main recreation area on your way out as there are no bathroom facilities at the scuba centre. Otherwise your wetsuit is going to get it while underwater!
Facilities for Non-divers
Non divers can relax in the restaurant, in the spacious public area, shop for souvenirs, watch your favourite Sat TV programme or read a book or magazine from the library in the TV room. There are also 2 PCs with internet connection, plus a wi-fi for those with their own laptops. For the more adventurous there is beach volleyball, ocean kayaking and the snorkeling conditions are excellent for any skill level.
Even if you don't want to get your feet wet, you are guaranteed to see the life forms that live in the coral reef from the safety of the long wooden jetty. Twilight brings out the baby sharks to patrol the shallows. At night-fall the female turtles can be seen coming ashore, looking for suitable nesting places for their precious eggs. You are welcome to visit the SIMCA hatchery to witness the birth of these young turtles and be part of their frenetic dash to the sea and survival – a real moment to remember.
Food, Staff and Service
With over 40 staff members catering to your every need, you will be able to concentrate on the most important aspect of your trip, which is having fun of course! Being on an isolated island doesn't stop the chefs from obtaining fresh produce delivered by shuttle boat every day. All meals are relaxed, buffet-style affairs. As breakfast is available from 06h30 - 10h00, you could enjoy a pre- and post-dive breakfast of beans, eggs made to order, tuna, noodles, croissants and other patisserie.
Lunch is served at 13h00 and offers you a choice of soup followed by 5 main courses, with one always being a tasty fish dish, accompanied by substantial carbs, loads of fresh vegetables, salads and fruit. Afternoon tea is perfectly timed to follow your 3rd dive of the day.
Dinner is served from 19h00 with another tantalising array of buffet choices, which you could choose to bypass if you would rather order a la carte or enjoy a BBQ watching the sunset on your own private balcony. All special requests are catered for, so please let them know your needs before your arrival on the island.
Are We There Yet?
My journey started with a 1 night stay in Kota Kinabalu, Sabah; a short flight got me to the Sandakan jetty; followed by a 1½ hour boat ride to the paradise of Lankayan Island Resort. The journey can be bumpy and wet if you don't get a seat inside!
On the return journey I spent the day at the Sepilok Nature Resort, where my entry ticket included a satisfying lunch. The antics of the orang utans (the primate, not the crab this time) were a pleasure to watch and I suggest that you add a day or 2 onto your stay to fully explore this sanctuary resort.
Conservation Efforts on the Island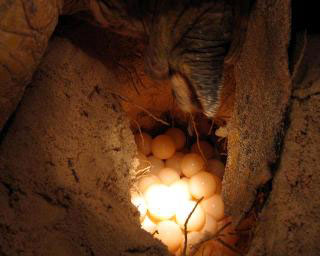 Your stay at Lankayan Island Resort supports the work of Sugud Islands Marine Conservation Area (SIMCA

). The marine protected area covers 46,000 hectares of open seas and the SIMCA staff work in conjunction with the marine police monitoring every boat in and out the area in their bid to stop illegal fishing. They constantly oversee the health of the coral and sea beds. Their passion is the sea turtle and they are rewarded by increasing numbers of turtles returning home to nest each year.
One thing is certain, SIMCA take marine conservation seriously and when diving with a SIMCA buddy, they aren't shy to point out when someone steps out of line and threatens their fiercely protected piece of heaven.
Going Home
So it was with a refreshed mind-set that I got onto my homebound flight carrying memories of glorious scuba diving and serene evenings. It gave me a sense of peace knowing that I can return for a vacation at any time to the Lankayan Resort, maybe next time with the family, to a place that can be enjoyed by divers of all levels as well as non-divers. A true island paradise.
Written by Diego Bianchi, September 2009


---
CUSTOMER TESTIMONIALS OF DIVE THE WORLD
... The Dive The World website is easy to use. The booking process was easy, communication was good, Beef was very responsive and helpful. The best parts of the service were: The identification of an outstanding resort, ease of reservation and payment logistics. Arrangement of travel, resort, and dive package. ... -- Dan Herms, USA. [More customer reviews]